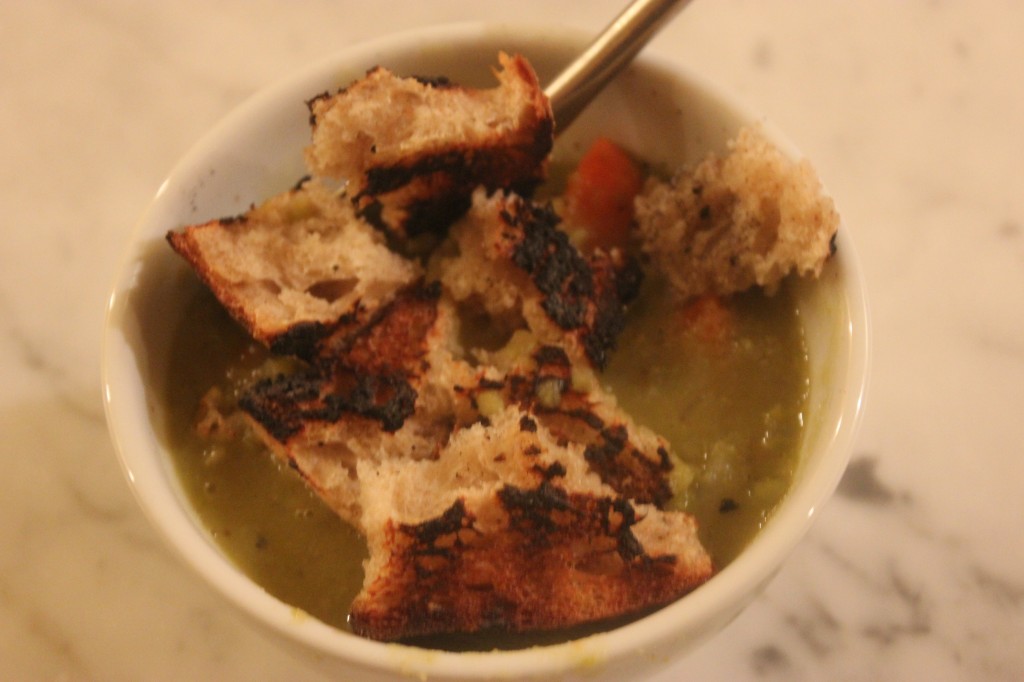 Around the corner from us in Tribeca years ago, there was a glorious neighborhood spot called Good Enough to Eat. Our version is long gone but there is still an outpost uptown. Of course, Downtowners never go uptown so …
The food was lovely and has been perfectly captured in the Good Enough to Eat Cookbook. This Split Pea soup is our favorite soup recipe, from any restaurant, from any cookbook. Anyplace, anytime. It's a meal in itself and the cookbook says in Belgium they do just that: make a meal of this soup topped with toasted bread and accompanied by a beer.
I love the soup itself, but I do have some mixed feelings about Good Enough.
I was reading the menu one Sunday as we sat there.
"Look," Suzen said, "it's Tom Cruise!"
True enough, it was him, with the hair and a leather jacket. The entire room had gone quiet as if a Kennedy had entered. Every woman seemed to be leaning in her seat. Including Suzen. I liked Risky Business and Top Gun, but my God …
"What are you going to order?" I asked Suzen
"Look, it's Tom Cruise."
"I'm having the soup."
"Look, it's Tom Cruise."
"He really is short," I noted.
"Look, it's Tom Cruise."
I ate my soup. I don't remember what Suzen had and I sure as hell don't care what Tom Cruise ordered. Apparently, he could have had anything he wanted.
Split Pea Soup
Yield: 1 ½ cups
Ingredients:
1 large onion, chopped
4 stalks celery, chopped
2 cloves garlic, minced
2 tablespoons butter
2 tablespoons vegetable oil
1 ham hock or leftover ham bone
1 pound dried split peas, washed and drained
7 cups beef stock
1 tablespoon brown sugar
2 teaspoons kosher salt
1 teaspoon ground black pepper
1 bay leaf
1 pound carrots, chunked
1 tablespoon chopped fresh thyme, or 1 teaspoon dried
Toasted bread for topping off
Preparation:
Sweat the onion, celery, and garlic in butter and oil 15 to 20 minutes, until soft. Add the ham hock or bone, peas, stock, sugar, salt, pepper and bay leaf. Cook over medium heat 1 hour. Add the carrots and thyme and cook 45 minutes longer. Check for seasonings.
Serve hot, topped with toasted bread.
This soup freezes beautifully and makes an easy meal when you've had a busy day.
Source: Good Enough to Eat by Carrie Levin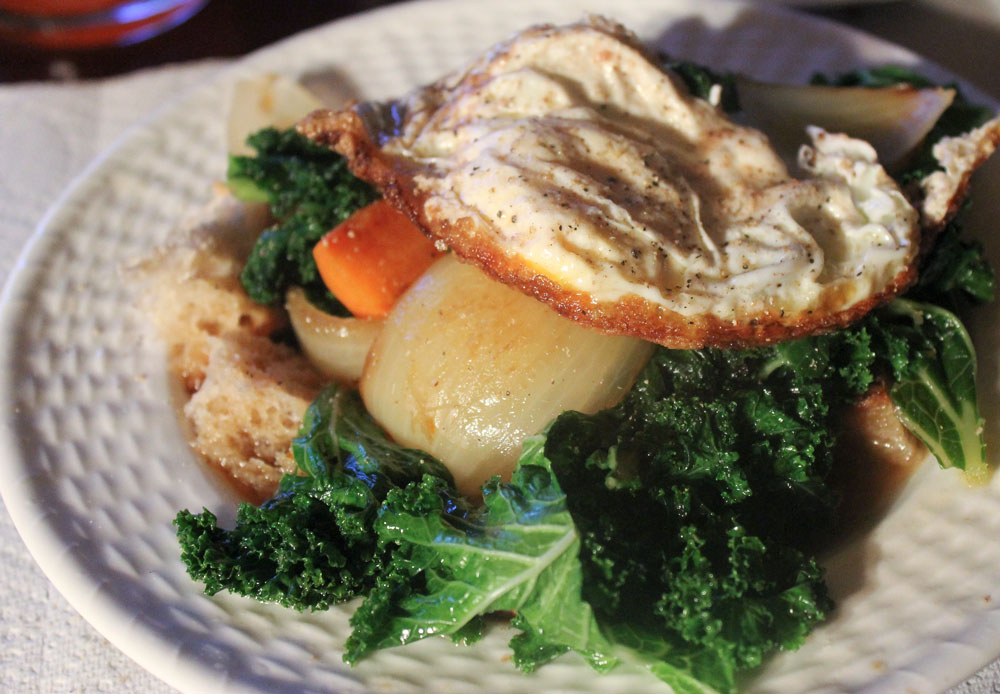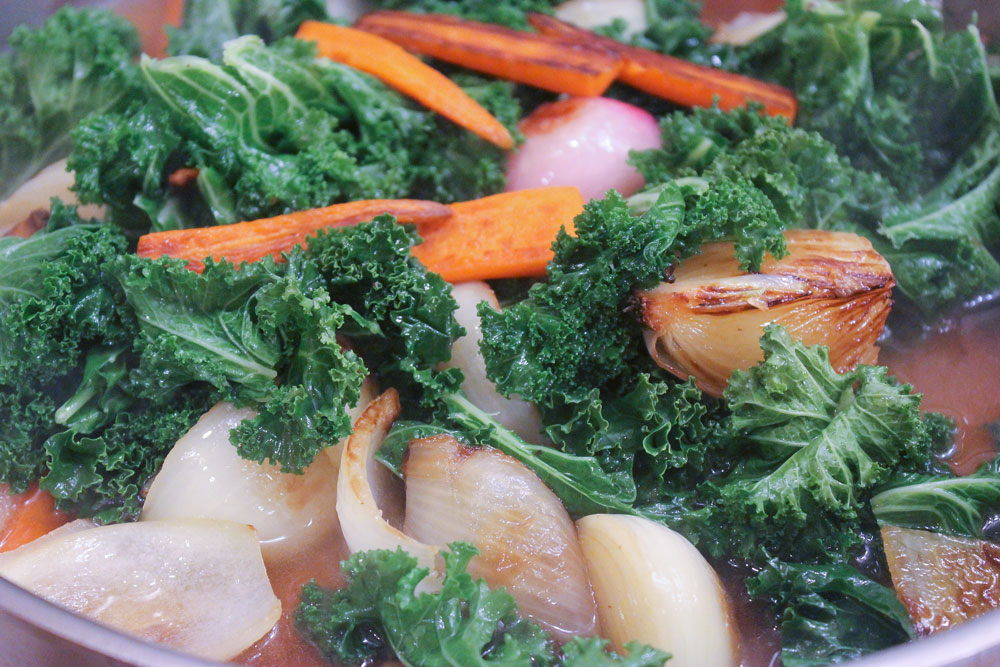 I pride myself on my baking. It has only taken, what, about twenty years to get good at it. But I bake bread and it is very, very good bread. I bring it to every dinner party Brian and I go to, and each hostess is delighted to serve it, warmed with butter on the side.
I'm probably one of the few people to keep 100+ pounds of different flours in bins in my basement, but I do. On weekends, when I go upstate to relax, Brian often says to me, "Take it easy today."
"I am," I tell him. He smiles because by early afternoon it is too late. I'm pretty well dusted with flour and the countertops have a dozen loaves in various states of rising, falling, doubling, or cooling. Our house smells like a bakery. I love it.
Of course, I'm never content. I'm always looking for new flours, new recipes, new ideas. When I found the new Tartine Bread I realized I had struck gold. If you love baking bread, then this book is must for you. I travel with it back and forth, read it, study it, and I eat the results.
Day old bread? Here's a very authentic, hearty recipe for you. When most of the population lived off the land and not in cities, a farming family's big meal needed to be lunch. Workers needed sustenance, for recovery from that  morning of labor and carrying forward until the sun set and cows came home. Literally.
The simplest forms of this recipe use onions fried in oil or goose fat and then poured over stale bread, topped with a fried egg seasoned with vinegar. This production is richer, using stock and more vegetables to craft a full meal.
You'll love this soup. You need Tartine Bread. The beautiful bread picture below is one of the Tartine recipes I tried with their superb techniques. I'll be writing about the recipes and the techniques in posts to come.
Le Tourin: A Sustenance Soup
Yield: 2 very large servings
Ingredients:
2 tablespoons olive oil or rendered duck or chicken fat, plus ¼ cup
1 bunch young carrots, peeled and cut in half lengthwise
2 yellow onions, cut into quarters
1 bunch kale, stems removed
1 quart rich chicken stock
2 large eggs
Salt and freshly ground pepper
Red wine vinegar
3 slices day-old whole wheat or country bread torn into chunks
Preparation:
Place a large sauté pan over medium-high heat and warm the 2 tablespoons olive oil. Add the carrots and onion quarters, cut-side down. Reduce the heat to medium and cook without stirring until slightly caramelized, 5 to 8 minutes.
Turn the vegetables, being sure to cook the second cut sides of the onion quarters. Cook until caramelized, 5 to 8 minutes. Add the kale and the stock and bring to a boil. Reduce the heat to simmer and cook for 10 minutes.
Heat a small omelet pan over high heat. Add the ¼ cup olive oil. When the oil is shimmering but not yet smoking, crack the eggs into the pan without breaking the yolks. Fry for about ½ minutes, carefully spooning some of the hot oil over the eggs to help cook the tops. Carefully pour off the excess oil. Season the eggs with salt, pepper, and vinegar.
Set the torn bread and vegetables in heatproof bowls. Pour the hot stock over the bread and vegetables. Top with the fried eggs and serve.
Source: Tartine Bread by Chad Robertson