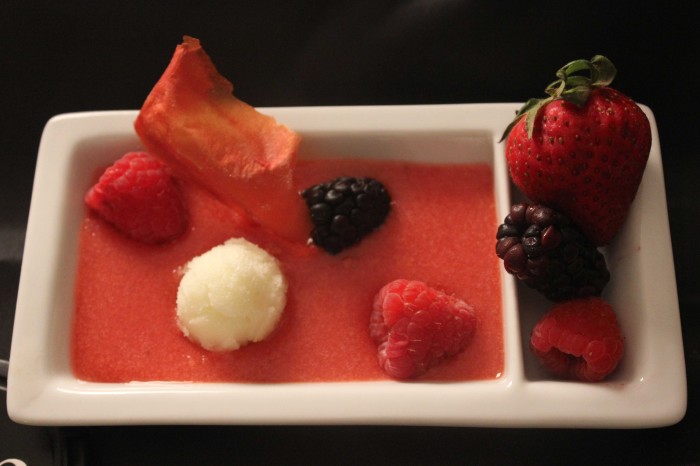 This is Suzen's and my first attempt at making a plated dessert from Payard Desserts by Francois Payard with Tish Boyle.
It's a sweet success, visually and to the palate. What is a plated dessert? It's one of those complicated, multi-part desserts that you get at a restaurant but could never make for yourself at home. Except now you can thanks to Payard Desserts.
Three parts are used to compose the complete dessert:
· Yellow Tomato Sorbet
· Red Berry and Tomato Gazpacho
· Tomato Chips
The tomato chip was blogged a couple of days ago, but the recipe is repeated here for your convenience.
The base for this dish is the gazpacho, which has a deep berry flavor. This is a dessert, supposedly, but you can confidently serve this dish as a first course. The Yellow Tomato Sorbet is an addition for color and contrast: the sorbet is sour despite some sugar content, while the berry-laden gazpacho is sweet. The berry flavors do dominate the tomatoes, although the balance is sure to shift every time you make this dish depending on the relative sweetness of the berries and tomatoes. And those tomato chips are for visual amusement, not really for taste.
Here are the recipes for the three parts of this dish, and the final instructions for assembly.
Oh, technically, tomatoes are a fruit, not a veggie. So, a salad with tomato is really a dessert which is why, I suspect, the French often finish a meal with salad/dessert.
Yellow Tomato Sorbet

Yield: 6 cups

Ingredients:

1 cup plus 1 tablespoon granulated sugar
1 teaspoon sorbet stabilizer [or substitute corn syrup]

1 ¾ cups water

4 cups yellow tomato puree [4 cups of small yellow tomatoes processed in a blender or Vitamix is fine]

2 ta

blespoons plus 1 teaspoon simple syrup
Preparation:

In a small bowl, combine ½ cup of the sugar with the stabilizer or corn syrup. In a small saucepan, combine the remaining ½ cup plus 1 tablespoon sugar with the water and place over medium-high heat. Gradually whisk in the sugar and corn syrup mixture and bring to a boil. Remove from the heat the let cool.
In a medium bowl, combine the saucepan contents, the tomato puree and the simple syrup. Cover and refrigerate for at least 4 hours.
Process the base in an ice cream machine according to the manufacturer's instructions. Transfer the sorbet to an airtight container and freeze until ready to serve.
Tomato Chips



Yield: lots, depending on how you skin the tomatoes

Ingredients:

6 medium ripe tomatoes
Confectioners' sugar for dusting
Preparation:

Preheat the oven to 175°F. Line a half-sheet pan with a silicone baking mat [parchment paper does NOT work well]. Fill a bowl halfway with ice water.
Using a paring knife, make a small X at the bottom end of each tomato. Bring a large pot half full of water to a rolling boil over high heat and immerse the tomatoes in the boiling water for about 30 seconds. Remove them with a slotted spoon and immediately plunge the tomatoes into the ice water. The skins should start to come off the tomatoes.
Remove the skins with your fingers [try to remove them in one piece]. Pat the skins dry with paper towels. Reserve the skinned tomatoes for other use [as in gazpacho].
Arrange the skins on the prepared sheet pan and dust them with confectioners' sugar. Bake for 1 to 2 hours, until dry. The skins will crisp up they cool. Store in an airtight container until ready to serve.
Red Berry and Tomato Gazpacho



Yield: ~ six cups, enough for 9+ people as a dessert, perhaps 9 as a first course

Ingredients:

6 skinned tomatoes [reserved from the Tomato Chips above]
2 ¼ cups fresh strawberries
2 ¼ cups fresh raspberries
¼ cup plus 1 tablespoon granulated sugar
Juice of 1 lemon
Splash of Tabasco sauce [or hot sauce of your choice]
Preparation:

Cut the tomatoes into quarters and, using your fingers, remove and discard the seeds. Process the berries and tomatoes together in a food processor, working in batches, if necessary. Pass the mixture through a fine-mesh sieve into a medium bowl and stir in the sugar, lemon juice, and Tabasco. Cover and refrigerate until ready to serve.
Final Dish Assembly

Spoon the gazpacho mixture into the serving dish of your choice. Garnish as you desire with berries, either whole or sliced. Place a small scoop of the Yellow Tomato Sorbet into the gazpacho. Station a Tomato Chip at some visually important spot.
Source: Payard Desserts by Francois Payard with Tish Boyle

Photo Information Canon T2i, EFS 60 mm Macro Lens, F/5.6 for 1/50th second at ISO‑2500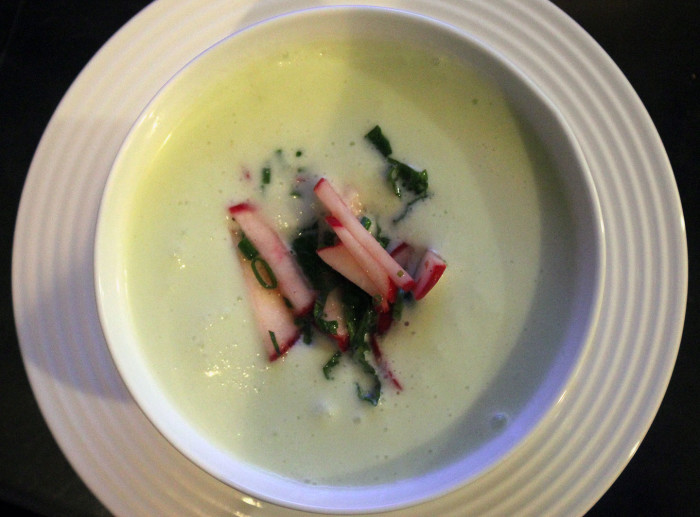 In your first taste you will know that this soup is something special, something deliciously special. This soup has a dreamy quality: some body, yet still thin, the subtle flavor of cucumber but layered with melon, and an underlying tang that you may recognize as yogurt + crème fraiche. Or you may just sit there with your mouth pleasantly filled.
The soup seems pillowy soft. The contrasting salsa has crunch and heat. This is a ying-yang dish par excellence.
The first thing you think about when you taste this soup is how quickly you can secure a second helping. You won't be thinking about the rest of the meal. About that protein scent in the kitchen: chicken, or steak, or … No, you'll be focused on enjoying a flavor combination — cucumber and melon — that you may not have experienced. And I suspect the ratios of ingredients here, with the inclusion of yogurt and crème fraiche, is something you've never enjoyed before.
As grand as the soup is, I'm intrigued at how you might tinker with this recipe. No great changes, but adding some scallions or diced onion, a dash of vinegar, some fresh herbs,… All these changes will have impact, for this soup is first and foremost delicate. So, if you opt to personalize, do so with a light hand. I suggest you start with this basic recipe, because it's truly perfect. I'm just suggesting that, as any foodie would do, you might be inspired to make a better perfect.
Chilled Cucumber-Melon Soup with Radish-Mint Salsa
Yield: 6 cups
Ingredients:
For the Soup:
3/4 cup plain yogurt [not Greek yogurt]
3/4 cup crème fraîche
1 medium seedless hothouse cucumber
1 tsp coarse salt
1 small clove garlic
2 cups very ripe honeydew or galia melon
For the Radish-Mint Salsa:
8 radishes, julienned
1/4 cup chopped fresh mint
1 tablespoon lime juice
1/4 teaspoon kosher salt
1/4 teaspoon pepper
1 tablespoon olive oil
Garnishes:
Sprinkling of snipped fresh chives
A small dollop of yogurt or crème fraîche
Preparation:
For the soup, in a blender, puree 3/4 cup each plain yogurt and crème fraîche, 1 medium-size seedless hothouse cucumber, in chunks, 1 teaspoon coarse salt, and 1 small clove garlic, crushed through a press. Pour into a bowl.
Add 2 cups very ripe honeydew or galia melon to blender; puree. Add to cucumber mixture and stir to combine; chill.
For the salsa, julienne 8 radishes; combine in a bowl with 1/4 cup chopped fresh mint, 1 tablespoon lime juice, and 1/4 teaspoon each kosher salt and pepper. Stir in olive oil.
To serve, ladle soup into bowls and top with radish salsa, a sprinkling of snipped fresh chives, and a small dollop of yogurt or crème fraîche.
Source: Frank Melodia
Photo Information [top]: Canon T2i, EFS 60 mm Macro Lens, F/5 for 1/25th second at ISO-3200