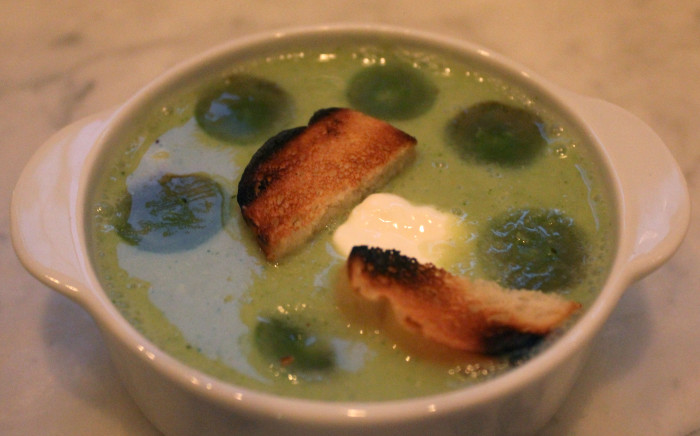 It's the peak of summer. From now until well into fall, it is High Tomato Season and I'll have a bowl or two of red gazpacho every week. I never tire of gazpacho.
That's not quite true. Sometimes, sometimes, I just long for another color and a change in flavor. A real change in flavor. I'll get to white gazpacho soon. Today, we go green. Deep green.
The flavor here is intense with a definite sour bite. Some traditional ingredients are not present here. For example, vinegar. I use the tomatillos instead to introduce sour notes.
The heat content in this soup, and it does have heat, comes from multiple sources: the scallions, the jalapenos, the poblanos, and those tomatillos. My suggested two jalapenos particularly generate fire in the mouth. You might want to go with only one and you can certainly adjust the number of poblanos, too.
The tomatillos present a challenge. Fresh out of the blender, with just a slight chill, this soup is smooth and, of course, quite liquid. But, tomatillos are rich in pectin. That pectin and the bread will result in the soup becoming more like a porridge after a night in the refrigerator. You have options:
Eat the thick version with relish
Dilute with water, 2 parts soup to 1 part water, and stir
For ½ cup of soup, add one teaspoon of red wine vinegar and stir; you get liquefaction and can adjust the relative amount, and flavors, at will
One option I considered, but did not add, was an avocado. It would affect flavor, only a tad given all the heat, and certainly the texture. I found this soup to be perfectly interesting. Adding an avocado or two would have doubled the cost of this soup. At a time when we all look twice at our food costs, my version below is lovely to eat and light on your budget.
---
Brian's Green Gazpacho

Yield: 6 servings

Ingredients:

1-3 tomatillos, husked and washed
2 poblanos
2 garlic cloves, crushed, then diced
10 ounces of seedless grapes, with all stems removed, plus a handful of grapes reserved and halved
1 bunch of scallions, ends removed, white and green parts medium diced
4 ounces of French/Italian bread ripped into large pieces
1-2 jalapenos, halved, seeded and chopped
½ bunch of cilantro, washed and chopped
6 ounces plain yogurt
Salt and pepper to taste
Garnishes of your choice: those halved grapes, diced tomatoes, onions, sour cream, …
Preparation:

Turn the oven on to 350°. Line a cookie sheet with foil and put the tomatillos on the foil and into the oven. Preheating is not needed. After about 45-60 minutes, depending on the size of the tomatillo, they will begin to soften and blacken. Test for softness and remove them. Allow them to cool to room temperature.
Meanwhile, roast the 2 poblanos over flame until blackened. Put the chilies in a paper bag, wait
Put all the ingredients, except the salt and pepper, in a blender and process until smooth. You may need to stop the blender two or three times and push the contents around. Put the processed soup in a metal bowl. You can taste test now, for salt and pepper, but it is better to wait until the soup has chilled. The tomatillos add exceptional zip so you may find that adding salt is entirely unnecessary — one of the side benefits of tomatillos.
Chill thoroughly. Adjust the salt and pepper if desired.
Garnish, if you wish, with diced tomatoes, onions, sour cream, …
Source: Brian O'Rourke

Photo Information Canon T2i, EFS 60 mm Macro Lens, F/4 for 1/25th second at ISO‑3200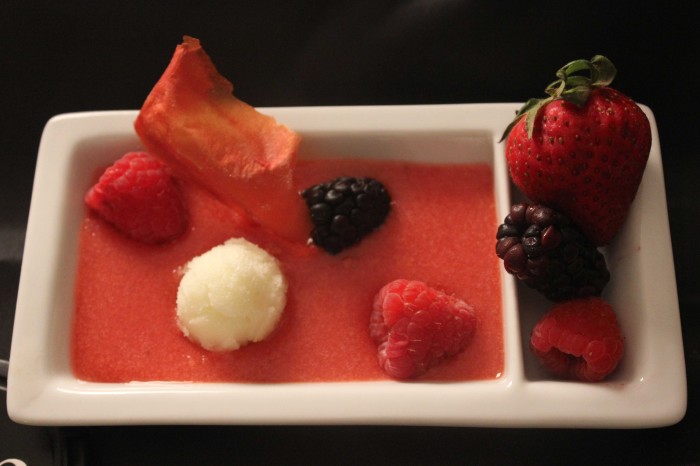 This is Suzen's and my first attempt at making a plated dessert from Payard Desserts by Francois Payard with Tish Boyle.
It's a sweet success, visually and to the palate. What is a plated dessert? It's one of those complicated, multi-part desserts that you get at a restaurant but could never make for yourself at home. Except now you can thanks to Payard Desserts.
Three parts are used to compose the complete dessert:
· Yellow Tomato Sorbet
· Red Berry and Tomato Gazpacho
· Tomato Chips
The tomato chip was blogged a couple of days ago, but the recipe is repeated here for your convenience.
The base for this dish is the gazpacho, which has a deep berry flavor. This is a dessert, supposedly, but you can confidently serve this dish as a first course. The Yellow Tomato Sorbet is an addition for color and contrast: the sorbet is sour despite some sugar content, while the berry-laden gazpacho is sweet. The berry flavors do dominate the tomatoes, although the balance is sure to shift every time you make this dish depending on the relative sweetness of the berries and tomatoes. And those tomato chips are for visual amusement, not really for taste.
Here are the recipes for the three parts of this dish, and the final instructions for assembly.
Oh, technically, tomatoes are a fruit, not a veggie. So, a salad with tomato is really a dessert which is why, I suspect, the French often finish a meal with salad/dessert.
Yellow Tomato Sorbet

Yield: 6 cups

Ingredients:

1 cup plus 1 tablespoon granulated sugar
1 teaspoon sorbet stabilizer [or substitute corn syrup]

1 ¾ cups water

4 cups yellow tomato puree [4 cups of small yellow tomatoes processed in a blender or Vitamix is fine]

2 ta

blespoons plus 1 teaspoon simple syrup
Preparation:

In a small bowl, combine ½ cup of the sugar with the stabilizer or corn syrup. In a small saucepan, combine the remaining ½ cup plus 1 tablespoon sugar with the water and place over medium-high heat. Gradually whisk in the sugar and corn syrup mixture and bring to a boil. Remove from the heat the let cool.
In a medium bowl, combine the saucepan contents, the tomato puree and the simple syrup. Cover and refrigerate for at least 4 hours.
Process the base in an ice cream machine according to the manufacturer's instructions. Transfer the sorbet to an airtight container and freeze until ready to serve.
Tomato Chips



Yield: lots, depending on how you skin the tomatoes

Ingredients:

6 medium ripe tomatoes
Confectioners' sugar for dusting
Preparation:

Preheat the oven to 175°F. Line a half-sheet pan with a silicone baking mat [parchment paper does NOT work well]. Fill a bowl halfway with ice water.
Using a paring knife, make a small X at the bottom end of each tomato. Bring a large pot half full of water to a rolling boil over high heat and immerse the tomatoes in the boiling water for about 30 seconds. Remove them with a slotted spoon and immediately plunge the tomatoes into the ice water. The skins should start to come off the tomatoes.
Remove the skins with your fingers [try to remove them in one piece]. Pat the skins dry with paper towels. Reserve the skinned tomatoes for other use [as in gazpacho].
Arrange the skins on the prepared sheet pan and dust them with confectioners' sugar. Bake for 1 to 2 hours, until dry. The skins will crisp up they cool. Store in an airtight container until ready to serve.
Red Berry and Tomato Gazpacho



Yield: ~ six cups, enough for 9+ people as a dessert, perhaps 9 as a first course

Ingredients:

6 skinned tomatoes [reserved from the Tomato Chips above]
2 ¼ cups fresh strawberries
2 ¼ cups fresh raspberries
¼ cup plus 1 tablespoon granulated sugar
Juice of 1 lemon
Splash of Tabasco sauce [or hot sauce of your choice]
Preparation:

Cut the tomatoes into quarters and, using your fingers, remove and discard the seeds. Process the berries and tomatoes together in a food processor, working in batches, if necessary. Pass the mixture through a fine-mesh sieve into a medium bowl and stir in the sugar, lemon juice, and Tabasco. Cover and refrigerate until ready to serve.
Final Dish Assembly

Spoon the gazpacho mixture into the serving dish of your choice. Garnish as you desire with berries, either whole or sliced. Place a small scoop of the Yellow Tomato Sorbet into the gazpacho. Station a Tomato Chip at some visually important spot.
Source: Payard Desserts by Francois Payard with Tish Boyle

Photo Information Canon T2i, EFS 60 mm Macro Lens, F/5.6 for 1/50th second at ISO‑2500