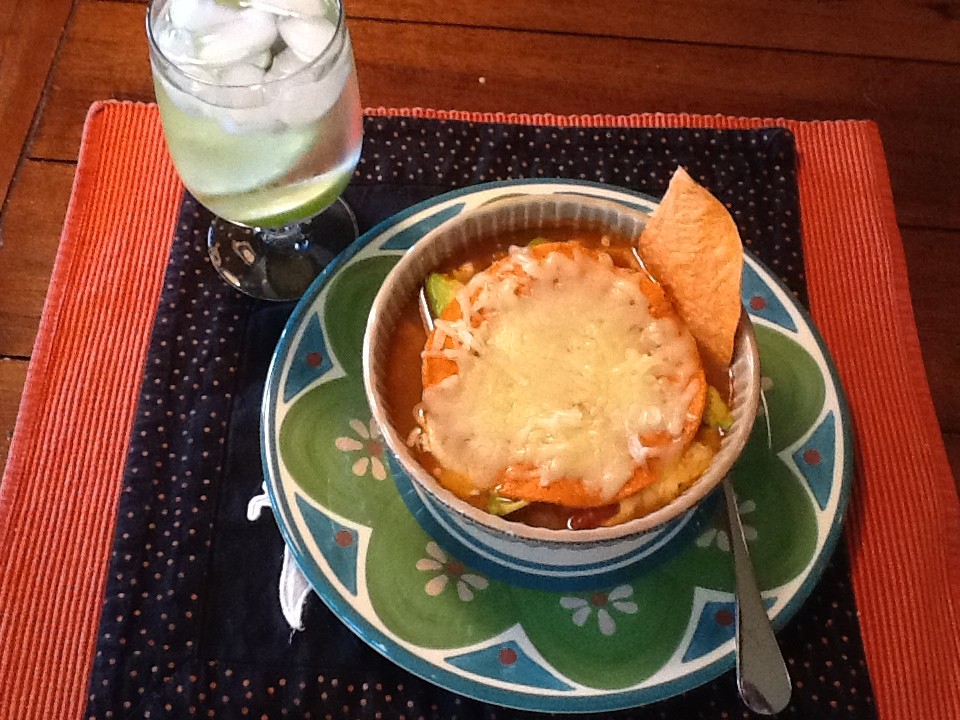 My daughter-in-law Michele grew up in Kansas City. But she went to college and graduate school in Texas and now lives in Austin. She is very proud of this soup. And I will say rightfully so.
You remember how French Onion soup seems so satisfying. Well, this is a serious rival. The broth and chicken provide substance. That thick top with cheese, avocados and tortilla chips is a delight itself. The combination of that rich top and the deeply flavored broth lets you relax and enjoy each spoonful.
I've had this dish for lunch and for the main meal. It's a delight either way. I do suspect that Michele may sometimes try it for breakfast.
Michele's Favorite Tortilla Soup
Yield: Serves 4-6
Ingredients:
3 chicken breasts, poached
2 tablespoons oil
1 large onion chopped
4 garlic cloves, mashed
1 8-ounce can green chiles, diced
2 8-ounc e cans stewed tomatoes
4 cups chicken broth
2 cups beef bouillon
2 teaspoons chili powder
2 teaspoons salt
½ teaspoon pepper
2 teaspoons Worcestershire sauce
2 avocados, peeled and sliced
1 cup of broken tortilla chips
1 cup Mexican mix shredded cheese or Monterrey Jack chees
Preparation:
Poach the chicken breasts, cool, and shred. Set aside.
Sauté the onion, garlic and green chilies in oil until soft. Add the tomatoes, chicken broth, and beef bouillon and shredded chicken. Mix in spices and simmer for 1 hour.
Place in bowls and cover with avocados, tortilla chips and cheese.
Place under broiler or microwave to melt the cheese if desired.
Source: Michele Barr O'Rourke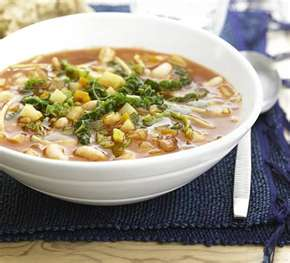 Mothers' Day approaches. Fathers and children are perplexed. You would love to cook a wonder for Mom, but, let's face it, the kitchen is her domain. Her cooking skills are better than yours, much better. Now what?
Time for a history lesson.
Before there was a Rome, Central and Northern Italy had a wonderful civilization call the Etruscans. The Etruscans were eventually absorbed by Rome, and details of that society remained in the shadows for thousands of years. In the past decades, though, more and more knowledge about the Etruscans has emerged. For example, their food.
The Etruscans made a dish called a pul, which was a thick combination of grains, beans, and vegetables cooked together. That pul is the ancestor of Parma's minestre, which in Parma is physically denser than the regular Italian minestrones you may have enjoyed. In Parma today, a minestre  is more of a stew-soup. While meat can be a component, beans or rice are often used.
This recipe, from The Cooking of Parma by Richard Camillo Sidoli, presents a rice and cabbage stew-soup that any husband can do. Really. There's some chopping involved, so older children can help Dad in creating this one-pot meal. Add a glass of wine, perhaps a simple salad, and a rose on the side. Mom will be thrilled. Dad may find himself recruited for kitchen duty.
The wine and cheese ingredients here could be added at the end of the cooking, but tradition is to serve the soup and cheese on the side and let each diner add their own portions. In our picture above, some green herbs have been added for color and a spark of flavor. As with any soup, you can use your imagination to make this dish personal and loving.
The Cooking of Parma was published in 1996, but we still pull it off the shelf to enjoy the secrets and flavors of Parma's regional food.
Minestra Di Riso E Cavolo
Yield: serves 4
Ingredients:
1 ½ quarts meat broth or good-quality store-bought
1 carrot
1 green celery rib
1 medium onion
2 teaspoons dried basil
1 teaspoon dried thyme
2 large bay leaves
4 cups 1-inch cubes cabbage
1 cup Italian or long-grain rice
½ cup peas [ideally fresh, but frozen works, too]
1 scallion, thinly sliced
Salt and pepper
¼ cup chopped parsley
½ cup red wine
½ cup freshly grated Parmigiano-Reggiano cheese
Preparation:
Put the broth in a soup pot over medium heat. Dice the carrots, celery, and onion and add to the broth. When the broth reaches a slow boil, add the herbs. When the vegetables are half-cooked, in about 20 minutes, add the cabbage and rice. When the rice is al dente, add the peas and scallion, season to taste with the salt and pepper, and continue to cook until the peas are cooked through but not mushy. Add the parsley and remove the pot from the heat. Pass the wine and the cheese at the table.
Source: The Cooking of Parma by Richard Camillo Sidoli