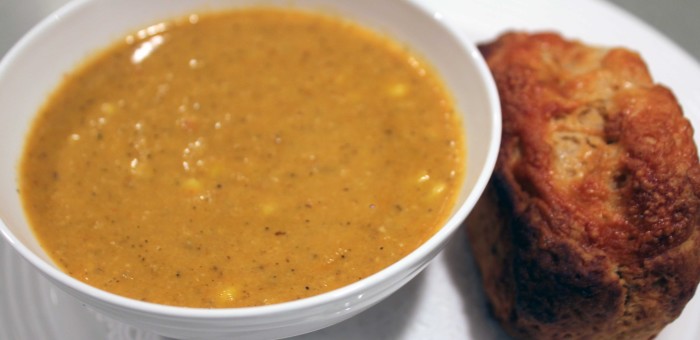 Before you comment, I have an explanation. I know the picture above is marginal. Cocktails and soup are the toughest foods to photograph. I'm working on it. It's not easy.
And, when I get a chance, I will take a better shot. But it may take a while and in the meantime this is peak corn season and I don't want to wait to share this recipe. You don't want to wait to try it and then enjoy a chile smile.
Many of the posts here are driven by Suzen's culinary team building program at Cooking by the Book. Clients want a hands-on cooking event, they pick a menu, they come and cook and eat, and I get to take photos and eat, too. Thing is, it's been a while and no one has chosen this soup again. I've waited and I'm out of time and Suzen is busy testing the "next" recipes and does not have time to revisit this one.
Actually, we will. Because I think this wonderful soup can be the perfect gateway to a Thanksgiving turkey. Pictured above, next to the soup, are the Chipotle and Cheddar Biscuits I blogged back in April [April 22 actually]. I can see serving the biscuits on Thanksgiving Day. Or, I can imagine making them on the Tuesday before, letting them dry out a bit, and stuffing the turkey with them. Some herbs, diced chiles, and a shot of tequila?
I'll see if I can stir Suzen's imagination. In the meantime, this is a rollicking good soup recipe with a delightful twist. You don't just use the corn kernels here. You cook with the cobs as well, extracting every last bit of corn flavor from the plant. The corn may be yellow, but this is a very green idea to "use it all." It's smart and something I would never have considered on my own.
Corn, chipotle, and cream. Unbeatable.
---
Smoky Roasted Corn Soup with Chipotle Chile

Yield: 4 servings

Ingredients:

3 ears corn
1 Poblano pepper, ¼ inch diced
1 small-red bell pepper, ¼ inch diced
2 tablespoons olive oil
3 cups water
2 tablespoons unsalted butter
½ cup finely chopped red onion
2 garlic cloves thinly sliced
¼ teaspoon chipotle chile powder
¾ teaspoon coarse (kosher) salt
½ cup heavy cream
Preparation:

Preheat the oven to 375°F.
Using a chef's knife, scrape the corn kernels off the cobs onto a rimmed baking sheet, reserve the cobs. Add the Poblano and bell pepper to the pan drizzle with the oil, and roast for 25 minutes, tossing the vegetables once or twice, until the corn is lightly browned.
Meanwhile, cut the cobs into thirds crosswise and place in a medium saucepan with the water. Bring to a boil over high heat, reduce to a simmer, cover, and cook for 20 minutes, or until the liquid is flavorful. Strain the corn broth into a bowl.
In a large saucepan, heat the butter over medium heat. Add the onion and garlic and cook for 7 minutes, stirring occasionally-until the onion is tender. Add the roasted corn and pepper mixture, the corn broth, chipotle powder, and salt and simmer for 5 minutes for the flavors to blend. Add the cream and gently heat. Serve hot.
Source: The Beekman 1802 Heirloom Cookbook

Photo Information: Canon T2i, EFS 60 mm Macro Lens, F/4 for 1/40th second at ISO‑250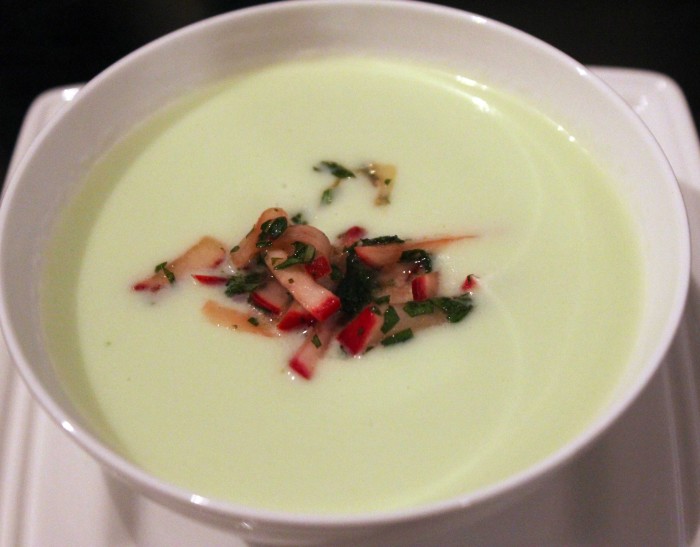 This is one of those dishes that is encompassing perfect. If you had just this soup for a meal, you would be totally satisfied. It is so sublimely perfect that it will make you giggle.
In short, I love this soup. I'm a deep advocate for cucumber, which is my candidate for the top universal food. Here, those distinctive cucumber notes are mellowed with melon plus yogurt plus crème fraîche. The creamy, velvety result features cucumber and melon in friendly competition with the diary tang. It's all lively and successful.
If yourneed more than one dish for a meal, then pair this soup with a great salad and some toasted herb bread with melted butter. You'll become a "soup" believer after just a spoonful or two.
---
Chilled Cucumber-Melon Soup with Radish-Mint Salsa

Yield: 6 cups, about 6 large servings [but you'll want large]

Ingredients:

For the soup:

¾ cup plain yogurt [not Greek yogurt]
¾ cup crème fraîche
1 medium seedless hothouse cucumber
1 teaspoon coarse salt
1 small clove garlic
2 cups very ripe honeydew or galia melon
For the salsa:

8 radishes, julienned
¼ cup chopped fresh mint
1 tablespoon lime juice
¼ teaspoon kosher salt
¼ teaspoon pepper
1 tablespoon olive oil
Garnishes: sprinkling of snipped fresh chives, a small dollop of yogurt or crème fraîche
Preparation:

Cucumber-Melon Soup
For the soup, in a blender, puree ¾ cup each plain yogurt and crème fraîche, 1 medium-size seedless hothouse cucumber, in chunks, 1 teaspoon coarse salt, and 1 small clove garlic, crushed through a press. Pour into a bowl.
Add 2 cups very ripe honeydew or galia melon to blender; puree. Add to cucumber mixture and stir to combine; chill.
For the radish-mint salsa, julienne 8 radishes; combine in a bowl with ¼ cup chopped fresh mint, 1 tablespoon lime juice, and ¼ teaspoon each kosher salt and pepper. Stir in olive oil.
To serve, ladle soup into bowls and top with radish salsa, a sprinkling of snipped fresh chives, and a small dollop of yogurt or crème fraîche.
Source: Frank Melodia

Photo Information Canon T2i, EFS 60 mm Macro Lens, F/5 for 1/100th second at ISO‑3200