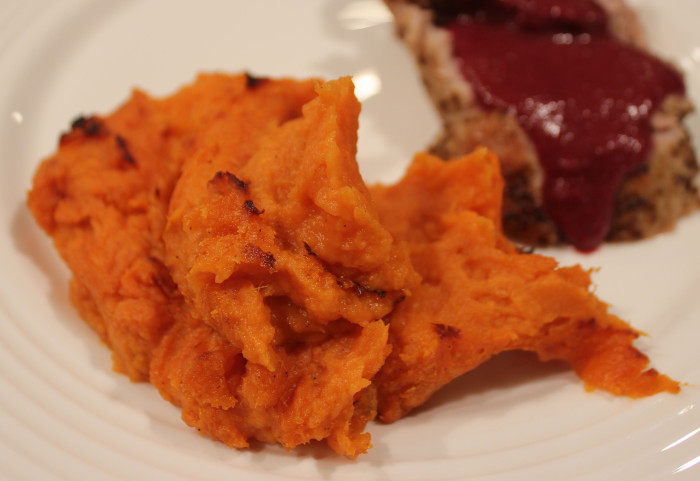 This recipe is brought to you thanks to the kindness of Sasquatch Books. They sent me a review copy of The Cast Iron Skillet. It sits in my upstate house, buried in snow. Suzen and I haven't tried to get upstate in three week. We have plenty of snow, and ice, right here in Manhattan.
But I wanted to test recipes, and Sasquatch emailed me a PDF of the book. Suzen was able to scroll through all the sumptuous recipes. As I expected, she stopped when she got to this one, Sweet Potato Soufflé.
I don't know if you have a problem with sweet potatoes, but I do. It all began when I was a child and my mother, at Thanksgiving, presented a tub of sweet potatoes crowned with marshmallows. I still talk to my therapist about the trauma. Can you get PTSD from one serving of goop? I think I did.
After decades of avoiding them, I now love sweet potatoes. A month ago, we did some experiments and I got a new favorite recipe: sweet potatoes blended in a hot mixture of chiles. It's wonderful and I will blog it soon. But, but, this soufflé recipe is easily my favorite sweet potato concoction. And I doubt it can ever be surpassed.
"No eggs. How can it be a soufflé?" Suzen asked. She was reading the recipe. I was standing over her shoulder.
"Maybe the half-and-half," I suggested. "Or the apple cider. Or the butter. Or the sugar. Maybe we should add more sugar."
I got a dirty look. "Remember, we ate at the restaurant where one of these authors was the chef? Remember how good it was? How Paris-quality it was? We are not messing with anything."
With perfect diligence, Suzen measured and I obeyed. This recipe is perfectly balanced in its flavors. And the techniques, hand mashing and then beating with an electric mixer, yield a monster result. The sweet potato flavor here is sheltered in layers of apple, orange, and cinnamon. There is dairy richness: butter and half-and-half. All these flavors, all the techniques, and the result is sublime.
This recipe will be appreciated at any time of the year.
I will suggest it for you next holiday [Thanksgiving]. It will make the meal. And, as a side benefit of this side dish, it could spare you years of therapy.
Sweet Potato Soufflé
Yield: 6-8 servings [perfect for a holiday meal]
Ingredients:
8 medium sweet potatoes or yams (about 4 pounds)
1 teaspoon salt
5 tablespoons salted butter, at room temperature
½ cup half-and-half
¼ cup apple cider
3 tablespoons packed light brown sugar
½ teaspoon ground cinnamon
1 teaspoon grated orange zest
3 tablespoons chilled salted butter, cut into small pieces
Preparation:
Position a rack in the center of the oven and preheat to 350°F.
Put the sweet potatoes in a large stockpot, cover with cold water, and add the salt. Bring to a boil over high heat. Reduce the heat to medium and cook the potatoes until soft when pierced, 30 to 40 minutes. Drain and allow to cool.
Peel the sweet potatoes and place in a large bowl. Mash to a coarse consistency with a potato ricer or masher. Add the room-temperature butter, half-and-half, apple cider, brown sugar, cinnamon, and orange zest. Beat with an electric mixer on medium speed until fluffy, about 2 minutes.
Transfer to a buttered 10- or 12-inch cast iron skillet. Dot the potatoes with the chilled butter pieces and bake in the oven until the top is golden brown, about 30 minutes. For a perfect golden crust on top, broil for the last 5 minutes.
Source: The Cast Iron Skillet Cookbook by Sharon Kramis, Julie Kramis Hearne and Charity Burggraff
Photo Information: Canon T2i, EFS 18-55MM lens, F/3.5, 1/30th second, ISO-200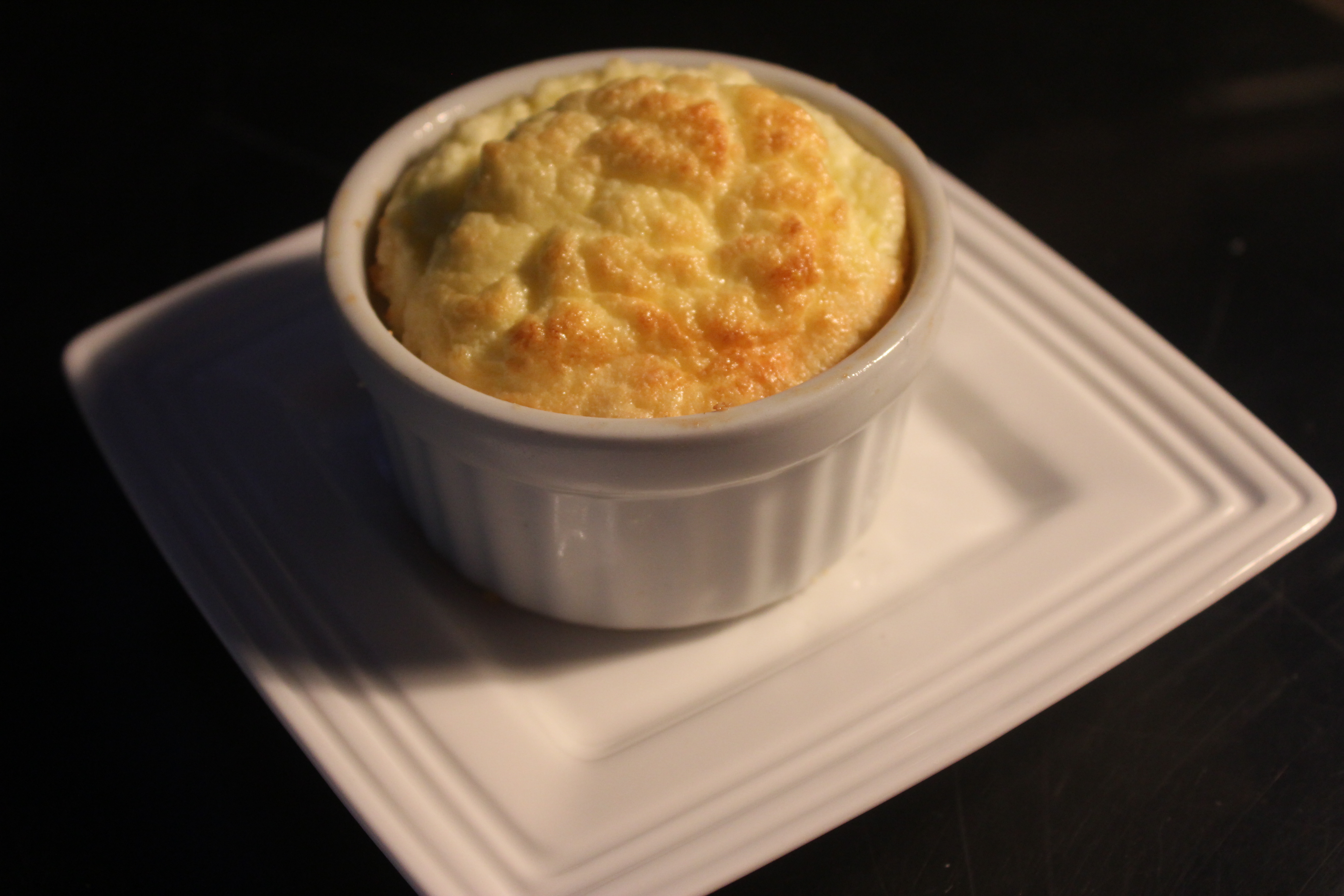 On Valentine's Day, Cooking by the Book featured a special Bubbles and Bites menu with all the dishes coming from James Peterson's Glorious French Food. "Glorious" is the right adjective for the armada of wonderful dishes that parade across the pages of this book. For our menu, we offered:
Individual Goat Cheese Soufflés
Roast Duck Breast on a Red Cabbage Salad with Almonds and Champagne Vinaigrette
Steamed Mussels in a Cream, Saffron and Mint Sauce
Chicken Liver Mouse Served with Salty Focaccia [a Suzi specialty]
Simplest Chocolate Mouse
Over the next few days, I'll post the recipes for every course in this lovely meal. I suppose you could wait until next Valentine's Day to try the whole thing yourself, or you do it all on some earlier night, or you can pick and choose. But somewhere along the way, all of these recipes deserve a try.
The rest of the text below here comes from Peterson's book. I'm putting the headnotes here because of the care he explains about choosing the cheese for this dish. And the headnotes explain how this is one of the dishes that stretched Peterson's arms [literally] and mind [figuratively] at a restaurant he once owned in a place called Manhattan.
……………………………………………………………………………………………………………………………………………
For years I owned a small French restaurant in Manhattan where I was more concerned with duplicating experiences in France than I was in making money. Hence the restaurant's eventual demise—too many truffles, too many laborious dishes, and too much Champagne broken out if business was slow or a member of the kitchen staff was feeling a little low. The least practical dish, but a very popular one, was an individual goat cheese soufflé served as a first course. Not only did this keep the customers at the table an extra 20 minutes, but because I insisted the egg whites be beaten by hand (and because of our limited staff, this meant by me), I would be standing next to the stove beating egg whites in a copper bowl, sautéing chicken and steaks, whisking up sauces, and keeping track of those soufflés that were already in the oven.
These soufflés are very easy to prepare and you don't need to make a béchamel. I've never known anyone not to give them a rave review. It's important to use goat cheese that's not too hard, not too soft, and with plenty of flavor. I use bucheron (loosely translated as "lumberjack"), which is shaped like a log, 1 foot [30 cm] long and 5 inches [12 cm] in diameter. It's often sold in cheese stores or fancy supermarkets sliced into chunks about 2 inches [5 cm] thick. If you can't find bucheron, ask for a medium textured full-flavored cheese, but don't pay a mint—goat cheese can be very expensive. I use individual 10-ounce [310 ml] porcelain soufflé dishes, 4 inches in diameter and 1¾ inches [5 cm] high. Charlotte molds, which are metal and have little heart-shaped handles, will also work. I don't use a collar for these soufflés, but if your soufflé dishes are small, you may want to make and aluminum foil collar to add height.
Individual Goat Cheese Soufflés
Yield: 4 portions
Ingredients:
For lining the soufflé dishes:
1 tablespoon softened butter
⅓ cup finely grated Parmigiano-Reggiano or grana padana
For the goat cheese base:
12 ounces [340 g] full-flavored, medium-textured goat cheese
6 egg yolks
For the final folding:
10 egg whites
Pinch of salt
Small pinch of cream of tartar (if you're not using a copper bowl)
Preparation:
To prepare the dishes, place them on their sides and brush the insides with the softened butter. Put the Parmigiano-Reggiano in the dishes and turn the dishes around until the dishes and foil are covered with a layer of cheese. Don't touch the inside after this point. Put the dishes in the refrigerator.
To make the goat cheese base, trim any moldy rind off the goat cheese and discard. Using the back of a fork, or a Kitchen Aid with a paddle attachment, mash the cheese with the egg yolks until the mixture is fairly smooth—don't worry about a few little lumps of cheese. Reserve.
To beat and fold in the egg whites and bake the soufflé, preheat the oven to 375°F. Put the egg whites in a bowl with the salt and, unless you're using a copper bowl, the cream of tartar. Start beating slowly (slow speed on the mixer) and gradually increase speed. Beat the whites to stiff peaks, about 4 minutes with an electric mixer, 6 to 8 minutes by hand. Whisk about one-fourth of the egg whites into the goat cheese mixture to lighten it and make it easier to fold. Scoop the egg whites into the goat cheese mixture and fold the mixture together with a rubber spatula. Sliding the spatula firmly against the sides of the bowl, reach down to the bottom of the bowl, where most of the heavier sauce base will have settled, and lift up the base, gently folding it over the whites. Continue in this way, cutting into the whites, but not pushing against them, as needed to combine the mixture. Don't overdo it; a few uncombined pieces of white are less of a problem than overworking the mixture and making it heavy.
Gently pour the mixture into the soufflé dishes and place the dishes on a sheet pan. Slide the sheet pan into the oven. Turn up the oven up to 425°F.
Bake the soufflés for 15 to 20 minutes until they rise by 1 to 2 inches [5 to 7.5 cm]. Make sure your guests are all at the table. (Un soufflé peut etre attendu, mats il ne doit jamais attendre — "A soufflé may be awaited but mustn't ever wait " — is an often-quoted axiom.) Move the sheet pan back and forth while closely watching the movement of the soufflé. If you notice the top rocking slightly back and forth, the soufflés aren't done. As soon as the soufflés appear firm, place the soufflés on plates, and bring them to the table. Provide your guests with dinner forks or large spoon.
Source: Glorious French Food by James Peterson