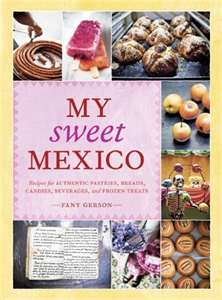 Here is a cookbook review and note on a recipe-in-progress.
Suzen and I were at a farmers market in Lower Manhattan last fall. That fall was warm, and lacked the surprise snow we have just experienced. I was lugging food and very thirsty and there I saw something wonderful.
Fany Gerson, a very serious pastry chef from Mexico, had a stand with aqua fresca. And she had a copy of her book: My Sweet Mexico. Her drink brought relief and her book brings inspiration.
Fany has traveled back and forth across, and up and down, Mexico. Our images of Mexico tend to Mexico City, beaches, Aztec pyramids, and that troublesome border. There is a vast other Mexico, and that is where Fany has explored and compiled this collection of sweet treats.
Most of the recipes are ones you will not have seen, unless you too have been to Mexico. Many of the recipes are regional or even city treasures. Somewhat like Italy, Mexico is divided by mountains into regions, each with its own climate and agriculture. And thus recipes.
My Sweet Recipes offers many temptations:
Spiced Chocolate Cakes with Sweet Tomatillo Sauce
Candied Pumpkin
Lime Meringues
Coconut Stuffed Limes
Sorbets Aplenty: Quince, cucumber, Apricot, Lime and Tamarind
Fany's favorite Tres Leches Cake
Tomato Jam Empanadas
Pecan Fudge Caramels
Pistachio Caramels
Milk Fudge
Fany's Mexican Wedding Cookies
Aceite de Vanilla
That last recipe is for a vanilla liquor. I've started it, and after a week of "nurturing" I tell you about the results. A sugar syrup is infused with vanilla beans, poured into a jar, and topped off with rum. It's sitting on my shelf now.
The headnotes for the recipes are wonderfully informative. Those Mexican Wedding Cookies you have loved? Well, they came to Mexico from Spain. And they got to Spain from the Arab conquest of Spain that lasted, in total, for seven hundred years.
Suzen and I will be trying many of these recipes over the next couple of weeks. That Candied Pumpkin seems the perfect side dish for Thanksgiving!
No egg. No cream. Little sugar. What kind of dessert is this?
Delicious actually.
I like dessert and Brian loves it. It's the most important part of the meal for him. And lately, his concept of starting the meal with dessert has gotten a kind of attention. Serving a small portion of sorbet between courses is an elegant expansion of your dinner menu. Topping the sorbet with some high-grade olive oil or balsamic vinegar — I know it sounds weird but … — can wonderfully expand the flavor experience. Great food should not be rushed, so extending the dining experience with sorbet breaks is a wonderful idea.
This pink grapefruit sorbet is beautiful to the eye and fascinating to the palette. Whether you serve it between courses or as the featured dessert, it's sure to please.
Pink Grapefruit Sorbet
Yield: serves 5-10 persons
Ingredients:
3 large pink or red grapefruit, scrubbed
1 cup sugar
¼ cup light corn syrup
4 cups water
Red food coloring
Preparation:
Use a zester to remove 3 long strips of peel (just the zest) from the grapefruits. Set aside. Squeeze out 2 cups of grapefruit juice.
In a large saucepan, combine the grapefruit peel, sugar, corn syrup and water. Bring to a boil, stirring to dissolve the sugar, and cook for about 2 minutes. Set aside to cool. Place in the refrigerator, or set in a bowl of ice for faster chilling. Discard the peel.
Strain the grapefruit juice through a sieve or strainer to remove the pulp. Discard the peel. Stir in the sugar syrup into the grapefruit juice, and mix in food coloring one drop at a time to achieve a pleasing, believable pink. In other words, don't overdo the food coloring.
Pour into the container of an ice cream maker, and freeze according to the manufacturer's instructions. Transfer to a container and freeze until firm before serving.
Source: allrecipes.com