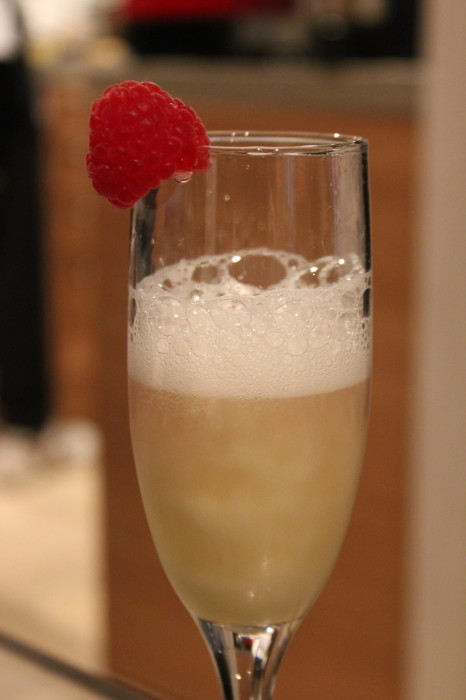 "I need you to make cocktails on Thursday. Sparkling cocktails," Suzen told me last week.
"How many people?"
"32."
"Oh, time for punch." I gave my natural reaction. I was not making cocktails for 32 people.
"No, individual cocktails. I suggest you do research." Apparently I was.
And so I have. For that many people, I needed something different and exciting. And easy. I didn't want to be squeezing lemons or limes or oranges for 30+ people. I didn't want to have three or four alcoholic components. I needed volume, production, swiftness.
This is why God has given us sorbet. You get flavor, coldness, and — when slightly softened — scoopability. That's a technical term that has nothing to do with cat litter.
For that many people, I scaled up, putting  softened sorbet in our Vitamix and processing to get a base for this cocktail. I had seen a recipe for this beverage that called for orange flavored vodka. For this lunchtime event, we wanted a less forceful drink, so I substituted a simple sugar syrup. I added just enough additional champagne to get a "flowing" mixture. You can then simply pour this mixture into each champagne flute, and top off with champagne. Gently stir to mix. Top with the raspberries and savor the bubbles.
Lemon sorbet works perfectly. You can go down another flavor profile: mango, peach, raspberry, … You can even offer up two or three pitchers, each with its own flavor and color.
Be prepared: people drink this readily and happily.
Lemon Sorbet Bellini
Yield: enough for at least 10 servings
Ingredients:
1 pint lemon sorbet, softened
½ cup simple syrup
1 cup champagne
Chilled bottles of champagne [one or more]
1 pint of strawberries
Preparation:
Combine the sorbet with the simple syrup and 1 cup of champagne in a strong blender. Our Vitamix was a godsend here. Process until you have a smooth mixture that is thick but pourable. You may need to adjust the amount of champagne depending on how much you have softened the sorbet. So, I would add the champagne gradually.
Put 2+ tablespoons of this mixture in the bottom of a champagne flute. Fill the flute to the halfway point – or more. Garnish with a raspberry.
Indulge.
Source: Brian O'Rourke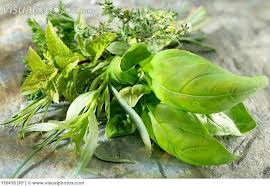 Here's a savory trick. You are having a holiday meal, a traditional one. Turkey, stuffing, gravy, mashed potatoes, and something cranberry. What can you do to make that meal different? You can't take away the gravy or the stuffing, but you can add something fresh and bright.
Offer your dinner mates a little break between first and second helping. This herb sorbet will cool the mouth, yet let it still be very much alive with the seasonal seasonings. It's easily prepared and will surprise both palettes and brains.
Herb Sorbet
Yield:   serves 12
Ingredients:
1 ¼ cups water
1 cup water
2 limes
1 egg white
¾ cup dry white wine
½ cup dry vermouth
Salt, nutmeg, and white pepper to taste
Some combination of the following fresh herbs to make ½ to ¼ cup total: peppermint, lemon balm, lemon thyme, dill, rosemary, tarragon, parsley, oregano, sorrel, or basic
½ cup champagne
Preparation:
Mix the sugar and water in a saucepan and stir over medium heat until the sugar is dissolved. Take off the heat and cool.
Cut the zest off the limes with a zester or vegetable peeler and chop fine, the squeeze the limes into a small bowl.
In a mixing bowl, combine the sugar syrup, lime zest, lime juice, egg white, white wine, and vermouth.
Chop all the herbs finely in a blender or food processor and add to the mixtures. Mix well and place in an ice cream freezer, processing according to the manufacturer's instruction.
To serve, spoon a small scoop into each of 12 cups and drizzle with the champagne.
This sorbet can be frozen but it will quickly lose its freshness, so it's best to prepare and eat.
Source:   Hudsons' on the Bend, Austin, Texas