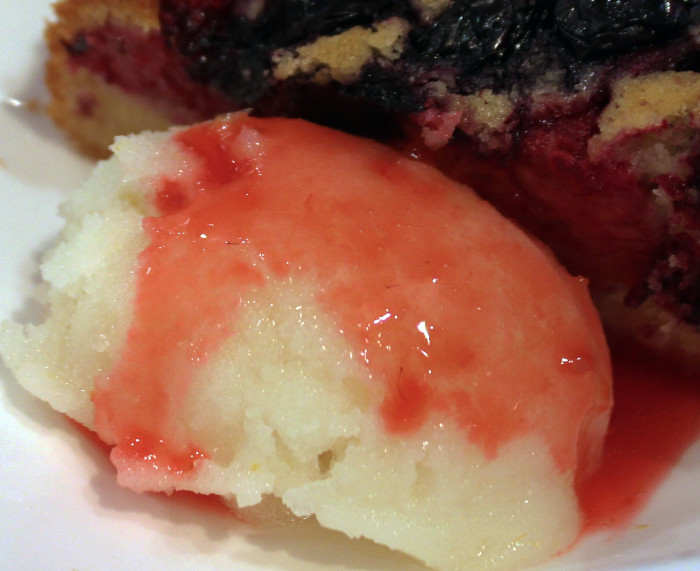 On the top edge of the picture above, you see some Double Berry Polenta Cake, which I posted about a few days ago. I said then that the cake was so good that it could stand on its own: no adornment needed.
While that is true, Suzen often loves to pair cake with ice cream or sorbet. Those pairings enable multiple contrasts: temperature, texture, and flavor tones. Citrus notes are often used to draw out the potential of berry flavors and here it is done with a bright lemon sorbet that itself is overlaid with strong basil flavor. It's a punchy combination, ideal for a brunch where you have champagne on hand for every course.
Basic and lemon is a classic combination, but you can certainly change the herb content here, substituting or adding. For example, oregano or thyme often replace or accent basil. And that lemon flavor could be swapped out for lime or orange or even grapefruit. Adjust the sugar in each case to match the tartness.
And, if you need assistance in mix and match herbs in general, you'll love this Herb Substitution Chart at About.com:
http://homecooking.about.com/library/weekly/blherbsub.htm
---
Basil Lemon Sorbet

Yield: 5 cups

Ingredients:

2 cups water
1 ½ cups sugar
1 ½ tablespoons lemon zest, divided
2 cups freshly squeezed lemon juice
1 ½ cup fresh basil leaves
Preparation:

Prepare a lemon simple syrup with the water, sugar and 1½ tablespoons of the lemon zest by combining all three in a medium saucepan set over medium-low heat. Cook mixture until the sugar is fully dissolved. Remove from heat.
Once the simple syrup is ready, add the basil and salt. Let the mixture steep for 30 minutes. Stir in the lemon juice. Cover and refrigerate 2 to 3 hours, or overnight. Strain the chilled mixture through a fine mesh strainer.
Turn on the Cuisinart® ice cream maker; pour the mixture into the frozen freezer bowl and let mix until thickened, about 15 to 20 minutes. When the sorbet is almost done, add the reserved zest through the opening on top of the ice cream maker and let churn until combined. The sorbet will have a soft, creamy texture. If a firmer consistency is desired, transfer the sorbet to an airtight container and place in freezer for about 2 hours. Remove from freezer about 15 minutes before serving.
Source: www.cuisinart.com

Photo Information Canon T2i, EFS 60 mm Macro Lens, F/5 for 1/50th second at ISO‑640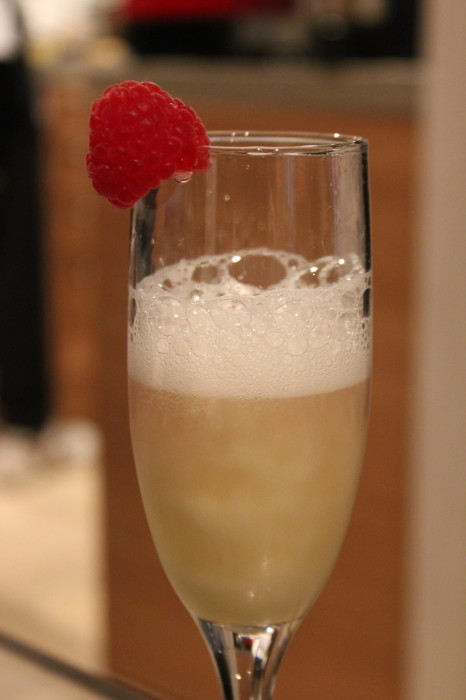 "I need you to make cocktails on Thursday. Sparkling cocktails," Suzen told me last week.
"How many people?"
"32."
"Oh, time for punch." I gave my natural reaction. I was not making cocktails for 32 people.
"No, individual cocktails. I suggest you do research." Apparently I was.
And so I have. For that many people, I needed something different and exciting. And easy. I didn't want to be squeezing lemons or limes or oranges for 30+ people. I didn't want to have three or four alcoholic components. I needed volume, production, swiftness.
This is why God has given us sorbet. You get flavor, coldness, and — when slightly softened — scoopability. That's a technical term that has nothing to do with cat litter.
For that many people, I scaled up, putting  softened sorbet in our Vitamix and processing to get a base for this cocktail. I had seen a recipe for this beverage that called for orange flavored vodka. For this lunchtime event, we wanted a less forceful drink, so I substituted a simple sugar syrup. I added just enough additional champagne to get a "flowing" mixture. You can then simply pour this mixture into each champagne flute, and top off with champagne. Gently stir to mix. Top with the raspberries and savor the bubbles.
Lemon sorbet works perfectly. You can go down another flavor profile: mango, peach, raspberry, … You can even offer up two or three pitchers, each with its own flavor and color.
Be prepared: people drink this readily and happily.
Lemon Sorbet Bellini
Yield: enough for at least 10 servings
Ingredients:
1 pint lemon sorbet, softened
½ cup simple syrup
1 cup champagne
Chilled bottles of champagne [one or more]
1 pint of strawberries
Preparation:
Combine the sorbet with the simple syrup and 1 cup of champagne in a strong blender. Our Vitamix was a godsend here. Process until you have a smooth mixture that is thick but pourable. You may need to adjust the amount of champagne depending on how much you have softened the sorbet. So, I would add the champagne gradually.
Put 2+ tablespoons of this mixture in the bottom of a champagne flute. Fill the flute to the halfway point – or more. Garnish with a raspberry.
Indulge.
Source: Brian O'Rourke