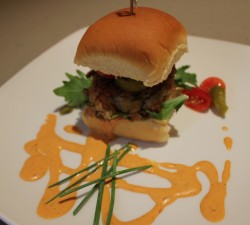 For my teambuilding programs at Cooking by the Book, I offer teams a choice of kitchen challenges, including our own version of Iron Chef. Our Market Basket Challenge lets a group break into individual teams. Each team has the same basket of ingredients and faces the challenge to create, without a written recipe, the winning main course. An experienced culinary advisor supports each team, offering suggestions and advice. But each team is free to be inspired, creative, and energetic.
It's surprising what variation the teams come up with using those same ingredients. The quality? Always good, and sometimes outstanding. Once, a team of women from the Far East made a dipping sauce based on a mother's Thai recipe. It was unforgettable and in the rush of the evening no one wrote it down. It's one of those mournable moments of life.
Of course, after an hour in the kitchen, when they are finished every person is famished and they want something NOW.
So, in advance of guests entering our kitchen for their contest, we prep a first course, one sure to satiate every palette. We too are challenged, having to match the creativity of our guests, we cannot disappoint them, and we have found the ideal first dish. These sliders are on so satisfying and versatile. You can replace the wasabi mayo with a southwestern salsa or a hyper tartar sauce or …
Stir up your own creative juices and just play. This can be your first course or make 2-3 for each person for a main course.
Rock Shrimp Sliders with Wasabi Mayo
Yield: 6 to 8 mini burgers
Ingredients for the Rock Shrimp Burgers:
1 pound rock shrimp
1 large egg
¼ cup parsley or cilantro, finely chopped
½ cup panko bread crumbs
Kosher salt
Freshly ground black pepper
Ingredients Wasabi Mayonnaise:
1 cup mayonnaise
¼ cup prepared wasabi (less or more to taste)
1 tablespoons soy sauce
1 tablespoon freshly grated ginger
1 teaspoon sugar
Pinch of salt
Mini buns or hamburger rolls or hot dog rolls cut to size
Garnishes: sliced cherry tomatoes, pickles, radish sprouts, lettuce
Preparation:
To make the mayonnaise, mix all the ingredients together. Taste and adjust the seasoning. Cover and refrigerate until ready to use.
To make the sliders, place half of the shrimp in the bowl of a food processor and add the egg. Process by pulses until smooth and free of chunks.
Coarsely chop the remaining shrimp and put into a bowl. Add the processed shrimp and the parsley, bread crumbs, and salt and pepper to taste.
Prepare the buns by cutting gout smaller buts with a 1 1/2-inch diameter ring mold or biscuit cutter. Grill if desired. Take a heaping tablespoon of the slider mixture and form it into a small patty, about 1 to 2 inches across. Continue with the remaining mixture until all the sliders are formed. Grill or fry them over medium heat until they are browned and cooked through.
Place a shrimp slider onto each min-bun bottom. Top with a slice of cherry tomato and wasabi mayo. Cover with the bun top and secure with a toothpick.
Source: Ham on the Street, the Food Network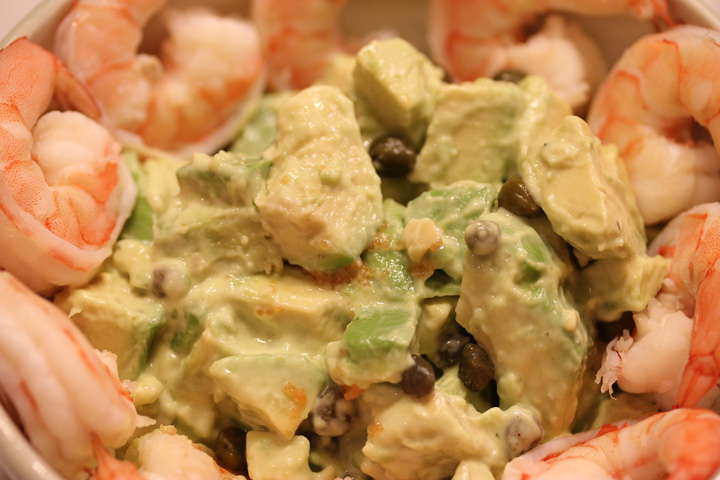 For a party where the food is going to be tapas — lots of little plates that let people dabble in multiple flavors — you have an endless palette of dishes to select from. You'll want a mix, of course, with perhaps some seafood, some other proteins, veggies, cheeses, dips, … If you assemble a half dozen dishes, or more, you're sure to please your guests.
Now, the thought of doing six or more things may at first seem intimidating: there's the shopping, the preparation, timing it all just before the party begins, … The wonder of tapas is that you can truly mix and match. Some of your tapas dishes may require some serious effort. But others, and this is one of them, can be breathtaking to devour and very fast to prepare. You can make this one hours ahead, cover, put in the fridge, and bring out just in time.
In a nutshell, you dice up some ripe avocado, mix in some mayonnaise and capers, and top with cooked shrimp. This dish takes minutes to assemble, but it is quite luxurious.
This recipe comes from The Book of Tapas by Simone and Ines Ortega. They suggest a homemade mayonnaise using a blender recipe. Suzen and I found that a traditional homemade mayonnaise using a whisk is actually easier to make and lets you better control the texture [and not by coincidence there's a mayonnaise post just 4 days back:  http://cookingbythebook.com/blog/recipes/homemade-mayonnaise/
You can, of course, improvise by adding in some herbs or finely diced onions. Heat from, say, diced jalapenos is surely an option. The important value of this recipe is that, as presented here, this dish is delicious, very eye appealing, and yet so quick to prepare.
In the days to come, I'll post some other tapas ideas that do require a little more effort. All of the recipes together will make for a smashing party menu.
Avocado and Shrimp Salad
Yield: Serves Four
Ingredients:
4 avocados
Juice of ½ lemon
1 teaspoon capers
4 tablespoons bottled salmon roe drained to garnish
5 ounces cooked shrimp, peeled
1 cup homemade mayonnaise
Preparation:
Peel and halve the avocados, remove the pits, then cut the flesh into cubes. Put them into a bowl and sprinkle the lemon juice over them. Stir in 3 tablespoons of mayonnaise and the capers. Transfer to a serving bowl and garnish with the cooked shrimp and salmon roe.
Tasting Notes:
You can certainly add more lemon juice or even lime juice to avocados. The 3 tablespoons of mayonnaise added to the avocados can be increased for a creamer base. And the remainder of the one cup of mayonnaise should be available on the side for dipping the shrimp.
Source: Adapted from The Book of Tapas by Simone and Ines Ortega