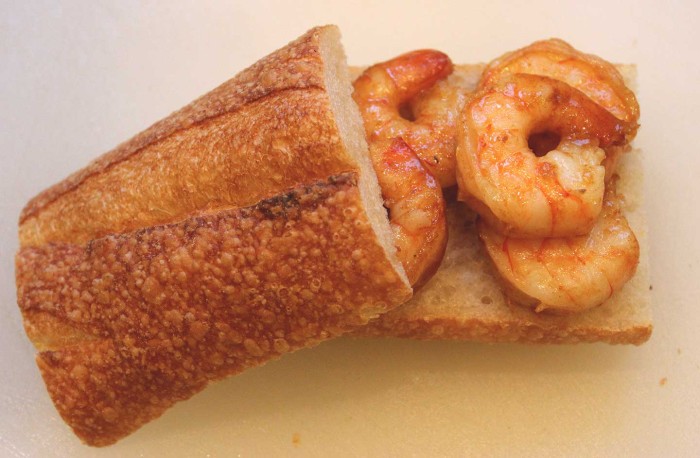 From The Southern Po'Boy Cookbook comes this shrimp po'boy that commands you have a beer in your left hand [or right, but somewhere]. As po'boys go, this one is simple to prepare and not terribly gooey, but it is rich in flavor. Well, most correctly, it is rich in butter and spices which combine to give you a lively sandwich treat.
Author Todd-Michael St. Pierre calls this sandwich a "flavor bomb of New Orleans goodness." Perhaps the word "bomb" is problematic, but this po'boy does provide an explosion of taste and smell you will definitely enjoy. I love the contrasting texture of soft bread and crunchy shrimp.
Besides the beer, a bowl of cole slaw would be an excellent accompaniment.
Take a look at The Southern Po'Boy Cookbook for a bevy of sandwich ideas. And you may enjoy my review of the book as a whole:
http://www.cookingbythebook.com/book-review-2/cookbook-review-southern-poboy-todd-michael-st-pierre/
The Who Dat Po'Boy
Yield: serves 4
Ingredients:
• 2 tablespoons canola oil
• 1 pound extra-jumbo [16-20 count] shrimp, peeled and deveined
• 3 tablespoons chopped scallion, both white and green parts
• ¼ cup dry white wine
• 1 teaspoons chopped fresh garlic
• 4 tablespoons Worcestershire sauce
• 1 teaspoon Tabasco sauce
• 1/8 teaspoon cayenne
• ½ teaspoon paprika
• 1 cup [2 stick] butter, cut into small cubes
• 1 12-inch loaf of French bread split nearly apart
Preparation:
Preheat a large cast-iron skillet over high heat. Add the oil and sauté the shrimp just until done, about 2 minutes per side. It's best to cook he shrimp in batches in you do not have a large skillet. Removed the cooked shrimp and set aside.
Add scallions to the hot skillet in which you sautéed the shrimp, and cook for 1 minute. Put in the white wined, and let simmer until reduced by half. Then add the garlic, Worcestershire sauce, Tabasco sauce, cayenne, and paprika. Shake the pan well, and cook for 1 minute. Reduce the heat to low.
Gradually add the cubes of butter, shaking the pan briskly to melt the butter. Continue to add butter and shake the pan until all the butter has melted. Add the shrimp back to the pan, and toss well to coat with the butter and seasonings.
Pile the buttered seasoned shrimp into the loaf, close the sandwich, and l cut into four sections to serve.
Source: The Southern Po'Boy Cookbook by Todd-Michael St. Pierre
Photo Information Canon T2i, EFS 60 mm Macro Lens, F/5 for 1/60th second at ISO 2000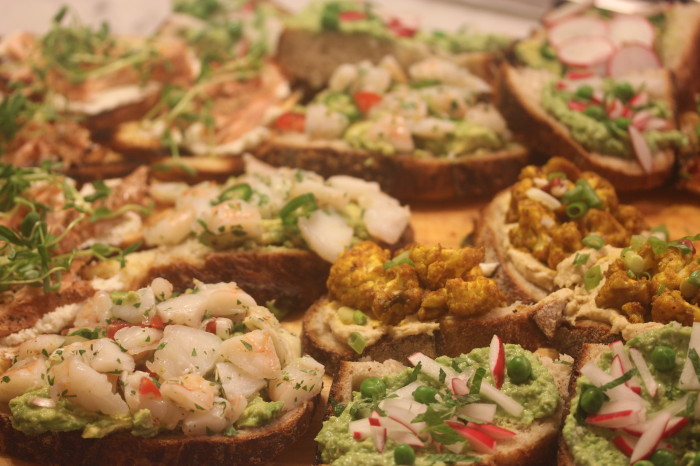 Le Pain Quotidien is a chain of lovely restaurants, European inspired and bread-centric. The new cookbook, thrillingly titled Le Pain Quotidien Cookbook, has favorites from the restaurant but also an abundance of the emblematic tartines that are the Le Pain specialty.
In short, a tartine is a good piece of sourdough bread topped with an inviting array, no spectacular array, of flavors.
For dinner with friends, Suzen scoured this book to find a trio of recipes that would create a complete dinner of multiple, contrasting, yet not competing flavor components. Suzen's favorite was the first one listed here: Hummus and Curried Cauliflower. I loved the Spicy Shrimp and Avocado. But the Pea, Pancetta and Radish Tartine was a great contribution to round out the night.
Suzen made a double portion of each of these recipes, easily enough for 4 for dinner. Add a dry white wine, perhaps some dried fruit on the side, and you have a feast that cannot be topped. [That's a food pun, you know: topped? Tartine?].
Never mind.
You probably want to find a copy of the cookbook, itself, and take a journey through the entire bevy of recipes here. There are 40 pages of tartines, but also breads, breakfast ideas, soups, salads, things to share, and desserts to treasure. When you see the picture of the Banana Pastis Pie, you will begin to caramelize the bananas on the spot.
Each recipe comes with a matching full page photograph. These are the perfect food-GPS directions for you to follow, if you wish, or simply be inspired, if you feel a tad creative. This book itself is inspired, but also inspiring. You'll enjoy reading it, cooking from it, and tasting what are sure to be among your best culinary accomplishments.
Hummus and Curried Cauliflower Tartine
Yield: Serves 4
Ingredients:
For the curried cauliflower:
½ cauliflower, washed, dried and broken into very small florets
2 teaspoons ground turmeric
1 teaspoon cumin
1 pinch freshly grated nutmeg
1 pinch of cinnamon
1 sprig of thyme, leaves only
2 tablespoons extra virgin olive oil
Sea salt
For the hummus:
1 ⅔ cups canned chickpeas, drained [reserve the  liquid]
2 tablespoons tahini
Juice of ½ lemon
1 tablespoon extra virgin olive oil
1 pinch of sea salt
To serve:
4 slices of sourdough bread
1 scallion, chopped
2 tablespoons extra virgin olive oil
Preparation:
Start by making the curried cauliflower. Preheat the oven to 425°F. In a bowl, toss the cauliflower with spices, thyme leaves and olive oil, mixing well. Transfer to an ovenproof dish and roast in the oven for 10-15 minutes, until lightly brown on top. Remove from the oven and set aside to cool.
Place all the hummus ingredients into a food processor or use a hand blender to process until smooth. If necessary, use a little of the reserved chickpea liquid to thin the mixture to a smooth puree. Refrigerate for at least 30 minutes.
To serve, spread the hummus on the bread and top with the curried cauliflower. Sprinkle the scallion on top and drizzle with the olive oil.
Spicy Shrimp and Avocado Tartine
Yield: Serves 2
Ingredients:
10 shrimp, cooked and peeled
2 cherry tomatoes, cut into chunks
1 teaspoon thinly sliced jalapeno pepper
2 tablespoons finely chopped scallion, green part only
½ clove garlic, crushed
1 tablespoon fine chopped fresh cilantro
Sea slat
Juice of 1 lime
1 avocado, just ripe, peeled and pit removed
2 slices of sourdough bread
1 lime, peeled
Preparation:
Cut the shrimp or prawns into half across their length and then their width if they are very large.
Put the shrimp into a bowl with the tomatoes, jalapeno, scallion, garlic and cilantro. Seaton with salt, then add half the lime juice and mix well. Cover the bowl with plastic wrap and refrigerate for 10 minutes.
Mash the avocado flesh with a fork together with the remaining lime juice. Spread the avocado on the bread slices, then top with the shrimp mixture.
Using a sharp knife, segment the lime by cutting away the skin and pith. Place the lime slices on top of the shrimp mixture and serve immediately.
Pea, Pancetta and Radish Tartine
Yield: Serves 2
Ingredients:
For the pea hummus:
1 cup shelled fresh peas, or frozen petit pois, defrosted
2 tablespoons tahini
1 tablespoon olive oil
2 pinches sea salt
Black pepper
To serve:
2 slices of sourdough bread
4 very thin slices of raw pancetta [very dry] or fired, if preferred
4 radishes, cut into thin slivers
8 mint leaves, finely chopped
4 teaspoon shelled fresh peas or frozen petits pois, defrosted
 Preparation:
For the pea hummus, pout the peas, tahini, olive oil, salt and black pepper into a food processer or use a handheld blender to blend into short burst of 10-15 seconds, until you have a smooth puree.
To serve, spread the pea hummus on the bread, then top with the pancetta, radishes, mint and peas.
Source: Le Pain Quotidien Cookbook by Alain Coumont and Jean-Pierre Gabriel
Photo Information: Canon T2i, 18MM Macro lens, F/2.8, 1/80th second, ISO 500.