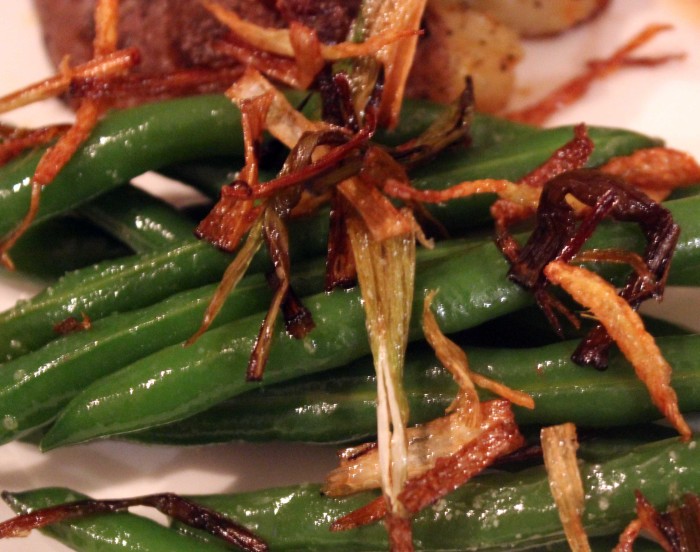 Green beans are wonderful. You can depend on them, for they always taste the same. Same flavor, same drying mouth feel, same trailing after taste that screams: you just ate green beans.
Since it is one of the few vegetables Suzen can readily get me to consume, she has thoughtfully been expanding her green bean recipe portfolio. Personally, I think even she was getting bored but I'll never get the truth out of her.
And what does it matter? A good steak or some chicken. A hearty wine. And another serving of green beans. Here that basic bean flavor is enshrouded with some flavor punch. If there is going to be an after taste, then let it be scallion or ginger. Or both.
This recipe is a template for you. Clearly you can add more or less of the accompanying scallions or ginger. Leave one out. Substitute another onion idea. Dash it all with just a smidgeon of hot sauce.
You are not supposed to play with your food. But, oh, really? Yes, you can.
You'll find this dish with its vibrant colors can be a key accent point on your plate. Paired with, say, the glorious pure white of mashed potatoes dotted with yellow melting butter, and with the black and red of seared but rare steak, and you'll have a palette of colors to alert your palate that a feast has just been served.
---
Green Beans with Frizzled Scallions and Ginger

Yield: serves 4

Ingredients:

1 pound green beans, stem ends trimmed
2 tablespoons extra virgin olive-oil
¾ teaspoon coarse kosher salt
Vegetable oil
4 scallions, tender green and white parts, thinly sliced lengthwise [½ cup]
3 inches fresh ginger, thinly sliced and then cut into matchsticks [¼ cup]
Preparation:

In a large pot of boiling salted water, cook the green beans for 4 minutes until crisp-tender (time will vary depending on the thickness of the beans). Drain well and toss with olive oil and ½ teaspoon of the salt. Transfer to a serving platter.
Meanwhile, pour ½ inch vegetable oil into a small saucepan and heat over medium heat to 360 degrees on a deep frying thermometer. Once the oil is hot enough, add the scallions and ginger and cook for 2 minutes, or until the scallions are beginning to brown but are still mostly green. Scoop them out with a slotted spoon or spider. Set the oil aside.
To serve, spoon 2 Tablespoons of the scallion-ginger oil over the green beans, top with the frizzled scallions and ginger, and sprinkle with the remaining ¼ teaspoon of salt.
Source: The Beekman 1802 Heirloom Vegetable Cookbook

Photo Information Canon T2i, EFS 60 mm Macro Lens, F/5 for 1/6th second at ISO‑3200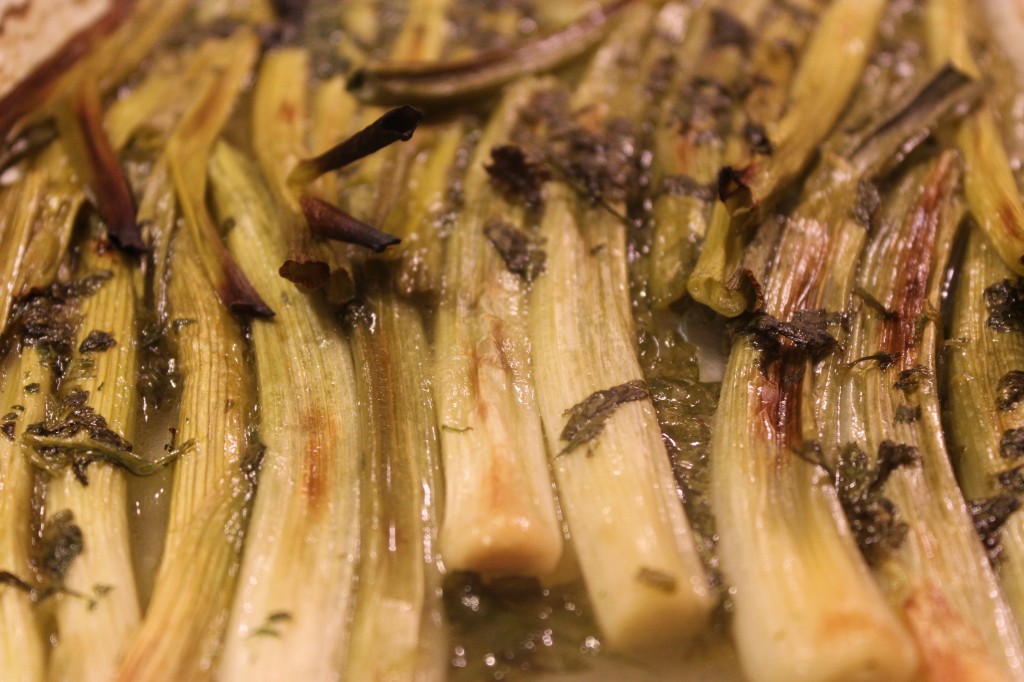 Here's another recipe in my green meals menu. This particular item was, however, tested out of marital necessity.
"Back off." Suzen put her hand on my chest and pushed me away.
Not to be bitterly legalistic, but I started to assert my rights as a husband. Before I could utter two syllables she cut me off.
"How many times have I told you? Don't eat raw onions. You could drop an elephant."
I love raw onions. Actually, green onions or scallions. I have eaten them raw from the time I could stand on my tiptoes and reach the kitchen counter. No one in my life has quite reacted like Suzi.
I adore my scallions and I love her, so I looked for a solution. This recipe, from All About Braising by Molly Stevens, had caught my eye before so I turned to her before seeking legal advice.
When you braise, you cook something with a little fat, a little liquid, in a covered pan for a "longish" time. It's not quick or intense like roasting. It's a softer, gentler approach.
These scallions came out of the oven soft, brown, a slightly sweet, and oh so subtle in flavor. They have become "cooked greens" with a veggie flavored frosted from the beginnings of carmelization. All the raw scallion sting and smell are gone. Or so I hoped.
I braised for dinner. Suzen and I both ate. She tried the scallions in silence. I rose, tiptoed to just feet away, exhaled, and sought a verdict.
"Well?" I asked.
"You may approach," she said
I strongly believe that the secret to a long marriage is wide shelf of cookbooks.
That top picture is the braised scallions and below you see them dotted with butter and herbs before braising.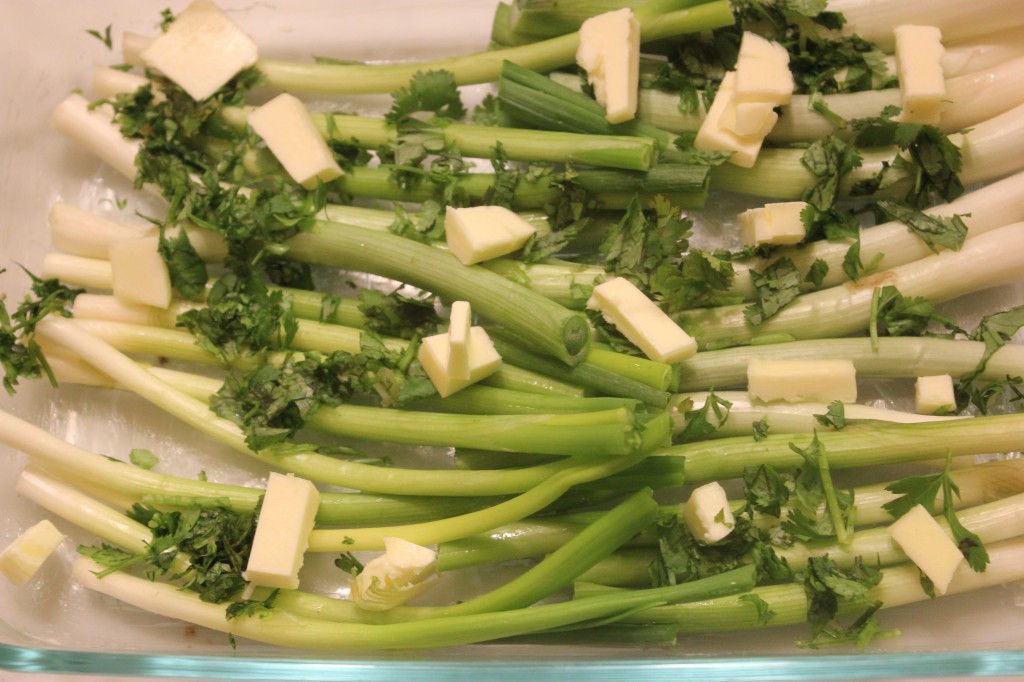 Braised Scallions
Yield: serves 6
Ingredients:
• 1 cup shelled pistachios
• 2 ½ tablespoons unsalted butter, at room temperature
• 1 pound scallions (about 5 bunches, or 3 dozen)
• ½ cup water
• 1 ½ teaspoons coarsely chopped fresh tarragon (do not substitute dried) or 1 tablespoon chopped flat-leaf parsley
• Coarse salt and freshly ground black pepper
• 1/2 lemon
Preparation:
Heat the oven to 350⁰F. Using about ½ teaspoons of butter, generously butter a 9-by-13-inch baking dish.
Trimming the scallions: Trim the root ends and 1 ½ inches off the green tops of the scallions. Arrange half of the scallions in the baking dish so the bulb ends are lined up at one end and the greens are toward the middle. Place the other half of the scallions in the opposite direction, so you end up with a double layer of scallion greens across the center of the dish and a single layer of bulbs at each end of the dish.
The braise: Pour the water into the dish. Cut the remaining butter into slivers and dot it over the top of the scallions. Season with the tarragon or parsley, salt, and pepper. Cover the dish tightly with foil, and slide onto the middle rack in the oven. Braise undisturbed until fragrant and tender, 35 to 40 minutes.
The finish: Remove the foil from the dish, and increase the oven heat to 450 degrees, the scallions for 10 minutes, then shake the pan back and forth to coat the scallions the glaze that will have formed. Continue roasting until the liquid evaporates and the edges of the scallions are beginning to brown, another 5 minutes or so. Squeeze over a drops of lemon juice to taste, and serve hot or warm.
Source: All About Braising by Molly Stevens