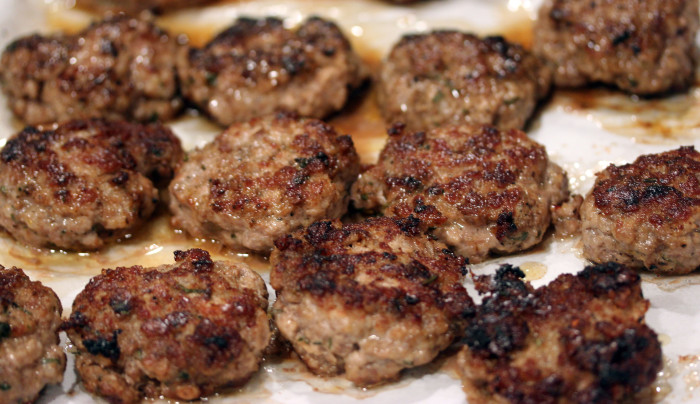 For a complete brunch, you may just want some protein. Maybe bacon. Maybe something more. Sausage, for example. Yes, you can buy sausage everywhere. There are those warning tales of "what goes into the sausage you don't want to know." And if you turn the package over and try to read the label, you will find yourself with unfond memories of you last chemistry class.
What if you did know what went in your sausage? And you had no trepidation about any of the ingredients or techniques?
Here, with thanks to the ultimate foodie, is a sausage recipe for you. It's a two stage process, grinding your own meat and then using it on the day you want your sausage. Your grind can sit in the fridge and be used with a week, or frozen for use up to three months away. If you have some idle time on weekend, and you feel like doing something "manly" with meat, then grind away. And the next Sunday, save the bacon and bring on the sausage.
Your sausage.
Breakfast Sausage
Yield: 2 pounds or 16 2" patties
Ingredients:
·       2 pounds pork butt (2 ½ pounds with bone), diced into 1/4-inch pieces
·       ½ pound fat back, diced into ¼-inch pieces
·       2 teaspoons kosher salt
·       ½ teaspoon freshly ground black pepper
·       2 teaspoons finely chopped fresh sage leaves
·       2 teaspoons finely chopped fresh thyme leaves
·       ½ teaspoon finely chopped fresh rosemary leaves
·       1 tablespoon light brown sugar
·       ½ teaspoon fresh grated nutmeg
·       ½ teaspoon cayenne pepper
·       ½ teaspoon red pepper flakes
·       Special equipment: meat grinder
Preparation:
Combine diced pork with all other ingredients and chill for 1 hour. Using the fine blade of a grinder, grind the pork. Form into 1-inch rounds. Refrigerate and use within 1 week or freeze for up to 3 months. For immediate use, sauté patties over medium-low heat in a non-stick pan. Sauté until brown and cooked through, approximately 10 to 15 minutes.
Source: Alton Brown, of course
Photo Credits: Canon T2i, 18-55MM Macro lens, F/2.8, 1/100th second, ISO 1000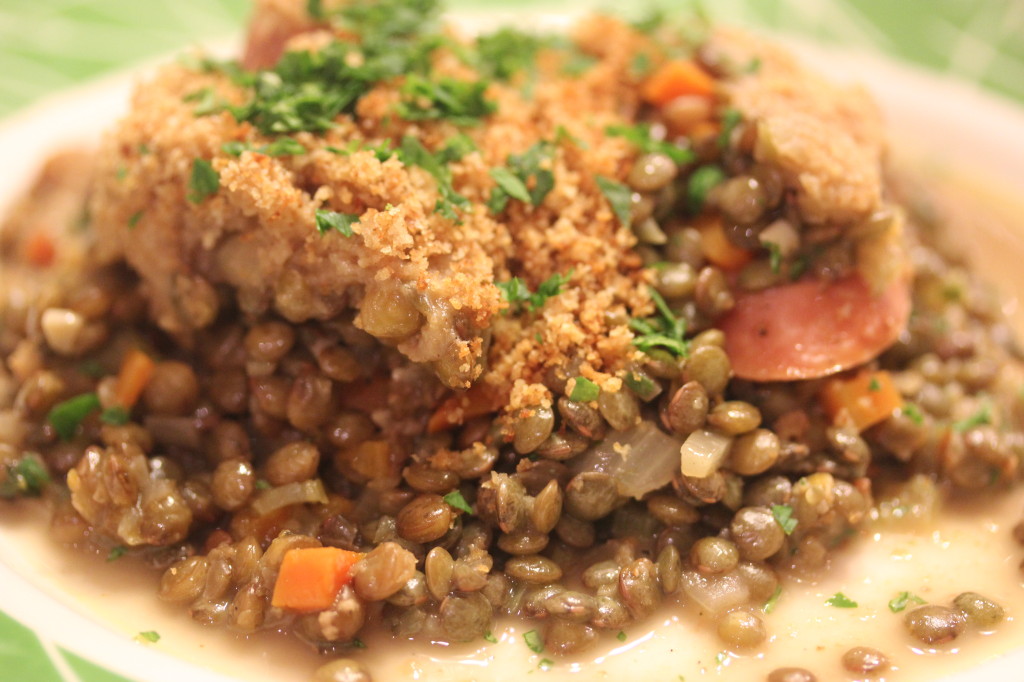 Cassoulet is a charming word and a most delicious dish, filled with layers upon layers of flavors. Of course, making cassoulet is rather like running the marathon. It's a journey. I began life as a "quarter miler" or 400 meter sprinter. When I took up marathoning, which is at the opposite of the "how long" scale, I needed somewhat to put it all in perspective. And then it struck me. Running the marathon was just doing a 400 meter sprint over and over again. Actually, it's just 105 consecutive 400-meter runs.
That's nothing. As long as you are a spectator.
Suzen saw this quick cassoulet recipe in Bon Appetit and jumped on it. Gone are the many hours of cooking, which pleased her. Gone too is the duck, which disappointed me. But, there is compromise in life. This recipe calls for garlic sausage and our local supermarket, Adams in Kingston, New York, has a local sausage that is a garlic lovers dream.
And so too are the results of this recipe. That picture above suggests a torrent of flavor, which is precisely what strikes both your palette and your nose. Your kitchen will have filled in the hour of cooking with the aroma of veggies in transformation, all dotted with flavor spikes from the sausage. When this comes out of the oven, you will be ready to eat. You'll be delighted.
Duck? What duck?
And the picture at the bottom? Several years ago, cooking-maven Ann Nurse gave Suzen this wonderful cooking container that holds far more food than two people can devour. For this meal, we invited family and sent them home with plenty of leftovers. The pot now sits back on its shelf, properly used and awaiting its next cassoulet adventure.
Lentil and Garlic Sausage Cassoulet
Yield: serves 8
Ingredients:
1 pound of 1 ½"-2″-thick piece smoked bacon, skin on
1 bay leaf
2 medium onions, 1 whole, 1 minced
2 whole cloves
2 cups French green lentils
2 tablespoons olive oil
3 medium carrots, peeled, diced
2 celery stalks, diced
Pinch of cayenne pepper
Kosher salt, freshly ground pepper
3 large garlic cloves, minced
2 teaspoons coarsely chopped fresh sage
2 teaspoons coarsely chopped fresh thyme
12 ounces good-quality kielbasa sausage or other smoked garlic sausage, cut on a diagonal into ⅓"-thick slices
4 cups breadcrumbs made from day-old white country bread
¼ cup (½ stick) unsalted butter, melted, or olive oil
1 tablespoon coarsely chopped flat-leaf
1 tablespoon coarsely chopped fresh chives
Dijon mustard (optional)
Cornichons (optional)
Preparation:
Bring bacon and 8 cups water to boil in a large pot (bacon should be submerged). Attach bay leaf to whole onion by piercing it with cloves,- add to pot. Reduce heat to medium. Simmer bacon, turning occasionally, until tender, about 1 hour. Transfer to a plate and let cool. Strain broth through a fine-mesh sieve into a large bowl. Skim off fat from surface and discard.
Combine strained broth and lentils in a large saucepan. If necessary, add more water to cover lentils by ½". Bring to a  simmer and cook, stirring occasionally, until lentils are just tender but not mushy, 18-20 minutes. Drain lentils, reserving broth. Transfer lentils to a large bowl.
Preheat oven to 375°. Heat oil in a large skillet over medium heat. Add minced onion, carrots, celery, and cayenne; season with salt and pepper. Cook, stirring occasionally, until vegetables are soft and lightly colored, 7-8 minutes. Add garlic, sage, and thyme; stir for 1 minute. Transfer to bowl with lentils.
Cut skin from cooled bacon; discard skin. Cut bacon crosswise into ⅓"-thick slices. Add to lentils; toss mixture gently until well combined. Season with salt and pepper. Transfer mixture to a 3-qt. baking dish.
Distribute sausage evenly over lentil mixture, gently pushing into lentils. Moisten lentils with reserved broth to barely cover (2-2½cups,- add water if needed).
Combine breadcrumbs with butter in a medium bowl; season lightly with salt and pepper. Toss to combine. Sprinkle evenly over lentil mixture; cover dish tightly with foil and place on a rimmed baking sheet.
Bake cassoulet for 45 minutes. Remove foil; bake until breadcrumbs are golden and juices are simmering, 25-30 minutes. Let cassoulet rest for 15 minutes before serving. Sprinkle with parsley and chives; serve with Dijon mustard and cornichons, if desired.
Source: Bon Appetit Magazine