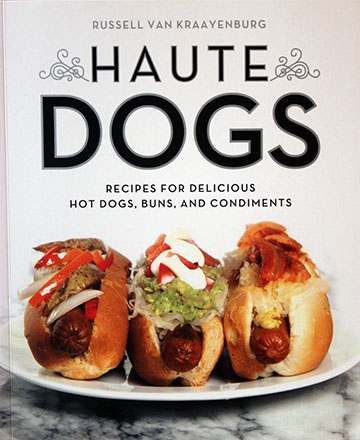 For many of us, a "hot dog" really means "chili hog dog." In Haute Dog, Russell Van Kraayenburg offers dozens of hot dog recipes, from both the United States and around the world. The US versions are often slathered in chili sauce. I have fond memories of Roakes in Portland, Oregon, and I'm always in search of a way to duplicate that secret recipe.
I have not tested this recipe, yet, or its variations that Russell discusses. But below is Russell's well considered recipe for Classic Hot Dog Chili. It's a basic recipe that can be transformed into any of the 8 varieties of chili sauce presented in Haute Dog. I invite you to look at the book for the specific details of these variations:
Greek: no cumin or cayenne, but with oregano, cinnamon and allspice
Coney Island: no cumin or cayenne, instead yellow mustard and tomato sauce instead of paste
Rhode Island: adding ground mustard and celery salt
Rochester: ground mustard and paprika added
District: ground mustard, coriander, a bay leaf, and vinegar
I compared Russell's basic recipe with others and they all share the same basic ingredients, but, to his advantage, Russell wisely uses real garlic and onion instead of the onion and garlic powders that frequent many recipes. He's making this chili from scratch and that can only benefit us. Besides this basic recipe, I'll be trying the variations above, looking for a particularly great taste and perhaps something close to Roakes.
Your childhood memory may be stirred here, recognizing the flavor sparks that mustard or paprika or vinegar added to those neighborhood dogs you grew up with.
My experiments begin this week, and I will report in. One note, Russell says this recipe produces 1 quart of sauce, enough for 4 hot dogs. That's one cup of sauce per dog. I interpret that as a forewarning, if not proof beyond a reasonable doubt,  that he is a hot dog extremist.
Classic Hot Dog Chili Sauce
Yield: 1 quart of sauce [can be frozen]
Ingredients:
2 tablespoons extra virgin olive oil
2 large white onions, diced
4 cloves garlic, finely chopped
1 teaspoon salt
¼ teaspoon freshly ground black pepper
1 tablespoon ground chili power
1 teaspoon ground cumin
⅛ teaspoon ground cayenne pepper
1 pound ground beef
1 cup beef stock
8 ounces tomato paste
Preparation:
Heat the olive oil in a large skillet over medium-high heat. Add the onions and cook until soft and translucent, about 8 minutes, stirring occasionally. Add garlic and cook for another 2 minutes, stirring occasionally.
Add the salt, black pepper, chili powder, cumin cayenne, and beef. Cook until beef is browned and no trace of pink remains.
Reduce the heat to medium-low and add beef stock and tomato paste. Stir until evenly combined. Simmer for 30 minutes, stirring occasionally. Serve immediately or store in an airtight container in the refrigerator for up to 3 days.
Source: Haute Dog by Russell Van Kraayenburg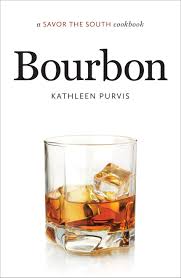 Looking for something different for your Thanksgiving table? Here's a sauce full of sweet fire for that turkey meat.
The University of North Carolina Press has a series of cookbooks, Savor the South, that are notable for their quality and inspiration. Each of the books is slim, about 50 pages, but conveys the full potential of its topic. The books focus on single items: peaches, buttermilk, biscuits, pecans, tomatoes, …
And now Bourbon. Bourbon does offer cocktail recipes of course, but there are appetizers and main dishes, sides and sauces. And desserts: pecan bourbon balls, bourbon pecan pie, maple bourbon ice cream, and many more.
For your Thanksgiving enjoyment, consider the recipe below for Tipsy Jezebel Sauce. Author Kathleen Purvis takes the classic Jezebel Sauce recipe and spikes it up. You can serve it with cream cheese on crackers, or glaze a pork loin, or serve on the side with your Thanksgiving turkey.
You might want to leave out the horseradish and mustard then serve a "diluted" version on ice cream or cake.
This recipe makes 2 ½ cups. You'll quickly find uses for every single teaspoonful.
Oh, the name? Jezebel? No one knows for sure although some suspect it was inspired by Bette Davis play a hot and sweet character in the movie Jezebel.  We'll never know.
Tipsy Jezebel Sauce from Bourbon
Yield: 2 ½ cups
Ingredients:
1 12-ounce jar pineapple preserves
1 cup apple jelly
½ cup apricot preserves
2 tablespoons prepared horseradish
2 tablespoons Dijon mustard
3 tablespoons bourbon
Preparation:
Whisk all the ingredients together. Refrigerate until ready to use. It will keep for weeks.
Source: Bourbon by Kathleen Purvis, a Savor the South Cookbook from the University of North Carolina Press.