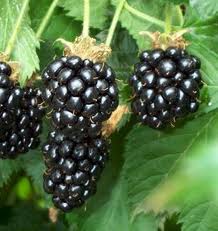 In yesterday's blog for corn ice cream, I mentioned that its creator, Jeni Bauer, suggested freezing the ice cream in alternating layers: ice cream and blackberry sauce. Instead, we made the sauce on the side and served it on top of the ice cream. Either way, you will consume it all.
This is about as simple a recipe as you can have: berries and sugar. The trick here is to cook it to the required temperature of 220°F. After about 216°, the temperature rise on medium-high heat is slow. Have patience.
When cooled, this sauce will literally bind up. It does not flow, and if you use it as we did, you'll need to warm it up. Cooking to this temperature with large blackberries releases an enormous amount of pectin. This "sauce" is really a jam. So, if you don't have ice cream for breakfast, you can have toast with "Blackberry Sauce."
Jeni suggests this technique for raspberries or black raspberries, too. We'll be trying that out as the summer goes.
Blackberry Sauce
Yield: 1 ¼ cups
Ingredients:
2 cups berries
1 cup sugar
Preparation:
Combine the berries and sugar in a small saucepan and bring to a boil over medium-high heat.
Continue boiling, stirring occasionally, until it reaches 220°F [about 5 to 8 minutes]. Let cool slightly, the force through a sieve to remove the seeds. Or leave a few seeds in there just to prove you made it.
Refrigerate until cold before using.
Notes: when boiling, we used a spoon to mash the berries and make sure they gave up all of their liquid. Large blackberries are strong and will not break down in boiling liquid unless you render assistance.
Source: Jeni's Splendid Ice Creams at Home.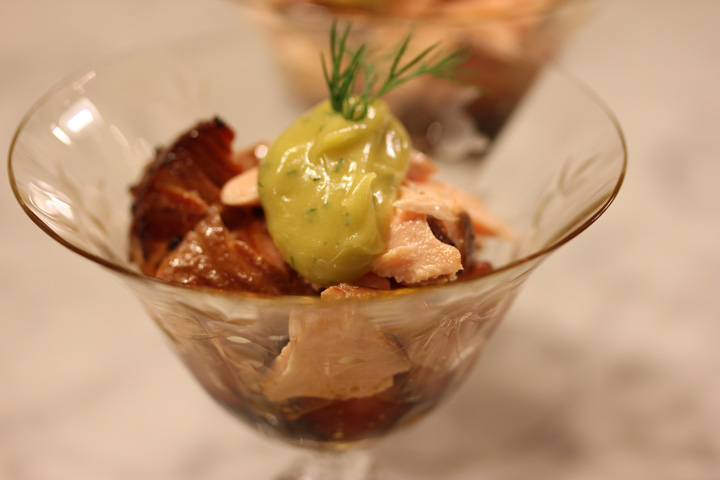 Tapas dishes can be simple yet delicious. Or they can be a bit complex and totally delicious. This is the latter. It's a fabulous dish that will awe anyone who eats it. The prep time here includes peeling tomatoes, a necessary step to make sure that the texture of all the components is delightfully consistent.
This is an example of a dish that in France would be called a verrine: a "vertical" terrine. It's layered with each layer independently contributing visually as well as to the palette.
I was very proud of this dish, just to look at it. Taste wise? It's wonderful. On my personal scale of 1 to 10, this rates an 8 or 9. How to get to a 10? I think you can add flavor here. Some smoked peppers with the tomatoes or as a separate layer. Perhaps some onion. This dish, wonderful by itself, simply begs for you to tinker and enjoy.
The dill sauce here is almost a mayonnaise. It just lacks lemon juice or vinegar. If you prefer, a splash of sherry vinegar at the end makes it brighter and, I think, a better match for the smoked salmon. As for that salmon, I posted a few days ago the idea of smoking your own at home using a Cameron stovetop smoker. This recipe is the perfect example of how that handy device can make your home cooking 3 star class.
To accompany this, Brian and I had some sparkling Cava with a splash of pomegranate liquor. Elegantly sophisticated and very gratifying. If you make this dish, you're going to want something to wash down your pride.
This recipe comes from The Book of Tapas by Simone and Ines Ortega. Published last year, Book of Tapas is a treasure trove of delights like this one. You've had salmon with dill before, but never quite like this. I heartily recommend the book as source to inspire and please you.
Little Glasses of Salmon with Dill Sauce
Yield: Serves 6-8
Ingredients for the Dill Sauce:
1 egg yolk
1 tablespoon sugar
1 tablespoon chopped fresh dill
1 tablespoon sweet mustard
¾ cup olive oil
Salt
Ingredients for the Tomato and Salmon Layers:
1 tablespoon walnut oil
1 tablespoon balsamic vinegar
3 ripe tomatoes, peeled, seeded, and diced
1 pound smoked salmon in one piece
Freshly ground pink pepper
2 ounces salmon roe, drained
1 sprig dill for garnish
Preparation of the Dill Sauce:
Whisk the egg yolk in a bowl. Add the sugar, dill and mustard and continue whisking. Gradually whisk in the oil, little by little. Season to taste with salt and place in the refrigerator.
Preparation of the Layers and Construction:
Whisk the walnut oil and balsamic vinegar together in another bowl. Add the pink pepper and salt to taste and continue whisking until all the ingredients are amalgamated. Add the tomatoes and gently toss until they are well coated with the dressing. Divide the tomatoes between 6-8 glasses.
Cut the salmon into small cubes. Add a layer of salmon cubes to each glass and spoon the sauce over each glass. Top with a little salmon roes. Chill until required, then garnish with dill and serve.
Tasting Notes:
As a variation, puree the salmon in a blender. Mix it with a little light cream, then make the salmon layer with this puree.
Source: Adapted from The Book of Tapas by Simone and Ines Ortega