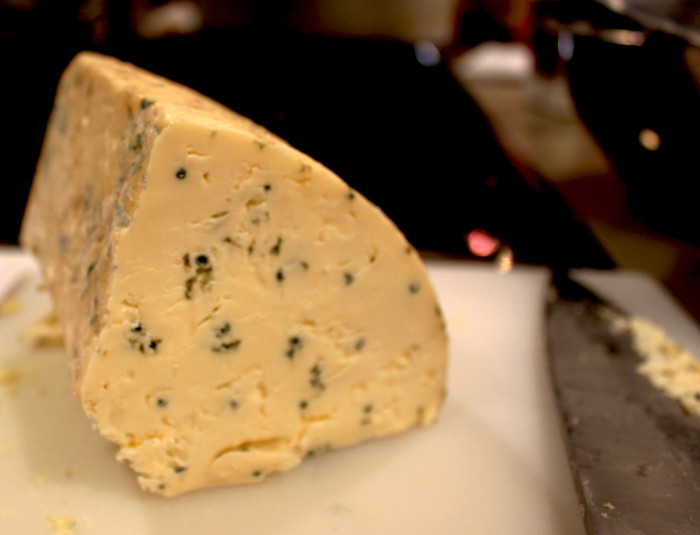 Blue cheese. I just hate assocaitin the word "bacteria" with something so beautiful. And so versatile. I love to eat blue cheese, directly, on crackers, by the quarter pound. But the truth is blue cheese belongs in salad and soups and, yes sauces.
There is a photo at the bottom of this post of the actual sauce. I will be chided for the photo. It's a conundrum. I have this great recipe and this not so perfect photo. Suzen will be displeased, but it's summer barbecue season and I cannot go another day without giving you this secret. So, I shall publish and bear the consequences.
Do you know what the hardest think to photograph is? Soup. Followed by beverages. Followed by sauces, like a blue cheese sauce. If it's liquid, it's hard. Rock solid hard. Does that make sense? Probably.
I'm working on it. Please bear with me. Because of the way digital cameras focus, a liquid surface confuses the computer chips and algorithms in a digital camera. People are working on better computers, better algorithms, better lighting techniques, … better everything.
Now about the sauce. There is nothing like a great barbecued steak. It's simple, direct and deep in flavor. So why do we all employ sauces that are so powerful they can show up on the Richter scale? Seriously. You aren't eating steak with sauce. It's sauce with steak. Or maybe just sauce.
Too often sauces dominate, burying all those steak flavors. What if you want a sauce that does have flavor, but that smoothly complements the meat instead of being its bitter rival.
Here's a solution, a blue cheese dressing that you can adjust for heat but that will not overpower you meat. You can make this sauce in a couple of minutes. If you are adventuresome, you can add some herbs, too, but beware of being your own worst meat enemy.
---
Brian's Blue Cheese Steak Sauce

Yield: serves 2

Ingredients:

2 ounces of blue cheese
¼ cup buttermilk
Freshly ground pepper
Hot sauce to taste [Tabasco or your favorite but do not overdo it!]
Preparation:
Put the cheese and buttermilk in a metal bowl. Using a fork, work the cheese into the buttermilk. At first you'll have just crumbled cheese and buttermilk liquid but the mixture will ultimately homogenize. Add the pepper and then a few drops of hot sauce. Adjust the hot sauce to your preference. Because you used blue cheese, salt should not be necessary.

Source: Brian O'Rourke

Photo Information Canon T2i, EFS 60 mm Macro Lens, F/5 for 1/20th second at ISO‑3200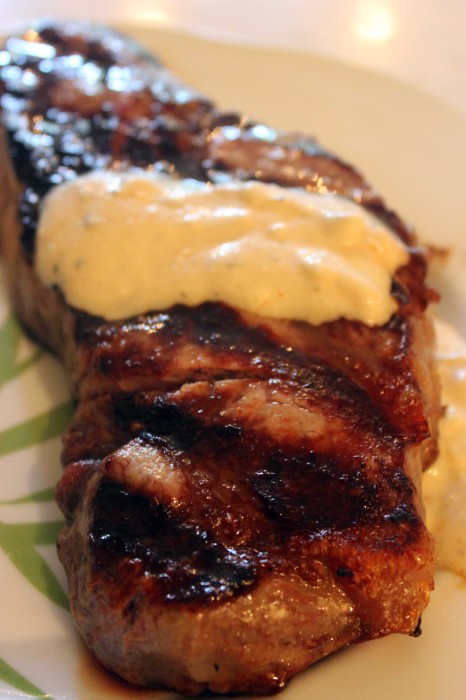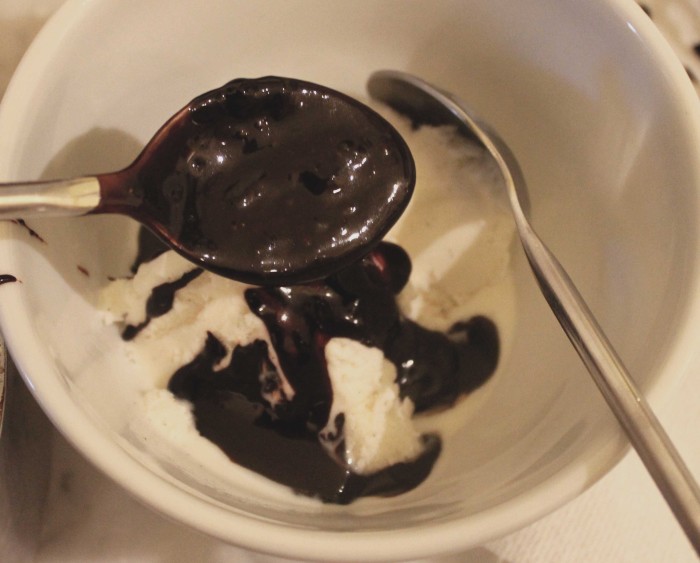 "It tastes funny." That was my grandson Daniel commenting on last week's Malted Milk Chocolate Sauce.
Being a grandfather, when the grandson is thirteen and as tall as I am, requires care. Better not to try to bluff it out, I concluded.
"It has malt, Daniel. Do you know what malt is?"
"Yes, it's something that tastes funny."
"I think the flavor is delicious, Daniel. Try more."
"No."
It's pretty hard to convince the kid. He's stubborn. And, as I mentioned, he's tall.
So, more discretion. Another recipe. This one, for Fudge Topping, has chocolate and cocoa powder. No malt. There is, by the way, some concern about malt having traces of gluten, so if you need a gluten free topping, this is the one to make.
This sauce is easy to make: five minutes plus some cooling time. That can be tricky with thirteen-year olds. The taste is immediately chocolate with lots of those husky overtones that rich cocoa engenders. There is plenty of cocoa in this recipe so the color is as deep as the flavor.
In the picture above, yes, I have some little imperfectly melted chocolate chips. My mistake and when I reheat this batch they will disappear. The recipe calls for 3 ounces of bittersweet chocolate, coarsely chopped. Thing is, you are adding both that chocolate — chips in my case — and cocoa powder to a liquid that was boiling but is now off the heat. The temperature drops very quickly and, as in my case, melting can be imperfect.
I pointed out the lingering chip fragments to my grandson.
"Tastes fine to me, Gramps," he said.
Lovely child.
---
Fudge Topping

Yield: serves 8 people

Ingredients:

¾ cup granulated sugar
½ cup water
⅓ cup light corn syrup
¾ cup unsweetened cocoa powder
3 ounces bittersweet chocolate, coarsely chopped
1 teaspoon vanilla
Preparation:
In a medium saucepan, combine the sugar, water, and corn syrup and bring to a boil over medium heat. Boil for 1 minute, then removed from the heat and stir in the cocoa powder, chocolate, and vanilla. Cover and let stand until the chocolate has melted. Serve warm.
Source: The Beekman 1802 Heirloom Dessert Cookbook by Brent Ridge and Josh Kilmer-Purcell
Photo Information Canon T2i, EFS 60 mm Macro Lens, F/4 for 1/40th second at ISO‑2500