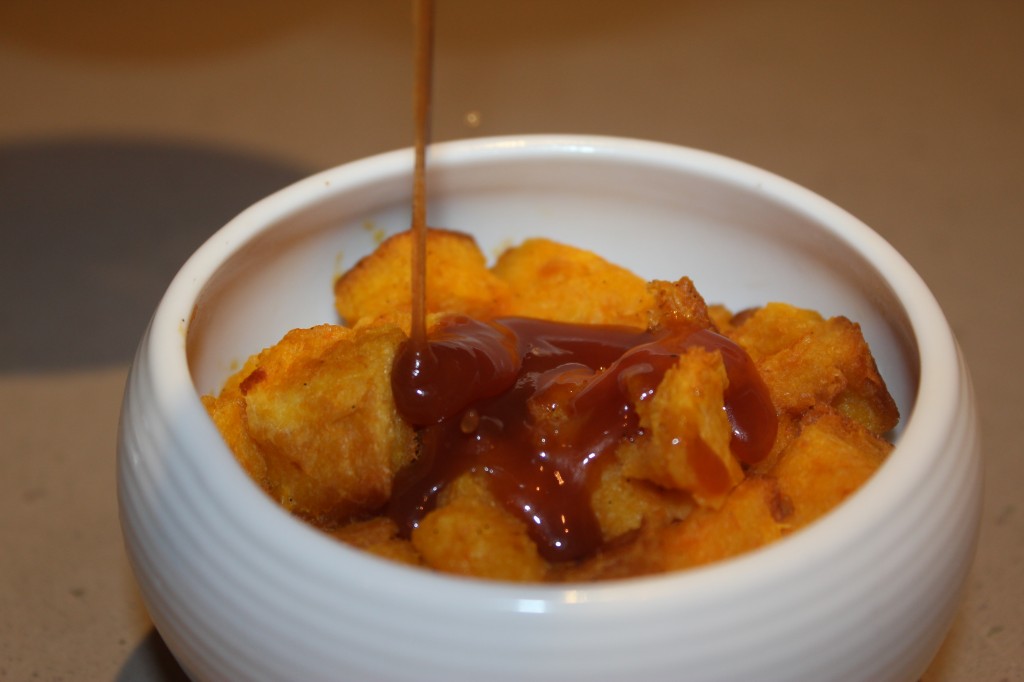 "No, you got it wrong." Suzen said. "Again."
"Suzen, the recipe you gave me said sweet potatoes. I wrote the blog based on that."
"Change it, Sweetie."
So I am. This wonderful, wonderful dessert is made with pumpkin, not sweet potatoes. Point of full disclosure: one of us at Cooking by the Book did make it with sweet potatoes and it was fine, but it was not the same as pumpkin. So, being obedient to my wife, make this first with pumpkin.
I know that the term bread pudding can generate a cringe. But, trust me, this bread pudding is great. The recipe below suggest raisin bread, but homemade challah is very, very much better.
My suggestion here is to double down on the Hard Sauce, just ladle it on and relish in the cornucopia of rich sweet flavor. You should pour it over the bread pudding, not into your mouth. Suzen got me trying, dribbling on my shirt again, and I was chastised.
On her first bite of this treat, Suzen said, "Oh, my God." She's okay with dessert, but  is not a fanatic. This recipe is on her "Do Not Make" list, which mean I'll have to beg and do work and things before we can both enjoy this. She and I would wolf it down by the bowlful.
You very well might consider this as dessert for a Sunday or holiday meal. Yes, you've had bread with your turkey stuffing. But, what if you went with rice for the stuffing and saved the bread for the whiskey? Just consider the possibility. And, you might just want to do a test run, too.
Sweet Potato Bread Pudding with Whiskey Hard Sauce
Yield: 10 servings
Ingredients:
For the sauce:
½ cup unsalted butter, softened
1 cup sifted powdered sugar
½ teaspoon vanilla extract
1 tablespoon best-quality bourbon or rye
pinch of salt
For the bread pudding:
8 cups torn or cubed stale raisin bread (about 1 large loaf)
1 cup coarsely chopped pecans
¼ cup granulated sugar
¼ cup granulated sugar
½ teaspoon cinnamon
¼ teaspoon mace
¼ teaspoon nutmeg
¼ teaspoon salt
¼ cup unsalted butter, melted
2 cups half-and-half
1 cup heavy cream
4 large eggs
1 cup packed light brown sugar
2 teaspoon vanilla extract
1 cup pumpkin [the pie stuff]
Preparation:
To make the sauce, in a large bowl use an electric mixer to cream together the butter and powdered sugar until light and fluffy. Mix in the vanilla, liquor and salt. Continue mixing until smooth and creamy. Cover and set aside.
For the bread pudding, heat the oven to 350 degrees. Coat a 2-quart baking dish or individual ramekins with cooking spray.
In a large bowl toss together the raisin bread with the pecans, then set aside.
In a small bowl, mix together the granulated sugar, cinnamon, mace, nutmeg and salt. Toss the sugar mixture over the bread and pecans, then stir well. Drizzle everything with the melted butter, then toss to evenly distribute.
In a medium bowl, whisk together the half-and-half, cream, eggs and brown sugar. Add the vanilla and sweet potatoes, then mix well. Pour the sweet potato-cream mixture over the bread mixture and stir until well blended. Let stand for about 5 minutes, then spoon into the prepared baking dish or ramekins.
Bake for 45 to 55 minutes (bake ramekins for just 15 to 20 minutes), or until set.
As soon as the bread pudding comes out of the oven, top with hard sauce so that it melts into the crevices. Serve warm.
Source: Elizabeth Karmel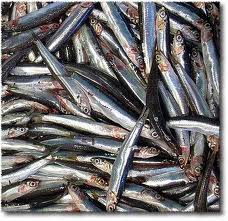 There are memories that seem to linger in your memory for decades, as clear as the moment you first experienced them. For Suzen and me, a trip to the fish market in Venice is one of those symbolic times. We were there one gray morning, the air cold and smelling of salt and fish, as we wandered among tables and bins filled with the wonders of the seas and rivers surrounding Venice.
Some of the food there was dead, fresh but dead. Some alive and kicking. The technique for dealing with a live eel is something that I will not put on this blog.
We saw enough fish and learned enough recipes on that trip to last us a long, long time. We've eaten anchovies in both the North, Venice, and the South, Bari. Grilled, stuffed, and combined with the classic complements like capers, anchovies are a wonder.
This sauce, from Classic Food of Northern Italy, is offered to top off poached skate. But it's a sauce that has many, many uses. You can this sauce apply to any fish — salmon, trout, … It's an excellent match for other poached dishes, like chicken or turkey breast. And that baked potato you like to goop up with butter and sour cream, well, here's a healthy alternative that will put a zing in your mouth.
Anchovies may be small, but pound for pound [or ounce for ounce], they are flavor powerhouses.
This recipe was originally written to accompany the poached skate and called for using 5 ounces of the poaching liquid. If you have some on hand, use that. Otherwise, I've modified the recipe to use 5 ounces of dry white wine. The sauce will be different using wine, but still excellent.
Anchovy Sauce
Yield: ½ cup
Ingredients:
1 ounce [2 tablespoons] unsalted butter
2 tablespoons olive oil
1 garlic clove, bruised
1 layer of sweet onion
2 ounces canned, anchovy fillets, drained and chopped
5 fluid ounces of dry white wine
2 teaspoons flour
3 tablespoons capers
2 tablespoons chopped fresh flat-leaf parsley
1 tablespoons lemon juice
Freshly ground black pepper
Preparation:
Choose a medium sauté pan, large enough to hold all these ingredients.
Heat the butter and the oil and throw in the garlic and the onion layer. When you begin to smell the aroma of the garlic and onion, fish them out and discard them. Turn the heat down and add the anchovies. Press them against the bottom of the pan to reduce them to a mash.
Mix in the flour and then add 5 fluid ounces of dry white wine. Cook over gentle heat for about 5 minutes, stirring constantly and adding, if necessary, a little more wine until you get a fluid sauce, similar in consistency to light cream.
Rinse the capers and add to the pan together with the parsley, lemon juice and plenty of pepper. Taste and season to taste
Source: Classic Food of Northern Italy by Anna Del Conte [published 1996]