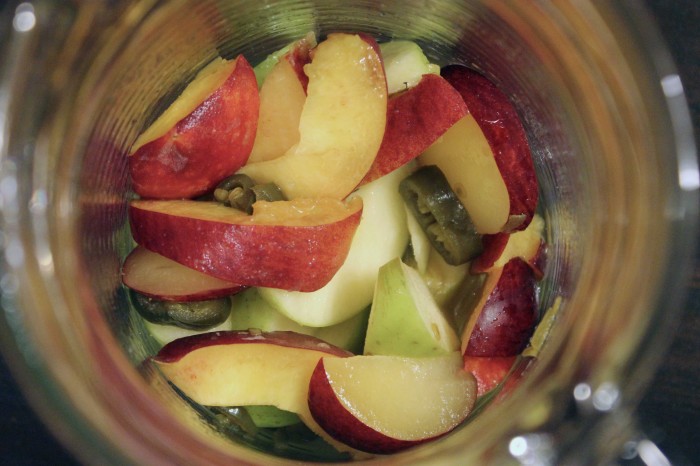 The planet is experiencing rapid growth: population, pollution, and mixologists.
Oh, don't get me wrong, I do not have bad associations with that mixologist word. In fact, when I retire, I am going to open up a B&B: Bar and Bakery.
But as the number of mixologists grow, as they each get their 15 minutes of fame while flashing out some cocktail de jour, I like to rely on the unsurpassed professionals, like Mittie Hellmich. Go to Amazon, type in her name, and you will find a battery of beverage books. Pick one to start, any one, and you are on your way to mixology heaven.
From her Sangria book, I tried this Sangria Caliente. Definitely caliente. You can see the jalapeno slices in that top-down picture. You don't see the tequila. Not too much. This is not a "boozy" sangria, but you get some tequila heat to marry with the jalapeno. And both those ingredients bounce off the fruit tones. Apple, peach, plum and apricot are all there to provide a coordinated sweetness. See, as you sip, if you detect each of the flavors.
This is a lovely sangria, definitely a first choice for a hot day. Brunch, lunch, or dinner, this is a vibrant sangria to pair with appetizers or the main meal.
Sangria Caliente
Yield: serves 4 to 6
Ingredients:
1 Granny Smith apple, peeled, cored and sliced
1 peach, peeled, pitted, and sliced
1 plum, peeled, pitted, and sliced
1 apricot, pitted and sliced
3 thin slices fresh or pickled jalapeno pepper, or to taste
2 ounces tequila
2 tablespoon sugar
750 ml bottle dry white wine, chilled
12 ounces club soda, chilled
3 cups ice cubes
Preparation:
In a large [at least 2-quart] glass pitcher, combine the fruit and jalapeno slices, tequila, and sugar, and stir until the sugar has dissolved. Slowly pour in the wine, stirring gently. Refrigerate for at least 2 hours or as long as overnight.
When ready to serve, add the club soda and stir gently with a long-handled wooden spoon. Fill the highballs, wineglasses, or other decorative glass with ice cubes and slowly pour the sangria over the ice, allowing fruit pieces [but never pepper slices!] to fall into the glasses.
Source: Sangria by Mittie Hellmich
Photo Information Canon T2i, EFS 60 mm Macro Lens, F/5.6 for 1/50th second at ISO‑3200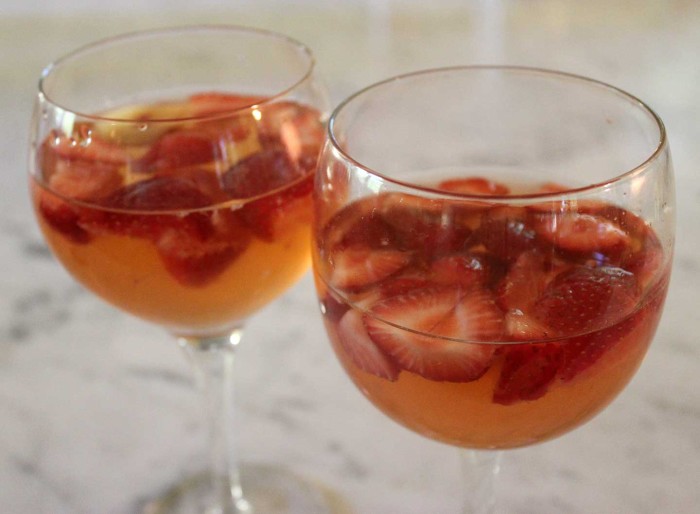 Officially, sangria is a common beverage from Spain and Portugal. The standard recipe consists of wine, chopped fruit, a sweetener, and brandy. The sweetener is most often a shot of sugar, although honey and orange juice can be employed. The brandy is traditional but in this new of age of extravagant liqueurs, just about anything goes. St-Germain elderflower liqueur is, for example, an interesting brandy substitute.
Thanks to the European Union, the term "sangria" can now appear on labels only for products made in either Spain or Portugal.
I do not intend to mass produce and label my Strawberry and Plum Sangria, so I think I am free from potential prosecution. And I'm assuming those little black things floating near the kitchen ceiling are just early mosquitos and not mini-drones sent in by the EU to check me out.
I remember seeing the movie 1984 and being scared out of my mind about the world to come. In retrospect, 1984 was a cakewalk. I think I can use that word. I don't think the EU has restricted its use yet but I probably should check. Check on everything.
This sangria is made with white wine, not red. Sangria fruits tend to be either citrus or berry or apple/melon/pear. I think that berries, particularly, strawberries are the easiest and fastest way to infuse flavor into sangria. Apple can take an eternity. Strawberries do have a strong single note of flavor. That is why I have added plums here. Plums have a more subtle flavor, almost an undertone that just mellows the high peaks of strawberry sensation.
Brian's Strawberry and Plum Sangria
Yield: serves 4
Ingredients:
1 pint of fresh strawberries
6 very ripe plums
½ cup sugar
½ cup brandy
1 750ml bottle of dry white wine [Spanish Rioja]
Preparation:
Wash and dry the fruit. Cut the tops off the strawberries, then slice them into three or four separate pieces. You want to get surface area here to provide the most contact between the berries and the wine.
Slice the plums making sure the pit is discarded.
Add the fruit to a large glass pitcher. Add the sugar and brandy, stir to mix. Slowly pour in the wine. Chill for at least 2 hours before serving.
Source: Brian O'Rourke
Photo Information Canon T2i, EFS 60 mm Macro Lens, F/5.6 for 1/50th second at ISO‑2500