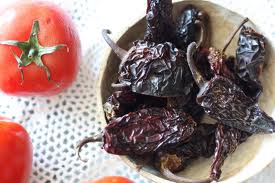 In the coming weeks, leading up to the Super Bowl, there will be chips and salsa aplenty. You can treat yourself, and any family or friends, to a salsa combination you almost surely have never had before. Here pecans and chipotles merge for a slow-building heat. This recipe, from Tacos, Tortas, and Tamales by Roberto Santibanez, is said to be ideal for tacos or simple tortas. I think it's a great chips salsa because of the surprising flavor combination. You'll dip that chip, have it snap in your mouth, and then wonder just what it is that is now filling your mouth with such substance.
The recipe calls for chipotle mora chiles, pictured above. They are small and purple-red in color. You should be able to find them in a Mexican market. Of course, your chili of choice can be substituted to give you a different flavor experience. If you are Googling, you'll see some different discussions about chipotles, moras, and chipotle moras. If possible get some professional assistance. The color is the key.
You can make this salsa up to 5 days in advance, refrigerate, and then bring to room temperature before serving.
Pecan-Chipotle Salsa
Yield: 1 cup
Ingredients:
3 dried chipotle mora chiles [small, purplish-red], whipped clean and stemmed
½ cup pecans, coarsely chopped
2 tablespoons olive or vegetable oil
½ cup finely chopped white onion
1 medium garlic clove, finely chopped
½ teaspoon kosher salt
Preparation:
Preheat a dry small pan over medium-low heat and toast the chiles, turning them over occasionally, until they have puffed up and blistered in spots, 3 to 5 minutes. Transfer them to a blender along with ½ cup of water.
Preheat the oven to 350⁰F and toast the pecans in one layer on a baking sheet, shaking once or twice, until they are two shades darker and very fragrant, 5 to 8 minutes. Transfer them to a blender. Blend the mixture to form a slightly chunky puree, gradually adding more water if necessary to blend.
Wipe the small pan clean, add the oil and set the pan over medium heat. When the oil shimmers, add the onion and garlic and cook just until the onion is translucent and soft, about 2 minutes. Add the blended mixture to the pan, then pour 1 tablespoon of water into the blender to loosen the remaining puree and pour it into the pan.
Add the salt and let the mixture come to a strong simmer, stirring constantly, then turn off the heat. Let the salsa cool, then season it to taste with more salt.
Source: Tacos, Tortas, and Tamales by Roberto Santibanez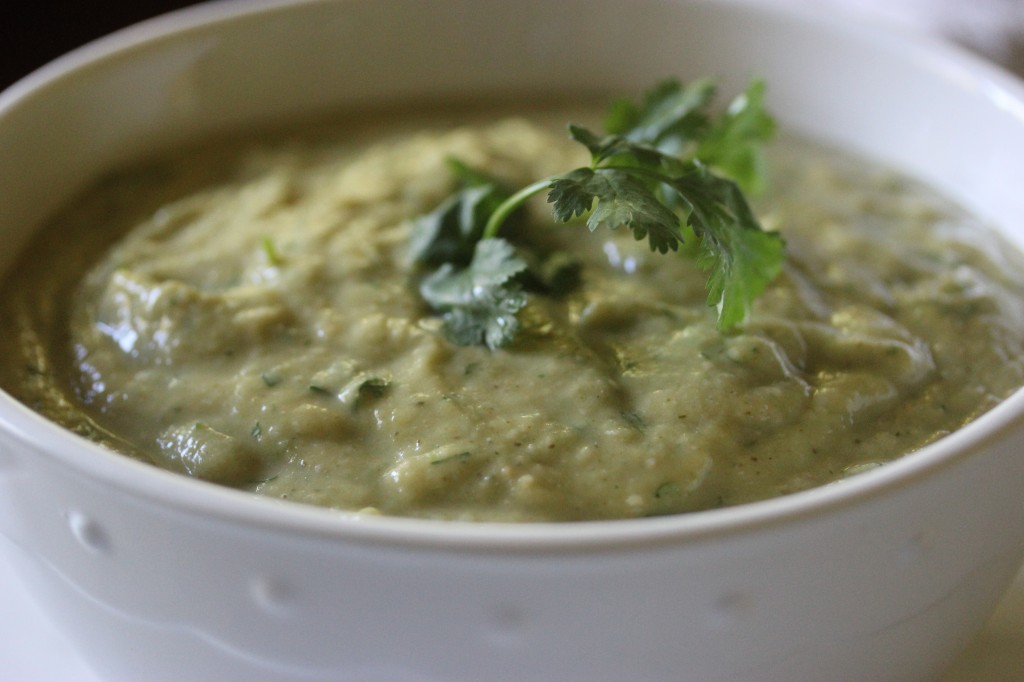 There are times when I just crave the tartness of a green salsa. And many of those times, I'm impatient. I want it NOW. I could seek counseling for my inability to deal with  need and want. Or I can pick up a can of tomatillos.
I choose the can. Although you can make salsa from raw tomatillos, I prefer them cooked in some manner before going into the salsa. You can boil or roast them. Either way, with fresh tomatillos you have to peel them, then halve them if you are roasting, and there's the mess and … There's that can solution again: already with the leaves off, and already cooked.
All I have to do is not mess up with can opener and spill juice on the counter or floor. My lovely wife Suzen is fastidious about a kitchen free of mess, wet spots and sticky spots. She keeps finding them. I don't know who puts them there.
This recipe produces a salsa that is tart but not overly so. The avocado adds to the green but of course contributes essential smoothness. This recipe calls for some heat, one serrano chile. Open up your vegetable bin and use what you have, just adjusting the amount depending on the actual type of chiles you have around.
What did I use? One poblano unroasted but washed, quartered and tossed into the blender. I was hotly happy with the results and very happy at my preparation time. I know the recipe says to refrigerate for up to two hours or until ready to use. I was ready then, and the next day the leftovers were even better. [Yes, the tomatillos had contributed some pectin so the next day required just a touch of stirring to loosen it up. That's your chance to add some additional lemon or lime juice to brighten the flavor if you desire.]
This recipe comes from Fresh Mexico, a delightful book with 100 very authentic, very quick and very, very delicious recipes.
Easy Tomatillo Avocado Salsa
Yield: about two cups
Ingredients:
8 ounces tomatillos from the can
1 avocado, halved, pitted and peeled
½ cup [packed] fresh cilantro leaves
1 serrano chile
1 tablespoon fresh lemon juice
Salt and freshly ground black pepper
Preparation:
Combine the tomatillos, avocado, cilantro, serrano chile, and lemon juice in a blender and puree until smooth. Season the salsa to taste with salt and pepper.
Refrigerate for up to 2 hours or until ready to use.
Source: Fresh Mexico by Marcela Valladolid