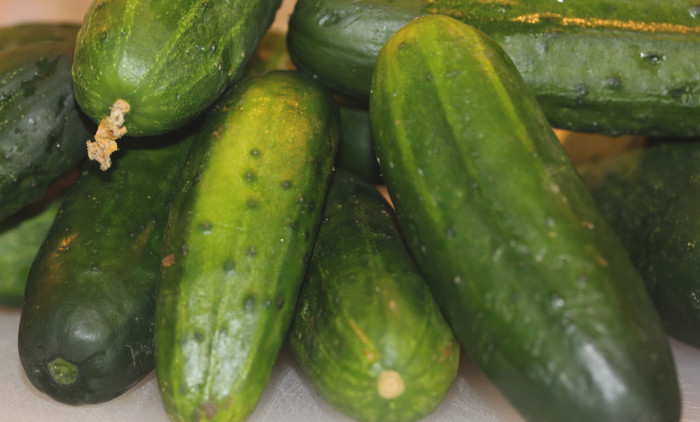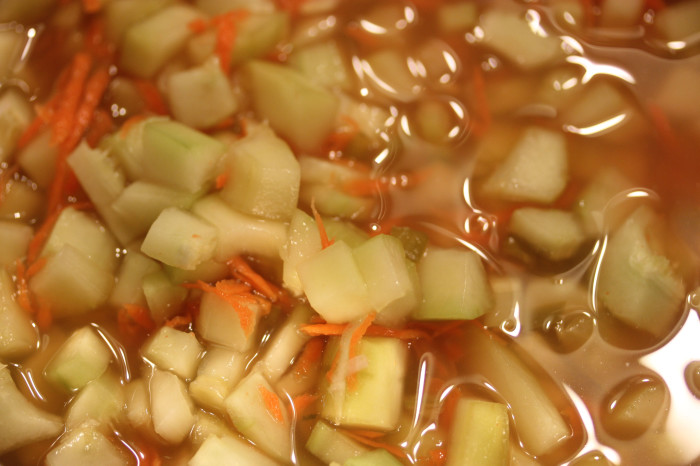 Cucumbers. Absolutely marvelous food. Or eye patches.
I often use cucumbers in dips where they are combined with yogurt or sour cream for a mellow treat. But, there are options. This recipe gives you fire on day one and a tumult of heat if you let it sit in the refrigerator.
I would normally say here to play with ingredients, but I suggest you follow this recipe meticulously. Get a sense of the heat and, if you have the courage, you can ramp it all up next time.
The flavors here layer. They do not clash. But like a spice symphony, they do come together for a grand finale.
[Oh, if you read the recipe, and compare the pictures, then you will see that, yes, I did peel the cucumbers.]
Nippy Cucumber Relish
Yield: 4 cups
Ingredients:
4 large Kirby [pickling] cucumbers, each about 5 inches long [about 1 ¼ pounds]
1 medium carrot
½ cup white wine
2 teaspoons minced fresh red jalapeno, or other hot red pepper
2 teaspoons minced fresh ginger
1 garlic clove, minced
1 tablespoon sugar
½ teaspoon salt
Preparation:
Scrub the cucumbers and cut ½ inch off each end. Cut the cucumbers in large dice and place the diced pieces in a bowl.
Trim and peel the carrot. Grate it on the largest holes of your metal grater. Stir the carrots into the cucumbers.
Combine the remaining ingredients in a small saucepan and bring to a simmer. Simmer for 2 minutes and let the mixture cook, stirring occasionally. Taste and add more salt if necessary.
Serve right away at room temperature or refrigerate until chilled. Keep chilled until almost ready to serve. The relish will last for 5 days in the refrigerator. However, do recall this: every day it sits there marinating, the relish gets hotter. Day 1 is fine. Day 5 requires a cold beer.
Source: Chutneys & Relishes by Lorraine Bodger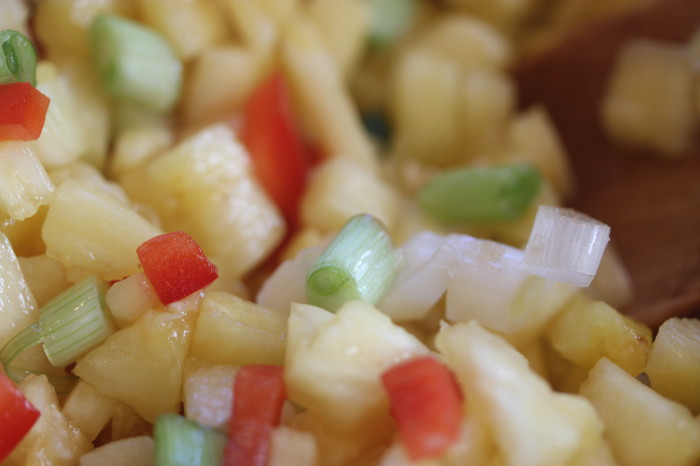 We were window shopping in Crate and Barrel when I saw it. A book by Diane Morgan. I peeled off from Suzen who had her own shopping plans.
Twenty minutes later, we were checking out and I slipped Delicious Dips on the counter.
"Really?" Suzen sometimes questions random additions of cookbooks. We have almost four thousand so we have just about every topic covered. You like Tibetan? I actually think we have one. I know we have Burmese and a whole row of Indian.
"Diane Morgan," I said peacefully.
"Oh, fine."
End of argument.
I chose this salsa to inaugurate our Thanksgiving feast for multiple reasons. First, by at least American traditions, the pineapple is a sign of hospitality. That's why, especially in New England, you'll see carved pineapples on fences, porches and doors.
Second, this salsa has no cilantro. I have nothing against cilantro. But, my God, there are days when I have it three times, from dawn to dusk. I needed a respite.
Third, the heat. There is certainly habanero heat here but it is so offset by the pineapple and brown sugar that all is fine in your mouth
Lastly, the colors: pineapple yellow, red bell pepper, scallion green,… A bowl of this, as the picture show, is absolutely festive.
Pineapple Habanero Salsa
Yield: 5 cups
Ingredients:
1 pineapple, peeled, quartered lengthwise, cored, and cut into ¼-inch dice
1 red bell pepper, seeded, deribbed, and cut into ¼-inch dice
4 green onions, including green tops, cut into ¼-inch dice
1 habanero chile, seeds and ribs removed, finely minced
¼ cup fresh lime juice
2 tablespoons packed light brown sugar
1 teaspoon chopped fresh thyme
A teaspoon kosher salt
Preparation:
In a large bowl, combine the pineapple, bell pepper, green onions, habanero, lime juice, sugar, thyme, and salt. Stir gently to combine. Transfer to a serving bowl, cover, and set aside for 1 hour before serving to allow the flavors to meld.
This dip is best made with 8 hours of serving. It can be made the day before and refrigerated. Diane suggests bringing it to room temperature before serving. I like the chill of cold pineapple
Source: Delicious Dips by Diane Morgan
Photo Information: Canon T2i, 18-53MM Macro Lens, F/2.8, 1/100th second, ISO 400