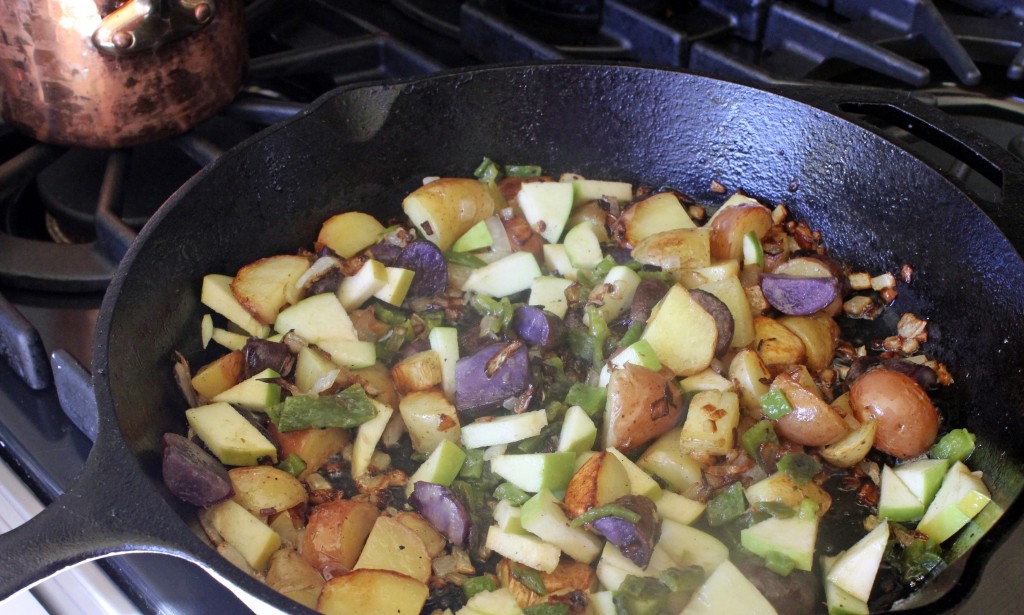 There is no way to deny it: "hash" is a four-letter word. Using the word often denotes something either derogatory or low quality. Did you make a hash of that last speech?
In computer science, a hash table is a good thing, a way of finding data. But a hash function is a cryptography technique which conjures visions of secrets and the Dark Side.
Food wise, it does not get much better. "Hash" does not inspire visions of elegance. Here's the quick definition of hash, as a food, in Wikipedia: "a coarse mixture of ingredients." While hash-like dishes have long been served in the poorer regions of Great Britain, in the United States it was Hormel — the canned meat king — that pushed the hash concept beginning in the 1950s. Thanks to the miracle of congressional lobbying, we can all celebrate September 27th as National Corned Beef Hash Day. Yum.
It's funny but in New York City you can have a hash dish at the counter of a local diner for $6 or dine on a white tablecloth with hash at an upscale hotel restaurant for $26. The difference? Probably a dash of sour cream and some finely diced chives. People eat hash, they just don't talk about it.
Let's consider about another item that has an "image" issue: the cast iron skillet. You probably own one or two. You probably don't use them often. And you probably wash them when soap after using. Oh, dear, so very, very sad.
It's true that the cast iron skillet helped pioneers and prospectors in past centuries. Your grandmother probably used hers more in one month than you have in your lifetime. When she did, soap was not used. After cooking with the skillet, you should simply rinse it out, wipe with a paper towel to collect any oil or grease, and put it briefly on the flame to dry out. A seasoned skillet should not see soap. Bumps of burnt stuff on the bottom? Fill the pan with water, add baking soda, and boil. No soap.
A seasoned skillet is tool that is as wonderful as any mega-bucks pan you eye in that gourmet store at the mall. Cast Iron Skillet: Big Flavors offers 90 recipes that will make your cast iron advocate. Authors Sharon Kramis and Julie Kramis Hearne have other cookbooks under their belts, including The Cast Iron Skilled Cookbook. Accomplished chefs, writers, and restaurateurs, they know they are masters of that weighty iron tool. Their recipes in this latest book include:
Green Chili Soufflé with Dungeness Crab
Lemon Chicken Sofrito
Chanterelle and Gruyere Strata with Fresh Thyme
Caramel Apple Crisp
The first thing Suzen and I tried, this smoked salmon hash, is so elegantly good and beautiful you will be boasting that you ate hash. And that you liked it. And that it is really good. If you hand out little sample tastes, that look of incredulity of people's faces will vanish. Your samples will vanish, and you will be deluged with requests for this marvelous recipe.
Do use all the suggested ingredients. The apple, for example, is just like a fine herb adding a thin layer of sweetness and flavor.
This is the first recipe in Cast Iron Skillet: Big Flavors. One down, 89 to go.
Smoked Salmon Hash with Tricolored Potatoes
Yield: serves 4
Ingredients:
2 pounds small tri-colored potatoes or small Red Bliss potatoes
3 tablespoons unsalted butter
1 cup chopped yellow onion
3 tablespoons olive oil
½ cup chopped apple, skin on
¼ cup chopped roasted poblano chili or canned green Hatch chilies
¼ cup chopped parsley
Salt and freshly ground black pepper
Sour cream, for topping [optional]
Chopped green onions or chives, for topping [optional]
Preparation:
In a medium saucepan, cover the potatoes with cold water. Bring to a boil, then turn down the heat and cook until the potatoes are fork tender, about 10 minutes. Drain and cool slightly, the coarsely chop.
In a 10- or 12-inche cast iron skillet, melt the butter, add the onions, and cook for 3 to 5 minutes. Add the olive oil and the chopped potatoes and cook over medium heat until the potatoes are lightly browned, about 8 minutes.
Add the apple, chilies and cream. Continue to cook for 5 minutes and remove from the heat. Break the salmon into 2-inch pieces and place on top of the potatoes. Sprinkle with parsley, salt, and pepper. If you desire, top with sour cream and green onions or chives. Serve piping hot.
Source: Cast Iron Skillet: Big Flavors by Sharon Kramis and Julie Kramis Hearne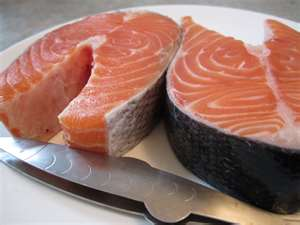 This Friday at Cooking by the Book we had what can only be called a Salmon Salon. Organized by Verlasso, a new aquaculture company, the subject was important: the evolution of sustainable salmon farming on our planet. And, what does sustainability mean for food companies, food distributors, grocery stores and — most importantly — for the consumer.
I grew up in Oregon on the Willamette River. During salmon season twice a year, I could walk down to the river bank, wave a ten dollar bill, and some fisherman would motor over. An exchange would be made. And two or three hours later, fresh baked salmon was on my dinner table. That is real freshness. At other times, we'd drive to the Pacific coast or to a river, and find a Native American by the side of the road selling "just-completed" smoked salmon. Freshly caught native salmon smoked on Northwest wood using centuries old techniques.
In short, I am a salmon snob. Trying to get fresh, good salmon in New York City, and almost everywhere else, is often a fruitless task. Here in the city, even the best fish stores only offer farmed salmon. A taste of that leaves me flat. That's why in past years, we have ordered direct from Pike Place Market in Seattle. You know. The market where the guys toss the salmon around?  Nothing can compare with that.
Or couldn't compare with. Verlasso is a new venture combining food science, best practices, and optimal geography to produce a very new style of aquaculture. Their seminar here discussed the essential features of their business. They feed their salmon differently and much more responsibly. The fish receive absolutely no growth hormones or antibiotics. The salmon are grown in water, of course, at the edge of one the driest places on earth: Patagonia in far Southern Chile. One benefit of southern ocean waters is a distinctly better quality of water. Humans have been polluting northern oceans for centuries and there are serious issues with, for example, PCBs.
Down south, humans have done far less damage and the waters therefore yield salmon that are much healthier for us to eat.
Verlasso is rolling out its product across the United States. Here in New York City, Fresh Direct offers the product. On Friday, a nutritionist from Fresh Direct was forthright in the quality checks Fresh Direct made before considering Verlasso. That's the sort of endorsement that you should consider. It's a quality check that none of us, except biology professors, could even consider.
And for me, the salmon snob? Scott Nichols, the Verlasso Director and man with deep personal  concerns for sustainability, gave me a tour of why the Verlasso product is so obviously different. He had three sides of salmon:
A wild salmon with its typical 8% fat content
A typical farm-raised salmon with a typical 18% fat content
And a Verlasso-raised salmon with 11% fat content
That wild salmon, of course, reminded me of Oregon days. Vibrant salmon color across the whole side. The farm-raised salmon, had wide streaks of fat, which is one of the resevoirs for ingested chemicals. And a typical farm-raised salmon consumes 4 pounds of feeder fish for each pound of harvest salmon.
The Verlasso salmon, which use only 1 pound of feeder fish for each harvested pound, did have little streaks of fat, but not those wide bands. Scott explained that meant that Verlasso salmon is going to cook and taste much, much more like the wild salmon. And, Verlasso is working to reducing the fat content even more, striving to have their product as much like the wild as possible.
So, from the standpoints of science, business, and sustainability, Verlasso is very promising. The last hurdle? Taste. We had half dozen dishes, both main courses and appetizers, on Friday. How did Verlasso taste? Like salmon is supposed to.
On Friday, we had many experts in fish sustainability here. They have ideas, recipes, and important information. In the coming months, I'll be passing that along to you. And we'll maintain our discussion on the wonderful contributions Verlasso is making  to sustainable aquaculure.