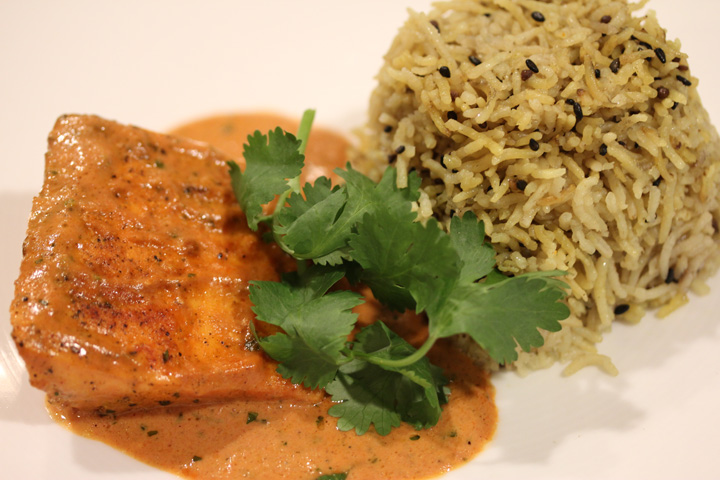 You probably don't think of salmon as an Indian dish. Not India Indian. More American Indian. Like Alaska. Indians smoking fish. Grizzlies standing in white water snapping up salmon. Sarah Palin snapping up grizzlies.
This dish has origins that go back over 60 years. As a girl Madhur Jaffrey had tandoori dishes with a lovely tomato sauce. She has refined that sauce, and it is sumptuous with her salmon. The picture above shows her salmon, the  sauce and an accompanying rice — yellow basmati rice with sesame seeds. It's the perfect rice to match this wonderful sauce — and it will be tomorrow's post here.
Yes, I'm blogging a lot about this book, At Home with Madhur Jaffrey. But for good reason. I'm finding the recipes delicious, actually quite simple to prepare although they are "exotic Indian", and a fun departure from American standards. In a dreary winter, when it's too difficult to walk through piles of snow to my nearby Indian restaurant, I don't have to. I can do it all myself.
The garam masala spice mentioned below is a fragrant blend of common spices. can be found in most megamarts. It turns out that there is no "standard" version of garam masala. It's usually a combo of peppercorns, cloves, cumin, cinnamon, cardamom, nutmeg, star anise, and coriander. The jar you find may not have all of those, and it may have others. I'm sure that whatever you find will contribute to this exciting dish. You may find yourself experimenting with garam masala for other dishes throughout the year. Think barbeque!
Salmon in a Tomato Cream Sauce
Serves: 4 persons
Ingredients:
To Rub on the Fish:
1 ½ pounds skinless salmon fillets from the center of the fish (where do slickest), first cut lengthways down the center then crossways to make a pieces
¼ teaspoon salt
freshly ground black pepper
1/8 teaspoon ground turmeric
1/8 teaspoon cayenne pepper
For the Sauce:
1 cup tomato purée
1 cup heavy cream
1 teaspoon salt
1 teaspoon sugar
1 teaspoon garam masala
1 teaspoon ground cumin
1 tablespoon lemon juice
1/8 teaspoon cayenne pepper
2 tablespoons chopped cilantro
To Cook the Fish:
1 tablespoon olive oil or canola oil
1/2 teaspoon whole cooled seats
Preparation:
Season the salmon pieces by sprinkling the salt, pepper, turmeric, and cayenne on all sides of a big event. Put the salmon in a plastic bag and refrigerate for one hour or longer.
Combine all the ingredients for the sauce and mix well. Refrigerate if needed.
To cook the fish, put the oil in a frying pan and set on medium heat. When hot, put in the cooled seats. When the seeds sizzled for 10 seconds, pour in the sauce. Stir and bring to a simmer. Place all the fish pieces in the sauce in a single layer and cook, spooning the sauce over the fish. After a minute, turn the fish pieces over and lower the heat to medium low. Continue to cook, spooning the sauce over the top, with 3 to 4 minutes or until the fish is cooked through
Source: At Home with Madhur Jaffrey by Madhur Jaffrey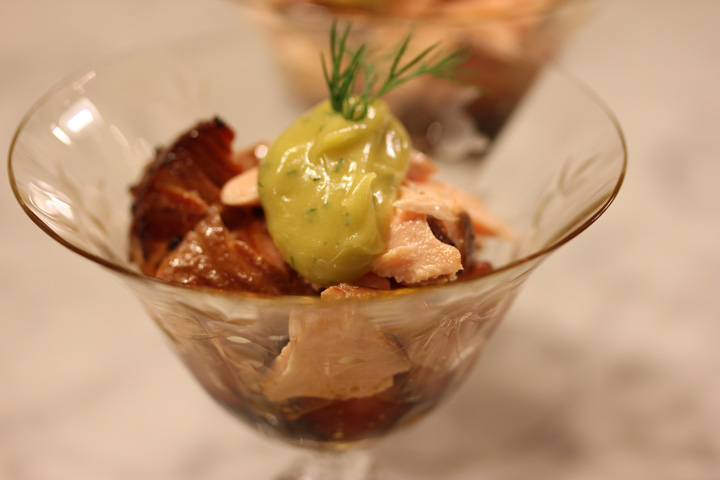 Tapas dishes can be simple yet delicious. Or they can be a bit complex and totally delicious. This is the latter. It's a fabulous dish that will awe anyone who eats it. The prep time here includes peeling tomatoes, a necessary step to make sure that the texture of all the components is delightfully consistent.
This is an example of a dish that in France would be called a verrine: a "vertical" terrine. It's layered with each layer independently contributing visually as well as to the palette.
I was very proud of this dish, just to look at it. Taste wise? It's wonderful. On my personal scale of 1 to 10, this rates an 8 or 9. How to get to a 10? I think you can add flavor here. Some smoked peppers with the tomatoes or as a separate layer. Perhaps some onion. This dish, wonderful by itself, simply begs for you to tinker and enjoy.
The dill sauce here is almost a mayonnaise. It just lacks lemon juice or vinegar. If you prefer, a splash of sherry vinegar at the end makes it brighter and, I think, a better match for the smoked salmon. As for that salmon, I posted a few days ago the idea of smoking your own at home using a Cameron stovetop smoker. This recipe is the perfect example of how that handy device can make your home cooking 3 star class.
To accompany this, Brian and I had some sparkling Cava with a splash of pomegranate liquor. Elegantly sophisticated and very gratifying. If you make this dish, you're going to want something to wash down your pride.
This recipe comes from The Book of Tapas by Simone and Ines Ortega. Published last year, Book of Tapas is a treasure trove of delights like this one. You've had salmon with dill before, but never quite like this. I heartily recommend the book as source to inspire and please you.
Little Glasses of Salmon with Dill Sauce
Yield: Serves 6-8
Ingredients for the Dill Sauce:
1 egg yolk
1 tablespoon sugar
1 tablespoon chopped fresh dill
1 tablespoon sweet mustard
¾ cup olive oil
Salt
Ingredients for the Tomato and Salmon Layers:
1 tablespoon walnut oil
1 tablespoon balsamic vinegar
3 ripe tomatoes, peeled, seeded, and diced
1 pound smoked salmon in one piece
Freshly ground pink pepper
2 ounces salmon roe, drained
1 sprig dill for garnish
Preparation of the Dill Sauce:
Whisk the egg yolk in a bowl. Add the sugar, dill and mustard and continue whisking. Gradually whisk in the oil, little by little. Season to taste with salt and place in the refrigerator.
Preparation of the Layers and Construction:
Whisk the walnut oil and balsamic vinegar together in another bowl. Add the pink pepper and salt to taste and continue whisking until all the ingredients are amalgamated. Add the tomatoes and gently toss until they are well coated with the dressing. Divide the tomatoes between 6-8 glasses.
Cut the salmon into small cubes. Add a layer of salmon cubes to each glass and spoon the sauce over each glass. Top with a little salmon roes. Chill until required, then garnish with dill and serve.
Tasting Notes:
As a variation, puree the salmon in a blender. Mix it with a little light cream, then make the salmon layer with this puree.
Source: Adapted from The Book of Tapas by Simone and Ines Ortega