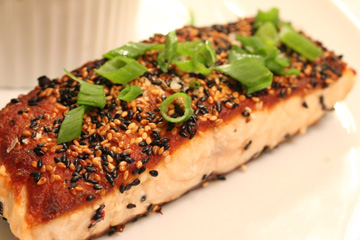 Salt is one of the most potent, essential ingredients in cooking. Its ability to draw out and intensify flavor is unmatched. The book Salted: A manifesto on the World's Most Essential Mineral with Recipes provides a wealth of facts and ideas for all of us salt lovers.
Author Mark Bitterman is the "selmelier" of The Meadow, a salt store created by his wife Jennifer with branches in Portland and New York City. The store is a hoot, because you can go in and taste test their world-wide array of salts. There is amazing diversity in their salt collection and you are almost sure to leave with a few bags, all filled with sodium chloride, but all having bright and different flavors.
How those flavors are created, where they come from, what it all means — those are the topics of the book Salted. History, craft and science are all presented in a beautiful laid out book that will surely make you want to sample and experiment. Dozens of salt varieties from around the world are described and compared. The descriptions here are simply unparalleled.
Upscale gourmet stores now offer multiple varieties of salt but they really pale to the world view presented in Salted and available at The Meadow. Bitterman calls salt the "crown jewels of great food." His passion is evident on every page.
And, there's a bonus to Salted. Those recipes. This salmon is a perfect example. We've all had salmon. We know how it tastes. Even how it feels. So this recipe really surprised me with its very different taste and the feel to the mouth. The use of sesame and peppercorns, in abundance, creates a salmon flavor that I had never experienced before. And, cooking the salmon with that seedy layer on top of sesame oil results in a definite crust that you have to snap through before reaching the tender salmon body. The effect is very noticeable and a taste treat.
If you enjoy salmon, but seek a truly different spin, then grab your sesame seeds and some smoked salt.
Grilled Sesame Salmon with Cyprus Hardwood Smoked Flake Salt
Yield: serves 4 people
Ingredients:
1 tablespoon black sesame seeds
1 tablespoon white sesame seeds
1 teaspoon Szechwan peppercorns, green or pink or mixed
¼ teaspoon powdered ginger
1 ¾ pounds wild salmon fillet (about 1 ¼ inches thick), pin bones and skin removed
7 tablespoon toasted sesame oil, preferably black sesame oil
4 two-finger pinches Cyprus hardwood smoked flake salt
2 sesame leaves, coarsely chopped, or 1 scallion, trimmed and finely sliced
Preparation:
Preheat a covered grill to medium heat (about 375°F).
Combine the black and white sesame seeds in a small bowl. Crush the peppercorns with the flat side of a broad knife, like a cleaver or a chef's knife. Add the pepper and the ginger to the sesame seeds and stir to combine. Set aside.
Coat both sides of the salmon with 2 teaspoons of the sesame oil. Scatter the sesame seed mixture all over both sides of the salmon and press lightly into the flesh.
Brush the grill grate thoroughly with a wire brush to clean it, and coat it lightly with oil. Grill the fish for10 minutes with the lid down, turning halfway through, until the surface is crisp and browned and the flesh feels slightly spongy when pressed at its thickest spot. Gently pull apart the flesh at the thickest part; the centers should still be a translucent, darker pink. Transfer to a platter using a wide spatula.
Drizzle the remaining teaspoon of sesame oil over the fish and sprinkle with the salt. Scatter the chopped sesame leaves [or scallion] over the top and serve.
Source: Salted by Mark Bitterman
The nightmare is always the same. I am hungry, I go downstairs to the refrigerator, open the door, and there it all is. The fridge is filled with stacks of one overpowering awful, disgraceful dish. Salmon cakes. The only thing you can make with leftover salmon.
I haven't had a salmon cake in decades, and that's on purpose. To me, they always were as dry as the Gobi. The flavor was salmon, and salmon, and salmon. One overpowering note. And old salmon at that.
So, if have leftover salmon, what do with it? Well, the opposite of those salmon cakes. You want to avoid that dryness and you need a symphony of flavors: salmon in the lead with overtones to create a full complement for your taste buds.
Suzen and I experimented this weekend on some left over smoked salmon. We created the concoction for a dip, but it has multiple uses. You can stuff tomatoes with it, place a large dab on a bed of lettuce for a salad, or spread it on toast for a great sandwich.
The amounts here can be easily scaled up to produce more. And, you can increase the flavor notes if you wish by including:
Chopped onion
Herbs beyond chives
Diced pickles
Lime instead of lemon
We did use smoked salmon here, salmon we had just smoked ourselves so it was fresh and moist, not dry and leathery. If you have leftover salmon, but it is baked or barbequed and not smoked, you can introduce that smoky flavor by adding a dash — just a dash— of the adobe sauce from a can of chipotles. Really go easy here. You can add but you cannot subtract!
And, for distinction, there is dill here. And no salt and pepper. The combination is truly different.
Salmon Dip
Yield: dip for 5-6 folks, salad for two
Ingredients:
6 ounces cooked salmon
¼ cup mayonnaise
¼ sour cream
Zest of one lemon
Juice of one lemon
3 tablespoons diced chives
1 tablespoon capers
Preparation:
Using your hands, pull the salmon into small pieces, discarding any skin or tough parts. Place in a bowl. Add the mayonnaise and sour cream. Stir with a wooden spoon to mix well. Add the lemon zest and juice plus the capers. Stir to combine.
Adjust to get the texture you desire by adding more mayo or sour cream. With smoked salmon and the capers, salt and pepper are really not needed here. You are looking for a smooth, subtle flavor with a texture that is easily spreadable.
Source: Suzen and Brian O'Rourke