The nightmare is always the same. I am hungry, I go downstairs to the refrigerator, open the door, and there it all is. The fridge is filled with stacks of one overpowering awful, disgraceful dish. Salmon cakes. The only thing you can make with leftover salmon.
I haven't had a salmon cake in decades, and that's on purpose. To me, they always were as dry as the Gobi. The flavor was salmon, and salmon, and salmon. One overpowering note. And old salmon at that.
So, if have leftover salmon, what do with it? Well, the opposite of those salmon cakes. You want to avoid that dryness and you need a symphony of flavors: salmon in the lead with overtones to create a full complement for your taste buds.
Suzen and I experimented this weekend on some left over smoked salmon. We created the concoction for a dip, but it has multiple uses. You can stuff tomatoes with it, place a large dab on a bed of lettuce for a salad, or spread it on toast for a great sandwich.
The amounts here can be easily scaled up to produce more. And, you can increase the flavor notes if you wish by including:
Chopped onion
Herbs beyond chives
Diced pickles
Lime instead of lemon
We did use smoked salmon here, salmon we had just smoked ourselves so it was fresh and moist, not dry and leathery. If you have leftover salmon, but it is baked or barbequed and not smoked, you can introduce that smoky flavor by adding a dash — just a dash— of the adobe sauce from a can of chipotles. Really go easy here. You can add but you cannot subtract!
And, for distinction, there is dill here. And no salt and pepper. The combination is truly different.
Salmon Dip
Yield: dip for 5-6 folks, salad for two
Ingredients:
6 ounces cooked salmon
¼ cup mayonnaise
¼ sour cream
Zest of one lemon
Juice of one lemon
3 tablespoons diced chives
1 tablespoon capers
Preparation:
Using your hands, pull the salmon into small pieces, discarding any skin or tough parts. Place in a bowl. Add the mayonnaise and sour cream. Stir with a wooden spoon to mix well. Add the lemon zest and juice plus the capers. Stir to combine.
Adjust to get the texture you desire by adding more mayo or sour cream. With smoked salmon and the capers, salt and pepper are really not needed here. You are looking for a smooth, subtle flavor with a texture that is easily spreadable.
Source: Suzen and Brian O'Rourke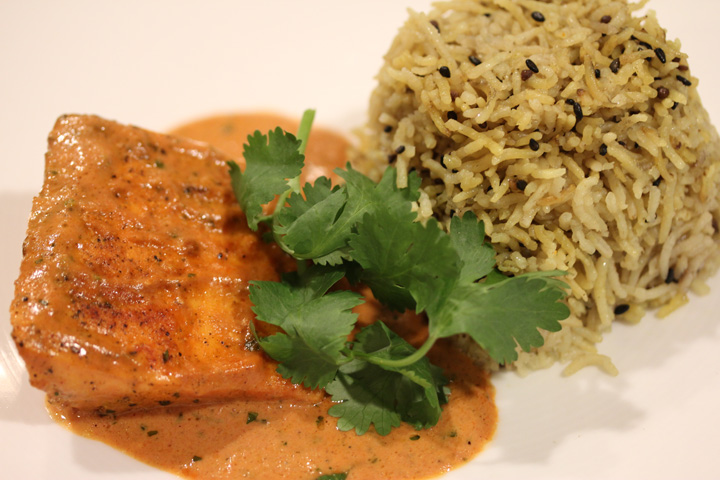 You probably don't think of salmon as an Indian dish. Not India Indian. More American Indian. Like Alaska. Indians smoking fish. Grizzlies standing in white water snapping up salmon. Sarah Palin snapping up grizzlies.
This dish has origins that go back over 60 years. As a girl Madhur Jaffrey had tandoori dishes with a lovely tomato sauce. She has refined that sauce, and it is sumptuous with her salmon. The picture above shows her salmon, the  sauce and an accompanying rice — yellow basmati rice with sesame seeds. It's the perfect rice to match this wonderful sauce — and it will be tomorrow's post here.
Yes, I'm blogging a lot about this book, At Home with Madhur Jaffrey. But for good reason. I'm finding the recipes delicious, actually quite simple to prepare although they are "exotic Indian", and a fun departure from American standards. In a dreary winter, when it's too difficult to walk through piles of snow to my nearby Indian restaurant, I don't have to. I can do it all myself.
The garam masala spice mentioned below is a fragrant blend of common spices. can be found in most megamarts. It turns out that there is no "standard" version of garam masala. It's usually a combo of peppercorns, cloves, cumin, cinnamon, cardamom, nutmeg, star anise, and coriander. The jar you find may not have all of those, and it may have others. I'm sure that whatever you find will contribute to this exciting dish. You may find yourself experimenting with garam masala for other dishes throughout the year. Think barbeque!
Salmon in a Tomato Cream Sauce
Serves: 4 persons
Ingredients:
To Rub on the Fish:
1 ½ pounds skinless salmon fillets from the center of the fish (where do slickest), first cut lengthways down the center then crossways to make a pieces
¼ teaspoon salt
freshly ground black pepper
1/8 teaspoon ground turmeric
1/8 teaspoon cayenne pepper
For the Sauce:
1 cup tomato purée
1 cup heavy cream
1 teaspoon salt
1 teaspoon sugar
1 teaspoon garam masala
1 teaspoon ground cumin
1 tablespoon lemon juice
1/8 teaspoon cayenne pepper
2 tablespoons chopped cilantro
To Cook the Fish:
1 tablespoon olive oil or canola oil
1/2 teaspoon whole cooled seats
Preparation:
Season the salmon pieces by sprinkling the salt, pepper, turmeric, and cayenne on all sides of a big event. Put the salmon in a plastic bag and refrigerate for one hour or longer.
Combine all the ingredients for the sauce and mix well. Refrigerate if needed.
To cook the fish, put the oil in a frying pan and set on medium heat. When hot, put in the cooled seats. When the seeds sizzled for 10 seconds, pour in the sauce. Stir and bring to a simmer. Place all the fish pieces in the sauce in a single layer and cook, spooning the sauce over the fish. After a minute, turn the fish pieces over and lower the heat to medium low. Continue to cook, spooning the sauce over the top, with 3 to 4 minutes or until the fish is cooked through
Source: At Home with Madhur Jaffrey by Madhur Jaffrey