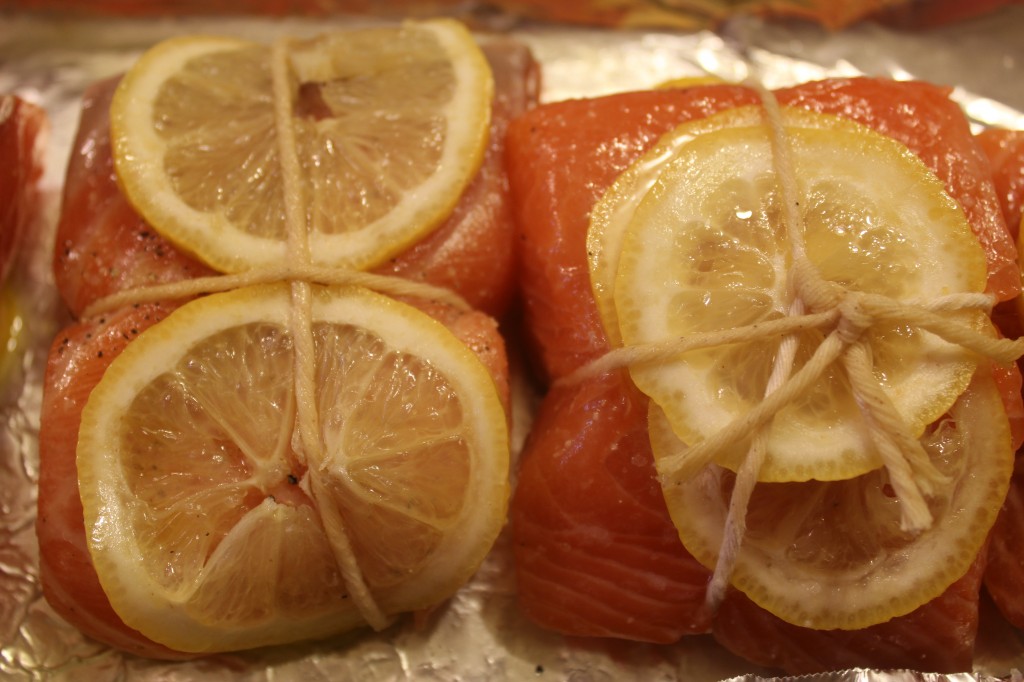 Salmon Leftovers. Uncooked salmon leftovers. Is there such a thing?
Suzen had an event at Cooking by the Book where the main course was grilled salmon. We ordered plenty of that pink jewel, more than we needed for the 30 people in the party. So the next day we had leftover, uncooked salmon.
"Salmon cakes?" I asked. Truth is, I haven't had a salmon cake in 50 years and then it was made with canned salmon, lots of bread crumbs and was cooked by the grandmother. I've mentioned her before, so I don't need to go into detail: overcooked and dry. Not even Tartar sauce could make it palatable.
"Yuk! Never," came Suzen's reply. "I've never had one. Sounds disgusting."
"Well, yeah, they can be. But I thought that you could …"
"I'll do something." She said. A few minutes later came, "Get some string and I'll need your finger."
If she had cut herself, the tourniquet would be on her finger, and she hadn't cut me yet. I was a bit blurry about what she had in mind.
This is an inspired recipe, something that popped into her mind. Suzen made salmon packets, blanketed by lemon slices tied around the fish, and then quickly grilled. The dish is astonishing flavorful. The cooked lemon is soft and sweet. Rather than brush the lemon slices aside, you want to cut through each one and have a bite of lemon and salmon together.
There are salmon lovers and salmon haters out there. The haters are those who have attended too many weddings and bar mitzvahs. You don't have to convert religions here, but you can easily convert from hater to lover. Isn't that better: all that omega stuff from the fish and less stress from no hate.
Don't overcook! You can take a packet off, explore it for doneness, and return to the grill if needed. You can't "unoverdone" something.
As for those salmon cakes, I haven't forgotten. It's just a matter of finding the right time and right method of begging Suzen. I don't think a direct whine will work with her anymore. Something more personal, perhaps, like confessing after 26 years of marriage that I have a secret salmon addiction.
"Consider chicken," would be her most likely response.
Suzi's Salmon Packets
Yield: 4 servings
Ingredients:
4 5-ounce slabs of salmon, about 1 ½ inches thick
Salt and pepper
2 lemons, sliced finely
Olive oil
String
Preparation:
Preheat your grill to medium high, about 400°F.
If necessary, lightly wash and dry the salmon with cold water. Salt and pepper each piece of salmon.
Cover the top and bottom of each salmon piece with thin slices of lemon. Request the services of your husband, friend, or a neighbor to tie the lemon to the salmon. It really is a three- or four-handed job. Lightly coat each packet with olive oil.
Grill the salmon for about 3 minutes on the side. Remove from the grill. Test for doneness.
Place each packet on a plate and snip the string. Carefully pull away the string so that the lemon slices remain on the bottom and top.
How to serve this for a meal? White rice made with a rich chicken stock and simple salad with soft Boston leaves. Although you can do red with salmon, there is a delicate flavor here that you do not want to over power. Think Vouvray, think sparkling Vouvray.
Source: Suzen O'Rourke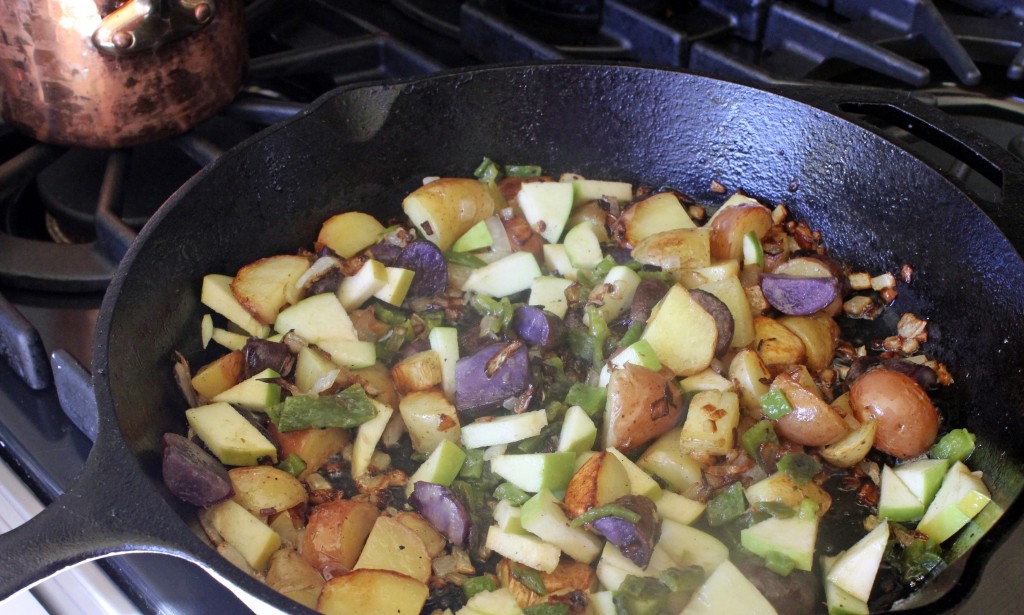 There is no way to deny it: "hash" is a four-letter word. Using the word often denotes something either derogatory or low quality. Did you make a hash of that last speech?
In computer science, a hash table is a good thing, a way of finding data. But a hash function is a cryptography technique which conjures visions of secrets and the Dark Side.
Food wise, it does not get much better. "Hash" does not inspire visions of elegance. Here's the quick definition of hash, as a food, in Wikipedia: "a coarse mixture of ingredients." While hash-like dishes have long been served in the poorer regions of Great Britain, in the United States it was Hormel — the canned meat king — that pushed the hash concept beginning in the 1950s. Thanks to the miracle of congressional lobbying, we can all celebrate September 27th as National Corned Beef Hash Day. Yum.
It's funny but in New York City you can have a hash dish at the counter of a local diner for $6 or dine on a white tablecloth with hash at an upscale hotel restaurant for $26. The difference? Probably a dash of sour cream and some finely diced chives. People eat hash, they just don't talk about it.
Let's consider about another item that has an "image" issue: the cast iron skillet. You probably own one or two. You probably don't use them often. And you probably wash them when soap after using. Oh, dear, so very, very sad.
It's true that the cast iron skillet helped pioneers and prospectors in past centuries. Your grandmother probably used hers more in one month than you have in your lifetime. When she did, soap was not used. After cooking with the skillet, you should simply rinse it out, wipe with a paper towel to collect any oil or grease, and put it briefly on the flame to dry out. A seasoned skillet should not see soap. Bumps of burnt stuff on the bottom? Fill the pan with water, add baking soda, and boil. No soap.
A seasoned skillet is tool that is as wonderful as any mega-bucks pan you eye in that gourmet store at the mall. Cast Iron Skillet: Big Flavors offers 90 recipes that will make your cast iron advocate. Authors Sharon Kramis and Julie Kramis Hearne have other cookbooks under their belts, including The Cast Iron Skilled Cookbook. Accomplished chefs, writers, and restaurateurs, they know they are masters of that weighty iron tool. Their recipes in this latest book include:
Green Chili Soufflé with Dungeness Crab
Lemon Chicken Sofrito
Chanterelle and Gruyere Strata with Fresh Thyme
Caramel Apple Crisp
The first thing Suzen and I tried, this smoked salmon hash, is so elegantly good and beautiful you will be boasting that you ate hash. And that you liked it. And that it is really good. If you hand out little sample tastes, that look of incredulity of people's faces will vanish. Your samples will vanish, and you will be deluged with requests for this marvelous recipe.
Do use all the suggested ingredients. The apple, for example, is just like a fine herb adding a thin layer of sweetness and flavor.
This is the first recipe in Cast Iron Skillet: Big Flavors. One down, 89 to go.
Smoked Salmon Hash with Tricolored Potatoes
Yield: serves 4
Ingredients:
2 pounds small tri-colored potatoes or small Red Bliss potatoes
3 tablespoons unsalted butter
1 cup chopped yellow onion
3 tablespoons olive oil
½ cup chopped apple, skin on
¼ cup chopped roasted poblano chili or canned green Hatch chilies
¼ cup chopped parsley
Salt and freshly ground black pepper
Sour cream, for topping [optional]
Chopped green onions or chives, for topping [optional]
Preparation:
In a medium saucepan, cover the potatoes with cold water. Bring to a boil, then turn down the heat and cook until the potatoes are fork tender, about 10 minutes. Drain and cool slightly, the coarsely chop.
In a 10- or 12-inche cast iron skillet, melt the butter, add the onions, and cook for 3 to 5 minutes. Add the olive oil and the chopped potatoes and cook over medium heat until the potatoes are lightly browned, about 8 minutes.
Add the apple, chilies and cream. Continue to cook for 5 minutes and remove from the heat. Break the salmon into 2-inch pieces and place on top of the potatoes. Sprinkle with parsley, salt, and pepper. If you desire, top with sour cream and green onions or chives. Serve piping hot.
Source: Cast Iron Skillet: Big Flavors by Sharon Kramis and Julie Kramis Hearne