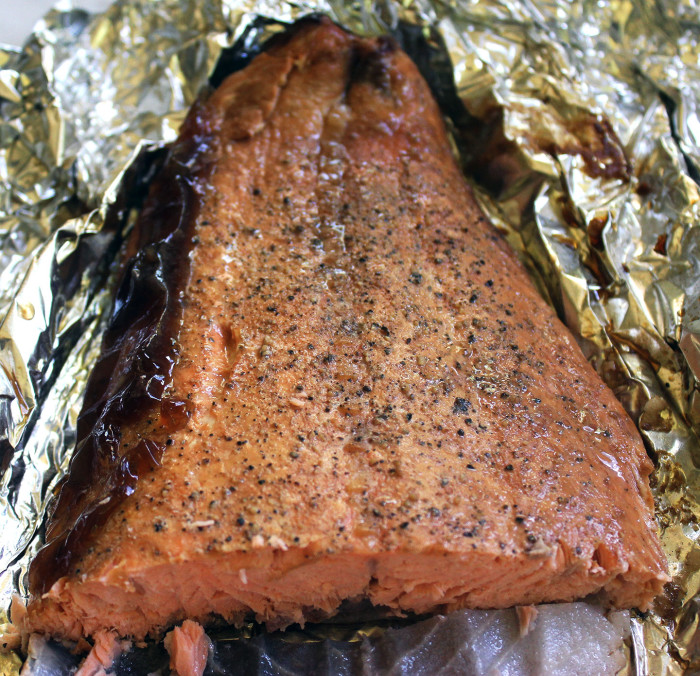 You may have noticed food costs rising. I now use my cell phone to take pictures of what I am not going to have and my calculator to figure out how much my half-filled shopping cart is going to dent me for.
There are ways to absorb the cost spiral. Suzen and I love smoked salmon. She's from Brooklyn and I'm from Oregon. Smoked salmon is one of the few things we have in common [although, I am going to say that in Brooklyn they never have alder smoked salmon].
You can find smoked salmon almost everywhere, and pay the price. Or, one quick trip to your gourmet store or some web shopping, and you'll be doubly happy: you can make your own smoked salmon at half the price and pick the flavor you want [Suzen and I compromise and do not do alder but we do use apple wood and just a pinch of mesquite].
At the gourmet store, you want to look for a Cameron stovetop smoker. There's a picture of one at the end of this post and you can, if you prefer, order one from Amazon for less than $50. The payback period will be quick. In a nutshell, you put woodchips in the metal Cameron box, your food on a rack, and then use a combination of burner and oven heat to turn raw salmon in delectable, moist, tender smoked salmon. You can start experimenting with salmon, but you'll soon be smoking all kinds of protein.
Salmon takes about 20 minutes. That's just the time you need to dash out for fresh bagels. Or you can serve smoked salmon as an entrée. And what you don't eat today, goes into the food processor with sour cream and lemon juice the next day for salmon spread, for a dip or for sandwiches or to top off a biscuit. Bagels on Sunday, biscuits on Monday. That's a Brooklyn-Oregon combination that has worked for 28 years. Lot of smoked salmon under the bridge.
The recipe here is from The Gentle Art of Preserving by Katie and Giancarlo Caldesi. The smoking chapter in Gentle Art is extensive and will have you appreciating your Cameron smoker every time.
Hot Smoked Salmon
Yield: up to what fits in the Cameron [a few pounds]
Ingredients:
• Salmon fillets [any thickness, thin smokes quicker than thick]
• Sea salt
Preparation:
Sprinkle a thin layer of fine sea salt over the base of a lasagna dish or similar pan. Arrange the salmon fillets, skin-side down, on top of the salt. Sprinkle more salt over the surface of the fish, cover the dish with plastic wrap, and set aside to cure into fridge for approximately 1 hour.
Rinse the fillets briefly under water to remove most, but necessarily all, of the salt. Pat dry. Arrange on a wire rack in the fried or a cool room to dry for approximately 30 minutes so to form a pellicle.
What is a pellicle? It is a skin or coating of proteins on the surface of the meat that allows smoke to better adhere to the surface of the mat during the smoking process.
Select the wood of your choice and place in the Cameron smoker. Put the salmon on the rack, close the box, and follow the Cameron directions for cooking [all on the stovetop or a combination of stovetop and oven].
Cook for approximately 20 minutes. You can test for doneness by touch: the fish should be firm.
One note: the smoking process here generates a LOT of aroma. If you are sensitive to smells, then you'll want your venting turned on high.

Sources: The Gentle Art of Preserving by Katie and Giancarlo Caldesi and Wikipedia
Photo Information: Canon T2i, EFS 60 mm Macro Lens, F/5 for 1/50th second at ISO-500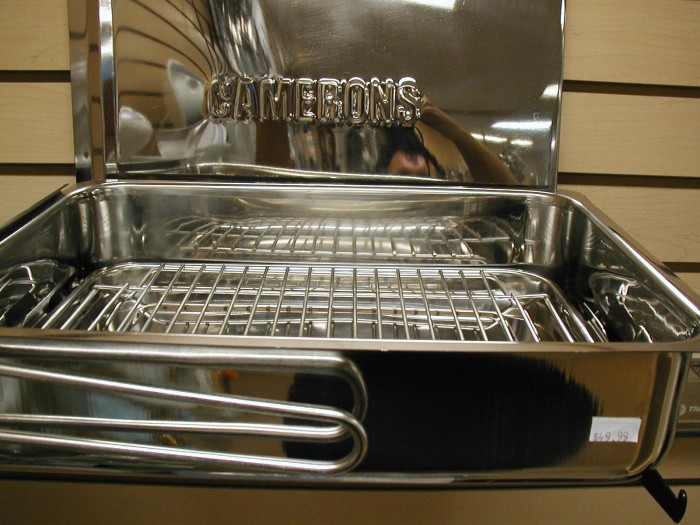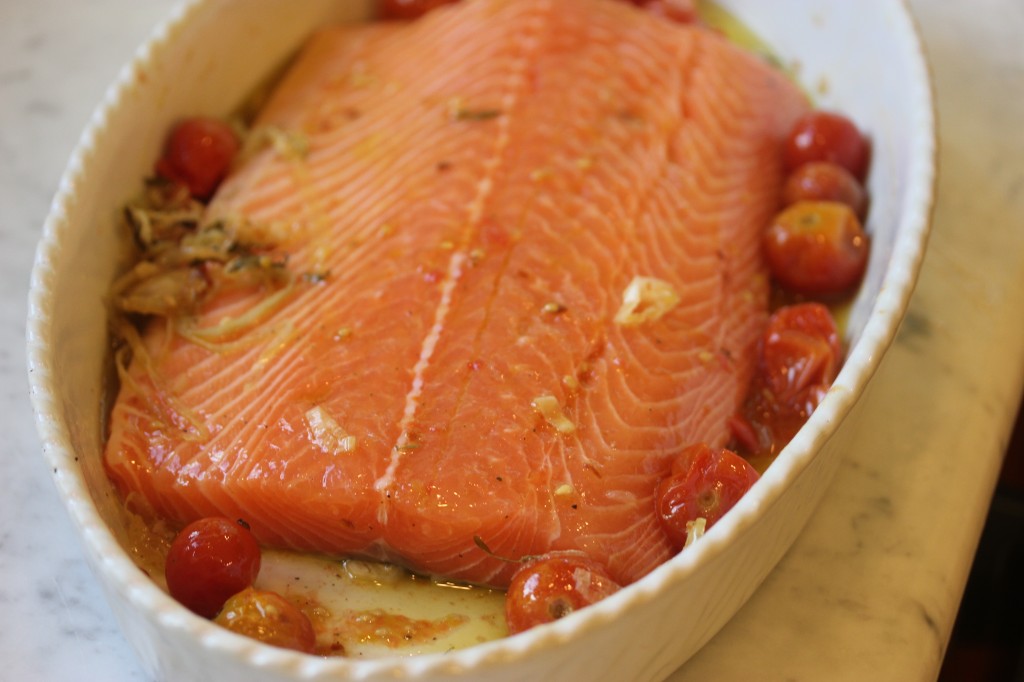 A few weeks ago we published a post for semi-confit tomatoes, a recipe that is repeated below. Once those tomatoes are done, don't wash the pan. You have gold there. Olive oil scented with tomatoes, thyme, bay, and garlic. You could, of course, add some onion, too.
Take that pan, put in a hunk of salmon — the ideal fish but by no means the only one you might use. Bake at high heat, say 400 degrees, for about 10 minutes. The time will depend on how well done you want the fish and, of course, the thickness. For dinner, you now have the fish and the tomatoes.
Only the white wine remains.
Semi-Confit Tomatoes
Yield: about 1 ½ pounds
Ingredients:
4 cups light olive oil
2 ¼ pounds ripe cherry or medium tomatoes
2 thyme sprigs
1 bay leaf
2 garlic cloves, halved
1 tablespoon white peppercorns, coarsely crushed
Preparation:
Heat the olive oil in a pan and add the whole, unpeeled tomatoes, thyme, bay leaf, garlic, and crushed pepper.Cook gently at about 160⁰F for 5 to 10 minutes. The riper and the smaller the tomatoes, the less time they will take to confit.Let them cool in the pan, then transfer them to a jar or bowl and pour over the oil. Cover with plastic wrap and refrigerate until ready to use. The semi-confit tomatoes will keep well in their oil for at least 2 weeks in an airtight container in the refrigerator. Just season them with salt and pepper before using.
Source: Pastry by Michel Roux
.