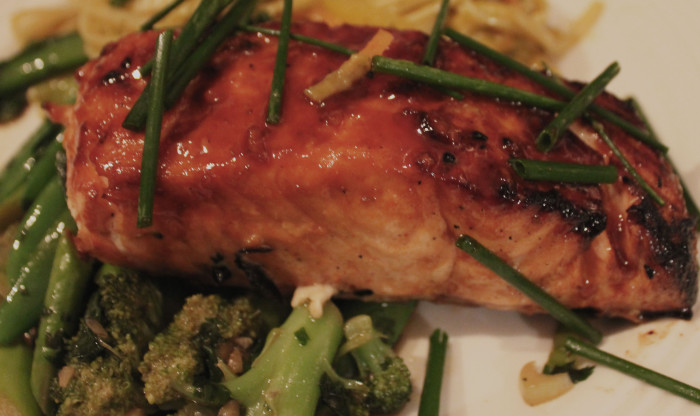 Why do we see salmon dishes everywhere? I'm not sure if the popularity stems from the public or the professionals or the agri-farmers. No one can doubt that people love salmon flavor. And a huge world-wide industry has evolved go give us an endless supply — both farm raised and freely caught.
I think it is the professionals who contribute mightily to the salmon wave surrounding us. Salmon gives a chef a starting food profile that is rich: meaty texture, sweet when cooked, biting on the tongue. With a piece of salmon, you can go in many directions. You can smooth out that flavor with a velvety sauce, for example. Or, as in this recipe, you can apply Asian accents to intensify the tang and even the color.
This dish is lovely. You bite it. It bites you back. Not harshly, but distinctively. For her corporate team building events here at Cooking by the Book, Suzen faces a challenge. She would like people to come and cook together and create some wonderful dish that no one has tried before. But, corporate groups can be a tad conservative. Suzen has tried to get folks to try lamb chops or rabbit. And failed.
Her clients want beef or chicken or salmon. So this salmon dish is a delight for Suzen. The customer is happy at the start because they are going to be getting nice, "safe" salmon. Suzen loves to watch them cook this dish and see how the rising Asian aromas in the kitchen make noses perk up. Eyes search across the room and everyone wonders just what is being created. And then they taste. They take that first bite, the bite that bites back. And they smile. "I did not know salmon could taste like this," is a common comment.
But it can. Do try this recipe. You'll love it and I'm sure that you'll enjoy it endless times.
Ah, you can do this with chicken, too, but the salmon is divine.
---
Grilled Ginger-Sesame Chicken or Salmon

Yield: serves 4

Ingredients:

3 tablespoons ginger-root; fresh; minced
¼ cup reduced-sodium soy sauce
3 tablespoons canola oil
2 tablespoons hoisin sauce
1 tablespoons toasted sesame oil
1 teaspoon Sriracha sauce
1 teaspoon kosher salt
¼ cup minced scallions, white and green parts
2 boneless, skinless chicken breast halves, about 9 ounces each or 4 skin on salmon 5-6 ounce filets
Preparation:
To make marinade: In a medium bowl, whisk soy sauce, ginger, canola oil, hoisin sauce, sesame oil, Sriracha, white parts of the scallions, and salt to blend. Transfer 3 tablespoons of the mixture to a baking dish, then add chicken and turn to coat it. Cover and refrigerate for 30 minutes, turning after 15 minutes, or up to 1 day, turning occasionally.
Heat a grill pan over medium-high heat. Remove chicken from marinade, add to grill pan, and cook for about 4 minutes per side, or until chicken shows no sign of pink when pierced in thickest part with tip of a small sharp knife. Serve while hot and garnish with scallion greens.
Source: What's for Dinner? by Curtis Stone

Photo Information: Canon T2i, EFS 60mm Macro Lens, F/3.5 for1/15th second at ISO‑3200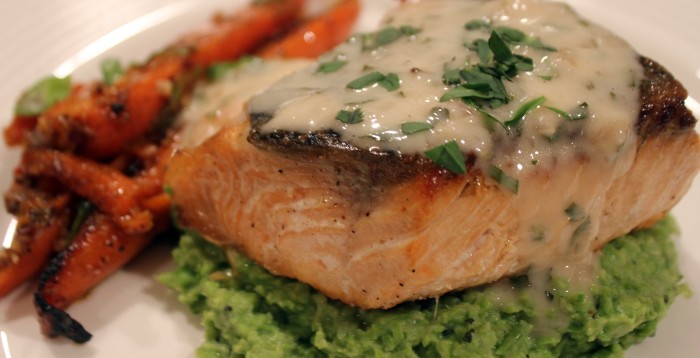 The supply of salmon seems endless and almost all of us indulge on a regular basis. After all, if you go to a catered event, your choices generally are steak, chicken or salmon. And salmon is often the safe choice.
With safety can come boredom. It's tragic that over time this wonderful fish can lose its magic. There are so many ways to serve salmon that it should always be inspiring. How to do that? It's the sauce and the side. Here the salmon is stacked atop mashed peas and then adorned with herbed butter. You keep the salmon flavor, but anoint it with these accompaniments that make this dish lively to look at and then consumed with surprising pleasure. Yes, this dish is different.
Peas are one of the few food that you can freeze, defrost, and find yourself still with the original taste. Here the texture is transformed by mashing and the flavor is accelerated with onion and cream. The peas provides a lively nip on your palate and well complements the salmon proteins.
As the picture shows, you might as well go all-orange here. Pair this salmon with a side of sautéed carrots, either babies or slices. When you cook them, you can experiment with herbs and spices to match that tarragon butter.
Suzen often serves this dish now for her cooking classes at Cooking by the Book. It's a great recipe for team cooking or for your culinary club. The peas, the butter, and the salmon itself can all be divided out among your group so everyone is happily "employed." And, when the parts come together into that final dish, everyone can take pride. In the kitchen, you can both satisfy your stomach and brighten your soul.