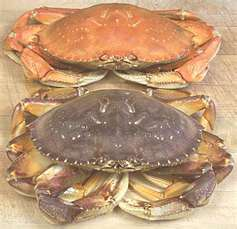 Crab. Dungeness Crab. When you grow up on the West Coast, the two terms are synonymous. And how to use that sweet, cool crab? Well, the most elegant way was Crab Louis, also known as the King of Salads. This crab creation first appeared on the West Coast around 1910, but its origins are not known. Claims for Crab Louis run from Seattle to San Francisco.
The one sure thing is that this dish, not commonly served now, is always taken as a special treat. In this holiday season, it's a wonderful dish for a party or your family. It can be a salad or the main course. This recipe from Northwest native Cynthia Nim's Crab is very traditional. Over the decades the salad has often been amended: slices of avocado are a natural addition, or some cooked shrimp, or … Use your imagination!
The salad is famous both for its pure use of crab and for the Louis Dressing. If you can, use homemade mayo, ketchup, and hot sauce to make this delight your "personal crab specialty." Have all the ingredients thoroughly chilled before you begin to assemble the salad Be sure to serve it, as recommended, on chilled plates with the crab cold out of the fridge. One of the treats of this dish is the iciness of every bite.
Iceberg lettuce was once the only lettuce in most supermarkets. Now, it's pushed the side as everyone grabs for that Romaine or some exotic green. Remind yourself has wonderful iceberg can be and do use it in this salad.
If you relish crab, then Crab by Cynthia Nims is a slim book crammed with ideas to enjoy every rich bite. Brunch ideas, apps, soups, sandwiches, salads and main courses are all there for you to savor.
Classic Crab Louis
Yield: Serves 4
Ingredients:
For the salad:
1 head iceberg lettuce, cored, leaves separated, rinsed, and dried
8 to 12 ounces of crabmeat
4 eggs,hard-cooked, peeled and quarter
2 small tomatoes or 4 plum tomatoes, cored and cut into 1-inch wedges
For the dressing:
¾ cup mayonnaise
⅓ cup chili sauce or ketchup
3 tablespoons finely chopped green onion
1 tablespoon minced flat-leaf [Italian] parsley
Dash Worcestershire sauce
Dash hot pepper sauce
Salt and freshly ground black pepper
Preparation:
For the dressing, combine all the ingredients except the salt and pepper in bowl. Stir to mix. Season to taste and refrigerate [covered, of course] until you are ready to assemble your salad.
For assembly, on 4 chilled plates, arrange a bed of 1 or 2 of the large lettuce leaves. Cut the remaining lettuce into thin shreds and pile it evenly in the center of each plate. Pick over the crabmeat to remove any bits of shell or cartilage, and arrange it over the shredded lettuce, saving any large leg or body pieces to perch on top. Arrange the egg and tomato wedges evenly around the crab, on the lettuce base. Spoon a bit of the Louis dressing over the crab, putting the rest in a serving bowl for your guests to sample. Serve immediately.
Source: Crab by Cynthia Nims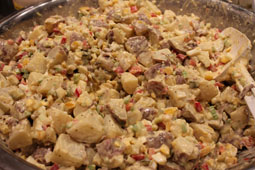 Is potato salad healthy? It's potatoes and mayo and … Ah, the solution is to be inclusive. Add some veggies like celery and peppers. Add some eggs [ok, marginally healthy]. Pickles, definitely healthy.
In short, the quality of your potato salad is up to you. But it can be a delicious combination of ingredients rich in nutrients. After all, when do you eat celery? Here in potato salad and in the dressing for that Thanksgiving turkey, right?
I put this recipe to very good use in my culinary team building classes at Cooking by the Book. This salad is part of a favorite entrée: Steak with Charred Tomato Butter with Grilled Succotash and Summer Potato Salad.
In my kitchen, groups come to improve their team strengths by cooking together. For this entrée, separate teams work on the steak, the succotash, and this salad. They have to coordinate their efforts so, just like in a 4-star restaurant, every element of the dish comes together just in time. It's fun to see professionals, standing with spoons in hand, looking over their shoulders, blasting questions, and scurrying to make sure their team succeeds.
This salad has the classic flavors you may remember from the potato salad of summer picnics generation ago: the celery, the hard boiled eggs, that dash of apple cider vinegar.
Before summer ends, add this splash of sunshine.
Sunshine Potato Salad
Yield: serves 6 to 8
Ingredients:
6 waxy potatoes (about 3 pounds)
½ cup extra-virgin olive oil
¼ cup apple cider vinegar
1 tablespoon water
2 teaspoons salt
½ teaspoon coarsely ground black pepper
⅓ cup diced red peppers
⅓ cup diced green or yellow peppers
1 cup finely chopped celery
1½ cups finely chopped onions
3 large eggs, hard-boiled and coarsely chopped
⅓ cup coarsely chopped dill pickles
½ cup mayonnaise
1 tablespoon prepared yellow mustard
Preparation:
Cook potatoes in a large pot of salted water over medium-high heat; cook only until tender, when pierced with a small paring knife, about 15 to 20 minutes. Remove to a large bowl. Peel when cool enough to handle. Cut into 1-inch cubes. Place other cut-up vegetables in a separate bowl.
In another bowl, whisk together oil, vinegar, water, salt, and black pepper. Pour dressing over warm potatoes and stir gently to coat. Cover and place in refrigerator, it necessary. Stir occasionally for even marinating.
Before serving pour off any excess marinade. Add peppers, celery, onion, eggs, and dill pickles and toss very gently to combine. In a small bowl. Stir together mayonnaise and mustard. Add to salad and toss to coat vegetables. Cover and refrigerate until ready to serve.
Source: Heirloom Cooking