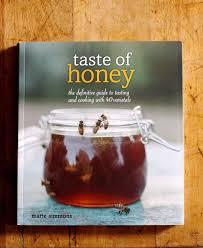 Marie Simmons is a friend  and very trusted author. Trusted? Take any recipe, from any of her 20+ cookbooks, and you just have to follow the simple, totally clear directions. Your results will be, well not just results, but a culinary accomplishment that will truly please you.
Marie's latest venture is Taste of Honey. Here's the first taste test that Suzen tried: a salad dressing that has "the usual suspects" coupled with a good dose of honey. The fun thing here is playing with the amount of honey —Suzen displayed a heavy hand here so there was a distinctly honey tang to her dressing.
And, of course, changing honey varieties can generate enormous flavor shifts. Unlike other foods where you have to struggle to notice the "difference" that "experts" announce, with honey you can be tongue-dead and still be very aware of a flavor difference.
So with this recipe as a template, you can pair different honey flavors with different ingredients. Chicory versus romaine, for example, gives you room for mix and match.
Suzen and I are working our way through this lovely book recipe by recipe. More tasting results to come. No testing is necessary: these are all Simmons perfect.
All-Purpose Honey Mustard Salad Dressing
Yield: 2/3 cup
Ingredients:
5 tablespoons extra-virgin olive oil
2 tablespoon full-bodies red wine vinegar
2 tablespoons honey [or more!]
2 teaspoons Dijon mustard
1 small clove garlic, grated
½ teaspoon coarse salt
Freshly ground black pepper
Preparation:
Combine all of the ingredients in a blender and blend until emulsified. If making by hand, combine all of the ingredients except the olive oil in small deep bow. Add the olive oil a few drops at a time, continuously whisking until emulsified.
Store in a glass jar at room temperature for up to 1 day or refrigerate and keep for up to 1 week.
Source: Taste of Honey by Marie Simmons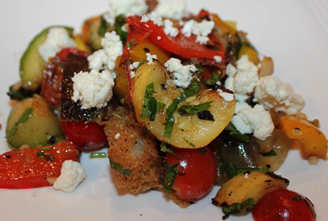 Oh, it's winter and grilling is something you probably cannot conceive of. For this salad, you need grilled veggies but you can do this indoors. Your stove may have a grilling section, or you can buy a simple grilling surface to fit over your regular burners.
Why now, in the middle of winter? This salad is bright, filled with flavor and those grilling smells inside your kitchen will spread cheer on the coldest of days. This "salad" is perfect for a main course. On a football Sunday, you can offer up a bowl of bread salad and let folks serve themselves, grab a beer, and return to that television showing grown men pound each other into oblivion. Let those gridiron gladiators fight away. You can indulge away on these dashing flavors while your football heroes dash about on snowy or rainy fields.
Zucchini, Tomato, Onion, Ricotta Salata and Bread Salad
Yield: serves 6
Ingredients:
For the salad:
½ large sweet onion, sliced ¼ inch thick
1 large red bell pepper, cored, seeded, and sliced ¼ inch thick
1 large yellow bell pepper, cored, seeded, and sliced ¼ inch thick
1 tablespoon extra-virgin olive oil
1 teaspoon fine sea salt and freshly ground black pepper to taste
1 large yellow zucchini, halved lengthwise
1 large green zucchini, halved
4 large heirloom tomatoes of mixed colors, cored and cut into large dice
1 loaf ciabatta bread (8 to 10 oz)
½ medium red onion, thinly sliced (about ½ cup)
¼ cup fresh summer savory
2 ounces ricotta salata
For the dressing:
1 cup extra-virgin olive oil
¼ cup aged sherry vinegar
2 tablespoons freshly squeezed lemon juice
2 tablespoons summer savory
1 tablespoon finely chopped garlic
 Preparation:
—– GRILL THE VEGETABLES —–
In a large bowl, toss the sweet onions and peppers with 1 tablespoon of olive oil. Season with salt and pepper. Brush the zucchini with some of the olive oil and season with salt and pepper.
Preheat a barbecue or stove top grill to medium-high heat. Place the zucchini halves cut-sides down on the grill. Spread the onions and peppers around the zucchini in a single layer. Grill the vegetables, turning them often, until charred and softened, about 5 minutes for the onions and peppers and slightly longer for the zucchini. Cut the peppers and zucchini crosswise into 1-inch pieces.
—– MAKE THE DRESSING —–
In a large bowl, whisk together the oil, vinegar, lemon juice, savory, parsley, and garlic. Season with salt and pepper.
—– MARINATE THE VEGETABLES —–
Add the grilled vegetables and tomatoes to the bowl with the dressing. Adjust seasonings. Set aside.
Trim the crust off the bread and cut into 1-inch slices. Brush each slice with olive oil. Heat grill to medium-high heat. Grill the bread, turning once, until browned and crisp on both sides.
—– ASSEMBLE THE SALAD —–
Add the onion and savory leaves to the marinated vegetables. Place a piece of toast in the middle of each plate. Divide the vegetable mixture evenly among the plates. Shave the ricotta salata over the salad.
Alternatively, the bread can be chopped and mixed in with the vegetables.
Source: Bistro Laurent Tourondel