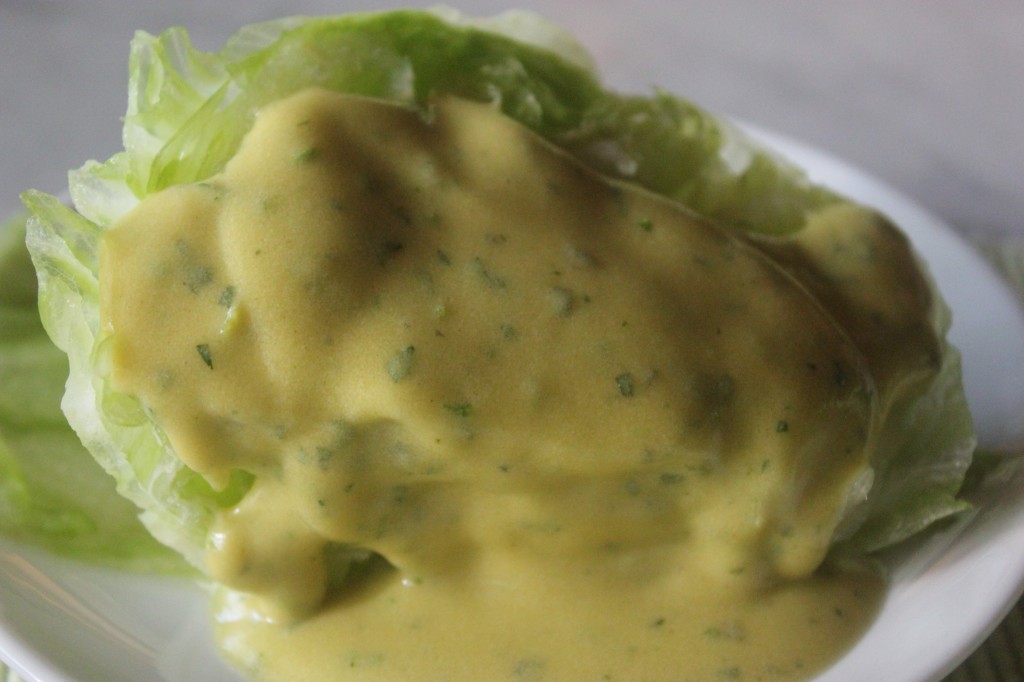 There are people who do not believe in evolution or genetics. I think they are wrong.
This recipe all started many years ago when I met Maria Guarnaschelli. CBTB was selected for testing The Joy of Cooking and Maria was the editor. At the time Maria told us of her daughter, Alex, who was into food. Ok, so a young girl is intrigue by the industry her Mom is a star in. Little did I know that  Alex would herself become a culinary superstar.
While traveling to Austin to visit my family, I was watching the Food Network and saw Alex's new show, Alex's Day Off. She put together a wonderful meal to share with a good friend. One recipe totally greabbed my attention: a very, very cold iceberg lettuce with a strong Dijon Vinaigrette. Take a look — but don't over freeze the lettuce like I did the first time. Over freezing breaks down the cell walls and destroys the crunch you want.
Frozen Iceberg Salad with Champagne Vinegar
Yield: 2 big salads for 2 or smaller salads for 4
Ingredients:
1 large head iceberg lettuce, outer layer removed and both ends trimmed
2 tablespoons Dijon mustard
2 tablespoons champagne vinegar
Kosher salt
1/2 cup extra-virgin olive oil
1 small bunch fresh tarragon, washed, dried, leaves chopped
Preparation:
Put the head of lettuce on a flat surface and cut in half at the equator. Transfer the lettuce to a small tray and put it in the freezer.
In a medium bowl, whisk together the Dijon mustard, vinegar, and pinch of salt. Slowly whisk in the olive oil and then add the tarragon. Taste for seasoning and set aside.
Allow the lettuce to remain in the freezer until just before serving. They can remain in there for 4 to 6 hours, if necessary.
Suzen says: HOWEVER, by experimenting we have found that 6 hours is too much time in the freezer [too hard to navigate with a fork] and 90 minutes is just a tad light [not quite Arctic cold]. I think 2 hours will produce just the right combination of texture and cold.
When ready to serve, transfer to a platter and drizzle each half with the dressing. Serve immediately.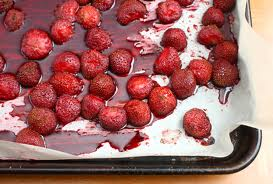 Yes, that was Suzen earlier today on SiriusXM Channel 110. That's the Martha Stewart Living channel. The 3PM cooking slot was being hosted by our good friend Michele Scicolone. Michele is famous for her extraordinary array of cookbooks. Mostly Italian, it's true, but The French Slow Cooker is a best seller and a "best eater" too.
Suzen was on the show today to answer questions about home cooking parties. How do you plan for a party, what to serve, how many people can you have, what to drink, … Michele and the listeners who called in had lots of questions. For the topic of what to serve, Suzen presented this recipe, a favorite for the bridal shower and bachelorette events she has weekly at Cooking by the Book.
Already since the show today we've had calls to put the recipe on this blog, and we are happy to post it now. Suzen loves this salad with its mixture of sweet and sour and that adornment of roasted strawberries. Be sure to cool those strawberries before placing on the spinach — the idea here is not to have wilted spinach.
Baby Spinach Salad with Roasted Strawberries
Yield: Serves 8
Ingredients:
2 pints large strawberries
2 pints large strawberries
1tablespoon plus 2 teaspoons sugar
1½ teaspoons sea salt, plus more to taste
Freshly ground black pepper
6 tablespoons red wine vinegar
¼ cup fresh or frozen orange concentrate
4 teaspoons finely chopped fresh tarragon
¾ cup slivered or sliced almonds
9 cups baby spinach
5 ounces pecorino Romano cheese, shaved
Preparation:
Preheat oven to 400°F.
Using a paring knife, hull the strawberries and cut then in half lengthwise. Spread the berries on a rimmed baking sheet. Drizzle with 2 tablespoons of the olive oil and sprinkle with 2 teaspoons sugar, ¼ teaspoon of the salt and several grinds of pepper. Toss to coat the berries evenly, then spread them out again. Roast until softened, about 10 minutes. Let cool to room temperature, gently sprinkle with the chopped tarragon
In a small nonreactive bowl, whisk together the vinegar, orange juice, the 1 tablespoon sugar, ¾ teaspoon of the salt and several grinds of pepper until the sugar dissolves. Slowly whisk in the remaining 6 tablespoons of olive oil until well blended to make vinaigrette. Taste and adjust the seasonings
In a small bowl, stir together the almonds and ¼ teaspoon of the salt. In a large bowl, combine the spinach, the remaining ¼ teaspoon salt and several grinds of pepper. Whisk the vinaigrette to recombine, drizzle about 1/3, less or more, over the spinach and toss well (reserving any remaining for another use). Taste and adjust the seasonings.
Divide the dressed spinach evenly among individual plates, top each serving with an equal amount of the roasted strawberries, sprinkle with the almonds and cheese. Serve immediately.
Source: Adapted from New Flavor for Salads by Dana Cheney