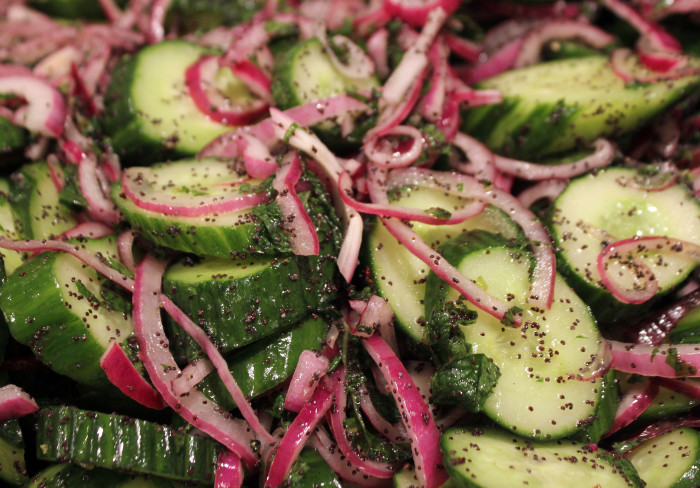 This is the salad Suzen pairs with a Moroccan Spiced Chicken [yesterday's post!]. The chicken is hot out of the oven, coated with a sweet and spicy sauce. This salad has its own heat, from different sources, and its own sweetness from honey. The salad is served cold so you can alternate bites of "hot" chicken and "chilled" salad.
This contrast is delightful and, in Suzen's menu, amplified by a Moroccan Couscous that sits between this salad and the chicken. The recipe for the couscous come tomorrow.
We adapted this recipe from the cookbook Ottolenghi, one of the three exceptional volumes by Yotam Ottolenghi and Sami Tamimi. You'll enjoy the deliciously authentic, and often simple, recipes in those books. Even better, you'll find them an inspiration to experiment and create.
In this recipe, different vinegars and honeys, different chilies, or exceptional salts can make a substantial difference in the final salad. Yes, even the poppy seeds can be swapped out for your personal favorites.
Cucumber and Poppy Seed Salad
Yield: serves 4
Ingredients:
6 small cucumbers
1 small onion, finely minced
2 mild red chilies or jalapenos thinly sliced
4 tablespoons white wine vinegar or rice vinegar
2 tablespoons poppy seeds
2 tablespoons honey
1 tablespoon parsley for garnish, optional
Kosher Salt and freshly ground black pepper to taste
Preparation:
Chop off and discard the end of the cucumbers. Slice the cucumbers at an angle, so you end up with pieces ⅜-inch thick and 1-¼ inches long.
Mix together all the ingredients in a large bowl. Use your hands to massage the flavors gently into the cucumbers. The salad should be sharp and sweet, almost like a pickle.
If not serving immediately, you might need to drain some liquid off later. Adjust the seasoning again afterward.
Sources: adapted from Ottolenghi: The Cookbook by Yotam Ottolenghi and Sami Tamimi
Photo Information Canon T2i, EFS 60 mm Macro Lens, F/5.0 for 1/25th second at ISO-3200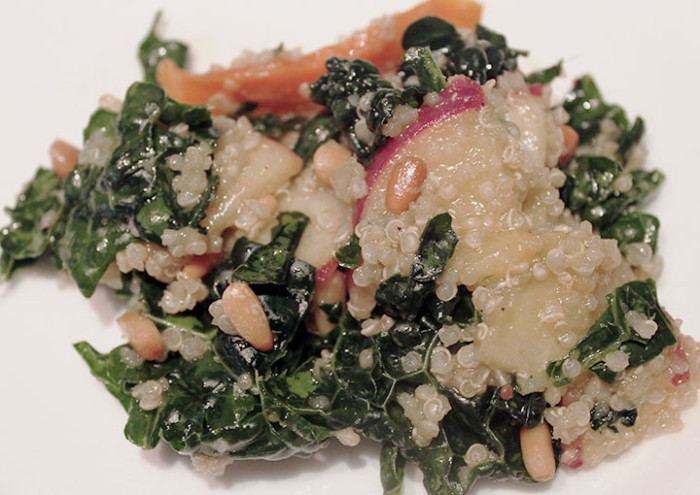 Kale is in. Quinoa stays in. Everyone loves peaches. And no one can turn down a pine nut — unless of course you are stuck with an allergy. In which case, just omit!
Kale, by the way, was also in about 800 years ago. Popular food in the dark ages, then the Middle Ages came and kale — for unknown reasons — just fell out of favor. Fortunately, it was still cultivated, new species have been created and now there is a kale boom. I do like kale chips but the best way to enjoy kale is just this way in a lovely salad with complementary flavors.
Honestly, this is a combination I would have had a bit of trouble imagining. But thanks to Linda Aldredge and Food and Wine Magazine, here's an exciting different and thoroughly refreshing recipe. And it tastes just as good as it looks in that beautiful picture.
Here at Cooking by the Book, we made a few touches to the recipe, going for every bit of gusto. This was served last night to our monthly group of celiac patients and families. Working with the Columbia-Presbyterian Center for Celiac Disease, we have monthly events with a mission: just because you have celiac disease does not mean you have to lose a beat when it comes to food.
Last night's menu was this salad, a spicy cod entry and flourless chocolate cake. Celiac or not, you'd love this meal. And, as a starter, this salad is a perfect preview for the evening. It's a visual barrage as you look at the interesting kale, the nuts, the quinoa and the glistening reflections created by the dressing. It's a trumpeting announcement that food is served.
The combination of ingredients here gives you an experience you will not have had. The peach is a lovely sweet touch, something you quickly notice with your eyes and immediately stab at with your fork. All to good reward.
This is an excellent summer salad, one that you can use with peaches, nectarines, plums or any other fruit of your choice. Berries? Why not?
Quinoa and Kale Salad with Peaches and Pine Nuts
Preparation time: 45 minutes
Servings: 6
Ingredients:
Quinoa Salad:
1 pound Tuscan kale stems discarded and leaves cut into ½-inch ribbons
1 large red bell pepper, cut into ½-inch dice
¾ cup toasted Quinoa
¼ cup pine nuts
1 cup ripe peach slices about one medium peach (tossed with honey and lemon juice to taste depending on the ripeness of the peach)
1 cup roasted sliced carrots
Dressing:
1 teaspoon Dijon Mustard
2 tablespoons fresh lemon juice
¼ cup extra-virgin olive oil
Kosher salt
Freshly ground pepper
¼ cup chiffonade mint leaves for garnish
In a medium saucepan of salted boiling water, cook the quinoa until al dente, following the package directions. Drain well and spread on a baking sheet to cool completely.
Meanwhile, in a small skillet, toast the pine nuts over moderate heat, tossing occasionally, until golden, about 5 minutes. Transfer to a plate and let cool completely.
In a large bowl make the dressing: whisk mustard with the lemon juice and olive oil. Season the dressing with salt and pepper. Add the kale, toss well and let stand until barely wilted, 15 minutes massaging well. Toss gently the quinoa, pine nuts, roasted carrots, peaches and red bell pepper to the Kale. Season the salad with salt and pepper. Garnish with mint if desired and serve.
Source: Adapted by Cooking by the Book from Food and Wine Magazine, August 2013
Photo Information Canon T2i, EFS 60 mm Macro Lens, F/4 for 1/40th second at ISO‑1000