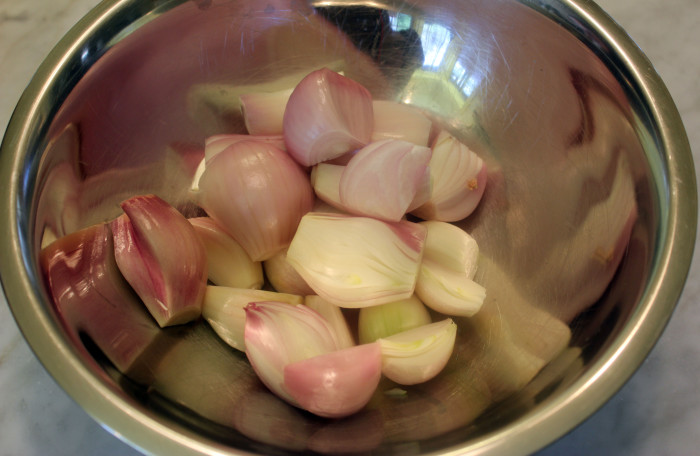 On a snowy Sunday, I found Suzen checking out our cookbooks.
"What are you looking for?" I asked. I can be helpful. Sometimes.
"Something interesting," she said calmly. She's not six feet tall so her hand was reaching up to manipulate the books on the top row.
"Something chocolate?" I suggested. Suzen likes chocolate.
"Go away." Her fingers kept moving across the titles.
The Instant Bean was published in 1996 and you can still buy one at Amazon. We had not played with the book in a long time, but now we know that was a mistake.
When we go to an Italian restaurant, I have two ways of knowing if it is going to be authentic and good. First. Caesar Salad. If it's on the menu, since this salad was created in Tijuana, I know I am in a non-Italian restaurant. Second, the bean dip. If it comes, and if it is wonderful, then I know I can trust that menu, every item.
Bean tip as a deciding factor? Yes. Very yes. If you have ever had great, great bean dip then you know exactly what I mean. Beans, of course, are referred to as beans. In the food family, they always get to sit in the back of the bus. That's a mistake. Beans can be components for the best in food. Think chili for example, or a bean salad with tuna.
Ah, but in those cases, the beans are not that much on their own. Chili contains spices. Salad has salad dressing. A bean dip is in essence beans. The trick is to get great flavor and texture from the beans alone. And, as an added hurdle, you want something that his balanced. Not too this, not too that.
This recipe is gargantuan. It is full of flavor, yet it has precisely that balance of ingredients so no one note overpowers you. Except, of course, there is this definitive bean flavor that makes you say, "Oh, that's what beans are all about?"
As the recipe below suggests, this bean puree can be used in many ways: appetizer, first course, spread for sandwiches, or fun topping for radishes or cucumber. Once you've made this, you are quite likely to have a bowl around in your fridge, ready to use and enjoy.
Puree of White Beans with Roasted Garlic and Rosemary
Yield: 2 cups serving 4 as first course
Ingredients:
1 15-ounce can white beans or cannellini, drained and rinsed
2 tablespoons chicken broth or water
1 teaspoon coarse salt or to taste
2 tablespoons fresh rosemary leaves
1 head of oven-roasted garlic [recipe follows], the cloves squeezed from their skins
2 tablespoons olive oil
½ teaspoon freshly ground pepper or more to taste
Preparation:
Put all the ingredients into a food processor and blend, pulsing several times and scraping down the sides, until smooth. Add more olive oil or borht if you like a creamier consistency.
Serve with toasted pita triangles asa first course, asa dip with raw vegetables, or as a spread on 1/8 inch-thick slickes of daikon radish or slightly thicker slices of cucumber.
Oven-Roasted Garlic
Yield: 1 head
Ingredients:
1 head of garlic
1 teaspoon olive oil
Salt and freshly ground pepper to taste
Preheat the oven to 325°F.
Slice off the top quarter of the head of garlic, drizzle with the olive oil, and sprinkle with the salt and pepper. Wrap in foil and bake until the cloves are soft eand creamy, about 40 to 50 minutes. Cool in the foil or unwrap.
When cool, break the head apart and sqeeze each clove from its skin. Roasted garlic can be made up to 3 days in advance and kept chilled in a tightly closed container.
Source: The Instant Bean by Martin Stone
Photo Information: Canon T2i, EFS Macro Lens 60mm, F/4.5, 1/50th second, ISO-250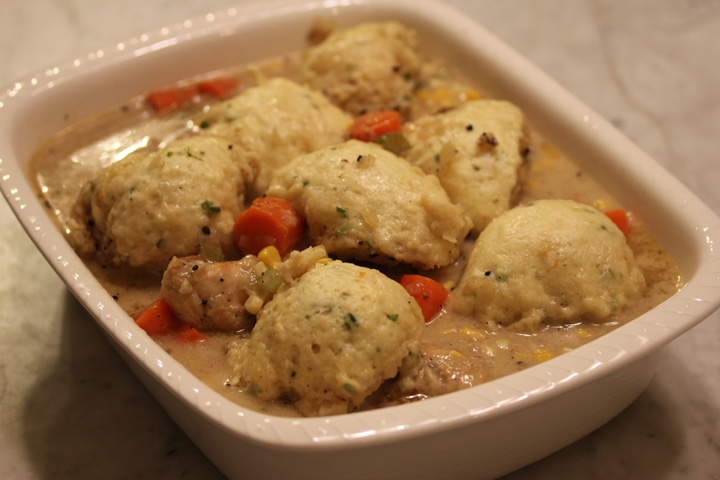 I have the flu. Not pleasant. But being an optimist, I always seek to make the best out of a bad situation.
"How are you?" Suzen asked.
"Awful," I said. Then I coughed. She grimaced. She can't take me being sick. I coughed again. Softening her up.
"Do you want anything?" she said.
"Well," I began, "I really am hungry. Maybe," I stopped to cough again, "maybe some chicken."
"Yes," she sounded relieved. "I can do that." She turned to walk away.
"With dumplings," I added very softly.
She turned back. Examined me. Appraised me. "Okay," she said. "But," her finger was waggling, "if I find flu pills in the bathroom, if I find you've been milking this situation, …"
Silly woman. I don't have any flu-creating pills in the bathroom. That would be stupid. If I had any at all, they'd be in the plastic box in the basement where I keep the nails.
This excellent recipe is from the new edition of the Good Housekeeping Cookbook. The dumplings are much better than those "out of the box" ones. Much better. You are supposed to get an even dozen of them but Suzen made them extra large, as you can see in the picture, and we only got seven. They are better than prescription drugs. The dumplings are now all gone. I feel a relapse coming on.
Chicken with Rosemary Dumplings
Yield: serves 4-6
Ingredients:
2 tablespoons vegetable oil
6 large bone-in chicken breast halves (3 ¼ pounds), skin removed
4 large carrots, peeled and cut into 1-inch pieces
2 large stalks celery, cut into ¼-inch thick slices
1 medium onion, finely chopped
1 cup plus 2 tablespoons all-purpose flour
2 teaspoons baking powder
1 ½ teaspoons chopped fresh rosemary or ½ teaspoon dried rosemary, crumbled
1 teaspoon salt
1 large 3gg
1 ½ cups milk
2 cups water
1 can (14 ½ ounces) low-sodium
¼ teaspoon ground black pepper
1 package (10 ounces) frozen peas
Preparation:
In an 8-quart Dutch oven, heat 1 tablespoon oil over medium-high heat until very hot. Add 3 chicken breast halves; cook until golden brown, about 5 minutes per side. With tongs, transfer chicken pieces to a bowl as they are browned. Repeat with the remaining chicken.
Add the remaining 1 tablespoon oil to dripping s in the Dutch oven. Add carrots, celery, and onion and cook, stirring frequently, until vegetables are golden brown and tender, about 10 minutes.
Prepare the dumplings. In a small bowl, combine 1 cup flour, baking powder, rosemary, and ½ teaspoon salt. In a cup, with a fork, beat the egg with ½ cup of the milk. Stir the egg mixture into the flour mixture until just blended.
Return the chicken to the Dutch oven. Add the water, broth, pepper, and remaining ½ teaspoon of salt. Heat to boiling over high heat. Drop the dumpling mixture by rounded tablespoons on top of the chicken and vegetables to make 12 dumplings. Reduce the heat; cover and simmer for 15 minutes.
With a slotted spoon, transfer the dumplings, chicken, and vegetables to serving a serving bowl; keep warm. Reserve the broth in the Dutch oven.
In a cup, blend the remaining 2 tablespoons flour with the remaining 1 cup of milk until smooth; stir into the broth mixture. Heat to boiling over high heat; boil 1minute to thicken slightly. Add the peas and heat through. Pour the sauce over the chicken and dumplings.
Notes:
We made these with scallions, not chives. And we did not have frozen peas but we had a can of corn. They both proved to be excellent substitutes.
Source: The Good Housekeeping Cookbook: 125th Anniversary Edition