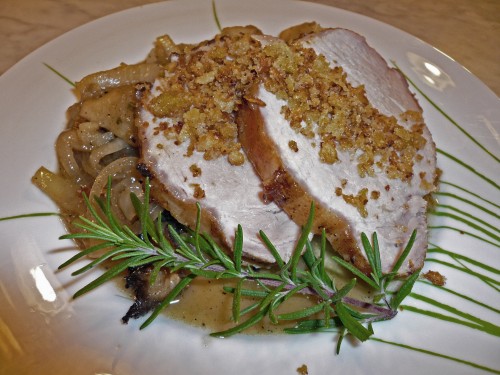 If you eat meat, you'll eventually be roasting. What could be simpler? You put it in the oven, and you take it out. And the results? Sometimes good, and sometimes not. It turns out that if you want quality every time, then you need to learn a bit about the techniques of roasting and what is really happening inside your oven.
Where to learn? All About Roasting by Molly Stevens is a new cookbook filled with advice, history, science, and — best of all — wonderful recipes. We tried the Maple-Brined Boneless Pork Loin Roast with Apple, Onion, and Mustard Bread Crumbs. We tried, we ate, we smiled.
What is it about roasting that is tricky? Well, to begin, that meat you are cooking starts out as an insulator, not a conduct of heat. But as the meat cooks, especially if it contains fat, the meat becomes more conductive. That is how an "almost done roast" can go to "oh, dear, overdone" seemingly in a flash.
Next, we all love that crust that forms on the surface of the meat. That truly is where key flavor and aroma components arise. To get the crust, the surface of the meat has to reach 400⁰F. But you also want the rest of the meat juicy and not overcooked. That means the deep inside temperature has to be 120⁰ [for rare meat] to 170⁰ [for most poultry]. How do you time and manage a 200⁰+ temperature difference?
Specific techniques and alternatives are all carefully delineated for you in All About Roasting. The 40 page Introduction Chapter truly gives you a master's degree in roasting.
This pork roast recipe was our first test of All About Roasting, and it was deliciously wonderful. If you are seeking a striking dish for a holiday party, then this dish give you wonderful option.
All About Roasting is a most successful follow on to Molly's All About Braising.
Maple-Brined Boneless Pork Loin Roast with Apple, Onion, and Mustard Bread Crumbs
Yield: serves 4to 5
Ingredients:
For the brine:
5 cups cool water (about 50 degrees)
1/3 cup kosher salt
¼ cup pure maple syrup
3 sprigs fresh rosemary
1 teaspoon whole black peppercorns
4 garlic cloves, smashed (you can leave the skins on)
Bay leave, preferably fresh
One 2- to 2 ½ pound boneless pork loin, preferably a blade-end roast, tied at 2-inch intervals along its length
For roasting the pork:
1 pound tart, crisp apples (3 to 4 apples, such as Granny Smith, Jonagold, or Winesap, peeled, cored, an cut into 1-ich chunks (about 3 cups)
1 large yellow onion, thinly sliced (about 2 cups)
1 teaspoon finely chopped fresh rosemary
2 tablespoons extra-virgin olive oil
1 tablespoon unsalted butter, melted
Kosher salt and freshly ground black pepper
2 cups fresh apple cider
1 tablespoon pure maple syrup
1 tablespoon Dijon mustard
For the bread crumbs:
¾ cups fresh bread crumbs
2 tablespoons unsalted butter, melted
2 teaspoons Dijon mustard
½ teaspoon finely chopped fresh rosemary
Preparation:
Make the brine. At least 18 hours before roasting, combine the water with the salt and syrup and stir to dissolve the salt. Add he rosemary, peppercorns, garlic, and bay leaves.
Brine the pork. If you have a sturdy gallon-size bag (zip-top freeze bag are best), this is the neatest route. Place the roast in the bag, pour in the brine, and seal. If the brine doesn't completely surround the pork, either squeeze out some of the air, or, if needed, add a little cold water. Set the bag in a bowl or dish to guard against leaks and refrigerate. Otherwise, place the roast in a large bowl (deeper rather than wider works best) and pour the brine over it. If necessary, add just enough extra cold water to cover the roast completely. Cover with plastic wrap and refrigerate for at least 16 hours and up to24 hours. About 1 hour before roasting, remove the pork from the brine (discard the brine) and let sit at room temperature.
Heat the oven and prepare the apples and vegetables. Position a rack in the center of the oven ad heat to 325⁰F. If you have not done so already, remove the pork from the brine and let sit at room temperature. Meanwhile, put the apple, onion, and rosemary in a bowl, drizzle with 1 tablespoon of the olive oil and the melted butter, and season with salt and pepper. Toss to coat. Spread the apple-onion mixture on the bottom of a shallow-sided roasting pan that will hold he pork roast with only2 to 3 inches around the side to spare (I use an 11-by-13 inch pan).
Make the glaze. Heat 1 cup of the cider I a small saucepan over medium-high heat. Bring to a boil and continue to boil until reduce to about ½ cup syrupy glaze, about 12 minutes. Remove from the heat and whisk in the maple syrup and mustard. Set aside.
Brown the pork. Heat a large skillet (10 inches will do) over medium-high heat. Add the remaining 1 tablespoon of oil to the skilled and pat the pork dy. As soon as the oil is hot, brown the pork, turning with tongs, until browned on all sides, about 10 minutes total. Using tongs, set the pork fast side up on the apples and onions.
Deglaze the pan. Return the skillet to high eat Add the remaining 1 cup cider and bring to a boil, scraping the bottom of the pan with a wooden spoon to bring up the tasty browned bits. Continue to boil until reduced by half, about 8 minutes. Pour the reduced cider over the apples and onions in the roasting pan, being careful not to pour the liquid over the pork.
Glaze the pork. Brush about half the reserved glaze over the top side of the pork.
Roast the pork. Roast, brushing after 45 minutes with the remaining glaze, until an instant-read thermometer inserted in the center registers 140 to 145⁰, about 1 to 1 ¼ hours.
Prepare the bread crumbs. In a medium bowl, stir together the crumbs, melt but, mustard and rosemary. Season to taste with salt and pepper.
Rest the roast and toast the bread crumbs. Transfer the pork to a carving board, preferably with a trough, to rest for 10 to15 minutes. Sir the apple-onion mixture (it will very soft and like  a compote and taste for salt and pepper. Set in a warm space. Meanwhile, increase the oven temperature to 375⁰ (350⁰ convection). Spread the bread crumb on a small baking sheet and  toast in the oven, stirring often, until golden brown and crispy,10 to12 minutes.
Carve and serve. Remove the string, and carve the roast into slices, pouring any carving juice into the apple-onions. For family-style service, scrape the compote onto a serving platter and top with pork slices For individual plates, spoon some of the apple-onion mixture onto each plate and serve the pork alongside. Sprinkle the breadcrumbs over the top and serve immediately.
Source: All About Roasting by Molly Stevens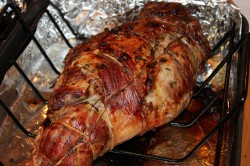 I know, lamb is not an everyday dish. And for many it's an acquired taste. There is, of course, the British-inspired route of having one bite of mint jelly for every bite of lamb. And then there are better paths.
At our recent course on wood oven cooking at Stone Turtle in Maine, we had leg of lamb done two ways: a traditional Greek style with olive oil and rosemary and then this yogurt-coated treat. The yogurt and overnight resting create a soft, almost silky texture to the lamb. It's lamb like you've never had. No mint jelly is needed. Or even wanted.
At Stone Turtle, we cooked this in a wood oven at 500° for about 90 minutes. For the home oven, we suggest 450° for 90-120 minutes. Of course, after about 60 minutes, you'll want to take the internal temperature with an instant read thermometer. You're looking for 135° for lamb that is not overdone and dry. Be sure to rest the meat, tented in foil, for 20 minutes. The temperature will still rise a bit, and you'll have a range of doneness to please every palette. If someone should ask for well done and dry, just open another bottle of wine.
Yogurt Leg of Lamb
Yield: 10 servings
Ingredients:
5-6 pound semi-boneless leg of lamb
1 cup Yogurt (Greek style, whole milk if possible)
2 tablespoons fresh mint leaves, coarsely chopped
Juice of 1 Lemon

1 garlic clove, finely minced
Preparation:
Combine all ingredients in a bowl. Rub down lamb leg and wrap in plastic wrap.
Refrigerate for 24 hours. Remove from refrigerator 1 hour before cooking. Preheat your oven to 450°F.
Unwrap and gently wipe off any excess yogurt. Rub leg with a light coating of olive oil. Place on a rack in a heavy roasting pan. Remove most traces of yogurt from the surface of the meat.
Roasting time is about 90-120 minutes hours. Check internal temperature, looking for 135° F. Do not overcook. Lamb is best when slightly pink.
Remove from oven, cover with aluminum foil and let rest 20 minutes before cutting.
Source: Meat: Stone Turtle Baking and Cooking School