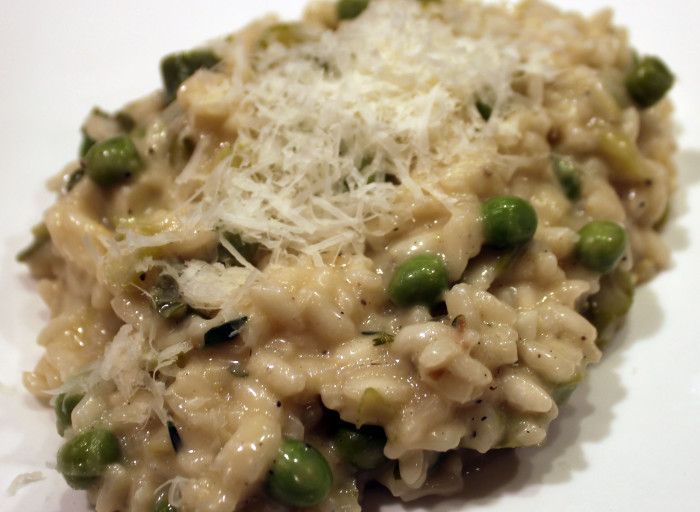 Now, technically, I know it is not spring. In just a few days it will officially be fall. But that means that south of the equator, it will be spring. So you could make this recipe while visiting Argentina or the vineyards in Chile. A great South American wine would go so well here.
Or, you can look in your market for "fresh but non-local" asparagus that has been airlifted to us in North America from those spring fields far to the south. I don't think we really pay enough attention to the impact Boeing has had on our culinary experiences and opportunities.
Vegetables often come to us with an edgy, sharp taste. Certainly that is true of asparagus. So, soft, creamy, mild risotto is the perfect foil for asparagus and even the peas suggested here. You can always amend this recipe, substituting green beans or sautéed carrots or corn kernels. The concept is to let flavors and textures resonate together. Risotto is a "platform" that provides the foundation supporting an endlessly varying market basket.
The final frosting or dusting of Fontina is just the ticket to make this dish authentically Italian. The particular recipe comes from The Italian Vegetable Cookbook by Michelle Scicolone. This is her latest book. I want to call it her greatest, but I don't want to diminish all those earlier books and all those wonderful recipes she has shared with us. Let us just say that The Italian Vegetable Cookbook continues a great tradition.
You don't like vegetables? You will.
---
Spring Risotto with Asparagus, Peas, and Fontina

Yield: serves 6

Ingredients:

12 ounces asparagus, trimmed
5 cups rich vegetable broth or chicken broth
2 tablespoons unsalted butter
1 tablespoons extra virgin olive oil
1 medium onion, finely chopped
4 scallions, chopped
1 ½ cups short grain rice, such as arborio
½ cup dry white wine, at room temperature
Salt and freshly ground pepper
1 cup fresh or thawed frozen peas
1 cup grated Fontina Valle d'Aosta
⅓ cup freshly grated Parmigiano-Reggiano
Preparation:

Cut the tips off the asparagus and set them aside. Chop the asparagus stalks into ½-inch pieces.
In a medium saucepan, bring the broth just to a simmer over medium heat. Turn the heat to low to keep warm.
In a large wide saucepan, melt the butter with the olive oil over medium heat. Add the onion and cook until lightly golden, about 8 minutes. Stir in the scallions and cook for 1 minute. Add the rice and cook over medium high heat, stirring often with a wooden spoon for 3 minutes, or until the rice is hot and coated in oil and butter. Add wine and cook, stirring, until it has evaporated.
Add the warm broth about ½ cup at a time, stirring frequently after each addition and waiting until each one is almost absorbed before adding more. Regulate the heat so that the liquid remains at a simmer and the rice does not dry out. After about 10 minutes, stir in the asparagus stems and continue cooking and adding broth. If you run out of liquid before the rice is done, add warm water. Season to taste with salt and pepper. When the risotto is almost ready it will be firm yet tender to the bite and look creamy, when it's done-16 to 18minutes, stir in the asparagus tips and peas. Cook for 2 minutes more
Stir in the cheeses and let stand for 1 minute, then spoon the risotto into shallow bowls and serve.
Source: The Italian Vegetable Cookbook by Michelle Scicolone

Photo Information: Canon T2i, EFS 60mm Macro Lens, F/4 for1/30th second at ISO‑125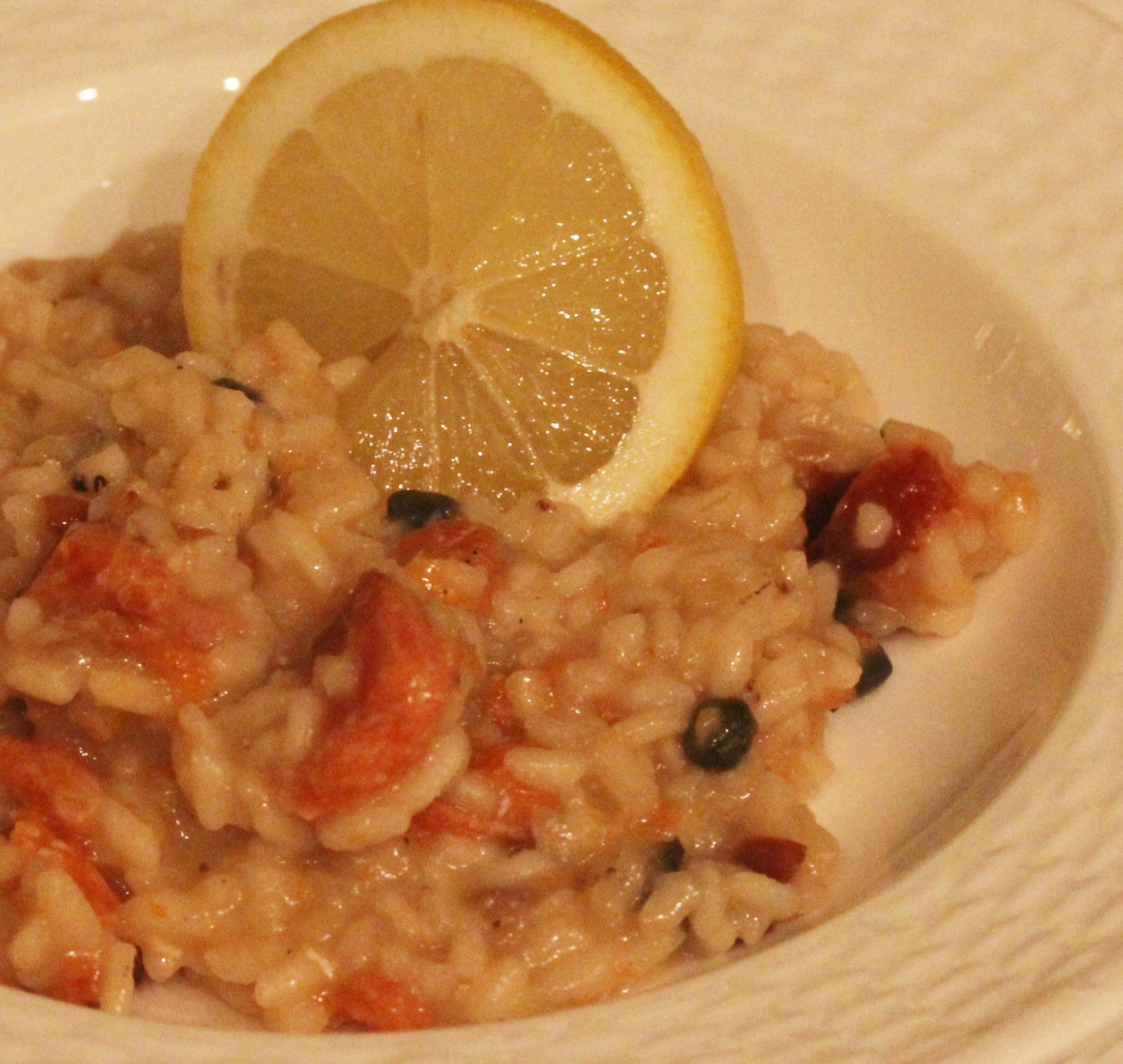 Sunday night is becoming our risotto night, thanks to Tales of Risotto. The fifty recipes in Tales cover every season and seemingly every season.
Last summer in Seattle we went crabbing as a family. And we got lots of smoked salmon, too. No, we did not catch the salmon. We actually, actually, bought line-caught fresh salmon in a local supermarket and then went around the corner from my daughter's home. There, a local smoke house took the fish and five days later we had pounds and pounds of smoked salmon.
We had to buy two big carry-on coolers for our flight home. And many ice packs. Everything was great until we got into the security line.
"What is TSA going to think?" I whispered to Suzen. "I mean, the salmon could be colored plastic explosive for God's sake."
"I would suggest," Suzen cautioned, "that you lower your voice and adjust your vocabulary."
"Do I look like a terrorist? Should I have shaved?"
"No. Yes. Now, shut up."
At the x-ray machine, the question was simple: "What is this?"
"Salmon."
"All of it?"
"Yes, sir."
"You must like salmon."
"Yes, sir."
I do. That's the truth. And smoked salmon is so very good in this risotto.
Yes, this recipe calls for a little Scotch. Maybe you need Scotch smoked salmon, too, not Seattle-style but it did not seem to matter. Now, the six cups of chicken stock? That matters. If at all possible, homemade is ideal.
Risotto with Smoked Salmon
Yield: serves 4 to 6
Ingredients:
1 tablespoon extra-virgin olive oil
1 cup diced or shredded smoked salmon
⅓ cup Scotch whiskey
6 cups chicken stock
3 tablespoons butter
1 small onion, finely chopped
2 cups Carnaroli rice
1 tablespoon grated Parmesan cheese
Lemon juice to taste
Salt and freshly ground black pepper to taste
Caviar, for serving (optional)
Preparation:
Warm the olive oil in a medium sauté pan over medium heat. Add the salmon and sauté for 3 minutes. Pour the Scotch over the salmon and let it practically evaporate. Then cook, without boiling , for 1 minute, remove from the heat, and set aside.
Meanwhile, bring the stock to a boil in a medium saucepan, then reduce the heat and keep at a bare simmer.
Melt 1 tablespoon of the butter in a large, heavy saucepan over medium heat. Add the onion and cook, stirring constantly with a wooden spoon, until softened and translucent, about 3 minutes. Add the rice and cook, stirring, for about 3 minutes, until every grain is coated with butter.
Add 1 cup of the stock and stir until the liquid is absorbed. Continue adding stock, about ½ cup at a time, stirring frequently and making sure all the liquid is absorbed before adding more stock. Cook until the rice is just tender and creamy but still al dente, 15 to 20 minutes. You may have leftover stock.
Removed the pan from the heat and stir in the remaining 2 tablespoons butter, the cooked salmon, the Parmesan cheese, and lemon juice. Add salt and pepper to taste.
You can garnish with a lemon slice. Or, if you really want to splurge, a dollop of caviar over the risotto and a few drops of lemon juice will transform this into the most elegant dish you can imagine or present to family and friends.
From Tales of Risotto: Culinary Adventures from Villa d'Este by Jean Govoni Salvadore and Luciano Parolari, copyright © 2006, published by Glitterati Incorporated. www.GlitteratiIncorporated.com