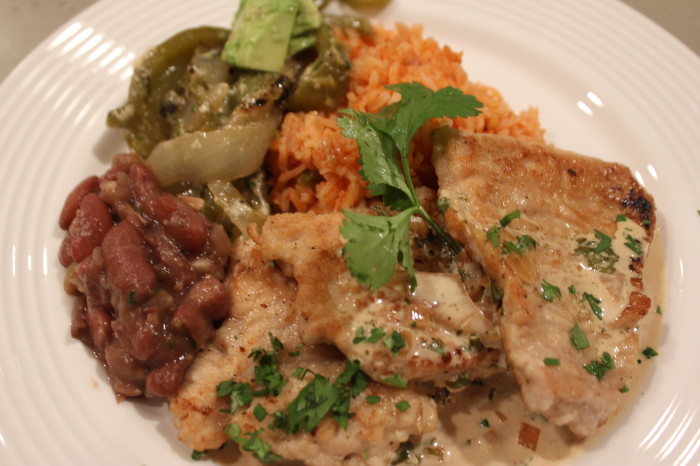 Yes, the picture above is the same as yesterday. That post was for the turkey medallions on the right, recipe circa 1988.
The beans and rice on the top and left are, on the other hand, much more recent recipes: 1991! If you have never seen Rice: The Amazing Grain by Marie Simmons then you owe yourself a visit to a bookstore or, more likely Amazon. You can still get a copy after 22 years. There's no better way to spend $5!
Pairing this beans and rice dish with turkey medallions gives you a hearty meal with complementary textures as well and flavors. This dish is not quick. A few hours are needed for cooking and simmering. The investment in time will be repaid, I promise. The first bite will remind draw a smile as all the ingredients sparkle in their own flavor layers. Rice and bean dishes can be, forgive me, boringly bland. Not this gem.
Which is why, if you can, you'll find putting Rice: The Amazing Grain a wise choice for your bookshelf.
Drunken Red Beans and New Mexican Rice
Yield: serves 6
Ingredients:
For the beans:
¼ cup flavorful extra-virgin olive oil
2 cups chopped onions
1 tablespoons minced garlic
1 pound dried red kidney beans, rinsed and soaked
1-5 cups unsalted chicken broth
1 ½ tablespoons tequila (plus a little more if you like)
2 bay leaves
1 piece (about 1 ½ inches) cinnamon stick
Hot pepper sauce to taste
For the rice:
3 tablespoons flavorful extra-virgin olive oil
½ cup chopped onion
2 cloves garlic, minced
2 cups uncooked long-grain white rice
3 ½ cups of half unsalted chicken broth and half water
2 teaspoon salt
½ cup pared and finely chopped carrot
½ cup finely chopped celery
½ cup diced (¼ inch) sweet red onion
½ cup diced (¼ inch) green bell pepper
Preparation:
For the beans:
Heat the oil in a large heavy saucepan. Add the onions and sauté, stirring, until coated with oil. Cover and cook over very low heat, stirring occasionally, until golden brown, about 15 minutes. Stir in the garlic and sauté uncovered, for 3 minutes.
Drain the beans, then add them and the broth to the onion. Heat to boiling and cook, covered, over low heat for 2 hours. Add the bay leaves and cinnamon. Cover and continues to cook until the beans are very tender, about 1 hour. Season with salt and hot red pepper sauce and add tequila. (The beans can be prepared up to 24 hours before serving. Reheat, adding additional broth if necessary).
For the rice:
Heat 1 tablespoon of oil in a heavy saucepan. Stir in the onion and garlic, and sauté, stirring, just until tender, about 5 minutes. Stir in the rice until coated with oil. Add the water (or broth and water) and salt, then heat to boiling. Cover and cook the rice over medium-low heat until the liquid is absorbed and the rice is tender, about 15 minutes.
Heat the remaining 2 tablespoons of oil in large skillet. Add the carrot, celery, and red onion, and sauté, stirring, until tender but not browned, about 5 minutes. Add the green pepper and sauté until crisp-tender, about 2 minutes. Set aside.
Toss half of the sautéed vegetables with the rice just before serving. Spread a mound of the rice in a shallow soup plate and top with the beans. Garnish each with a spoonful of the remaining sautéed vegetables.
Source: Rice: The Amazing Grain, Marie Simmons, 1991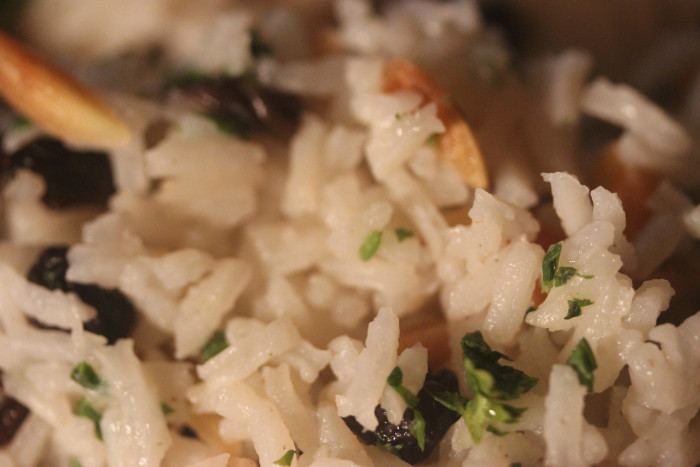 Have you ever done something that seemed strange, maybe wrong, but you did not know why and you just did it anyway?
I really never thought about it growing up. My grandmother did it, taught me, and always seemed naturally comfortable doing it. It was one of my earliest food memories.
I knew, of course, that my grandmother was a tad off. Born in Edinburgh, she grew up on the island of St. Helena [yes, the place Napoleon was exiled, too], eventually taught piano to the Czar's family in St. Petersburg, and ended up marrying a railroad engineer in Montana. I never got the story in detail, and now there is no one to get it from. All I have are those disjointed snippets of a life.
Those images and her method for eating white rice. The first time I sat down to dinner with Suzen and we had rice, I began to follow my grandmother's habit. I put butter on my rice, which drew Suzen's attention. Then I reached into a sugar bowl and took out a teaspoon of sugar.
"WHAT ARE YOU DOING?" Suzen screamed. Yes, she can scream.
I held the teaspoon above my rice, my hand quivering slightly. Yeah, I had always thought it was a little strange — white rice with butter and sugar — but it went well with pork chops.
I explained it all to Suzen. "People don't eat rice like that, Brian," she said.
"My grandmother did."
"Gene pool," she mumbled.
I've never done it again. I think if I tried she'd put a fork in my hand. But, in compensation, I have learned how to get rice with flavor and with sweetness. From Mexico, here is a side dish that pairs yummily with just about anything. Suzen served this with pork in adobo sauce. Chicken or fish are equally fine partners.
The rice has almonds for crunch, raisins for sweetness, and cilantro for the herby tones that rice always seems to beg for. It's the perfect side dish.
I think my grandmother would have like it.
Cilantro, Raisin and Almond Rice
Yield: 6 servings
Ingredients:
2 cups hot steamed white rice
½ cup raisins
½ cup slivered almonds
½ cup snipped fresh cilantro
1 tablespoon butter
Preparation:
In a bowl, stir together all ingredients. Taste and, if desired, add salt or pepper. Serve alongside the entry or in a separate bowl. Garnish, if desired, with a cilantro sprig.
Source: Better Homes and Gardens Special Interest Publication: Mexican, 2013
Photo Information: Canon T2i, EFS 18-55MM Macro lens shot at F/2.8 1/60th second, ISO 3200