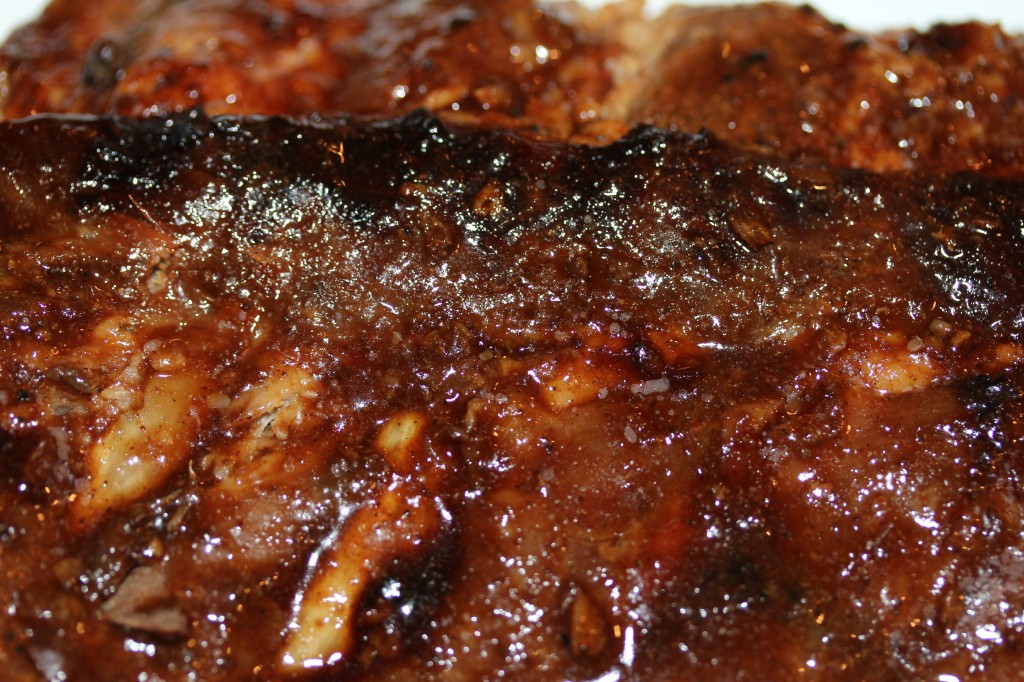 Just Grill This by Sam Zien, The Cooking Guy, is one of those books you might take a quick glance at and then just pass on by. Sam's picture on the cover of this paperback is intentionally nerdish and this clearly is one of those guy‑beer‑meat‑grill books that you might not have high expectations for. It turns out, nerdy guys using a grill can sometimes be very tasty. Not the guy. The food.
We've made several things from the book and loved them. Sam is  creative with a not-too-many-ingredients mentality and this rib recipe is an example. It's his version of those dark red Chinese ribs you love to buy but could never figure out how to do yourself. Now you can. These are restaurant class ribs.
You certainly can adjust the ingredients here. We had strong hoisin sauce from Chinatown so a ⅓ cup, which the recipe calls for, certainly gave the ribs a "hoisin" tang. When you make the sauce, dip you finger in, taste test, and make your personal flavor corrections.
Brian liked these ribs. He took the picture the night we cooked them. He insisted on the big shot above for the blog. Ya know, he's not very subtle about dropping hints.
Chinese BBQ Ribs
Yield: serves 4
Ingredients:
2 racks pork back ribs, about 4 pounds
¼ cup white vinegar
½ cup soy sauce
½ cup honey
⅓ cup hoisin sauce
2 large cloves garlic, mince
2 teaspoons five-spice powder
Preparation:
Preheat the oven to 400⁰F.
Place the ribs and vinegar in a large baking or casserole dish. Cover tightly with aluminum foil and bake for 75 minutes, or until very tender.
Mix together the soy, honey, hoisin, garlic, and five-spice powder. Set aside.
Remove the ribs from the oven and carefully lift off the foil. Watch out for the steam!
Preheat the grill to medium-high. Place the ribs, meat side down, on the grill. Baste the back with the sauce.
Cook until they start to develop grill marks and turn over. Now baste the top. Baste a bit more while they finish and then one extra basting after they've been removed and just before you serve them.
Recipe Source: Just Grill This by Sam Zien
A winter weekend can be as busy as a summer one.  True, we may stay indoors a bit more, but there are errands, house tasks, and of course the Sunday papers to devour.  There isn't always time to spend hours of attention to cooking yet we all look forward to having a great weekend meal.  Thanks to Michele Scicolone, you can have that great meal with just modest effort on your part.  All you have to do is dust off the slow cooker.  You know, you have one.  Somewhere.  Check the basement, grab a chicken and get ready.
The Italian Slow Cooker is Michele's latest work of culinary art.  It's a concise encyclopedia for slow cooking with recipes from soup to dessert. 

Whatever you crave, you can find a recipe here. 
Those soups range from Butternut Squash to Zucchini with Mint and Pecorino to Calamari Soup.  The fruit-oriented desserts include Pears in Marsala and Apple-Raisin Cake. 
And for entrees there is plenty of pasta and protein.  Whole chapters are devoted to Seafood; to Risotto, Polenta, and Grains; to Eggs, Chicken and Turkey; and to Beef, Veal, Pork, and Lamb.
Of course, the ever thorough Michele provides concise introductions to slow cooking, techniques, and ingredients.  In just a few pages, you are fueled and ready to begin
Suzen's eye was caught by the Country-Style Pork Ribs with Tomato and Peppers.  You need a half hour of work to get started, then the slow cooker takes over for six hours.  The result is an aromatic dish that tastes as rich as it looks: a deep, dark red. The flavors merge into an irresistible combination.  By hour number five, your kitchen will be filled with the warm scent of melded meat and veggies.  The only hard part of this dish is having the patience to wait until that meat is really, truly falling off the bone.
You can serve this dish over Michele's slow cooked bean or rice or noodles.  This versatile dish is the perfect, yet easy way to cap a busy day.
Country-Style Pork Ribs with Tomato and Peppers
 
4 pounds country–style pork ribs
Salt and freshly ground pepper
2 tablespoons  olive oil
2 medium onion, chopped
2 garlic cloves, chopped
½ cup dry white wine
2 tablespoons tomato paste
1 cup canned tomato puree
1 teaspoon dried oregano
4 medium red bell peppers
Pat the ribs dry with paper towels and sprinkle them with salt and pepper to taste.  In a large skillet, heat the oil over medium heat.  Add as many of the ribs will fit into the pan without torching.  Cook the meat, turning it occasionally, until nicely browned on all sides.  Place browned ribs in the slow cooker and brown the remaining ribs.
Add the onion and garlic to the skillet and cook for 5 minutes, or until softened.  Stir in the wine and tomato paste and cook, scraping the bottom of the pan, until the liquid begins to simmer.  Stir in the tomato puree, oregano, and salt and pepper to taste.  Remove from the heat.
Scatter the peppers over the pork in the slow cooker.  Pour on the sauce.  Cover and cook on low for 6 hour, or until the meat is tender and coming away from the bones.  Discard and loose bones and skim off the fat.  Serve hot.
Source: The Italian Slow Cooker by Michele Scicolone