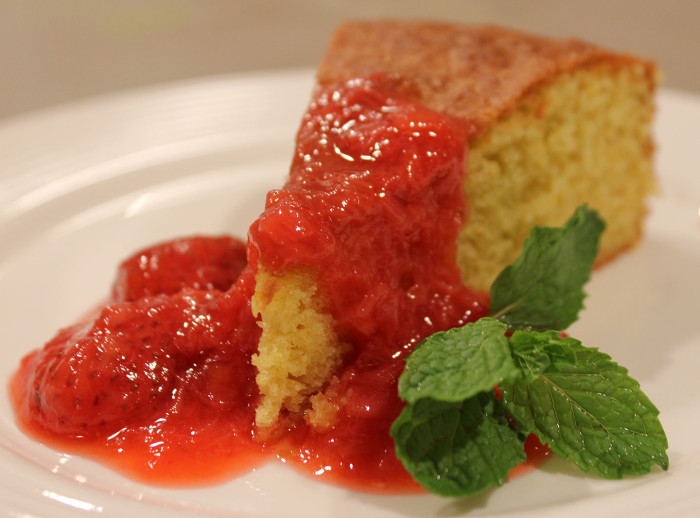 Ordinarily, I want my cake made with butter and not oil. It's a personal preference matter. I just find oil-based cakes to be less attractive in terms of taste and texture.
Except for olive oil cakes. Somehow a good olive oil seems to shine in creating a very special density and texture that I love — and that I don't believe butter can match.
Beyond olive oil, this cake is rich with eggs and milk, plus citrus impact from zest and juice and liqueur. And the cake is paired with a spring celebration of strawberries and rhubarb in a compote.
"Compote" is a French word for "mixture." The dessert began in the 1600's in France combing fruit, often whole, cooked in sugar syrup seasoned with spices or other fruit: cinnamon, lemon or orange peel, vanilla. Sometimes almonds, coconut, candied fruit or raisins were added. These were very sweet desserts.
Served with biscuits and sour cream, the French believed a compote balanced the effect of summer humidity on the human body. Think of it as organic air conditioning.
This cake, served with the strawberry-rhubarb compote, is a totally satisfying dessert all by itself, but it is also a platform for extensions: whipped cream, ice cream, gelato, … You can make it simple, as pictured, or an extravaganza. Add a scoop of blueberry gelato, for example, and you have your total 4th of July dessert.
The compote can be chilled before using, or served warm which actually intensifies the rhubarb notes.
Olive Oil Cake with Strawberry Rhubarb Compote
Yield: serves 8
Ingredients:
For the Cake:
2 cups all-purpose flour
1 ¾ cup sugar
1 ½ teaspoons kosher salt
½ teaspoons baking soda
½ teaspoons baking powder
1 ⅓ cup extra-virgin olive oil
1 ¼ cup whole milk
3 large eggs
1 ½ tablespoons grated orange zest
¼ cup fresh orange juice
¼ cup Grand Marnier
For the Compote:
12 ounces slender rhubarb stalks (about 3), cut into 2-by ⅓ – inch-thick sticks
1 pound fresh strawberries, halved
½ to ¾ cup granulated sugar
3 tablespoons fresh lemon juice
Confectioners' sugar, for dusting
Extra virgin olive oil for drizzling
Preparation:
For the Cake:
Heat the oven to 350° F. Oil, butter, or spray a 9-inch cake pan that is at least 2 inches deep with cooking spray and line the bottom with parchment paper. (If your cake pan is less than 2 inches deep, divide between 2 pans and start checking for doneness at 30 minutes.)
In a bowl, whisk the flour, sugar, salt, baking soda and powder. In another bowl, whisk the olive oil, milk, eggs, orange zest and juice and Grand Marnier. Add the dry ingredients; whisk until just combined.
Pour the batter into the prepared pan and bake for 1 hour, until the top is golden and a cake tester comes out clean. Transfer the cake to a rack and let cool for 30 minutes.
Run a knife around the edge of the pan, invert the cake onto the rack and let cool completely, 2 hours.
For the Compote:
In a large heavy skillet, bring the rhubarb, strawberries, sugar, and lemon juice to a simmer over medium-high heat, stirring often. Continue to cook, stirring often, for about 5 minutes, or until the juices thicken slightly and the rhubarb is falling apart. Let cool.
Sift confectioners' sugar over the cake. Cut the cake into wedges, place on dessert plates, and spoon the compote on top. Drizzle a little olive oil around the cake and serve.
Sources: cake from Maialino Restaurant in New York City and compote from Curtis Stone's What's for Dinner
Photo Information: Canon T2i, EFS 60 mm Macro Lens, F/5 for 1/50th second at ISO-640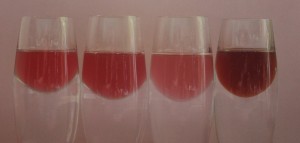 Yesterday I posted about making rhubarb syrup. The recipe, for Basic and Wonderful Rhubarb Syrup, is repeated below.
What I have done here is some experimentation with the sugar. The recipe calls for 2 cups of sugar for 10 ounces [about 1 cup] of rhubarb. If you look at the many rhubarb syrup recipes online, you find an incredible array of relative proportions for the rhubarb and sugar. In the picture above you see four experiments:
1 to 1
1 to 2
1 to 3
1 to 2 but cooked forever
The basic 1 to 2 recipe below yields an excellent quality syrup. Slightly more viscous than water, sweet but definitely rhubarb. The 1 to 1 recipe on the left gives the same color but it's distinctly less sweet. And the 1 to 3 combo was too sweet. Even for me.
Now, all these experiments were made from the same order of rhubarb. You have to consider that the rhubarb you buy may well differ in its inherent sweetness. The rhubarb here was perfectly ripe with the stalks that strong, dark red with no green showing.
Ah, the sample on the far right, the one that is "1 to 2 but cooked forever." The Olympics are on. I was watching the sprinters because in high school I was the fastest kid in Oregon at 180 meters. The actual race was 200 meters, which had certain career impacting implications.
Anyway, Sunday night, I had started this batch and got caught up in the track and field events. The twenty-five minutes of cooking time became three hours.
The result? That dark liquid is more viscous than molasses and has a most intense caramelized flavor with spikes of rhubarb peeking through. It's interesting. I would not use it in a cocktail. But on ice cream or on top of pound cake, it's a winner.
The bottom line: there is no one recipe that you must follow. Your results will differ from mine but the basic idea, create a sweet syrup with that wonderful rhubarb flavor, well that idea is a fruitful one.
Basic and Wonderful Rhubarb Syrup
Yield: about 2 cups
Ingredients:
10 ounces of rhubarb
2 cups of sugar
2 ½ cups of water
Preparation:
Cut the rhubarb into ½-inch long pieces and place in a 3-quart saucepan. Add the sugar and water and stir to mix while on medium heat. Bring to a boil, stirring occasionally.
Once the mixture begins to boil, reduce the heat to low and allow to simmer for 20-25 minutes. During that time, stir now and then, attempting to help the rhubarb pieces to disintegrate. Don't obsess.
After 25 minutes max — more on that tomorrow! — remove the saucepan from the heat. Place a sieve with medium-size openings over a metal bowl. Pour the rhubarb mixture into the sieve and let the fluid pour into the bowl. With the back of a large spoon, press on the rhubarb chunks to get the final juice out. Remember, don't obsess.
You can save those rhubarb remains in the sieve for a rhubarb jam — something I have not attempted yet. Or just toss them and focus on the wonderful juice.
Let the juice cool to room temperature, then place in a covered container and refrigerate. The syrup should keep for up to three weeks.
Source: Inspired by Chow.com