Posted by: Brian on | Leave a comment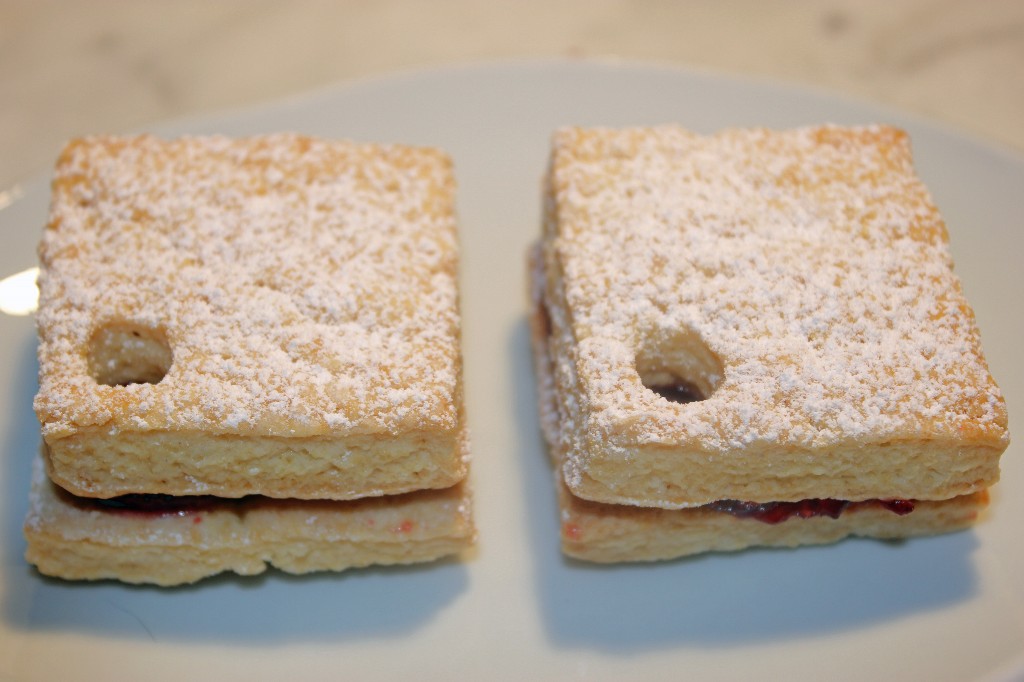 Tuition for my first year of college, at a good private school in Portland, cost $800. You may deduce that I wasn't born yesterday. By the time I graduated, it cost $1500. I got a great education. I was a physics major who minored in Russian. Look at me now.
Tonight, in Manhattan, dinner for two with good wine can easily cost $800. You can make it $1500 by just shifting from one column of the wine list to another.
Those great restaurants with the serious prices, and wonderful wine lists, often end the meal with some very surprising cookies offered next to the final tab. For example, Michael Hatnell, chef at Le Caprice at The Pierre, provides a Jammy Dodger. Dodger here has nothing to do with Brooklyn baseball. These are a popular British dessert with two shortbread cookies sandwiched using jam. One or two bites of these cookies, and the bill for dinner seems to bite you less.
Tracey Zabar has thankfully collected this Jammy Dodger recipe, along with many others from the best New York restaurants, in her compilation One Sweet Cookie.
There are many obvious temptations in One Sweet Cookie. My next experiments will include:
Double Chocolate fudge Cookies
Pecan and Chocolate Cookies
Sugar Topped Molasses Spice Cookies
Macadamia Milk Chocolate Peppermint Cookies
How to proceed? One cookie at a time. And these Jammy Dodgers are just the way to start. The shortbread gives the body and substance, and of course, the flavor to this cookie. Needless to say, use the best butter you can. Flour needs to be fresh. If your flour has been sitting around in that can for a few months, dump and get fresh. It does, truly does, make a difference.
Raspberry jam? It's a great choice here with that raspberry tartness challenging the shortbread for the flavor lead. But other jams are surely fine. Strawberry, blackberry, … Look on that shelf and find a treat for yourself and these cookies.
Jammy Dodgers
Yield: 7 large sandwich cookies
Ingredients:
1 ½ cups all-purpose flour
1 teaspoon salt
1 tablespoon g r a n u l a t e d sugar
½ teaspoon baking powder
½ teaspoon baking soda
7 tablespoons unsalted butter, softened
¼ cup plain yogurt
2 tablespoons milk
Raspberry jam, as needed
Confectioners' sugar for dusting [optional]
Preparation:
Preheat the oven to 375°F. Line two half-sheet pans with parchment paper.
In the bowl of a stand mixer fitted with the paddle attachment, combine the flour, salt, sugar, baking powder, and baking soda. Rub in the butter until the mixture is the consistency of bread crumbs. Add the yogurt and milk to form a rough dough. Do not overmix. Set aside, and allow the dough to rest for about 15 minutes.
Roll out the dough until it is about ½  inch thick. Cut out the dough with a 2 ½-inch square cookie cutter. With a ½-inch round cookie cutter [or smaller], cut out a small porthole in corner of half of the cookies. Place them all on the prepared pans.
Bake for 10 to 12 minutes, or until golden. Cool completely on wire racks.
Turn over the cookies without the holes and pipe or spoon a dollop of jam onto each one. Dust the tops of the cookies with the holes with confectioners' sugar tapped through a small sieve. Sandwich the top and bottom cookie together. Press to secure. Serve and enjoy.
Source: One Sweet Cookie by Tracey Zabar
Posted by: Brian on | Leave a comment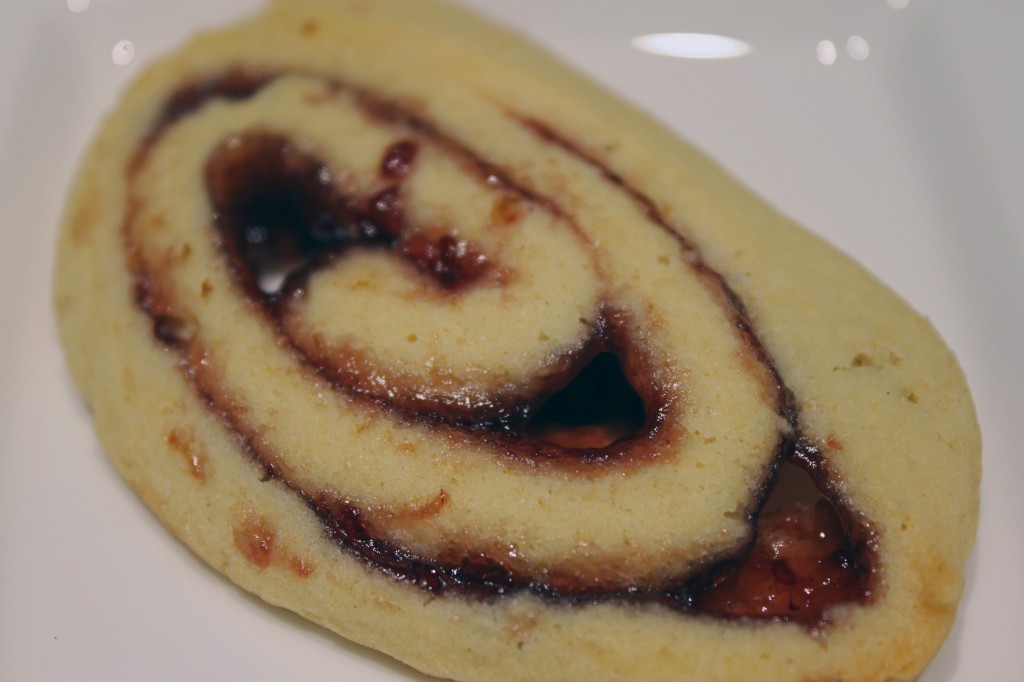 I am sorry about the quality of the picture above. I had two perfect cookies to photograph. They were just here. And now I cannot find them. I would ask Suzen to help me search, but you have no idea what that would entail.
"You ate them all? Yourself?" That's how she'd begin. It's the next thing to being strapped in a chair with bright lights punching into your eyeballs. She's relentless until she secures a confession.
You're going to get married? Make sure you read that contract. Apparently I agreed to a marriage under French law: guilty until proven innocent.
And how can I prove it? I have no idea where the damn cookies are. I have no clear recollection of eating them. There, I said it.
I'm a bit picky here because I made these cookies thinking Suzen would love them.
"Not my thing," she said. I was devastated. I think she had a cookie-deprived childhood. I didn't.
Well, to confirm my opinion, I had two of her culinary advisors give me their expert verdict. At Suzen's Cooking by the Book events, a party group is divided into teams and each team has their personal chef or culinary advisor as they prepare one dish of a complete meal the whole team will share.. The advisors are pros. Very skilled with years of cooking experience. So, I approached the two who were bakers and had them sample the cookie.
"It's very good," the first one said. "You made this?" the second one asked. It's been years and some of these people still don't think I can do more than boil water.
This cookie makes you smile. I love it, because it reminds me of childhood treats from Portland, Oregon. The Pacific Northwest had a large immigrant population from Scandinavia and Germany. That baking style and culture is very distinctive. Less chocolate, actually, more fruit. Rich doughs.
That's why when I saw the book Nordic Bakery Cookbook by Miisa Mark, I just had to try it. I was filled with hope that my bakery memories and fantasies would be satisfied. And you know what, this time hope was achieved. The book is filled with  treats page after page, including 3 different cinnamon buns! For me, this is cookbook paradise. And, yes, I'll be testing all of those cinnamon treats.
Finnish born Jali Wahlsten opened his dream bakery in London's culinary melting pot. The SoHo bakery is a hit and this strong book shares some of the wonderful treats from a very talented team.
Can anything beat a pure butter cookie? I don't think so. That simple, but rich flavor is a wonder. That's what this cookie is: wonderful butter dough is chilled, then rolled out into a rectangle. Raspberry jam is spread over the rectangle, you roll it all up, slice, bake and enjoy.
Be careful not to overbake these cookies. You want the dough soft to the bite. Raspberry is, of course, just the starting flavor possibility. Any berry jam will work here. In fact, because of the contrast the dough offers, you could use pepper jelly. When I made these with Suzen, we actually combined jams from two different jars.
If you make these cookies, guard them well. They have tendency to disappear. Honestly, I have no idea what happened here!
Oh, one note. The dough is quite soft and may stick to the parchment paper when you try to remove the cookies. Have some patience, let them cool a bit longer, and then just remove them one at a time. If too many break, then you have no choice: bake more.
Raspberry Swirls
Yield: 25-50 cookies
Ingredients:
13 tablespoons unsalted butter, softened at room temperature

⅔ cup sugar
1 egg
1 teaspoon pure vanilla extract
2 cups all-purpose flour
1 teaspoon baking powder
⅔ cup up raspberry jam or marmalade
Confectioners' sugar for dusking
-2-3 baking sheets, line with baking parchment
Preparation:
Put the butter and sugar in a mixing bowl and cream it with a wooden spoon or handheld whisk until pale and fluffy. Add the egg and mix well.
Add the vanilla extract, flour, and baking powder and mix well to form a dough.
Roll into a ball, then wrap in plastic wrap and refrigerate for at least 1 hour.
Preheat the oven to 350°F.
Take the dough out of the refrigerator and remove the plastic wrap. Roll the dough out on a well-floured surface, with a rolling pin, until about 14×16 inches.
Spread the jam evenly over the dough, leaving a 1 -inch border around the edge. Roll the dough up from a long side. Cut into 1-inch rolls.
Arrange the rolls, cut-side down, on the prepared baking sheets, leaving plenty of space between them, as they will spread when they bake.
Bake in the preheated oven for 12-15 minutes, until just golden. Let cool a little before transferring to a wire rack to cool completely. Dust with confectioners' sugar just before serving.
Source: Nordic Bakery Cookbook by Miisa Mark
Archives
Authors of Note
Foodie Finds