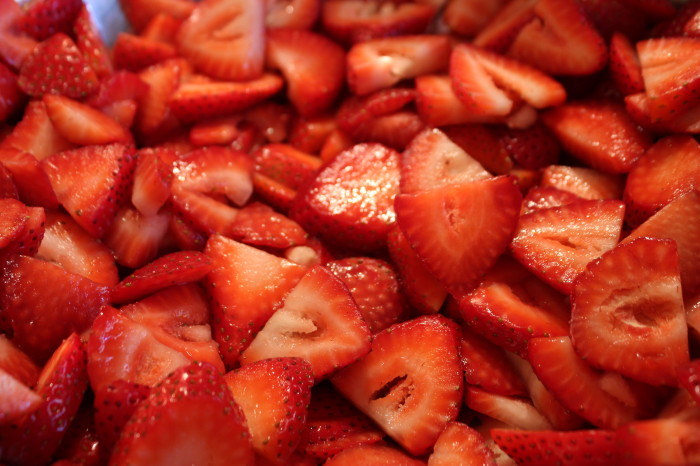 There they are. Perfect strawberries. That perfection is, unfortunately, short lived. One technique for both preserving flavor and giving you culinary options is to make a puree that can last for up to five days in your refrigerator.
Once you have puree, it can be used in beverages – like a killer strawberry margarita. The puree is a perfect adornment for ice cream or yogurt. Or you can drizzle it over pound cake or angel food cake to get flavor without the calories of whipped cream or frosting. Yes, there's sugar here so this is not calorie free but this is the better solution. Of course, you can substitute other types of berries here: blackberries or raspberries. The lemon juice is optional and you can go for a spikier flavor by using lime juice instead.
Here's the technique.
Strawberry Puree
Yield: 2+ cups
Ingredients:
4 cups of perfectly ripe strawberry halves [that's a four cup measure randomly filled with halves, not packed]
¾ cup of granulated sugar
Juice of one small lemon
Preparation:
Before you halve the berries, wash and dry them. Make sure you snip off the end and any sore spots.
Put the berries in a blender, or, better, a VitaMix. Blend for two minutes until liquefied. Add the sugar and lemon juice. Blend another minute or two. If using a blender, you may want to sieve the liquid. If you are using a Vitamix, the machine is so powerful that sieving is really not necessary.
Store in an airtight container in the refrigerator. The puree is best used on Day 1.
Source: Brian O'Rourke
Photo Information: Canon T2i, 30MM, F/4.5 for 1/50 second with ISO 800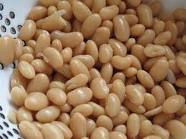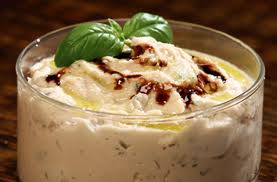 When I was growing up, the only beans were ever ate were from a metal can. We canned them ourselves in a local coop and for the first few months, they were okay. Not fresh, but edible. As time passed, as one year approached, opening a can was an exercise in self-destruction. Eating them was impossible. I always sat at the corner of the dinner table with a carpet corner just to my left. By an act of God, or for self-deliverance, I was left handed.
Decades later, if you say "beans" to me, be prepared for a violent reaction.  Sorry, time cannot erase some traumas.
However, Suzen keeps trying and I must say that she's found a great, and yet simple way, to erase bean nightmares. True, when you open a can of white beans, it's not an exciting event. But, in a short time, through the miracle of onion, carrot and certainly roasted garlic, those white beans can become an addictive puree.
The puree is wonderful as a simple side dish for roasted chicken. Or, if you can't wait for the main dish, spreading this on toasted bread and sharing a crisp white wine is a fine appetizer.
You can top off the puree with a dash of olive oil, balsamic vinegar, perhaps some crushed red pepper, or a garnish of herbs. This quick dish will make you believe in magic. True, you do start with something canned at the start. But you work with it, add fresh ingredients, cook to amplify flavors and concoct joy.
White Bean Puree with Roasted Garlic
Yield: 3 ½ cups
Ingredients:
1 tablespoon olive oil
½ cup carrot, finely chopped
½ cup chopped onion
1 whole garlic bulb, roasted
1 tablespoon fresh thyme
3 15 ounce cans cannellini (white kidney beans), drained
1 cup chicken or vegetable stock
Preparation:
Heat oil in heavy saucepan over medium heat, add carrots and onion then sauté until the vegetables are tender, about 5 minutes.
Add cannellini and broth; bring to boil. Reduce heat to low; cook until almost all liquid is absorbed, stirring often, about 20 minutes. Puree mixture in food processor with the roasted garlic. Season with salt and pepper. Return to saucepan to keep warm or place in microwavable bowl.
Source: Adapted from Bon Appetit Magazine