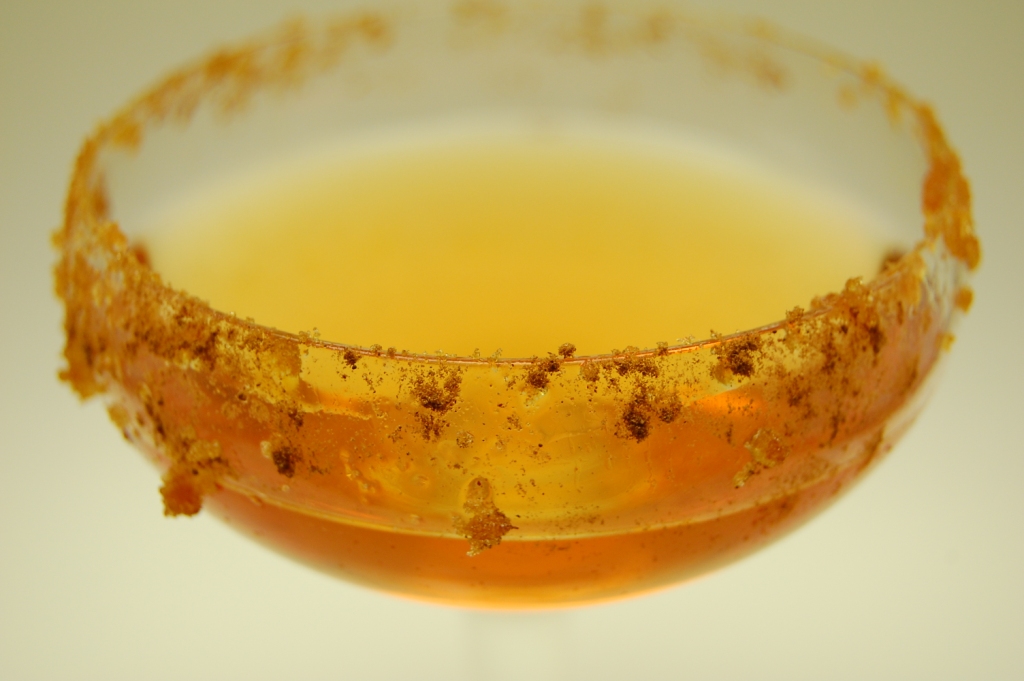 Punch is a staple of holiday fare. Rather than play bartender one drink at a time, life is easier when you have a "batch" of beverage on hand. In the summertime, we make sangria and lace wine with fruit. For the holidays, and this colder weather, we want a brew that is less delicate and more, well, punc
This punch uses an old friend, the apple brandy Calvados, and the relatively new, but now intensely popular St. Germain elderflower liqueur. To those two heavy hitters, you simply add sparkly wine, be it champagne or cava or Proseco. This flavor combination is formidable and will support a wide range of cheeses or other flavorful appetizers. Slices of sausage with a simple mustard would be the perfect accompaniment.
To add holiday sparkle, garnish the punch bowl with slices of apple that have been dipped in cinnamon sugar.
As for your punch bowls, now is really the time to start your collection. Finding beautiful, exotic bowls can be one of your culinary adventures. Your beverage wonder can first draw applause simply for its presentation,
The Long Hello, A Holiday Punch
Yield: 16 servings
Ingredients:
2 cups calvados or other apple brandy
1 cup St. Germain elderflower liqueur
1 750-ml bottle of sparkling wine
10 dashes of bitters, preferably Fee Brothers Whiskey Barrel Aged Bitters
Preparation:
Chill the Calvados, St. Germain and sparkling wine. Just before serving, mix all the chilled ingredients in a punch bowl. Add the bitters. Stir to mix.
Garnish, as suggested, with apple slices dipped in cinnamon sugar. Or float orange slices and a cinnamon stick.
Source: Bon Appetit, December 2011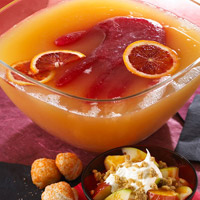 UPDATE: As of October 30, 2012. I did make this punch and my daughter-in-law had an immediate comment: "Too kiddie like." She was not happy. I added 2 more cups of Triple Sec. After that she was laughing and I never heard another negative word.
My previous post, for a Candy Corn Drink, for a Halloween party was a bit of a joke. It was so surreal, that I could not resist.
However, the fact is, I do have a Halloween party tomorrow and I am responsible for the punch. So here is a recipe for a Halloween punch that is very handy. As in, it contains frozen hands. The picture above is from bhg.com where I found the basic recipe. I'll update the picture tomorrow when our own frozen hand is available for closeups.
This is a fruit punch that I am jacking up with booze for the adults tomorrow night. It's called Ghoul's Punch on the bhg.com website and you recover the original my just not adding the sparkling wine and triple sec.
The recipe here is infinitely variable. Beside booze, you can add juices other than or in addition to pinepapple. Instead of just frozen lemonade concentrate, you can do limeade or one of those fruit combinations things that will have multiple flavors. I have never made one of those to drink directly, but they were made for doing punches. You can top this off with some sherbet to add color, flavor, and coolness. Here, of course, we will be adding frozen hands made of cranberry juice [actually I used cranberry pomegranate and there's another way you can vary the ingredients to get great flavor].
Ah, one last worry. What if I don't make enough punch and I start to run low? Well, I just monitor the amount left and have a spare can of pineapple juice and frozen concentrate on hand.
Brian's Halloween Brew Complete with Frozen Floating Hand
Yield: about 200 ounces, enough for 20 large drinks
Ingredients:
2 48-ounce cans of pineapple juice [the big cans]
4 cups cold water
2 cups triple sec
1 bottle sparkling wine [not the cheap, cheap stuff but nothing over $10/bottle]
12 orange or [better] blood orange slices
2 frozen hands [recipe follows]
Preparation: 
In a punch bowl, add all the liquid ingredients. Stir to mix. Taste and adjust the flavor to taste. You may want a little more sweetness: stir in some superfine sugar 1/4 cup at a time. You may want more of an alcohol hit: stir in more triple sec 1/4 cup at a time. You may want a more complex alcohol flavor: consider adding or substituting white run or brandy.
Garnish with the orange slices and the frozen hands.
Cranberry Frozen Hands
Yield: 2 hands
Ingredients:
2 rubber gloves
4 cups of cranberry juice [or cranberry combination juice like cranberry pomegranate]
2 feet of thin fishing line
Preparation:
Blow on each glove to loose the latex. One at time, fill each glove with 2 cups of cranberry juice. Tie off each glove with fishing line. [The bgh.com recipe says to use a rubber band, but that's destined for leakage].
Put the glove in the freezer and freeze overnight. Just before punch time, take the hands out of the freezer. Cut and peel away the glove, and place the cranberry hand in the punch bowl. As they melt, the hands will add additional flavor.
Oh, accidents happen. If when you are peeling off a rubber glove you damage one of the fingers and it falls off, simply toss it into the punch bowl. People will understand.
Optionally, you can use edible paint to add a wedding ring or fingernail polish to the hands.
Source: inspired by Ghoul's Punch at bhg.com