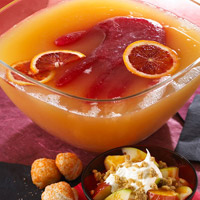 UPDATE: As of October 30, 2012. I did make this punch and my daughter-in-law had an immediate comment: "Too kiddie like." She was not happy. I added 2 more cups of Triple Sec. After that she was laughing and I never heard another negative word.
My previous post, for a Candy Corn Drink, for a Halloween party was a bit of a joke. It was so surreal, that I could not resist.
However, the fact is, I do have a Halloween party tomorrow and I am responsible for the punch. So here is a recipe for a Halloween punch that is very handy. As in, it contains frozen hands. The picture above is from bhg.com where I found the basic recipe. I'll update the picture tomorrow when our own frozen hand is available for closeups.
This is a fruit punch that I am jacking up with booze for the adults tomorrow night. It's called Ghoul's Punch on the bhg.com website and you recover the original my just not adding the sparkling wine and triple sec.
The recipe here is infinitely variable. Beside booze, you can add juices other than or in addition to pinepapple. Instead of just frozen lemonade concentrate, you can do limeade or one of those fruit combinations things that will have multiple flavors. I have never made one of those to drink directly, but they were made for doing punches. You can top this off with some sherbet to add color, flavor, and coolness. Here, of course, we will be adding frozen hands made of cranberry juice [actually I used cranberry pomegranate and there's another way you can vary the ingredients to get great flavor].
Ah, one last worry. What if I don't make enough punch and I start to run low? Well, I just monitor the amount left and have a spare can of pineapple juice and frozen concentrate on hand.
Brian's Halloween Brew Complete with Frozen Floating Hand
Yield: about 200 ounces, enough for 20 large drinks
Ingredients:
2 48-ounce cans of pineapple juice [the big cans]
4 cups cold water
2 cups triple sec
1 bottle sparkling wine [not the cheap, cheap stuff but nothing over $10/bottle]
12 orange or [better] blood orange slices
2 frozen hands [recipe follows]
Preparation: 
In a punch bowl, add all the liquid ingredients. Stir to mix. Taste and adjust the flavor to taste. You may want a little more sweetness: stir in some superfine sugar 1/4 cup at a time. You may want more of an alcohol hit: stir in more triple sec 1/4 cup at a time. You may want a more complex alcohol flavor: consider adding or substituting white run or brandy.
Garnish with the orange slices and the frozen hands.
Cranberry Frozen Hands
Yield: 2 hands
Ingredients:
2 rubber gloves
4 cups of cranberry juice [or cranberry combination juice like cranberry pomegranate]
2 feet of thin fishing line
Preparation:
Blow on each glove to loose the latex. One at time, fill each glove with 2 cups of cranberry juice. Tie off each glove with fishing line. [The bgh.com recipe says to use a rubber band, but that's destined for leakage].
Put the glove in the freezer and freeze overnight. Just before punch time, take the hands out of the freezer. Cut and peel away the glove, and place the cranberry hand in the punch bowl. As they melt, the hands will add additional flavor.
Oh, accidents happen. If when you are peeling off a rubber glove you damage one of the fingers and it falls off, simply toss it into the punch bowl. People will understand.
Optionally, you can use edible paint to add a wedding ring or fingernail polish to the hands.
Source: inspired by Ghoul's Punch at bhg.com
We just gave a dinner party for friends, who have become serious foodies. They've cooked the last three meals at their place, with each dinner being an even more elaborate feast. It's not a competitive thing, but Suzen and I felt we owed them a knockout meal as thanks. So over the next few days, I'll blog the recipes from what has been a very, very good meal that you can duplicate the next time you want an elegant dinner party.
For starters, we needed a beverage. I love to prepare great cocktails from scratch, and for 2 or 4 people that is feasible. When you hit a total of 9 guests, it's too much. One of the secrets for a great dinner party is for you, the host, to be able to enjoy it, too. It's a party, remember?
So, individual cocktails were out. I said the word "punch" to Suzen and caught a sharp reaction. "I thought you were doing Champagne cocktails," she pleaded.
"I am," I said. "In one batch." Look, I don't know why "punch" has become a little derogatory. Just a bowl dumped full of things, people will say. No, true, it is a bowl, to give you the volume you want. But you need to be just as careful when making the punch as for the most sophisticated cocktail.
Actually, doubly careful. I will admit that there are a lot of bad punch recipes out there, just as there are so many atrocious cocktail recipes.
But I have found a wonderful resource for punch. It's a book call, of all things, Punch by Colleen Mullaney. Here is a Champagne punch that I have made some adjustments to [and noted below]. It's called Afternoon Delight but it worked just fine as the starter for a dinner that began with rich appetizers — sliced duck and horseradish on crustini — and moved forward through risotto with smoked salmon and breaded pork cutlets topped with tomatoes and arugula. You'll get the rest of the dinner, course by course, during the coming week.
First off, here's that superior punch.
Afternoon Delight Champagne Punch
Yield: serves 8
Ingredients:
24 ice cubes with rose petals
2 cups pink grapefruit juice
2 cups pear nectar
2 bottles (740 ml) chilled, dry Champagne
Preparation:
At least 3 hours ahead, make the ice cubes.
Combine the grapefruit juice and par nectar in the punch bowl and mix well. Just before serving, slowly pour in the Champagne. Add the ice cubes and serve immediately.
Brian Amendments:
It's spring and berry season and our roses have not bloomed. So I substituted frozen blackberry ice cubes. Place one blackberry in each slot of an ice tray, fill, and freeze.
I only made 12, and not 24 ice cubes, because I added a second twist. I put rounded dollops of Champagne sorbet on top of the punch along with the ice cubes. Yes, it was a little over the top but visually it was stunning. Have you noticed how people always pause above the punch bowl before they dip in. "Do I want to try this?" they are asking themselves. I think the ice cubes and sorbet made our guests think twice and in the end enjoy even more.
I used Proseco instead of Champagne. The sweetness of the Proseco is a favorite of mine and I think a better match as an opening beverage if you are having a range of appetizers.
Source: Punch by Colleen Mullaney