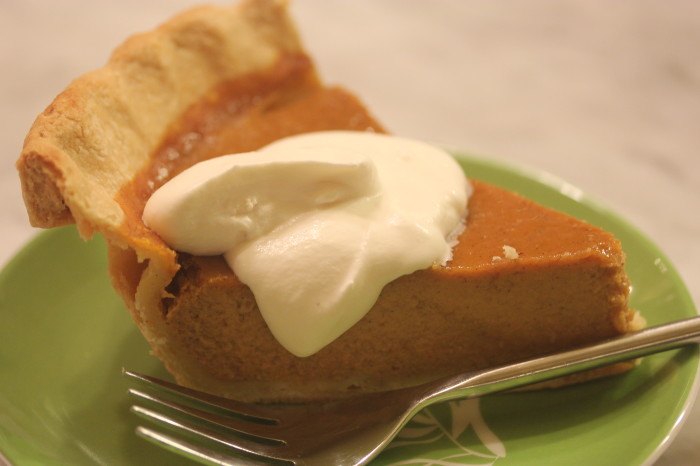 "Pumpkin pie," my grandson Daniel replied. He was ordering Thanksgiving dessert.
"Find that recipe," Suzen commanded.
We have this recipe, the recipe,  for pumpkin pie that is sensational. Haven't made it for a couple of years. I go to search to find it.
I search. And I search. It's not on the computer. My forehead is damp. I go through twenty cookbooks. I can't find it. My forehead is wet.
And, to make it worse, Suzen and I can't remember why it was so good. I think it was light and fluffy. I seem to remember that it had booze, but maybe not.
Failure. Total failure.
"Let me try," Suzen said. No beads of sweat on her forehead. In an hour more, she said, "Don't worry." She'd googled, compared, and found this very interesting pumpkin pie that is unlike anything we have ever sampled.
What make this recipe distinctive.  It uses coconut milk. No, the resulting pie does not have a coconut tinge to it, but it does have an exceptional smooth consistency that makes you think you are eating silk.
This is now our "holiday-special-gotta-have" pumpkin pie. One bite and it will be yours, too.
Jamaican-Spiced Pumpkin Pie
Yield: 1 9" pie, enough for 8 people
Ingredients:
One 15-ounce can pure pumpkin puree
1 ¼ cups unsweetened coconut milk [full fat only, stirred or shaken well before using]
¾ cup packed light brown sugar
1 teaspoon ground ginger
¾ teaspoon ground cinnamon
½ teaspoon table salt
⅛ teaspoon freshly grated nutmeg
4 large eggs at room temperature
2 tablespoons spiced rum [Captain Morgan]
1 blind-baked pie shell
Preparation:
Position a rack in the center of the oven, set a heavy-duty rimmed baking sheet on the rack, and heat the oven to 425°F.
In a large bowl, whisk the pumpkin, coconut milk, sugar, ginger, cinnamon, salt and nutmeg until smooth. Whisk in the eggs and then the rum, until the mixture is smooth. Pour the filling into the piecrust.
Put the pie on the heated baking sheet. Bake for 10 minutes and then reduce the oven temperature to 350°F. Bake until the center of the pie no longer wobbles when the pan is nudged [a slight jiggle is fine], an additional 45 to 55 minutes.
Transfer to a rack and cool completely before serving. The pie can be stored at room temperature for up to 2 days.
Source: Nicole Rees from Fine Cooking
Photo Information: Canon T2i, 18-53MM Macro Lens, F/2.8, 1/100th second, ISO 1000
"How long have you had these symptoms?" the doctor asked me.
"A week or two," I answered.
"About a month at this level. Decades at a reduced level." Suzen was contributing to my diagnosis. I did not appreciate the "decades" bit.
"So," the doctor continued, "your issue is confusion."
"Yes," I said.
"YES," Suzen said. I really must remember not to bring her next time.
"Who is the President of the United States?" the doctor asked me.
"You don't want to get into politics with Brian," Suzen remarked quickly. You know, she does serve a purpose.
"What month is it?" the doctor continued.
"November," I said. "But it seems endless to me. I just received more emails saying our blog has not put up any Thanksgiving recipes."
"And?" the doctor asked.
"Well, I figured Thanksgiving had to be over already."
"Why?" the doctor probed.
"Because Christmas decorations and store displays have been up for six weeks now. We have to be way past Thanksgiving," I argued.
"Thanksgiving is next week, Brian," the doctor corrected me.
"Yes, Brian." Suzen concurred.
"Oh, dear," I slumped back. "What can I do?"
"Well, I think you need to publish some Thanksgiving recipes on your blog," the doctor began. "And then you might consider moving to a society that is less commercially oriented. I hear Iceland is a very mellow place."
"Oh, great," Suzen was staggered. "Can't you just give him a prescription?"
So, we are six days from Thanksgiving 2011 and you may be wondering what to do. In the coming week I will, of course, supply you with some new holiday ideas. Fortunately, this blog is already flush with great menu ideas, from appetizers thru dessert. Here's a table showing the blog titles for several wonderful recipes. And, I've included the word to search on, using the blog's search feature, so you can easily isolate the recipe.
I'll say that the Arrows Roast Turkey recipe is now our standard. We've done it for five or six years running and it has become a tradition. Nick's Cranberry Sauce defines Thanksgiving for Suzen. Dorie Greenspan broadened everyone's food horizons last year with Around My French Table. The stuffed pumpkin is directly from the book and Suzen created a stuffing recipe, sans pumpkin, as an alternative.
Here you go. I'll be blogging more after my next doctor's appointment. I've never been to Iceland.
| | |
| --- | --- |
| Blog Title | Search Word |
| Arrows Roast Turkey | Arrows |
| Nick's Cranberry Sauce | Nick's |
| Pumpkin Stuffed with Everything Good by Dorie Greenspan | Pumpkin |
| Thanksgiving Stuffing 2010 with Thanks to Dorie Greenspan | Stuffing |
| Pumpkin Chiffon Cake for Thanksgiving | Pumpkin |
| Apple and Jalapeno Tailgate Pie | Tailgate |