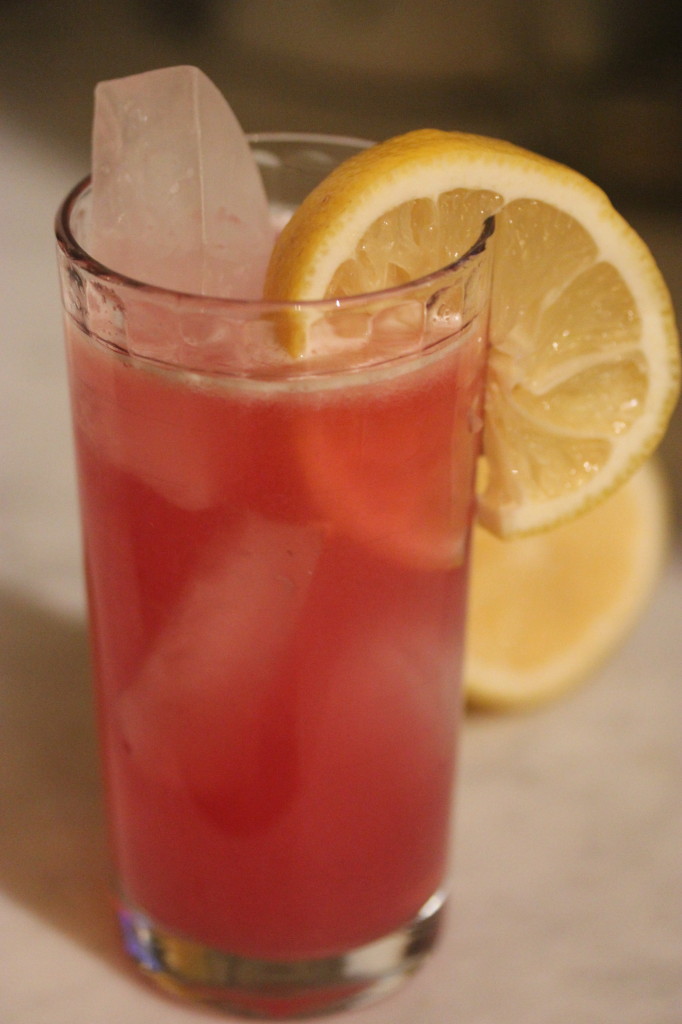 Recent posts here have covered prickly pears, prickly pear syrup, and, most certainly, prickly pear margaritas.
Does the syrup end there? No, you can put it on pancakes or waffles. Drizzle it on pound cake and ice cream.
But wait. There's still plenty of beverage mileage for this glorious pink liquid. You can make a prickly pear lemonade, pictured above. Or, you can combine that lemonade with sparkling wine. Try half prickly pear lemonade and half brut Proseco. Brut? From me with a sweet tooth that is enormous and never filled?
Yes, brut. The lemonade is nice and sweet unto itself. There no need to make life sweeter and, in truth, the brute force of the brut Proseco is a lovely contrast.
Prickly Pear Lemonade
Yield: just under a quart
Ingredients:
8 ounces freshly squeezed lemon juice [about 4 lemons]
½ cup sugar
¼ cup prickly pear syrup [see this blog for a recipe]
2 cups of water
Preparation:
Combine the lemon juice and sugar in a pitcher. Stir to mix into a thick liquid. Add the syrup and water and stir to mix evenly. Serve over ice and garnish with a lemon slice.
Source: inspired by desertusa.com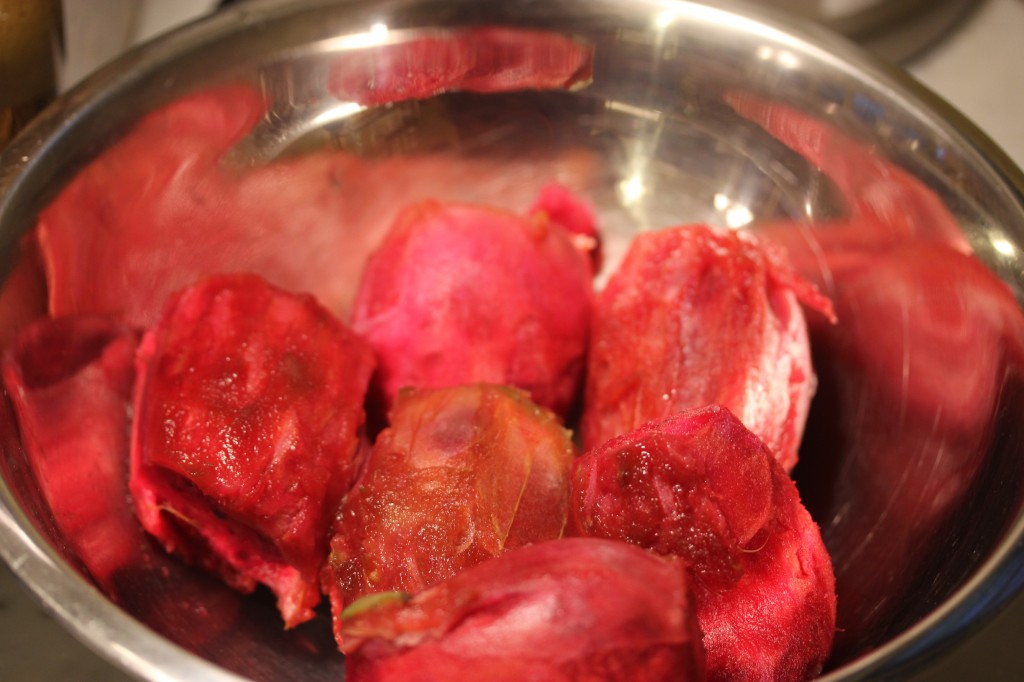 Attempting to make a prickly pear margarita, in the past weeks I began by trying to make my own prickly pear syrup. That first syrup attempt was a disaster.
Now, I am very happy to report dual success. I have a great prickly pear margarita recipe, using prickly pear syrup, and just the recipe to make that syrup.
You've seen Emeril Lagasse on TV and may have formed some opinion, pro or con. Take all those TV images and put them aside. Emeril is a wonderful man, so loyal to his employees and quite devoted to creating the best food possible.
This is his prickly pear margarita recipe. Now, I often play with a recipe and very often a cocktail will taste good, but not exceptional. This margarita is perfect. I would not change an atom in it and you will love it. It reflects great care in testing and balancing all the flavors to achieve a beverage that just rocks. It's perfect.
It does use prickly pear syrup and the recipe for that follows below.
Prickly Pear Margarita
Yield: 1 drink
Ingredients:
3 ounces tequila blanco [not gold because that will color clash!]
½ ounce Cointreau or other good orange liqueur
1 ½ ounces lime juice
2 ounces prickly pear syrup
Kosher salt or Turbinado sugar for garnishing the glass
Lime slices or kumquats for garnish if desired
Preparation:
Combine the tequila, Cointreau, lime juice and pear syrup in an ice-filled cocktail shaker. Shake vigorously to incorporate. Wet the rim of a margarita glass and dip into salt, sugar, or a mixture of both. Pour the margarita into an ice-filled glass. Garnish with a kumquat and curled piece of lime peel.
Source: Emeril Lagasse on the Food Network
Prickly Pear Syrup
Yield: 1 quart
Ingredients:
8 prickly pears
2 cups of sugar
Preparation:
Skin the prickly pears and cut each one into 4-6 chunks. Put into a blender and blend until smooth. Pour the liquid through a sieve to remove seeds and any fiber.
If at all possible, use a Vitamix for this step. You'll get significantly more liquid — 3 prickly pears will give you the same amount of juice as 4 using a conventional blender.
Measure the amount of juice. You should have about 2 cups. Place the juice into a saucepan. Use medium heat to bring the juice to a simmer. Add the same volume of sugar, about 2 cups, as you had juice. Stir constantly to incorporate the sugar. Let simmer for 2 minutes more. Turn off the heat and allow to sit in the pan for 20 minutes, stirring occasionally.
Cool to room temperature and refrigerate.
Source: Brian O'Rourke inspired by multiple web sites