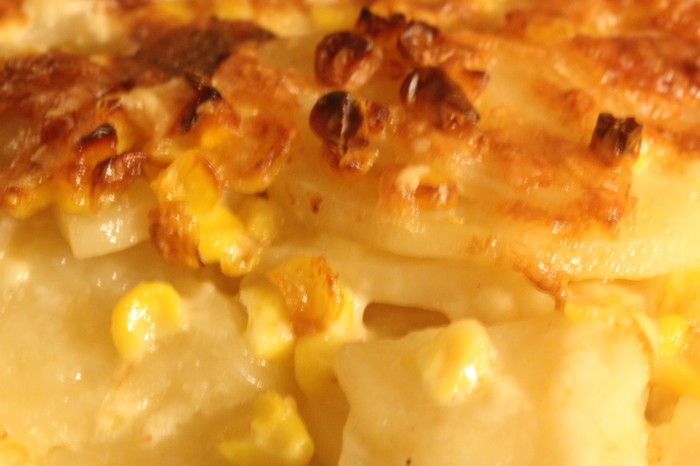 There are different kinds of comfort food, some simple, some complex. This rich potato gratin is something that delivers wonders in small doses. Just a few bites of this dish should satisfy your potato cravings. It takes a half hour to prep and the cooking time means that this dish will test your nostrils long before your actual palette.
I recently posted a Crab and Corn Bisque from The Domaine Chandon Cookbook and I mentioned that this soup deserved equally elegant dishes for the rest of the meal. This is one of those dishes, and from that same cookbook. The flavor is smooth, mellow, and just perfectly satisfying.
I've written the recipe below almost exactly as it appears in the cookbook, with one major change. I did add corn to my gratin, for flavor, color and because I had corn hanging around in my freezer and I was getting irritated with it. That said, the corn was a great addition.
The cheese amounts here are modest. You can increase any or all of them. Dividing ½ cup of the Havarti into four parts, and truly covering the potato layers each time, is a bit of a challenge.
The original cooking time was written as 45-50 minutes. I needed a full 85 minutes to get potatoes that were really cooked and not "chewy." I sliced the potatoes by hand and did not use a mandolin. Why? I like my fingerprints. I'm terrified of mandolins. I don't know if my "thicker" slices were the only reason for the longer cooking time, but I really did not mind. I had an open bottle of wine and time to wait. There are times to rush in life and then there are times to watch the sun going down.
Three-Cheese Potato Gratin
Yield: serves 4 as main course, 6-8 as a side dish
Ingredients:
1 tablespoon unsalted butter
2 cups heavy cream
½ teaspoon salt
¼ teaspoon freshly ground pepper
¼ teaspoon freshly ground nutmeg
3 pounds white potatoes, peeled and thinly sliced
½ cup fresh shredded Havarti cheese
1 cup corn kernels [optional]
¼ cup freshly grated Gruyere cheese
¼ cup freshly grated Parmesan cheese
Preparation:
Preheat the oven to 350°F. Grease an 8-inch square baking dish with the butter.
In a bowl, whisk together the cream, salt, pepper and nutmeg. On the bottom of the prepared dish, p0lace one-fourth of the potato slices in a layer about ¼ inch thick. Top with one fourth of corn. Pour in ½ cup of the cream mixture. Sprinkle with one fourth of the Havarti cheese.
Repeat to make three more layers of potatoes, corn, cream and Havarti.
Sprinkle the top layer with Gruyere and Parmesan cheese as well.
Bake until the potatoes are tender and the top is bubbly and golden brown, 45 to 90 minutes. Remove from the oven and let cool for 10 to 15 minutes to allow the gratin to firm up. Serve warm.
Source: The Domaine Chandon Cookbook
Photo Information: Canon T2i, EFS 18-55mm Macro Lens, F/2.8 for 1/50h second at ISO 3200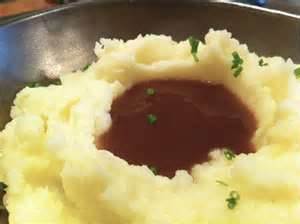 If you need mashed potatoes today, Thanksgiving, and who doesn't, then this is the best recipe. The best. I love this recipe because it combines metric and English measurement units. Just what you need to worry about with all the bustle today. So, as an act of kindness, 500 grams of potatoes is  1.1 pounds. 250 grams of butter is just over a half pound, 2 sticks.
No, this is not a record for the ratio of potatoes to butter. You want to induce cardiac disease? Then Google Patricia Wells. I believe she calls for equal proportions. Suzen and I love Patricia but there are limits to love.
Joel Robuchon's Mashed Potatoes
Yield: Makes 8 servings
Ingredients:
500 grams Ratte potatoes (fingerlings or Yukon's can also be used)
250 grams chilled unsalted high quality French butter– chilled and cut into small pieces
Hot Milk, as needed 1/2 -3/4 cup
Salt to taste
Preparation:
Scrub the potatoes, but do not peel the potatoes. Cook them in their skins covered by at least 1 inch of water. For each liter of water add 10 grams of salt. Simmer uncovered over moderate heat for 20-30 minutes or until a knife can easily be inserted and removed. As soon as the potatoes are done remove and drain. Do not allow them to sit in the water.
Meanwhile, bring the milk just to a boil in a medium sized saucepan and set aside
Once potatoes are cool enough to handle (but still hot), peel them and cut into manageable pieces. You can discard the skin or use them in another dish. Then pass the potatoes through the grid of a food mill (or use a potato ricer)passing them into a large heavy bottomed saucepan.
Discard the skin after it has been peeled away. Place the pan over low heat and using a wooden spatula stir the potatoes to dry them out (approximately 4-5 minutes).
Begin adding 3/4 of the butter, little by little vigorously stirring until the butter is incorporated. This should be done in a similar manner as one prepares any butter emulsion (starting off with a very small amount of butter to start the emulsion).
Slowly add the milk in a thin stream (a little at a time) till the desired consistency is reached. You may only need a very small amount of the milk, depending on the potatoes used, amount of butter used, and personal taste. Stir vigorously till all the milk is incorporated.
Then stir the puree with a whisk to incorporate air and make the puree fluffy.
Pass the puree through a fine drum sieve to further lighten and smooth the dish. This can be repeated 2 or 3 times for to make the puree silky smooth.
Taste for seasoning. If not using immediately, place in the top of a double boiler over simmering water. Whisk occasionally to keep smooth. The puree can be further adjusted with hot milk or butter before serving
If you don't serve the potatoes immediately you can keep them warm for an hour using a double boiler.
Remember because they are so rich you only need a small amount per person.
Source: Joel Robuchon and the website: http://webcache.googleusercontent.com/search?q=cache:http://greenmarketrecipes.com/vegetables/robuchons_mashed_pototoes.htm&hl=en&strip=1