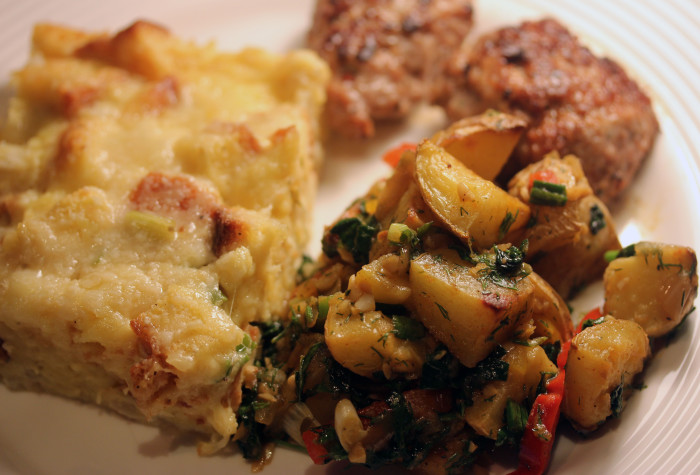 Suzen is an expert in culinary team building. Really, the expert. She pioneered using the kitchen for team activities. What kind of activities? Perhaps just an episode of fun with people casually preparing a meal together. Perhaps an evening filled with challenges to improve a team's communications or sharing skills.
Different teams come to Cooking by the Book. Teams that have been working together for years. Teams newly formed. Teams that have been talking to each other worldwide but never been in the same room together!
And families. You may never have played sports. You may work on your own. But, most of us have families, and those families are our first team. So, for family teams, Suzen has special programs where generations come together to prepare a meal, share their stories, and enjoy the products of their kitchen activities.
For brunch, Suzen offers an exceptional meal:
Cheese Strata: a rich breakfast casserole
Breakfast Potatoes: not just potatoes!
Breakfast Sausage: meat and herbs and more
Ambrosia Fruit Salad: an old fashioned and lovely breakfast dessert
Suzen created this meal to make sure each dish let people cook together cooperatively. Each dish has enough step, enough work, so you divide and conquer. For example, the Breakfast Potatoes below have lots of ingredients, lots of chopping. Last weekend, we had a grandmother, mother, and grandson working together to make a batch of these potatoes. They were each doing their part, talking about how it would come together, and laughing all the time.
Sometimes teamwork means you score a touchdown. Or get a 100 point shift in your stock prices. Or you get the best darn breakfast you ever had. And learn a something very special about a family member.
Here's the recipe for the potatoes. In the next three days, you'll get the other recipes, too. Just in time for this weekend!
Breakfast Potatoes
Yield: serves 12
Ingredients:
·       1 bag (5 Pounds) Red Potatoes, cut into ⅛" cubes
·       4 cloves garlic, minced
·       1 whole onion, peeled and roughly chopped
·       2 whole yellow bell pepper, seeded and julienned
·       2 whole red bell pepper, seeded julienned
·       1 bunch scallions whole stem cut on bias
·       1 bunch of dill or cilantro chopped
·       2 bunches of Tuscan kale stems removed and julienned
·       3 lemons juiced and zested
·       1/4 cup olive oil
·       1/2 teaspoon cumin
·       1/2 teaspoon smoked paprika
·       Koshers salt and freshly ground black pepper
Preparation:
Preheat the oven to 425⁰F.
In a large bowl, toss together the potatoes, olive oil, paprika, cumin some kosher salt and pepper. Pour potatoes onto two rimmed baking sheets. Bake for 20 -025 minutes, shaking the pan twice.
While potatoes are baking, on medium heat sauté onion until almost caramelized, then add garlic and bell peppers toss all ingredients until well mixed and peppers are warm.
In a large bowl mix kale, scallions, dill or cilantro and toss, then add onion and pepper mixture to bowl toss and then add lemon juice and zest and add in hot potatoes, toss all together.
Taste to see if little more salt and pepper is needed before serving.
Source: CBTB staff
Photo Credits: Canon T2i, 18-55MM Macro lens, F/2.8, 1/100th second, ISO 320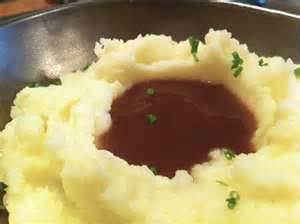 To make life easy for you, here's a head start on the best mashed potatoes you could possibly have. Why not try them this week, just as a pre-Thanksgiving test. This recipe is one of the most "googled" on earth. Probably on Mars, too.
These are rich enough to eat on their own. You can dot with butter, of course. And, then, there's gravy. But, that's another blog post.
Joel Robuchon's Mashed Potatoes
Yield: Makes 8 servings
Ingredients:
500 grams Ratte potatoes (fingerlings or Yukon's can also be used)
250 grams chilled unsalted high quality French butter– chilled and cut into small pieces
Hot Milk, as needed 1/2 -3/4 cup
Salt to taste
Preparation:
Scrub the potatoes, but do not peel the potatoes. Cook them in their skins covered by at least 1 inch of water. For each liter of water add 10 grams of salt. Simmer uncovered over moderate heat for 20-30 minutes or until a knife can easily be inserted and removed. As soon as the potatoes are done remove and drain. Do not allow them to sit in the water.
Meanwhile, bring the milk just to a boil in a medium sized saucepan and set aside
Once potatoes are cool enough to handle (but still hot), peel them and cut into manageable pieces. You can discard the skin or use them in another dish. Then pass the potatoes through the grid of a food mill (or use a potato ricer)passing them into a large heavy bottomed saucepan.
Discard the skin after it has been peeled away. Place the pan over low heat and using a wooden spatula stir the potatoes to dry them out (approximately 4-5 minutes).
Begin adding 3/4 of the butter, little by little vigorously stirring until the butter is incorporated. This should be done in a similar manner as one prepares any butter emulsion (starting off with a very small amount of butter to start the emulsion).
Slowly add the milk in a thin stream (a little at a time) till the desired consistency is reached. You may only need a very small amount of the milk, depending on the potatoes used, amount of butter used, and personal taste. Stir vigorously till all the milk is incorporated.
Then stir the puree with a whisk to incorporate air and make the puree fluffy.
Pass the puree through a fine drum sieve to further lighten and smooth the dish. This can be repeated 2 or 3 times for to make the puree silky smooth.
Taste for seasoning. If not using immediately, place in the top of a double boiler over simmering water. Whisk occasionally to keep smooth. The puree can be further adjusted with hot milk or butter before serving
If you don't serve the potatoes immediately you can keep them warm for an hour using a double boiler.
Remember because they are so rich you only need a small amount per person.
Source: Joel Robuchon and the website: http://webcache.googleusercontent.com/search?q=cache:http://greenmarketrecipes.com/vegetables/robuchons_mashed_pototoes.htm&hl=en&strip=1