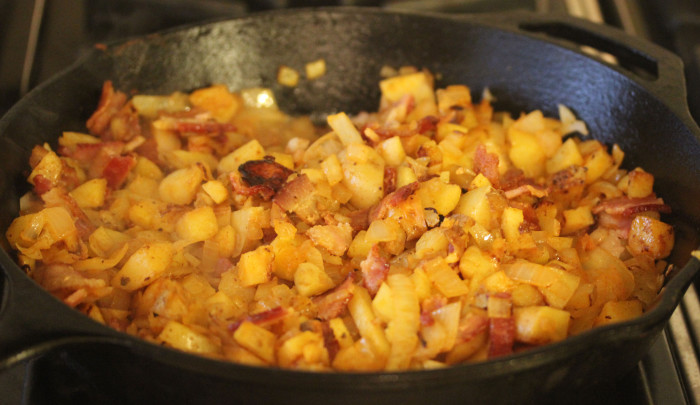 On a morning when I don't have to rush off to work or a meeting, when I have some time, and when I have memories of childhood breakfasts, I open the refrigerator and begin.
There is nothing complicated here: bacon, potatoes and onions. Plus more if you want:
Peppers
Capers
Herbs
Mushrooms
Hot sauces in any of the varieties
Worcester sauce [distinctly different than the typical "hot" sauce]
Cheese at the end
I mention these other things only because you can add them, but I rarely do. I prefer the "pure" composition of just bacon, potatoes and onion. I do admit, with leftovers the next day, a dash of Worcester or hot sauce can provide some flavor revival.
This recipe is geared to the size of your cast iron pan. Cast iron. Not non-stick. This is a complete breakfast, needed a cap off of deep, dark coffee.
Brian's Morning Hash
Yield: 4-6 servings
Ingredients:
Bacon, enough strips to layer your cast iron pan
Potatoes, enough so when diced to form a layer 1" deep in the cast iron pan
White onions, enough when diced so that you have a 2-to-1 ratio of potatoes to onions
Salt and pepper to taste
Preparation:
Line the bottom of your cast iron pan with one layer of bacon. Cook on medium heat until the bacon is well cooked but not crispy. Remove the bacon. Leave the grease.
While the bacon is cooking, wash but do not peel the potatoes. Dice the potatoes in blocks about ¼-inch in size. Uniform size is prettier [my wife complains otherwise] but not necessary [I ignore her; I hope she does not read this].
Dice the onions at the same time. I prefer about twice the potatoes to onions in terms of volume. I often over-onion and the downside is not having that real "potato" feel that I treasure this dish for. The leftovers are better when the ratio is kept to about 2-to-1.
Add the potatoes and cook until barely tender. Stir occasionally. This can be 15-30 minutes depending on how high your heat is and how finely you have diced the potatoes. If you need to cook longer and pan begins to dry out, add some olive oil or butter.
When the potatoes are just tender, add the onions and continue to cook until the onions are no longer raw. Stir occasionally.
Break up the bacon into pieces and add to the pan to rewarm. Serve hot and aromatic.
Source: Brian O'Rourke
Photo Information [top picture]: Canon T2i, EFS 60 mm Macro Lens, F/2.8 for 1/100th second at ISO-3200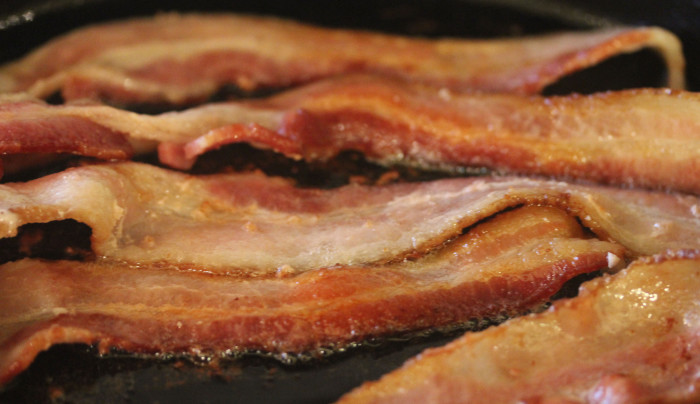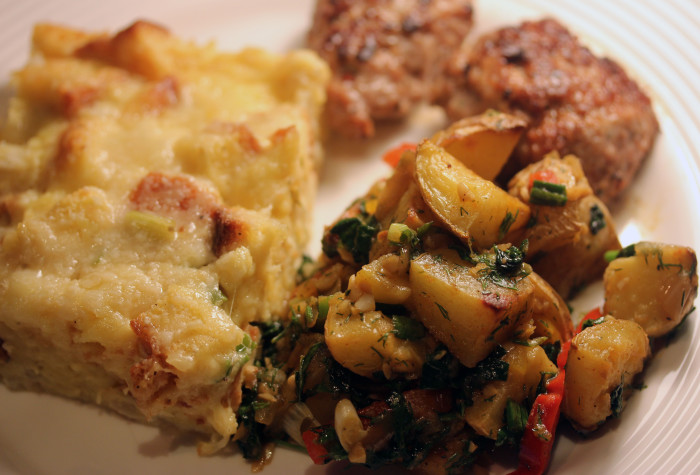 Suzen is an expert in culinary team building. Really, the expert. She pioneered using the kitchen for team activities. What kind of activities? Perhaps just an episode of fun with people casually preparing a meal together. Perhaps an evening filled with challenges to improve a team's communications or sharing skills.
Different teams come to Cooking by the Book. Teams that have been working together for years. Teams newly formed. Teams that have been talking to each other worldwide but never been in the same room together!
And families. You may never have played sports. You may work on your own. But, most of us have families, and those families are our first team. So, for family teams, Suzen has special programs where generations come together to prepare a meal, share their stories, and enjoy the products of their kitchen activities.
For brunch, Suzen offers an exceptional meal:
Cheese Strata: a rich breakfast casserole
Breakfast Potatoes: not just potatoes!
Breakfast Sausage: meat and herbs and more
Ambrosia Fruit Salad: an old fashioned and lovely breakfast dessert
Suzen created this meal to make sure each dish let people cook together cooperatively. Each dish has enough step, enough work, so you divide and conquer. For example, the Breakfast Potatoes below have lots of ingredients, lots of chopping. Last weekend, we had a grandmother, mother, and grandson working together to make a batch of these potatoes. They were each doing their part, talking about how it would come together, and laughing all the time.
Sometimes teamwork means you score a touchdown. Or get a 100 point shift in your stock prices. Or you get the best darn breakfast you ever had. And learn a something very special about a family member.
Here's the recipe for the potatoes. In the next three days, you'll get the other recipes, too. Just in time for this weekend!
Breakfast Potatoes
Yield: serves 12
Ingredients:
·       1 bag (5 Pounds) Red Potatoes, cut into ⅛" cubes
·       4 cloves garlic, minced
·       1 whole onion, peeled and roughly chopped
·       2 whole yellow bell pepper, seeded and julienned
·       2 whole red bell pepper, seeded julienned
·       1 bunch scallions whole stem cut on bias
·       1 bunch of dill or cilantro chopped
·       2 bunches of Tuscan kale stems removed and julienned
·       3 lemons juiced and zested
·       1/4 cup olive oil
·       1/2 teaspoon cumin
·       1/2 teaspoon smoked paprika
·       Koshers salt and freshly ground black pepper
Preparation:
Preheat the oven to 425⁰F.
In a large bowl, toss together the potatoes, olive oil, paprika, cumin some kosher salt and pepper. Pour potatoes onto two rimmed baking sheets. Bake for 20 -025 minutes, shaking the pan twice.
While potatoes are baking, on medium heat sauté onion until almost caramelized, then add garlic and bell peppers toss all ingredients until well mixed and peppers are warm.
In a large bowl mix kale, scallions, dill or cilantro and toss, then add onion and pepper mixture to bowl toss and then add lemon juice and zest and add in hot potatoes, toss all together.
Taste to see if little more salt and pepper is needed before serving.
Source: CBTB staff
Photo Credits: Canon T2i, 18-55MM Macro lens, F/2.8, 1/100th second, ISO 320