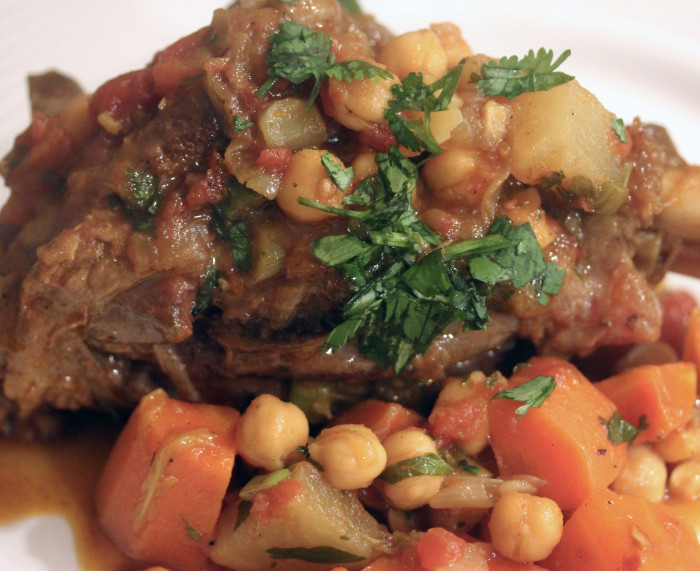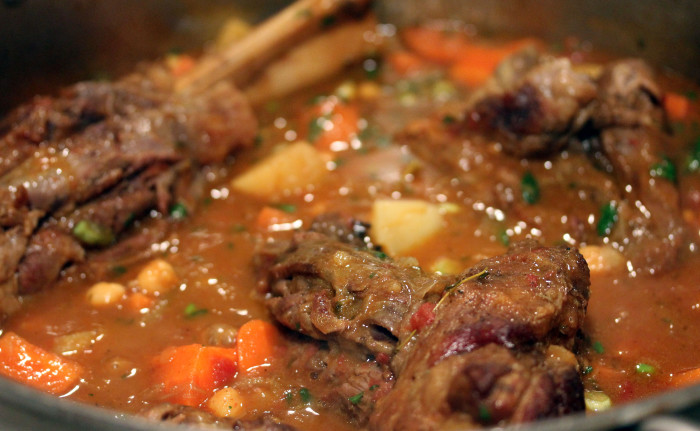 Whatever was wrong with me? I used to hate chickpeas. Hate. With passion.
Now, I love. With passion.
And I know why. This year we have come across an exceptional hummus recipe [http://www.cookingbythebook.com/recipes/red-pepper-hummus-smoked-paprika/] and now this sumptuous dinner treat from Curtis Stone. In a word, this recipe is magnificent. And just the sort of dish you'll be delighted to offer on a fall Sunday. Here lamb shanks are braised with vegetables, sending aromas cascading throughout the kitchen and beyond. You can start this recipe just before kickoff — yes, pro football is back, go Jets! — then enjoy the wonderful flavors as the game ends. Cooking here is long and slow, and is the ultimate proof that "fast" food cannot compare with "real" food.
The chickpeas here are cooked in a liquid enriched from the fat cooked off the lamb shanks plus the sweetness of carrots and the impact of cumin, curry powder, pepper flakes, thyme, bay, lemon zest and vinegar. Those chickpeas are not "pasty" any more.
The list of ingredients here is longish. And you are welcome to add/subtract at will. But I will say that Suzen and I both rolled our eyes at the first bite here. Typically of recipes from Curtis Stone, this lamb dish is "balanced." You'll have some heat in your mouth, an obvious dash of curry flavor, but all these ingredients and flavors combine and ascend into a magical dish.
This truly is one of those dishes that, after that first bite, you will always remember. Uncork the best red wine you have. These lamb shanks deserve the complement. You deserve the treat.
Whether or not your team wins.
---
Curried Lamb Shanks with Carrots, Chickpeas and Potatoes

Yield: 4 rolls

Prep Time: 15 minutes

Cooking Time: 3 ½ hours

Ingredients:

4 lamb shanks (about 1 pound each)
Kosher salt and freshly ground black pepper
2 tablespoons olive oil
1 yellow onion, coarsely chopped
1 large leek (white and pale green parts only), rinsed and cut into ½-inch pieces
4 teaspoons curry powder
1 teaspoon ground cumin
½ teaspoon red pepper flakes, or to taste
Four 3-inch-long strips of lemon zest, removed from a large lemon with a vegetable peeler
4 large sprigs of fresh thyme
1 bay leaf
½ cup red wine vinegar
5 cups reduced-sodium beef broth, or as needed
3 small Yukon Gold potatoes (about 14 ounces total), scrubbed and cut into ¾-inch pieces
5 medium carrots, cut into 1-inch pieces
One 15-ounce can chickpeas (garbanzo beans), drained and rinsed
2 scallions (white and green parts), thinly sliced on the diagonal
⅓ cup very coarsely chopped fresh cilantro
Warm naan, for serving
Plain low-fat or whole milk yogurt, for serving
Preparation:

Preheat the oven to 325°F.
Season the lamb with salt and pepper. Heat a large Dutch oven or other wide heavy pot over medium-high heat. Add the olive oil, then add the lamb shanks and cook, turning occasionally, for about 10 minutes, or until browned. Transfer to a large bowl.
Add the onions and leeks to the Dutch oven and cook, stirring occasionally, for about 5 minutes, or until tender. Add the garlic, curry powder, cumin, red pepper flakes, lemon zest, thyme, and bay leaf and stir for about 1 minute, or until fragrant. Stir in the vinegar and cook, stirring to scrape up the browned bits, for about 3 minutes, or until reduced by half.
Return the lamb shanks and their juices to the Dutch oven. Add enough broth to nearly cover the shanks, bring to a simmer, and cover. Transfer the pot to the oven and bake for about 2 hours, or until the meat is just tender.
Return the Dutch oven to medium-low heat on the stovetop. Add the potatoes and carrots and season lightly with salt. Cook at a gentle simmer, uncovered, for about 30 minutes, or until the vegetables are nearly tender and the liquid has reduced slightly. Using a slotted spoon or tongs, carefully transfer the lamb shanks to a plate (try to keep them intact) and cover with aluminum foil to keep warm. Discard the thyme stems and bay leaf.
6 Stir the chickpeas into the braising liquid and cook for about 15 minutes, or until the potatoes and carrots are tender. Stir in the scallions and half of the cilantro and season to taste with salt and pepper. Return the lamb shanks and their juices to the pot and simmer for 5 minutes to reheat the shanks.
Divide the lamb shanks and braising mixture among four wide shallow bowls. Sprinkle with the remaining cilantro. Serve hot, with naan and yogurt on the side.
Source: Curtis Stone's What's For Dinner

Photo Information [top]: Canon T2i, EFS 60mm Macro Lens, F/2.8 for1/30th second at ISO‑3200

Photo Information [bottom]: Canon T2i, EFS 60mm Macro Lens, F/2.8 for1/100th second at ISO‑2000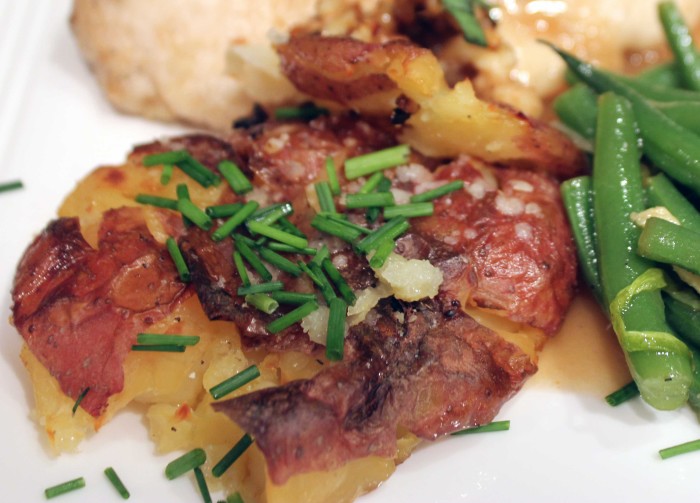 Often we prepare our potatoes with swiftness. One [step] and done. Baked or fried or boiled. Salt, pepper, butter or mustard or sour cream. Quick and ready to eat.
Consider a different, slower, more complex, but oh-so-good path. These potatoes are cooked twice: once in a simple boil and then roasted with oil you have flavored with herbs. Optionally, add some bacon and cheese. Maybe that's mandatory, not optional.
The result? You will have a renewed respect for the not-so-humble potato. Pair with a good [and now expensive steak] and you have a meal worth its price.
The smashing part here is one to enlist family members in for help. Want to introduce your kids to the fine art of cooking? Give them a potato, a towel to cover the potato, and pan to flatten the potato. All those TV shows and video games they watch with violence in abundance? Give your kids some real world experience.
Herbed Crushed Potatoes

Yield: 4-5 servings of 2 potatoes each

Ingredients:

For the oil:

2 cups olive oil
1 head garlic
2 sprigs rosemary
4 sprigs thyme
For the potatoes:

2 pounds red potatoes, scrubbed [medium to small size]
¼ cup chopped fresh parsley
½ cup extra-virgin olive oil
½ pound of thick cut bacon, cooked and crumbled [optional but a really good idea]
3 tablespoons grated parmesan [also optional but brilliantly wonderful]
Salt & freshly ground pepper to taste
Parsely or chives for garnish
Preparation:

Preheat oven 450°F.
To make the flavored oil, separate the garlic cloves from the head clean and gently bruise. Place garlic in olive oil with rosemary and thyme and bring to a simmer.
Remove from the heat and let sit for 20 minutes.
For the potatoes, cook in a large saucepan of boiling salted water until tender, 15 minutes.
Drain the potatoes, pat dry, place potato on dish towel and partially flatten (be careful to not completely crush) with hand or the back of a small pot. Place crushed potato on cookie sheet and brush liberally with flavored olive oil on both sides, season with salt and pepper.
Place in 450°F oven for 15 minutes and then turn potato over and bake for another 15 minutes, until lightly brown and crisp. Remove from oven.
Sprinkle with bacon, parmesan and parsley serve.
Source: Adapted from American Test Kitchen Television

Photo Information Canon T2i, EFS 60 mm Macro Lens, F/4.5 for 1/50th second at ISO‑800