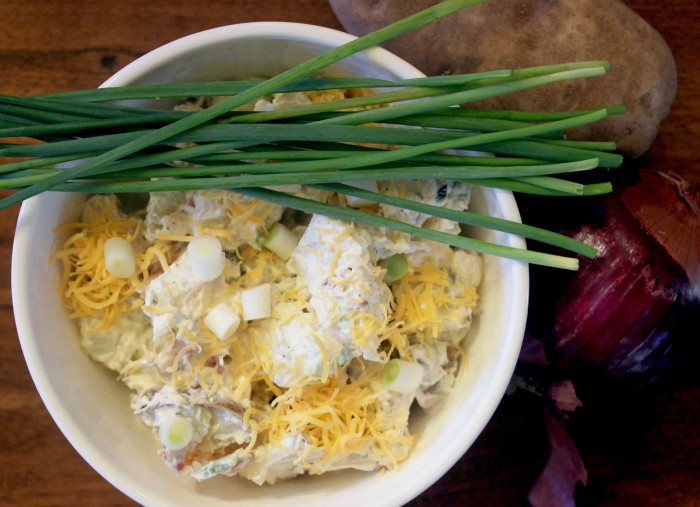 The picture shows a red onion because I like red onions. I always put red onions in potato salad. How can it be potato salad without one?
Actually, this recipe from Gale Gand's new Lunch present us with a very different potato salad, and a delicious one at that. Here there is no red onion, no vinegar, no pickles, no egg. Ah, there are potatoes. And cheddar cheese, and bacon.
The recipe title says "Loaded" and it is. The bacon flavor mates with the cheese and chives to form a really new vibrancy. The dressing, the classic dip mix of mayo and sour cream, is thick, rich and quite completely coats the potatoes. This salad is best served distinctly cold. And, while author Gale Gand says it will hold for four days in the fridge, you need to understand the flavor profile over time. That bacon becomes increasingly dominant. The cleanest, brightest flavors are on day when you pull it quite completely chilled to your table.
I'm not sure why, but an equally cold German white, sweet and filled with sunshine, seems the best mate you could imagine.
Loaded Potato Salad
Yield: serves 4 to 6
Ingredients:
2 pounds russet potatoes, peeled and halved (or quartered, if large)
½ pound bacon, cooked, cooled, and diced
¼ cup sliced scallions
1 clove garlic, minced
1 cup shredded sharp cheddar cheese
1 cup mayonnaise
½  cup sour cream or plain yogurt
1 teaspoon snipped fresh chives
½ teaspoon salt
½ teaspoon freshly ground black pepper
Preparation:
Place the potatoes in a large pot with enough water to cover them. Bring the water to a boil over high heat, then reduce the heat to medium and simmer until the potatoes are fork tender, 15 to 20 minutes. (Don't overcook them or they could fall apart.) Drain the potatoes in a colander and set aside to cool.
In a medium bowl, combine the bacon, scallions, garlic, cheese, mayonnaise, sour cream, chives, salt, and pepper and fold them with a rubber spatula to combine. When the potatoes have cooled, cut them into 1-inch cubes and add them to the mayonnaise mixture, folding them in gently to coat. Serve immediately, or chill for 2 hours to help the flavors develop before serving. The potato salad keeps in an airtight container in the refrigerator for up to 4 days.
Source: Lunch by Gale Gand
Photo Information: Canon T2i, EF-S 60MM Macro Lens, F/2.8, 1/100th second, ISO-2000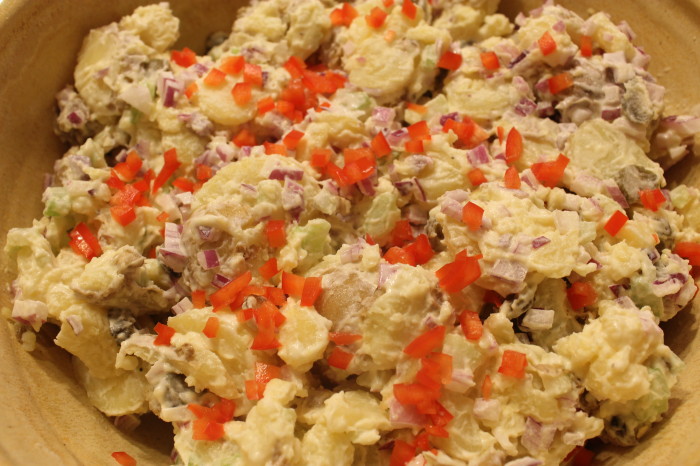 Ah, dinner party, uh? You're having people over. Hot, no HOT, summer nights. What's better than a crisp, cool potato salad? And so easy to make for 10 or 12 or 20 people. Just scale it up.
Well, actually, there are a couple of stops here. There is someone who does not like hardboiled eggs. Someone hates onions. No pork [that is bacon] for still someone more.
All of a sudden, that "easy" potato salad becomes a logistic nightmare. What do you put in, what do you pull back on, how can you please everyone? And, of course, you don't want someone breaking out in a rash or needing a paper bag to control asthma.
What to do? Make a base salad. One that is safe. Then scoop out portions that need special handling and add in the extras you want to make your salad distinctive. This is just what we did last weekend for 12 friends. No bacon for Erin. No onions for Cynthia. For the rest of us? Everything!
Base Potato Salad for 12
Yield: plenty for 12 people
Ingredients:
5 pounds of small white or new [red] potatoes
4 stalks of celery
½ cup of diced pickles [sweet and sour, gherkins, …]
2 cups of mayonnaise
⅓ cup juice from the jar of pickles
⅓ cup of red wine vinegar
Salt and pepper
Preparation:
Place the potatoes in a wide pan and cover with water. Place on the stove and put the heat on high. Bring the water to a boil and reduced the heat to medium-high. Cook 10+ minutes, or just until a sharp knife literally slips easily into the potatoes.
Remove from the heat, and cool to room temperature.
In a large metal bowl, large enough to eventually hold all the potatoes add the mayonnaise, pickle juice and red wine vinegar. Whisk to mix. Add additional ingredients to adjust the flavor of the dressing. The red wine vinegar will give you that "bite" you expect. The pickle juice will add flavor that you don't expect but will love.
Taste and add salt or pepper to your personal taste.
Dice the celery and add to the dressing.
Slice each potato and add to the bowl. Carefully stir to mix potatoes and dressing. If you have 1 to 3 people requiring special handling, take out a suitable portion of the salad and place in a smaller bowl. Refrigerate that smaller bowl now.
Adjustments to the Potato Salad:
Now you can have fun with that based salad, adding new ingredients for flavor or decoration including:
2 medium red onions, diced
2-4 raw jalapenos, sliced, membranes and seeds removed, then diced
½ cup of pickled jalapenos, diced
3-4 hardboiled eggs, sliced [VERY optional]
4 sticks of bacon, cooked crisply and crumbled
1 red bell pepper, diced
Adjustments Technique:
If you are using onions, add now, mix, and then refrigerate that big bowl. The same holds for the raw or pickled jalapenos. If you are a boiled egg person, then add them now, too.
The bacon can be added now, too, and mixed in. Or wait until just before serving and sprinkle over the top for decoration and not so much for flavor. The diced red pepper is for final decoration as well.
After putting in adjustments for flavor, put that big bowl in the fridge for at least two hours. I used the word "crisp" earlier and it is just that wonderful feel that you want to enjoy.
More Options:
For the dressing, consider some combination of mayonnaise and sour cream. For 5 pounds of potatoes, a total of 2 cups here will make for a very lightly dressed salad. For the more commonly dressed salad, 2 ½ cups is a better choice. If you want the salad drenched, then 3 cups will have you reaching for an umbrella.
Source: Brian O'Rourke
Photo Information: Canon T2i, EFS 18-55MM macro lens, F/5.0 for 1/50th second at ISO 1000