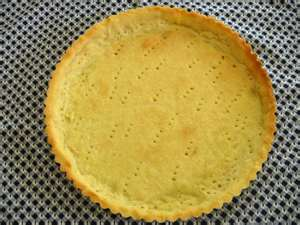 Yes, that's an empty tart shell, waiting to serve you. What you need is a delicious way to fill it to the brim.
Here's an elegant way to serve potatoes and tomatoes in a tart with with a crust that adds the flavor overtones of Parmesan and chili. "Tart" is, for me, a special word. It always seems to denote something special, something personal, something with a twist that will make me smile. This tart is exactly that lovely treat. There is a dash of richness from the creme fraiche, overtones from sea salt, and a chile hit.
This tart consists of a tomato base topped with potato slices. You can artfully arrange those slices in different patterns and perhaps top with some additional chili flakes or herbs.
This tart takes a bit of effort, but you'll truly appreciate the results. It can be a side dish, but has the substance of a main course. Try this on a Sunday afternoon. Let the ballgames play out on television while you focus on something sure to be a success. [This blog was written by a New York Giants fan after three consecutive losses. I need, and deserve, serious comfort food.]
Chile Potato Tart
Yield: Makes 6 servings
Ingredients:
Filling:
1 ½ pounds ripe red plum tomatoes halved lengthwise and seeded [or cherry tomatoes]
3 tablespoons extra-virgin olive oil
4 whole garlic cloves, unpeeled
1 large red chile
1 ½ teaspoons sea salt flakes
1 tablespoons sugar
1 pound waxy potatoes boiled in their skins for 15 minutes then peeled and thinly sliced
1 ¼ cups crème fraiche lightly whipped and seasoned with salt and pepper
Salt and freshly ground black pepper
Chile Pastry:
1 ⅓ cups all-purposes flour
Pinch of salt
7 tablespoons unsalted butter, diced,
¼ cup finely grated Parmesan cheese
1 red chile, seeded and very finely chopped (optional)
Preparation:
Filling:
Preheat oven to 350° F.
To roast the tomatoes, lightly brush a baking tray with some of the olive oil and arrange the tomatoes cut side up.  Add the garlic and whole chile and sprinkle with the remaining olive oil.  Sprinkle the salt and sugar evenly over the tomatoes and bake in the preheated oven.
Remove the garlic after 10-15 minutes when soft, and squeeze the flesh into a bowl.  Remove the chile after 15-20 minutes when the skin is blistered and slightly charred.  Leave the tomatoes for 45-50 minutes until very soft and slightly charred.  Cool the chile a little, then peel, seed, chop finely, and add to the garlic.  Scoop the tomato flesh into the bowl, discarding skins [with cherry tomatoes, simply mash the skins].  Mash the flesh.  Season to taste.
Pastry:
Sift the flour and salt into a bowl.  Rub the butter until the mixture resembles fine crumbs.  Stir in the Parmesan and chile, if using.  Add enough cold water to make firm dough.
Roll out on a lightly floured surface and use to line a greased, 10-inch fluted art pan.  Lightly prick the base with a fork.  Chill for 30 minutes, then line with foil and baking beans.  Heat a baking tray on the middle shelf of a preheated oven at. 400°.  Put the tart shell on the tray, bake for 10-15 minutes, then remove from the oven and remove the foil and beans.  Increase the oven heat to 450°.
Spread the tomato mixture evenly over the tart base, then over with concentric circles of potato slices.  Pour the crème fraiche over the potato.  Bake for 8 to 10 minutes until the top is golden.
Source:
Potatoes: From Mash To Fries by  Annie Nichols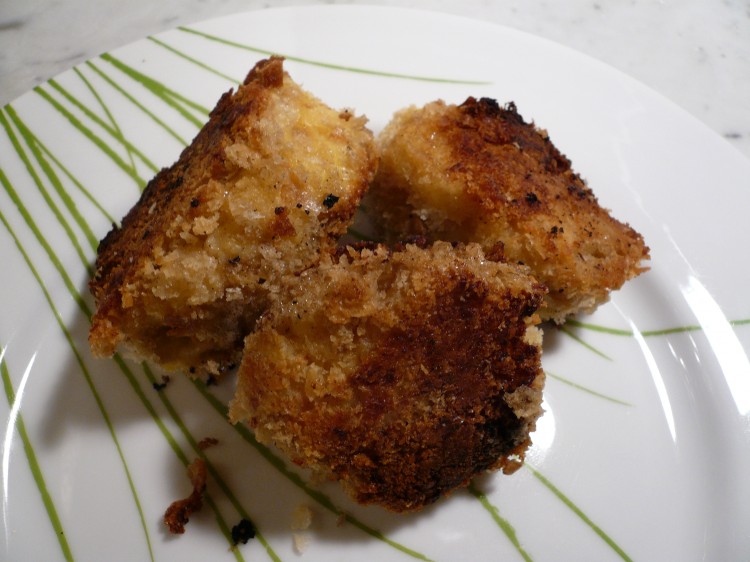 The day after Thanksgiving, your refrigerator may seem to have more things than the day before Thanksgiving. Hopefully, you'll have big bowl of leftover mashed potatoes. Here's a wonderful way to use up those "leftovers" creating a treat for breakfast, lunch or dinner.
In French cooking, a galette is a general term denoting a flat, usually round freeform "cake." It can be a real cake, or here it can be a patty made of mashed potatoes. Galettes are augmented by having ingredients on top or included in the patty itself. With mashed potatoes, you have what a chemical engineer would call a "transport platform." Something to convey flavor galore.
The suggestions below are largely onion-based, but you can add whatever suits you: chili powder, diced peppers, bits of cooked bacon, … The possibilities are endless. The physical contrast of biting through a hard crust and then encountering soft mashed potato is a delight. You can keep trying flavor combinations from Friday through Sunday!
Potato Croquettes
Yield: 4 servings
Ingredients:
2 cups mashed potatoes
1 large egg
Flavoring: ½ cup sautéed onions, 1 tablespoon onion flakes, 5 sliced scallions, 1+ tablespoon of chopped thyme, 1+ teaspoon garlic powder, …
1 cup of flour in a medium bowl
1 large egg, beaten in a medium small bowl
1 cup bread crumbs in a medium bowl
2 tablespoons butter
Preparation:
Place the mashed potatoes in a bowl. Beat in one large egg. Add any [one or more] of the flavoring ideas.
Divide the mixture into 8 portions by creating a ball and then flattening into a disk about 1 inch thick. Dust one portion with flour. Then dip it into the beaten egg and then gently cover with bread crumbs. Place the portion on a plate, and repeat with the remaining portions.
Melt the 2 tablespoons of butter in a cast iron pan. Carefully, gently place the croquettes in the pan. Cook on one side on medium-high heat for 5-6 minutes, until the lower side is dark brown and firm. Flip, once, and cook another 5 minutes. The galettes are best when the top and bottom have some black spots.
Remove from the heat, pat dry with paper towels and serve immediately.
Individuals will want to add their own salt and pepper. For an elegant appearance, you can garnish with sour cream topped with scallions.
Source: Adapted from The Joy of Cooking