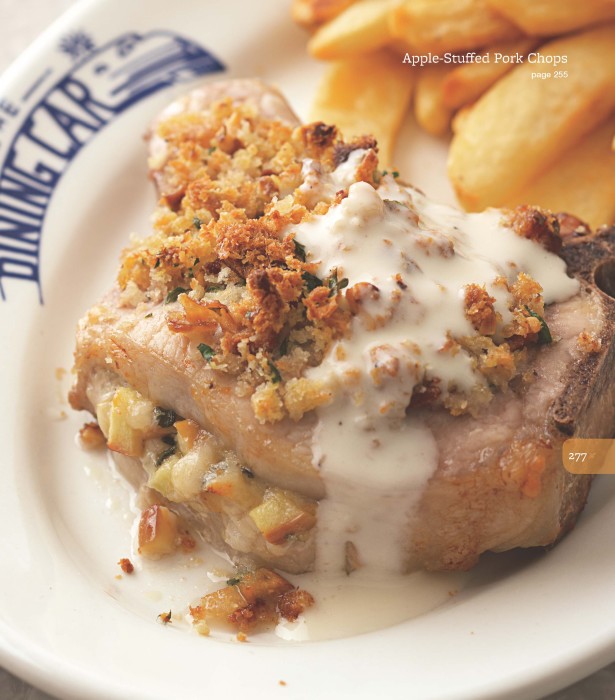 This seductive recipe comes from Better Homes and Gardens new 365 Comfort Foods. Often, a comfort food is simple: a baked potato, meat loaf, brownies, …
As you can see from the picture, this recipe has many components. The ingredients list is long. The dish will take more than 5 minutes to prepare. And all of this is worth the effort. The combination of meat, fruit, and cheese is deeply rich, incredibly satisfying. This dish can be the centerpiece of a family feast, a dinner party, or just one night's grand meal.
So, on a cold winter night, when you have some time, here is a recipe where patience will pay dividends you cannot imagine.
The new book 365 Comfort Foods provides an array of recipes for you. From the modestly complex, like this pork chop, to some dishes that are both comfort and fast. 365 Comfort Foods in on display at bookstores now. Do yourself an enormous favor, pick up and copy and salivate.
Apple Stuffed Pork Chops
Yield: serves 4
Ingredients:
1 tablespoon butter
⅔ cup chopped, peeled (if desired) cooking apple (1 medium)
⅓ cup chopped onion (1 small)
2 teaspoons snipped fresh sage or 1⁄2 teaspoon dried sage, crushed
2 tablespoons shredded white cheddar cheese
4 pork rib chops, loin chops, or boneless loin chops, cut 11⁄4 inches thick (about 3 pounds total)
Salt
Ground black pepper
1 cup coarse soft bread crumbs from crusty country bread (about 2 slices)
2 tablespoons chopped walnuts
2 tablespoons butter, melted
1 tablespoon snipped fresh
Italian (flat-leaf) parsley
2 teaspoons finely shredded lemon peel
2 tablespoons butter
2 tablespoons all-purpose flour
¼ teaspoon salt
Pinch ground black pepper
1 cup chicken broth
½ cup whipping cream
2 tablespoons Calvados or apple juice
½ cup shredded white cheddar cheese (2 ounces)
Preparation:
Preheat oven to 375°F. For stuffing, in a medium skillet heat 1 tablespoon butter over medium heat until melted. Add apple, onion, and sage; cook until tender, stirring occasionally. Remove from heat. Stir in 2 tablespoons cheese; set aside.
Trim fat from chops. Make a pocket in each chop by cutting horizontally from the fat side almost to the bone or the opposite side. Divide stuffing among pockets in chops. If necessary, secure the openings with wooden toothpicks. Sprinkle chops with salt and pepper.
In a small bowl combine bread crumbs, walnuts, 2 tablespoons melted butter, parsley, and lemon peel. Place chops on a rack in a shallow roasting pan. Top with bread crumb mixture. Bake, uncovered, for 40 to 50 minutes or until juices run clear (160°F).
For the sauce, in a medium saucepan heat 2 tablespoons butter over medium heat until melted. Stir in flour, 1⁄4 teaspoon salt, and pinch pepper. Gradually stir in broth, whipping cream, and Calvados. Cook and stir until thickened and bubbly. Cook and stir for 1 minute more. Stir in 1⁄2 cup cheese until melted. Serve chops with sauce
Source: 365 Comfort Foods from Better Homes and Gardens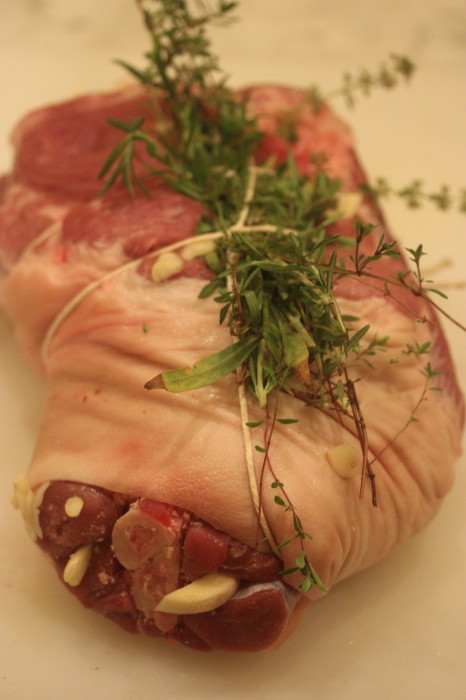 Earlier this week, I did pulled pork from someone who lives in Amsterdam. To get closer to home, here is a pulled pork recipe from a nice Jewish girl from Brooklyn. When we visit family in Texas, we tour the barbeque spots that bejewel Austin. I'm a rib man. Suzen is pulled pork. She does not eat it. She devours with relish. No, not relish relish. Just a dash of good red Texas sauce.
It's called pulled pork because you cook it so long, you don't need to cut it. In fact, it's not easy to cut since it is falling apart. Instead, you just use a pair of forks and separate out the meat in strands.
Suzen is proud of this recipe for multiple reasons. It really tastes authentically wonderful. The cooking technique generates a very moist result. This meat is not dry. You can really just pop this meat on a roll and eat away. Sauce is not mandatory or necessary. But I find it good to slather it on, despite the curious look Suzen gives me.
Another reason she loves this recipe is how remarkable it is to craft a true feast from a modest slice of meat. She uses pork shoulder at $1.89 a pound. If we were barbequing steak, the price would be about the same with just a move of decimal point.
This is a recipe you will delight in, possibly in proportion to your family size. Delicious, economical, and easy to prepare. That preparation does start the night before and includes a six hour stint in the oven. Greatness does take time.
Suzen's Pulled Pork
Yield: servings for 6+ people
Ingredients:
1 4-8 pound pork shoulder, the bigger the better
10-20 garlic cloves
Several sprigs of thyme [plus other herbs of your choice]
Salt and pepper
Preparation:
The night before, as pictured, make thin slices into the meat and deposit peeled garlic cloves. At least ten, twenty is fine, more is up to you. Place the herbs on top of the meat and tie in place. Put the meat into a large plastic bag, seal, and refrigerate overnight.
The next day, take the meat out of the refrigerator and bring to room temperature. Preheat the oven to 350°F.
Generously salt and pepper the meat on all sides and end. Place the meat in the bottom of roasting pan. Do not use a rack. Securely and tightly cover the pan with foil. If you have a lid for the pan, put the lid over the foil so it improves the seal.
Technically, this meat will be cooked in about 2 hours. You are leaving it in the oven for 6. In that additional time, the meat breaks down — so you can pull it. With the tight seal, all the escaping vapors do not escape the pan. They are there to steam the meat to ultimate tenderness.
Cook for 6 hours, remove from the pan, allow to rest for 15 minutes, then devour at will.
Source: Suzen O'Rourke
Photo Information: Canon T2i, 18-55MM macro lens, F/2.8 at 1/100th second and ISO 2000