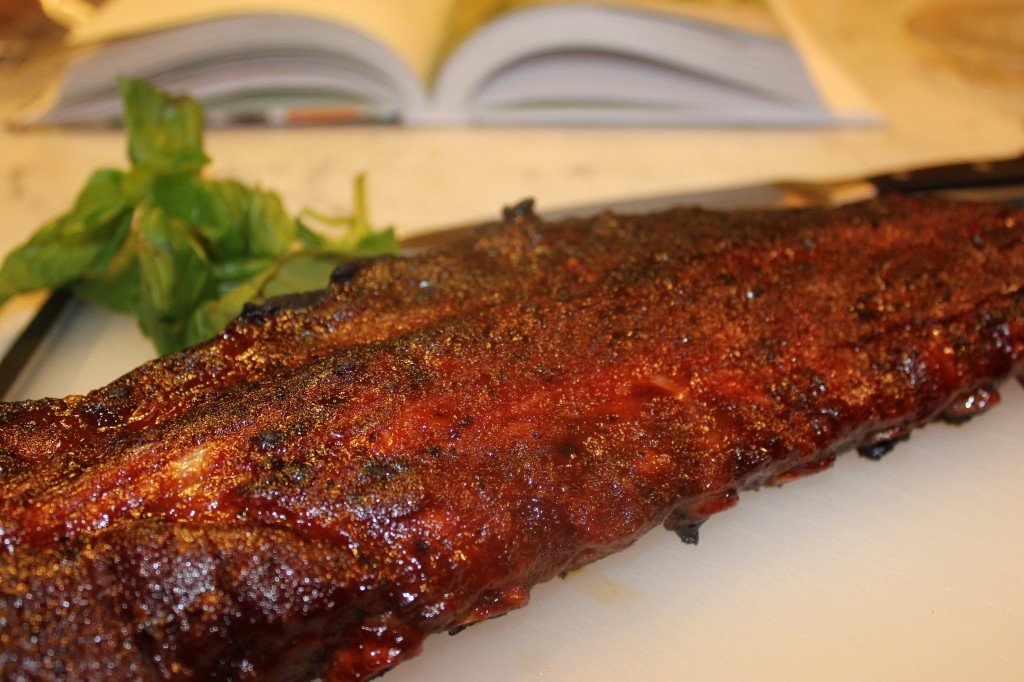 This is a long post, but worth it. Why? This is about the best pork ribs you will ever have in your life. Ever, anywhere, anytime. And it all started because I was seriously rib-deprived.
"How was the Q?" Suzen asked me. I had just returned from two weeks in Austin and, true to family, tradition, I had made the rounds of some Texas barbeque joints. Both old friends like Rudy's [where you can fuel your car with Shell and your tummy with rich ribs] and some new spots.
"Well," I began carefully, "some of it was very good and some okay. But I did not have anything outstanding." And that's the truth. I don't want to denigrate Rudy's, which is quite good, but I haven't bitten into ribs that make me cry for a long, long time. That's bizarre because in Texas you are never out of sight of at least one of these three things:
A church
Someone wearing a football jersey for the University of Texas or the Dallas Cowboys.
A garish neon sign or a fading hand-painted sign for barbeque
In Texas, they take those three things seriously. One Super Bowl Sunday, I was checking into a Dallas hotel. The man in front of me was wearing a Washington Redskins football jersey. "Sir," the desk clerk cautioned him, "I strongly advise you not to go out on the street wearing that jersey."
Oh, there's a fourth thing you always see: gun racks.
After I unpacked my bags from Austin, I turned to the mail. And there, as if God loved me, was a copy of America's Best Ribs by Ardie Davis and Chef Paul Kirk. There are wonderful recipes here: from Kentucky, Arizona, Minnesota, … Folks from Texas, and Tennessee and The Carolinas may be upset at that, but great barbeque is out there. It can, however, be hard to find the truly great ribs.
Barbeque chefs are very special. They have those cook-offs where thousands of people test their rib fantasies. The chefs feature family recipes they claim have been honed for generations. And the recipes themselves are named with boldness. It's not "Great Ribs" but "Best Damn Fiery Things You Ever Dared to Consume." Modesty is not in order here.
Now, America's Best Ribs includes Mr. Piggy's Revenge: Grilled Chipolte Baby Back Ribs. Ah, how comforting: revenge on behalf of the pig? And "grilled chipotle?" Smoke upon smoke?
Suzen saw this recipe and was all in. We spent a warm spring afternoon buying ingredients, cleaning the grill, planning the meal. We woke up the next morning to 4" of snow. No grilling. We followed the recipe below except for baking the ribs for 2 hours until that blackening meat was just sliding off the bone. We still basted for just the last 30 minutes.
The recipe is not hard, but it involves both a dry rub and a sauce. That sauce is mixed but not cooked. The rub? It's got 12 things in it. If you were starting from scratch, you might just add a tablespoon of each one. Not here. There's a tablespoon of this, a teaspoon of that, a ½ teaspoon of something else. This is precisely the "tuning" you'd expect to see in a recipe that has, in fact, passed through generations of cooks and countless slabs of ribs.
The result: the best ribs ever. You take this one to a ribs cookoff, and you are going to win. Serve this to your family, and you will be a culinary hero. Eat a few yourself with a cold beer, and you will be happy.
Mr. Piggy's Revenge: Grilled Chipolte Baby Back Ribs
Yield: serves 4 to 6
For the rub:
¼ cup white cane sugar
2 tablespoons seasoned salt
1 tablespoon onion salt
2 teaspoons garlic salt
1 teaspoon celery salt
2 tablespoons paprika
1 tablespoon chili powder
2 teaspoons lemon pepper
1 teaspoon freshly ground black pepper
½ teaspoon ground ginger
½ teaspoon dry mustard
½ teaspoon ground chipotle chile
For the ribs:
For the sauce:
½ cup tomato-based barbecue sauce
1 ½ tablespoons orange marmalade
1 ½ tablespoons chopped chipotle chilies in adobo sauce
¼ cup water
Preparation:
Heat a cooker to medium to medium-high.
Combine all the ingredients for the rub n a small bowl and blend well. Season the ribs all over with rub.
Combine all the ingredients for the sauce in a small bowl and set aside.
Oil the grate and place the ribs on it bone side down over direct heat. Cover and cook for 45 minutes to 1 hour, or until pull-apart ender, turning every 5 to 7 minutes and glazing with the sauce during the last 30 minutes of cooking.
Transfer the ribs to a cutting board and let them rest, covered loosely with aluminum foil, for 10 to 15 minutes. While the ribs are resting, boil the remaining sauce for 1 to 2 minutes, if desired, before serving with the ribs
Source: America's Best Ribs by Ardie Davis and Chef Paul Kirk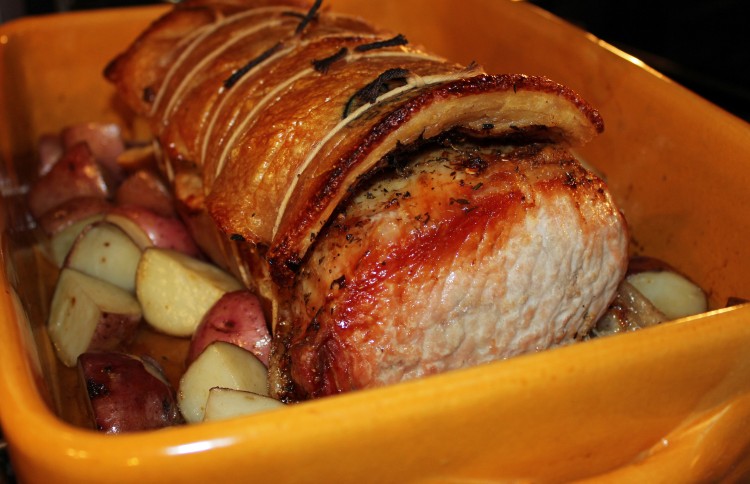 "I'm doing that," Suzen said. She pointed to the full page picture of this roast and went to get her car keys.
"You coming?" she asked at the door. "There's a lot of stuff to carry."
Well, not that much. Suzen had been scanning the pages of All About Roasting by Molly Stevens and stopped at this recipe. This is a dramatic roast, one that you'll love showing off to family and friends. Best of all, it takes hours to cook. Your kitchen, your house, will be filled with aromatic treasures for the whole afternoon.
For this roast, Molly alerts you that you'll need to shop at a specialty meat market, literally "one that goes beyond the standard supermarket fare." This roast has three pieces: the boneless loin roast, the belly, and the skin. You'll need a real butcher to help you here, but it is worth every bit of effort.
To make this, we added potatoes to cook for the last hour. It's a one meal wonder.
Oven Roasted Porchetta
Yield: serves 8
Ingredients:
1 center-cut pork loin with the belly flap attached, preferably with skin on (8 to 9pounds), or 1 boneless center-cut pork loin (about 5 pounds) plus 1 pork belly (4 to 5 pounds)
4 to 6 garlic cloves, minced
Kosher salt
Coarsely ground black pepper
1 ½ tablespoons chopped fresh rosemary
1 tablespoon chopped fresh sage
1 tablespoon chopped fresh thyme
1 tablespoon fennel seeds, toasted and ground to a coarse powder
1 tablespoon finely grated lemon zest
½ teaspoon crushed red pepper flakes
Preparation:
TRIM THE PORK AND SCORE THE RIND. If you purchased a pork loin with the belly attached, unroll the roast so the skin side is down. Examine the belly portion and determine whether you need to trim away any of the top layer of fat. If the roast came without skin, turn it over and also trim away some of the fat from the top side if need be. All pork bellies have prodigious amounts of fat; how much you leave in place is a matter of personal preference. Ideally you want a layer just under ½ inch thick, so if the butcher has left more than this, use a large chefs knife to pare it down. (The fat can be saved for rendering or other use.)
If you've got a separate pork loin and pork belly, check that the outermost fat layer of the pork belly is less than ½inch thick. If needed, trim it down. Next, drape the belly (skin side up) around the pork loin (without tying it), just to get a sense of how it will fit. It doesn't have to be perfect, but if it extends more than 1 inch over the ends of the loin, trim it down and save the trimmings for another use. If there's a gap on the underside because the belly doesn't reach all the way around, that's fine. Also, if you've got a separate piece of pork skin, drape this over the roast and trim it to fit (poultry shears or utility scissors are useful here).
Now arrange the belly, whether separate or attached to the loin, so it is skin side up on a stable surface and, using a box cutter, utility knife, or other razor-sharp knife, carefully (but firmly) score the rind in parallel lines about ½-inch apart, cutting through the rind and just into the fat (about ½-inch deep) without cutting through to the meat. The lines can go in any direction that appeals to you.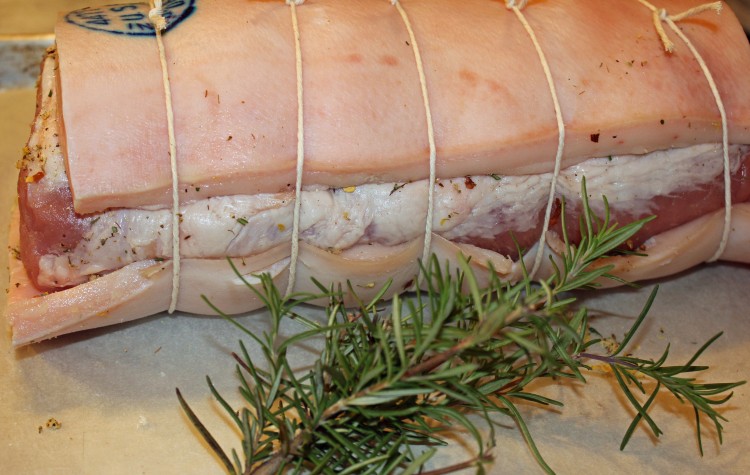 SEASON AND TIE THE ROAST. In a small bowl, combine the garlic, 1 ½ tablespoons salt, 2 teaspoons black pepper, the rosemary, sage, thyme, fennel, zest, and red pepper flakes. For the single-piece roast, unroll the belly flap and sprinkle the seasonings evenly over the belly and the roast, rubbing lightly so the seasonings adhere. Roll the flap around the loin; if the skin is a separate piece, drape it over, and secure the whole porchetta at 1- to 2-inch intervals with kitchen string.
For the 2- or 3-piece roast, sprinkle half the seasonings all over the loin and the other half on the meat side of the belly, rubbing lightly so they stick, and then wrap the belly (skin side out) over the loin, so the belly covers the top side (fat side) of the roast thoroughly and any gap is on the bottom (or rib side). If the skin is a separate piece, drape it over the top. Secure the entire ensemble with kitchen string, tying loops at 1-to 2-inch intervals.
Season the surface of the roast lightly but evenly with salt and pepper (about ⅜ teaspoon each), getting some into the score marks as well. Set the roast on a tray or in a baking dish and refrigerate, uncovered or loosely covered, for 24 to 48 hours. Let the pork sit at room temperature for 1 to 2 hours before roasting.
HEAT THE OVEN. Position a rack in the lower third of the oven and heat to 500°F (475°F convection).
ROAST. Place the pork seam side down on a roasting rack in a sturdy roasting pan just large enough to accommodate it. Roast for 25 minutes and then reduce the oven temperature to 325°F degrees (300°F convection). Continue to roast until an instant-read thermometer inserted into the center of the roast registers 140 to 145°, another 3 hours or so—but it's a good idea to start checking the temperature after another 2 hours.
REST AND CARVE. Transfer the roast to a carving board, preferably one with a trough. Let rest for at least 25 minutes (the roast can easily sit at room temperature for an hour and not suffer). Carve into ¼- to ½-inch-thick slices, removing the strings as you go and doing your best to give each serving a bit of the crackling rind. If the rind is too tough to slice through easily (or if it was a separate piece to begin with), remove it in larger chunks and transfer it to a second cutting board, where you can chop it into pieces to serve alongside the sliced roast.
Set a rack in the middle level of the oven and preheat to 350 degrees.
Source: All About Roasting by Molly Stevens