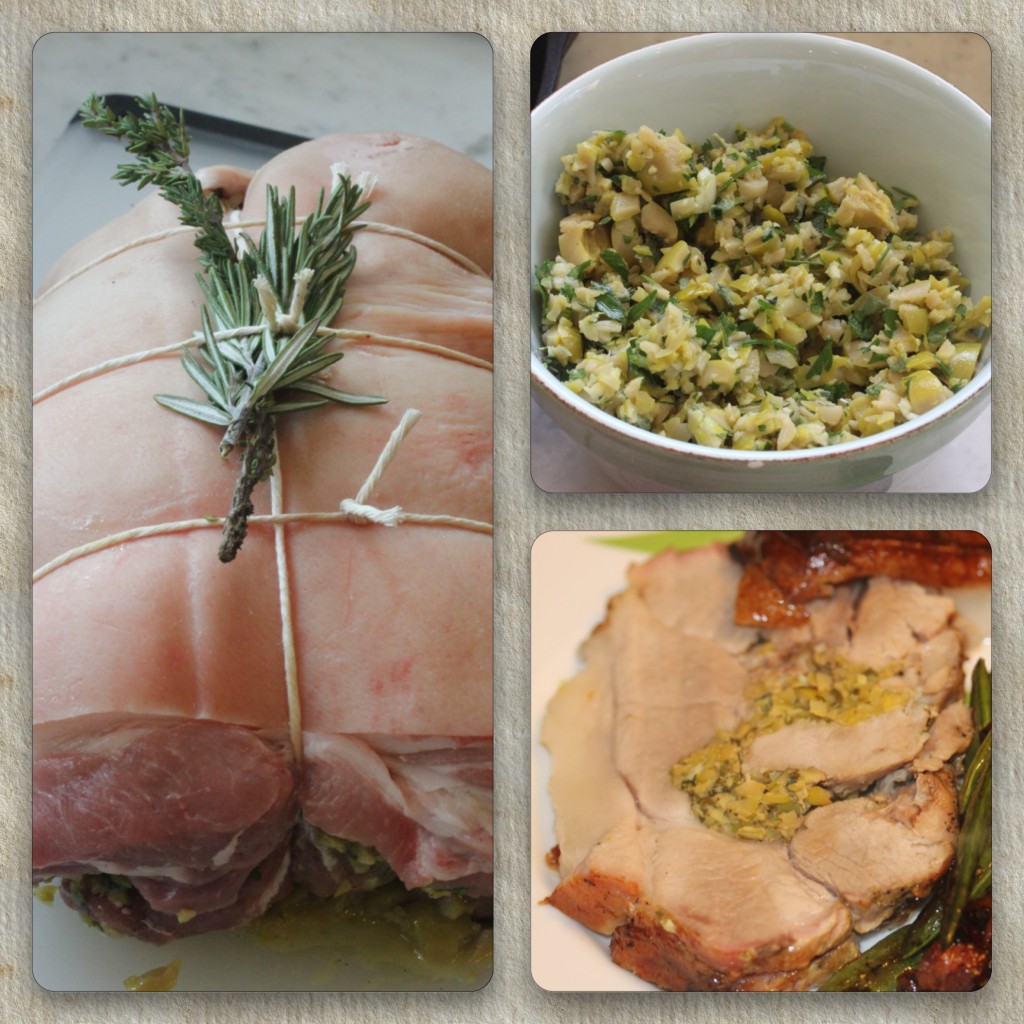 Hero Food by Seamus Mullen has a very different perspective. For personal health reasons, seasoned chef Mullen decided to focus on 18 very healthy ingredients and then create wonderful recipes using them. Now his list of 18 is pretty diverse: olive oil, dried, beans, almonds, grains, anchovies, good eggs, good birds, sweet peas, parsley, berries, carrots, corn, stone fruit, good fish, squash, mushrooms, greens, and good meat.
By "good" he doesn't mean avoiding spoiled. He means getting the specific varieties or cuts that can generate wonderful flavor.
This recipe, for a slow roasted lamb shoulder, immediately caught Suzen's eye. With her cooking school in New York, Suzen tries to offer clients a true range of flavors. She offers, the clients decide, and we prepare a lot of chicken, beef, and salmon. Lamb is not a frequent client selection. It's the Bambi thing. So, for a weekend feast, she was all over this lamb idea. Me, too. Visions of mint jelly did cross my mind.
And we made this dish. Uh, sort of.
Our butcher did not have lamb shoulder. He did have a lamb roast but at $45, Suzen held it in her hand and weighed her options. She put it back.
"What if," she began.
Now, that phrase "what if" has led to many things in our civilization. Einstein said "what if" and came up with relativity theory, for example. Suzen was less dramatic.
She used pork shoulder instead of lamb. Equally delicious. You just need to accommodate the cooking time. In fact, it's a pretty good indication that the recipes in Hero Food are robust when you can make this kind of change and yet achieve a perfect meal.
Lamb to pork was one change. The other was simpler. His recipe calls for Quick-Cured Lemons which requires a few days of curing. We were hungry that very day, and had no preserved lemons already on hand. So I Googled and found a 3-hour version of preserved lemons. I've already posted that blog just a few days ago.
That's it. That's all the changes we made. We had our cousin over for dinner and she beamed. "What is this?" Karen asked.
"Lamb," I said. Karen stared at me.
"Pork, for god's sake," Suzen corrected me. Karen took another piece.
The diligence and care in Hero Food make it a book you want to look at and consider strongly for the sagging bookshelf of yours. There's always room for one more. This should be the one.
Slow-Roasted Lamb Shoulder
Yield: serves 6
Ingredients:
1 cup good-quality black olives, pits removed
6 slices Quick-Cured Lemons [see our earlier post on this blog for a solution here]
4 cloves garlic, peeled and lightly crushed
Generous handful mixed fresh herbs, like rosemary, oregano, sage, parsley, and/or thyme
½ cup good olive oil
1 lamb shoulder, roughly 4-6 pounds, and deboned [ask your butcher to do it]
Salt and freshly ground pepper
Preparation:
In a large mortar and pestle or in a food processor, work together the olives, cured lemons, garlic, herbs and olive oil in to a nice, rustic paste. If you are using a food processor, be careful not to overprocess it; you want the paste to be a bit coarse.
Open the lamb shoulder up on a cutting board and use a sharp knife to trim any connecting meat to form a nice square. Rub the lamb all over with the paste you've just made. Carefully roll the whole thing up so that it looks like a Yule log and truss it with butcher's twine every inch and a half. Refrigerate the lamb for a few hours or overnight to allow all the wonderful flavors to come together.
Removed the lamb from the refrigerator and let it come to room temperature, about 45 minutes. Preheat the oven to 300°F.
Place the lamb on a rack fitting in a roasting pan. Roast for 1 to 1 ½ hours. You're looking for an internal temperature of about 148°F. I like to tie a few branches of rosemary together with string to make a nice herb brush and use that to baste the lamb with the dripping every 20 minutes or so. Once the lamb is done, set it aside in a warm place to rest for 10 minutes before serving.
While the lamb is resting, I like to wilt some bitter greens lake puntarelle or dandelion greens in a hot skillet with some of the drippings from the lamb pan. It only takes a couple of minutes and works really well with the lamb.
Carefully remove the butcher's twine. With a sharp knife, carve the shoulder into thin slices. Serve the sliced shoulder family style with platter of the wilted greens.
Source: Hero Food by Seamus Mullen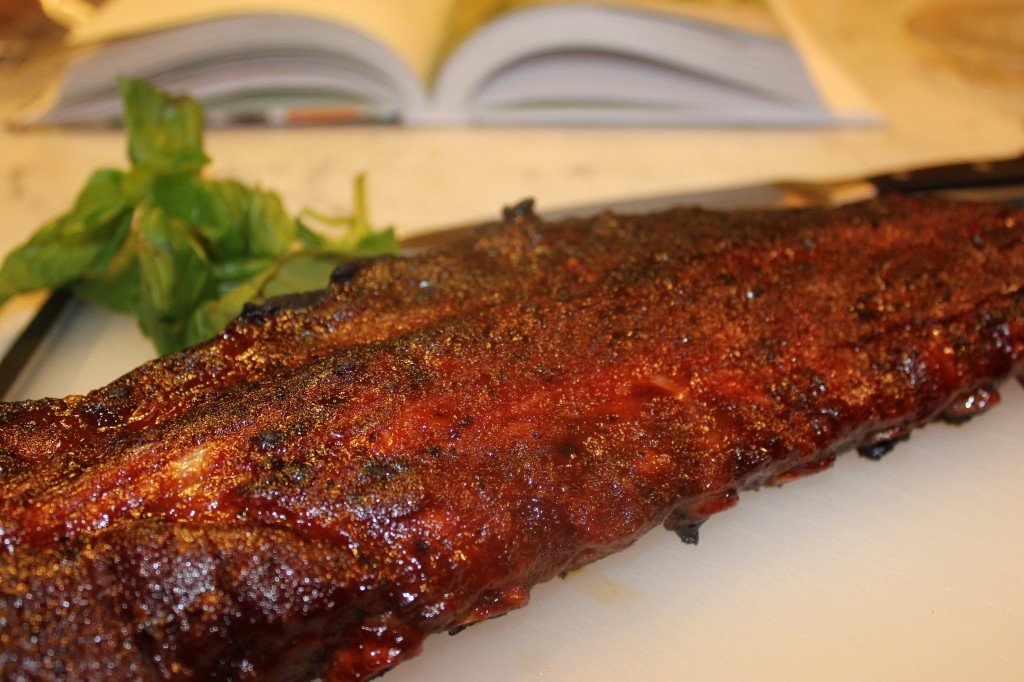 This is a long post, but worth it. Why? This is about the best pork ribs you will ever have in your life. Ever, anywhere, anytime. And it all started because I was seriously rib-deprived.
"How was the Q?" Suzen asked me. I had just returned from two weeks in Austin and, true to family, tradition, I had made the rounds of some Texas barbeque joints. Both old friends like Rudy's [where you can fuel your car with Shell and your tummy with rich ribs] and some new spots.
"Well," I began carefully, "some of it was very good and some okay. But I did not have anything outstanding." And that's the truth. I don't want to denigrate Rudy's, which is quite good, but I haven't bitten into ribs that make me cry for a long, long time. That's bizarre because in Texas you are never out of sight of at least one of these three things:
A church
Someone wearing a football jersey for the University of Texas or the Dallas Cowboys.
A garish neon sign or a fading hand-painted sign for barbeque
In Texas, they take those three things seriously. One Super Bowl Sunday, I was checking into a Dallas hotel. The man in front of me was wearing a Washington Redskins football jersey. "Sir," the desk clerk cautioned him, "I strongly advise you not to go out on the street wearing that jersey."
Oh, there's a fourth thing you always see: gun racks.
After I unpacked my bags from Austin, I turned to the mail. And there, as if God loved me, was a copy of America's Best Ribs by Ardie Davis and Chef Paul Kirk. There are wonderful recipes here: from Kentucky, Arizona, Minnesota, … Folks from Texas, and Tennessee and The Carolinas may be upset at that, but great barbeque is out there. It can, however, be hard to find the truly great ribs.
Barbeque chefs are very special. They have those cook-offs where thousands of people test their rib fantasies. The chefs feature family recipes they claim have been honed for generations. And the recipes themselves are named with boldness. It's not "Great Ribs" but "Best Damn Fiery Things You Ever Dared to Consume." Modesty is not in order here.
Now, America's Best Ribs includes Mr. Piggy's Revenge: Grilled Chipolte Baby Back Ribs. Ah, how comforting: revenge on behalf of the pig? And "grilled chipotle?" Smoke upon smoke?
Suzen saw this recipe and was all in. We spent a warm spring afternoon buying ingredients, cleaning the grill, planning the meal. We woke up the next morning to 4" of snow. No grilling. We followed the recipe below except for baking the ribs for 2 hours until that blackening meat was just sliding off the bone. We still basted for just the last 30 minutes.
The recipe is not hard, but it involves both a dry rub and a sauce. That sauce is mixed but not cooked. The rub? It's got 12 things in it. If you were starting from scratch, you might just add a tablespoon of each one. Not here. There's a tablespoon of this, a teaspoon of that, a ½ teaspoon of something else. This is precisely the "tuning" you'd expect to see in a recipe that has, in fact, passed through generations of cooks and countless slabs of ribs.
The result: the best ribs ever. You take this one to a ribs cookoff, and you are going to win. Serve this to your family, and you will be a culinary hero. Eat a few yourself with a cold beer, and you will be happy.
Mr. Piggy's Revenge: Grilled Chipolte Baby Back Ribs
Yield: serves 4 to 6
For the rub:
¼ cup white cane sugar
2 tablespoons seasoned salt
1 tablespoon onion salt
2 teaspoons garlic salt
1 teaspoon celery salt
2 tablespoons paprika
1 tablespoon chili powder
2 teaspoons lemon pepper
1 teaspoon freshly ground black pepper
½ teaspoon ground ginger
½ teaspoon dry mustard
½ teaspoon ground chipotle chile
For the ribs:
For the sauce:
½ cup tomato-based barbecue sauce
1 ½ tablespoons orange marmalade
1 ½ tablespoons chopped chipotle chilies in adobo sauce
¼ cup water
Preparation:
Heat a cooker to medium to medium-high.
Combine all the ingredients for the rub n a small bowl and blend well. Season the ribs all over with rub.
Combine all the ingredients for the sauce in a small bowl and set aside.
Oil the grate and place the ribs on it bone side down over direct heat. Cover and cook for 45 minutes to 1 hour, or until pull-apart ender, turning every 5 to 7 minutes and glazing with the sauce during the last 30 minutes of cooking.
Transfer the ribs to a cutting board and let them rest, covered loosely with aluminum foil, for 10 to 15 minutes. While the ribs are resting, boil the remaining sauce for 1 to 2 minutes, if desired, before serving with the ribs
Source: America's Best Ribs by Ardie Davis and Chef Paul Kirk