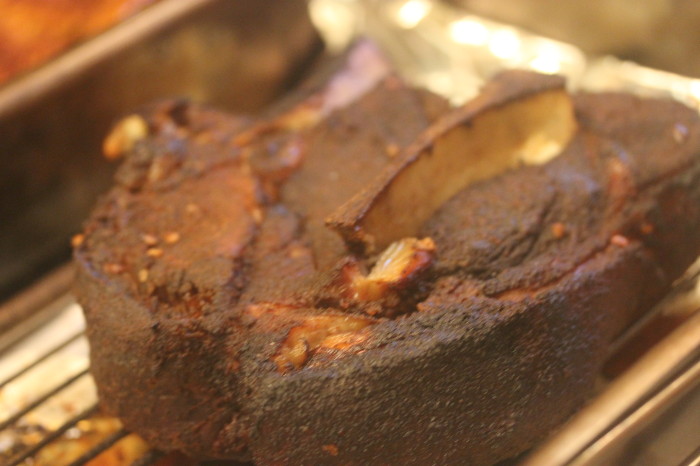 Pulled pork. Where would you go to find a recipe? The Carolinas for sure. And that very reply will draw fire from friends in Texas and Memphis and … There are a hundred brilliant ideas for pulled pork Americana style.
Which is why I am giving you this very authentic recipe from Yvette van Boven's wonderful book Home Made Winter. Yvette was praised extensively for her first book Home Made. Now, in the Winter book, she focuses on treats, like pulled pork, that make for hearty winter menus.
I know, it's only August but the headlines today were that the Farmers' Almanac is predicting a cold winter. A brutal winter. Time to plan ahead.
Yvette does have a new book out, Home Made Summer, and I'll post from that, too. But for now, let us work with Winter. You can eat pulled pork year round. And Yvette is clearly an expert. Technically, she's not quite American. She splits her time between Amsterdam and Paris.
Apparently, pulled pork has gone worldwide. No safe haven for the hogs.
This recipe is easy, but takes time. You will get an exceptional hunk of meat. We used a real stovetop smoker and the lid barely fit on our thick slice of pork shoulder. The result was a deep cocoa color on that final meat, which was delicious and a tad on the dry side. Here you'll want barbeque sauce on the side to go with the deeply smoked flavor.
If you don't have a stovetop smoker yet, what is your issue? Look up the Cameron line of smokers and woodchips. You will thank me.
Pulled Pork
Yield: enough for 6+ people [assume they all want seconds]
Ingredients:
2 tablespoon paprika [the best you can find]
2 tablespoon chile flakes
2 tablespoons brown sugar
1 tablespoons salt
1 3 ¼ pound boneless pork shoulder
Preparation:
The night before, make the rub with the paprika, chile flakes, brown sugar and salt. Rub your meat around all sides and corner with the rub, then refrigerate in a plastic bag. [You can do this step the same day but overnight is overnight.]
Preheat your oven to 300⁰F. Place 6 or more tablespoons of wood chips in your stovetop smoker.
Place the meat on top of a rack in the smoker, cover and place in the oven. Wait 5 hours. You can check the temperature then. You want an internal temperature of 175⁰F.
Pull the meat away with 2 forks. Eat on a roll with a lick of mustard or your favorite barbeque sauce. Pickles are a welcome addition.
Source: Home Made Winter by Yvette van Boven
Photo Credits: Canon T2i, 18-55MM Macro lens, F/2.8, 1/40th second, ISO 3200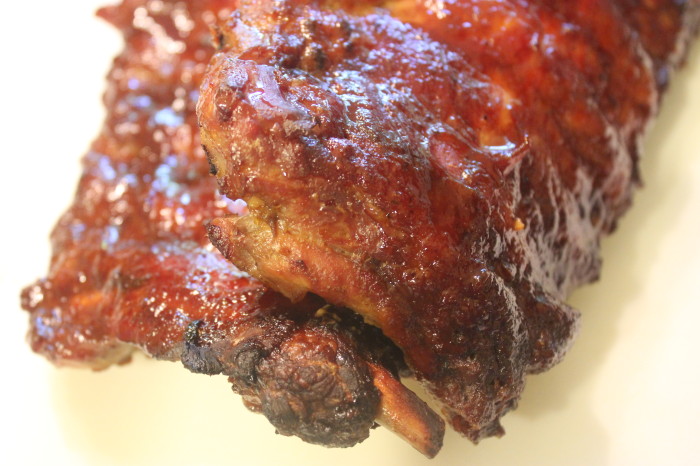 I've mentioned the new book Smoke & Spice by Valerie Aikman-Smith in a previous post. I enjoy the book's presentation with its focus on sauces and seasonings rather than the meat. Everyone secretly eats BBQ for the sauce. Yes, yes you do. Don't deny the truth here. I'm not asking for a confession or entrance into a 12-step program. I'm just acting you to make these ribs.
As a matter of face, th subtitle of this BBQ gem reveals its secret intent: Recipes for Seasonings, Rubs, Marinades, Brines, Glazes, & Butters. So, there is no guilt in indulging on the sauce.
Essentially, this tight little volume holds a wealthy of valuable information: new, distinctive recipes and cooking techniques that will give better BBQ and grilling results.
We made these pork ribs last weekend, expecting to have leftovers for the next day. Alas, no leftovers. With two racks of ribs, we fed four people. We made 4 times the sauce or glaze recipe below. Four times.
The sauce is bourbon-based and, frankly, when we taste-tested it before using on the meat, we panicked just a tad. The taste was, in a word, alcoholic. So we did make an adjustment and added ¾ cup of regular old ketchup. That did take down the alcohol tone just enough to make us comfortable.
Then Suzen had an idea. With the sauce reserved for basting, she took it all, put it in a saucepan, and reduced it down about ⅓. What had then was a very sticky sauce, full of smokey flavor and with no hint of alcohol. We realized that our ribs, when cooking, were going to automatically take care of the alcohol, so adding that ketchup was really not necessary. But, it all came out fine, as the lack of leftovers will attest.
You can find good ribs in many places. The Big Box stores actually sell packages of meat now that are excellent. You may still have the luxury of having a neighborhood butcher. Upstate, we drive 20 miles to the Smokehouse of the Catskills, a German-themed business with ribs that delight.
Sticky Smokey BBQ Ribs
Yield: serves 4
Ingredients:
2 racks baby back pork ribs
4 quantities of Hogwild Bourbon Glaze [See the recipe below]
Preparation:
Wash the ribs under cold water and pat dry with a paper towel. Put the ribs in a ceramic baking dish and pour enough of the Hogwild Bourbon glaze to thoroughly cover — not just lightly coat — the ribs. Turn the ribs over once or twice to make sure the glaze is everywhere. [Yes, everywhere will include your hands and possibly your white shirt; this is a messy dish.] You will have some glaze left over, which you can reheat and serve when the ribs come to the table. The glaze is also excellent on a baked potato or sweet potato.
Cover and refrigerate, ideally overnight. To be honest, Suzen and I made these ribs on a short time budget: we made the glaze, covered the ribs, and popped them into a preheated oven. It was just fine.
If you do refrigerate, then prior to cooking, remove the ribs from refrigerator. Take off the foil or plastic wrap, and let the ribs come to room temperature.
Preheat the oven to 300°F. Yes, this will low heat for a long time.
Stir the glaze and respoon over the ribs. Cover the dish with foil and cook in the preheated oven for 2 ½ hours.
Remove the ribs from the oven and take off the foil. Baste the rips with the glaze, then return to the over for a final hour. Is that last hour mandatory? Some of the time is. You can check for temperature, but your nose is the best indicator. If you are edging in on the sauce beginning to burn, then pull the ribs. You will have reached a stage of early caramelization and the ribs are going to perfectly sticky.
When they are done to your satisfaction, remove from the oven. Let rest for 15 minutes. Serve with the reserved, reheated glaze.
Hogwild Bourbon Glaze
Yield: 1 cup [at least 3 cups are needed for the recipe above]
Ingredients:
½ cup bourbon [such as Wild Turkey]
2 tablespoons molasses
1 tablespoon honey
½ teaspoon chipotle chili powder
2 garlic cloves, peeled and rough chopped
2 tablespoons chunky orange marmalade
2 tablespoons olive oil
1 sprig fresh rosemary
Sea salt and black pepper
Preparation:
Put all the ingredients and a blender or food processor and process until pureed and smooth.
Store the glaze in an airtight container in the fridge for up to 2 weeks.
Use with the recipe above, or marinate bacon, chops, ribs, and pork roasts in the glaze overnight. Simmer any glaze not used for marinating to reduce and then serve on the side. That picture below is the sauce reducing away. You'll want to taste test it about every 30 seconds. Use a spoon, not a straw.
Source: Brian O'Rourke
Photo Information: Canon T2i, EFS 18-55mm Macro Lens, F/5.0 for 1/50

th

 second at ISO 3200 for both photos