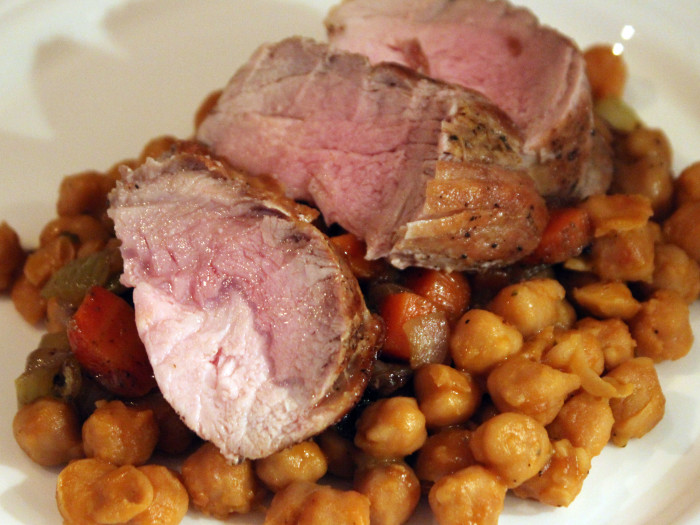 For the record, I don't own a chickpea farm or chickpea stock. I would not recognize a chickpea farm or bush or bog But I'm getting to enjoy them in a spectrum of preparation. Recently I've blogged about perfect lemony, velvety hummus, a hummus made with red peppers and paprika and Tabasco, and baked chickpeas with spice. Here's a magnificent way to combine chickpeas with meat.
A pork loin is roasted with vegetables and wine. Separately, the chickpeas are cooked in wine, broth, and lemon juice. The two parts on combined on the serving plate, chickpeas on the bottom and pork on top.
Chickpeas do have a natural flavor, but they are bit of a flavor sponge. Here, the chickpeas find added flavor from the stock and lemon juice. They acquire a "bite" that contrasts very favorably with the pork loin. Pork loins can be, it must said, a tad boring. The flavor is lovely but most recipes end up tasting nearly the same. This recipe is a wonderful example of how to expand the flavor envelop.
This recipe is from the definitely wonderful Classico e Moderno: Essential Italian Cooking. Author Michael White is a culinary leader with his books and most especially with his restaurants. He knows the food that upscale clients relish and this recipe is surely one of them.
Pork Loin with Chickpeas and Ricotta Salata
Yield: 4
Ingredients:
¼ cup canola oil
1 boneless pork loin roast, about 2 pounds, trimmed of excess fat and tied
Kosher salt
Freshly ground black pepper
1 head of garlic, halved horizontally, plus 3 large garlic cloves, thinly sliced
1 Spanish onion, cut in ½-inch dice
1 carrot, cut into ½-inch dice
1 celery stalk, trimmed and cut into ½-inch dice
5 sage sprigs
5 bay leaves, preferably fresh
1 ½ cups dry white wine
¼ cup extra virgin olive oil, plus more for serving
Juice of 1 lemon
4 cups canned chickpeas
1 to 2 cups chicken stock
4 ounces ricotta salata cheese, shaved with a vegetable peeler
Preparation:
Position a rack in the center of the oven and preheat the oven to 400°F.
Heat a wide heavy pot over high heat. Pour in the canola oil and tip and tilt the pot to coat it, heating the oil until it is shimmering and almost smoking. Season the pork loin with salt and pepper, add it to the pot, and cook, using tongs to turn it occasionally, until it is browned on all sides, about 8 minutes. Transfer the pork to a large plate.
Add the halved garlic head, onions, carrots, celery, 2 of the sage sprigs, and 3 of the bay leaves to the pot and cook, stirring occasionally with a wooden spoon, until the vegetables are softened and lightly browned, about 6 minutes. Use a slotted spoon to transfer the vegetables to a small roasting pan and place the pork loin on top.
Discard the oil from the skillet, pour in 1 cup of the wine, and use the wooden spoon to loosen and flavorful bits cooked onto the bottom of the pat. Pour the wine over the pork loin and place the roasting pan in the oven. Roast until an instant-read thermometer inserted in the center of the roast reads 150° to 160°F. Remove from the oven and transfer the pork loin to a cutting board. Cover the pork loosely with aluminum foil and let rest for 20 minutes.
Meanwhile, heat a medium saucepan over medium-high heat. Pour in the olive oil and tip and tile the pan to coat it. Add the sliced garlic cloves and cook, stirring occasionally, until fragrant. Add the remaining ½ cup wine, the lemon juice, and remaining 3 sage leaves and 2 bay leaves, bring to a simmer and continue to simmer until the liquid is reduced by half, about 5 minutes. Add the chickpeas and enough stock just to cover them, bring to a summer, and continue to simmer until the chickpeas are warmed through and the sauce is slightly thickened, about 5 minutes.
To serve, carve the pork loin diagonally into thin slices. Divide the chickpeas among 4 plates, top with the pork, and drizzle with olive oil. Sprinkle with pepper and top with the ricotta salata shavings.
Source: Classico e Moderno by Michael White
Photo Information [top picture]: Canon T2i, EFS 60 mm Macro Lens, F/5.6 for 1/10th second at ISO-3200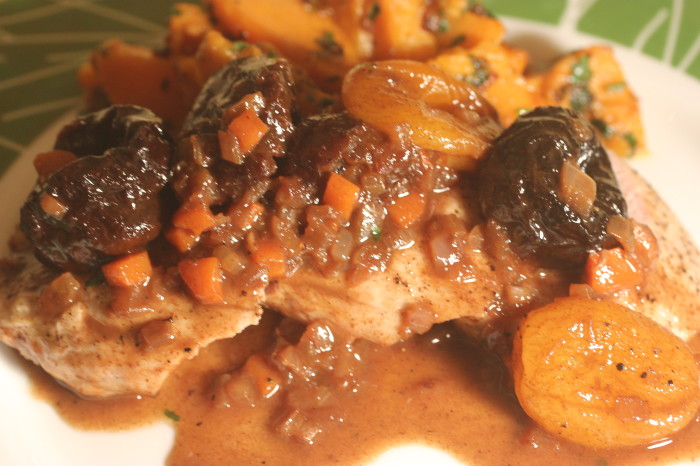 I heard a splash. I turned. Something wrapped in aluminum foil was resting in a dish of cold water.
"I took out a pork loin. Find a recipe," Suzen announced. She likes to test me.
She was testing the wrong man. I had to walk just five steps, pull Rotis from its treasured spot, and quickly hunted my porcine prey. I found a recipe with prunes and apricots to mate with her defrosting pork loin. And it all needed brown ale. This was no contest.
I walked to her, turned the book around, and showed her the recipe.
"We're doing this. Get the ale," she commanded. My wife like to give orders. I don't mind as long as I am well fed and can have other side benefits.
The temperature outside us is single digits. It's going to stay that way for days or weeks. What we needed last Sunday was a great warm meal. What you need for this Sunday and the next, I expect, is a great warm meal. This is it.
It's quite impossible to describe how perfect this dish presents and tastes. It is beautiful to behold, the scents announce it with elegance, and each bite begs for more. This dish is ideal for an evening of wine, for it can pair with an astounding variety of grapes and flavors. There is dark roast pork here, an intense sauce, and fruity notes from the prunes and apricots, plus the grainy undertones from the ale-based sauce.
This recipe is from Rotis, an amazing book by Stephane Reynaud, a Parisian-based chef and author. His previous book, Pork and Sons, is an whole hog encyclopedia. In Rotis, he presents his French meat heritage: a different style of roast for each day of the week. Thursday is pig night in Rotis, but we cheated and did make this on Sunday. It's a quick recipe, ideal for a busy weeknight. Or a Sunday so cold you just want a warm kitchen and a perfect meal.
Roast Pork Loin in Brown Ale with Prunes and Apricots
Yield: serves 6
Ingredients:
2 pound 12 ounce [1.25 kilogram] rolled pork loin
3 French shallots, peeled and diced
2 carrots, peeled and diced
1 teaspoon ground cinnamon
1 teaspoon ground ginger
2 ounces olive oil
2 cups brown ale
7 ounces pitted prunes
4 ounces dried apricots
4 ounces butter
Preparation:
Preheat the oven to 315°F.
Combine the shallots, carrot, cinnamon, and ginger and mix well.
Heat the olive oil in a flameproof roasting tin. Add the pork and brown over high heat. Add the combined vegetables and spices, then roast in the oven for 30 minutes. Baste the roast regularly with the ale.
Remove the roast and add the prunes and dried apricots. Season with salt and pepper, then return to the oven for a further 30 minutes. [Take the temperature of the roast at this point; you may not need to return it to the oven, or you may return it but not for a full 30 minutes; it depends on your personal preferences for pork doneness; another 30 minutes will give you very well done meat]
Transfer the roast to a serving plate.
To make the sauce, add the butter to the roasting tin and stir well over low heat into a sauce. Pour over the pork and serve immediately.
The sauce itself is a beauty to behold in the pan. The photo below is testament.
Source: Rotis by Stephane Reynaud
Photo Information [top picture]: Canon T2i, EFS 60 mm Macro Lens, F/5.6 for 1/20th second at ISO-1000