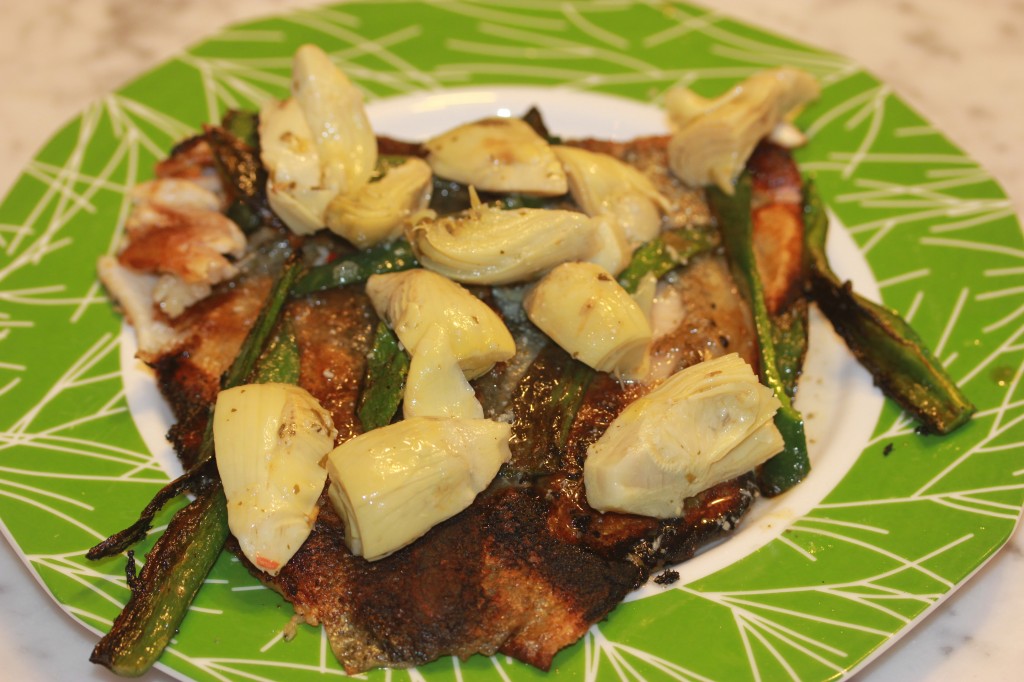 So, you have some trout. And you don't want to simply pan fry them. I understand. As good as that can be, sometimes you need something just a tad more exciting.
Well, all you need is a poblano chili and a jar of marinated artichoke hearts. You fry the trout along with the poblano chili — after it has been cut into strips. The pan frying is done with conventional butter plus the juice from the jar of artichoke hearts. That gives the trout a lovely tang. You don't cook the actual artichoke hearts, just add them on top when you serve.
The contrast in flavors and textures is lovely: the elegant trout, the heat and crunch of the poblano strips, and the ever unique softness of the artichoke hearts. With every bite, you will want more.
You could side this with mashed potatoes, but the dish is well complemented by with the intoxication of buttered peas
Brian's Trout with Poblano and Artichoke Hearts
Yield: Serves 2
Ingredients:
1 poblano chili
2 trout fillets
Salt and freshly ground black pepper
½ cup unbleached all-purpose flour
3 tablespoons butter
1 12 ounce jar of marinated artichoke hearts
1 poblano chili
Preparation:
Cut the ends off the poblano chili. Slice it lengthwise so you have quarters. Remove any membrane and seeds. Then slice each quarter again lengthwise into two or three strips.
Remove any skin and small bones from the fillets. Sprinkle the fillets with salt and pepper and dust lightly with flour, shaking to remove any excess.
Heat the 3 first three tablespoons of butter in a cast iron pan. Add the juice from the jar of artichoke hearts. When the butter is melted, add the two trout, skin side down. Cook for 3-4 minutes, gently turn, and cook for 2 more minutes. Transfer to warming dish and keep warm in an oven at 150°F.
Place the trout on plates and top with the artichoke hearts. You may want to use all of them from the 12 ounce jar, or use fewer depending on your personal preference.
Source: Brian O'Rourke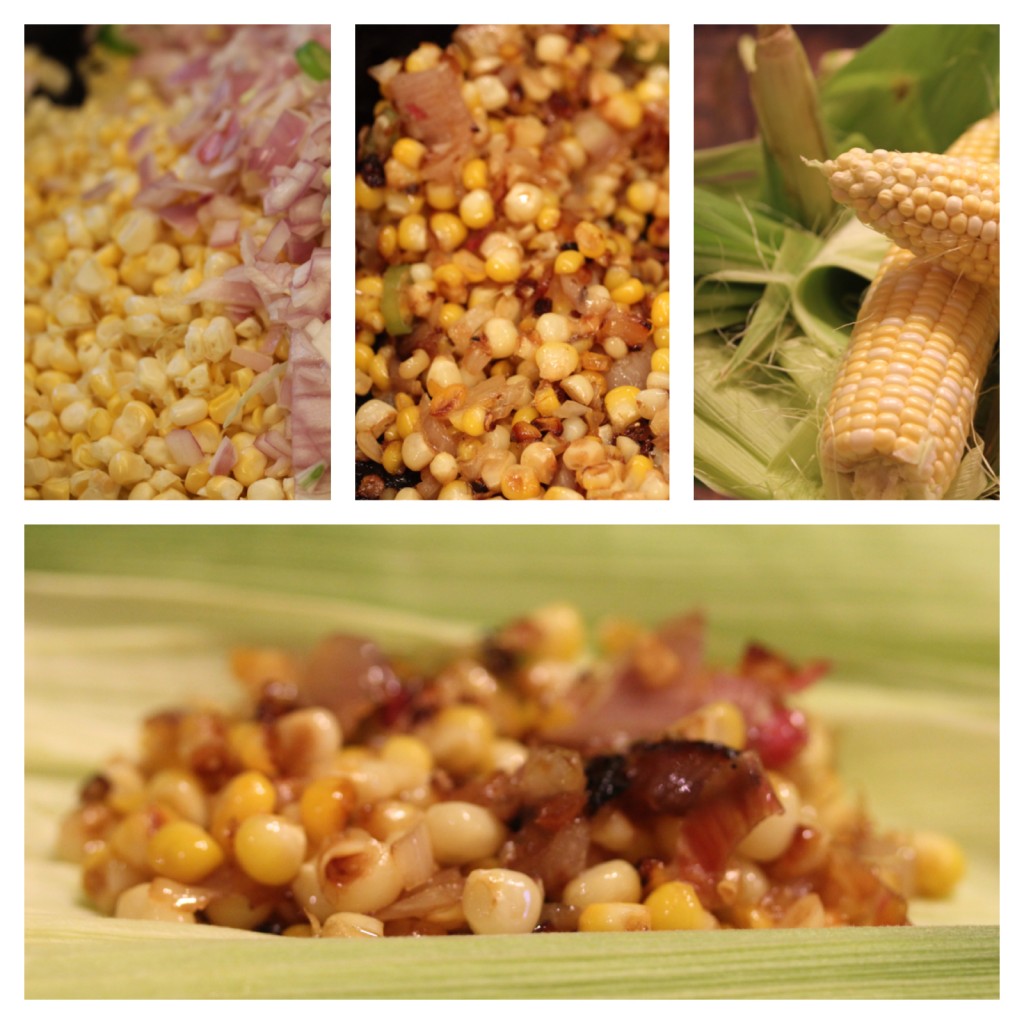 Summer heat and the drought have taken their toll on our farmers and our food supply. Still, there are options to savor the best of summer: fresh corn. To help you really enjoy corn, take a look at I Love Corn by Lisa Skye [published by Andrews McMeel].
Lisa has gathered sixty recipes from great chefs and cookbook authors from around the country to give us chapters on:
Breakfast [Sweet Corn Waffles, Jalapeno Corn Muffins, …]
Soups [Sweet Corn Soup, Fresh Corn Gazpacho, …]
Starters [Corn Ceviche, Roasted Corn Wontons, …]
Mains [Venison with Corn Cocoa and Chipotle Relish, Corn-Poached Halibut, …]
Sides [Corn Pudding with Bacon and Leeks, Warm Corn Soufflés, …]
Sweets [Cornmeal Cake with Honey and Bananas, Strawberry Corn Pone, …]
From the time you rise until you take that last snack, you can enjoy corn. I'm a big fan of corn side dishes which can provide so much contrast and interest to a meal. And, when I see a recipe that says "caramelized" then I perk up.
I made this caramelized corn with a couple of changes. I did not have shallots, so red onions were a fine substitute. And since "caramelized" implies sweetness, I wanted some heat. So I tossed in a diced poblano with the seeds.
To serve this dish, I used the corn husks arranged in a layer on the plate. It is beautiful to see, to photograph, and to devour.
You can obviously scale this recipe up and I suggest you do. Because the next day you can:
Perk it up with lime juice
Convert the leftovers into a salsa using some tomato products
Sparkle up your scrambled eggs for breakfast
In short, great recipe from a fine book.
Caramelized Corn with Shallots
Yield: 4 servings
Ingredients:
1 tablespoon unsalted butter
4 ears fresh corn, kernels removed, about 3 cups
4 large shallots cut into ½-inch slices
Pinch of granulated sugar
Kosher salt and freshly ground black pepper
2 tablespoons fresh thyme leaves plus 1 large sprig for garnish
Preparation:
In a large skillet over medium heat, melt the butter. Add the corn, shallots, sugar, and salt and pepper. Cook, stirring occasionally to prevent burning, until the corn is caramelized, about 5 minutes.
Stir in the thyme and cook for 5 minutes more. Season with salt and pepper to taste. To serve, garnish with the sprig of thyme