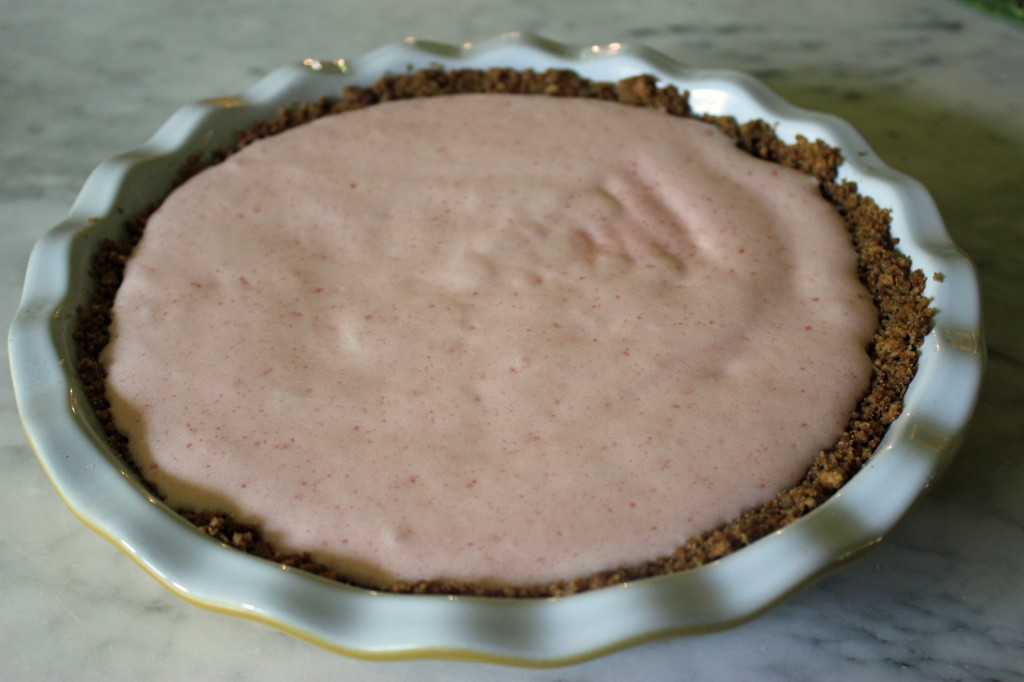 "I'm making dessert tonight," Suzen said.
"What a coincidence, so am I" I said.
"We don't need two."
"I bought the watermelon."
"You," Suzen began, "have a large bug somewhere in your anatomy."
"Yes," I admitted. "Yes, I do and to cure it I'm making this pie."
The name, Watermelon Chiffon Pie, had teased at me for over a year. To my credit, I had asked Suzen on multiple occasions. She eats pie, she does just not spring to make it.
Thing is, I had no idea how this might taste. Watermelon juice has a wonderful flavor, yet the juice itself is very "thin" to the tongue. I've done a variety of chiffon pies in the past year and everyone had a key component: some liqueur. This pie has none. Not even one of those watermelon schnapps creations you might have. Truthfully, watermelon liquors can be awful: sweetish, yet harsh with a chemical aftertaste.
How does this pie rate? It's wonderful. Soft and subtle. The watermelon flavor is there, but does not overpower.
What crust to use? Look at yesterday's post for a graham cracker crust from the same source as this book: Pie by Ken Haedrich.
Two technique matters are important here. First, the way in which the whipped cream and eggs whites are added is important. The method here eliminates of the globs of whipped cream, egg whites, or — worst of all — pieces of watermelon-gelatin.
Second, the method here for getting out the watermelon juice is a bit time consuming. And, I did not follow it. Instead, I put watermelon chunks in our Vitamix and in seconds had watermelon liquid. It's much faster. The liquid, by the way, is not thin juice but has some fine pulp. I could have used that, for a different texture. Instead, I pour 4 cups of pulp through a sieve and got just under 3 cups net of pure juice.
One these endless summer nights, you want something very refreshing. Nothing is better than this pie.
Watermelon Chiffon Pie
Yield: 1 9-inch pie, enough for 6-8 people
Ingredients:
1 graham cracker crust, prepared and baked [see the recipe here on this blog!]
6 cups watermelon flesh [seeks are fine]
1/3 cup granulated water
2 envelopes unflavored gelatin
1 tablespoon fresh lime or lemon juice
2 large egg whites, at room temperature
1 cup heavy or whipping cream
1 cup confectioners' sugar, sifted
Confectioners' sugar for garnish
Fresh whipped cream for garnish [optional]
Preparation:
Combine the watermelon and granulated sugar in a very large bowl. Using a potato masher, mash until the mixture is quite liquid. Set aside for 15 minutes. Drain the mixture through a strainer, reserving almost 2 ¾ cups of the watermelon juice. Discard the pulp and seeds.
Put ¼ cup of the juice in a medium-size bowl and sprinkle the gelatin over it. Set aside for 3 to 4 minutes to dissolve. Meanwhile, heat ½ cup of the juice in a small saucepan over medium heat to a near boil. Whisk the hot juice into the dissolved gelatin. Pour the remaining 2 cups of watermelon juice into a large bowl and stir in the gelatin-watermelon juice mixture. Stir in the lime juice. Place in the refrigerator.
Using an electric mixer, beat the egg white is a medium-size bowl until stiff peaks form. Set aside. Clean and dry the beaters. Using a chilled  medium-size bowl and chilled beaters, beat the heavy cream with the mixer until it holds soft peaks. Add the confectioners' sugar and beat until smooth and stiff  but not graining. Refrigerate.
When the watermelon juice mixture start to firm up, add about one-quarter of the whipped cream and beat with the electric mixer until smooth. Add the beaten egg white and remaining whipped cream and gently fold them in with a large rubber spatula. If necessary, use a whisk — very briefly — to smooth the mixture and break up any large globs of white or whipped cream. Pour the filling into the cooled pie shell, shaking the pan gently to settle the filling. Cover with loosely tented aluminum foil and refrigerate for at least 4 hours, preferably overnight.
To serve, garnish each slice with a dusting of confectioners' sugar, then add a dollop of whipped cream, if desired.
Source: Pie by Ken Haedrich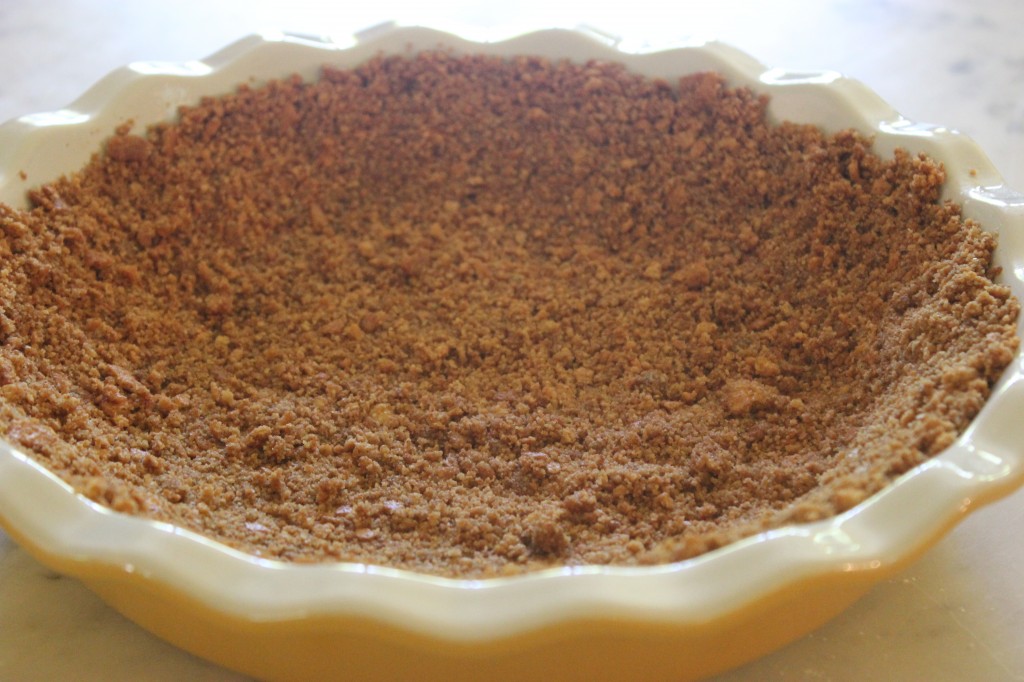 There they are. Twenty of them. Lined up on the shelf. I wonder how long they have been there? When were they actually made? Could they really survive a nuclear attack?
I am talking, of course, about graham cracker crusts. They are thin, placed in those tinny shells and they do not contribute mightily to your pie. If you want a graham cracker crust, take just a few minutes and make your own.
This recipe from Pie by Ken Haedrich will make you think long and twice about every buying one again. The technique here, of refrigerating before baking, makes sure you get a crust that is solid, not crumbly. It's really, really good. The addition of just a tiny bit of cinnamon here provides a flavor twist that will make people ask, "What's in here?"
The brown sugar adds a bit of moisture to make it easier to press the shell together. If necessary, add just a touch of water to increase the adhesion as you press into the pie dish. Ken notes that if your dough really seems very crumbling and is not coming together by hand at all, then put 1 tablespoon of flour into the mix and add 1 teaspoon of water. Your crust should now be quite well behaved.
Pie with a bad crust is bad pie.
Oh, about Sylvester Graham, the Presbyterian minister, who invented the graham cracker in 1829. He was nice guy. A bit straight. The cracker he created was intended to be a health food, designed to reduce carnal lusts. [My pie lust, by the way, can be pretty high.] He used graham flour because he considered white flour to very bad for you.
It's tough to be certain at this point in time, but I think the good minister would not be pleased with those manufactured shells on your grocery store shelf. He'd probably like this one much better.
If you like your crust really, really thick, then use 2 cups of graham cracker crumbs and 8 tablespoons of butter.
Graham Cracker Crumb Crust
Yield: enough for the bottom on one 9-inch standard pie dish
Ingredients:
1 ¾ cups graham cracker crumbs
2 tablespoons firmly packed light brown sugar
½ teaspoon ground cinnamon
Pinch of slat
6 tablespoons [¾ stick] unsalted butter
Preparation:
Preheat the oven to 350 degrees F.
Combine the graham cracker crumbs, brown sugar, cinnamon, and salt in a large bowl. Mix briefly with your fingers. Add the butter and incorporate well, mixing first with a fork, then with your hands, rubbing thoroughly to form evenly dampened crumbs.
Spread the crumbs evenly and loosely in the pan, pressing them into the bottom and up the side. Refrigerate for 5 to 10 minutes
Place on the center oven rack and bake for 7 minutes. Let cool on a wire rack before filling. For ice cream pies and other icebox pies, refrigerate the thoroughly cooked pie shell for 10 minutes before filling.
Source: Pie by Ken Haedrich