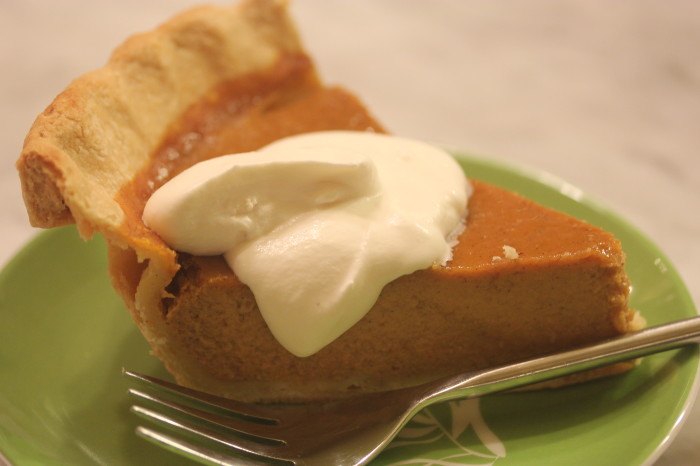 "Pumpkin pie," my grandson Daniel replied. He was ordering Thanksgiving dessert.
"Find that recipe," Suzen commanded.
We have this recipe, the recipe,  for pumpkin pie that is sensational. Haven't made it for a couple of years. I go to search to find it.
I search. And I search. It's not on the computer. My forehead is damp. I go through twenty cookbooks. I can't find it. My forehead is wet.
And, to make it worse, Suzen and I can't remember why it was so good. I think it was light and fluffy. I seem to remember that it had booze, but maybe not.
Failure. Total failure.
"Let me try," Suzen said. No beads of sweat on her forehead. In an hour more, she said, "Don't worry." She'd googled, compared, and found this very interesting pumpkin pie that is unlike anything we have ever sampled.
What make this recipe distinctive.  It uses coconut milk. No, the resulting pie does not have a coconut tinge to it, but it does have an exceptional smooth consistency that makes you think you are eating silk.
This is now our "holiday-special-gotta-have" pumpkin pie. One bite and it will be yours, too.
Jamaican-Spiced Pumpkin Pie
Yield: 1 9" pie, enough for 8 people
Ingredients:
One 15-ounce can pure pumpkin puree
1 ¼ cups unsweetened coconut milk [full fat only, stirred or shaken well before using]
¾ cup packed light brown sugar
1 teaspoon ground ginger
¾ teaspoon ground cinnamon
½ teaspoon table salt
⅛ teaspoon freshly grated nutmeg
4 large eggs at room temperature
2 tablespoons spiced rum [Captain Morgan]
1 blind-baked pie shell
Preparation:
Position a rack in the center of the oven, set a heavy-duty rimmed baking sheet on the rack, and heat the oven to 425°F.
In a large bowl, whisk the pumpkin, coconut milk, sugar, ginger, cinnamon, salt and nutmeg until smooth. Whisk in the eggs and then the rum, until the mixture is smooth. Pour the filling into the piecrust.
Put the pie on the heated baking sheet. Bake for 10 minutes and then reduce the oven temperature to 350°F. Bake until the center of the pie no longer wobbles when the pan is nudged [a slight jiggle is fine], an additional 45 to 55 minutes.
Transfer to a rack and cool completely before serving. The pie can be stored at room temperature for up to 2 days.
Source: Nicole Rees from Fine Cooking
Photo Information: Canon T2i, 18-53MM Macro Lens, F/2.8, 1/100th second, ISO 1000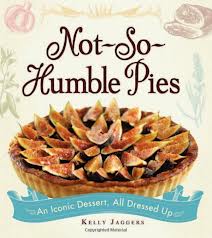 I do believe in diversity. Something beyond brownies and chocolate cake.
I just need inspiration. And now there is Kelly Jaggers' Not-So-Humble Pies. Just in time for the holidays. Not-So is staggering filled with ideas: new crust concepts, cream and custard and chiffon delights, fruit pies extraordinaire, tarts and rustic gems, dinner pies to sooth your conscience, and exotic pies to complete a perfect meal. There is a symphony of ideas here:
Lemon and Lavender Short Crust Pastry
Cinnamon Streusel Topping [in lieu of more crust!]
Maple Walnut Pie [think Thanksgiving]
Parsnip Custard Pie [think Pilgrims again!]
Cardamom and Saffron Chiffon Pie [for dinner party elegance]
Honey Lavender Apple Pie [for elegance at the end of the table]
Strawberry White Chocolate Ganache Tart
Bourbon Peach Tart
Lemon Pistachio Tart
Goat Cheese and Roasted Red Pepper Tart [main course idea]
Seared Ahi Tuna and Wasabi Crème Tartlets [devilish hot main course idea]
Spinach and Artichoke Tart [main course or side]
Duck Confit Tart
Chipotle Fudge Tart
Meyer Lemon and Serrano Chili Meringue Pie
Pies are naturally rich. This is a book to take you, and perhaps your blood sugar, one level higher. I actually am interested in the savory concepts here, like the Duck Confit Tart. But I do find myself attracted to the attractions here with a Southwestern kick, like that last one, the Meyer Lemon and Serrano Chili Meringue Pie. I know all the words: Meyer, Serrano, Meringue, … But the combination here is one that I just not have pondered. My thinks to author Kelly Jaggers for opening up a pie wonderland.
The recipes here are well-written, clear, and easily executed. The titles may seem complicated, but the written pathways are easy to traverse. This book proves exceptionally simple routes to exceptionally delightfully treats.
Now, it's time to explore.