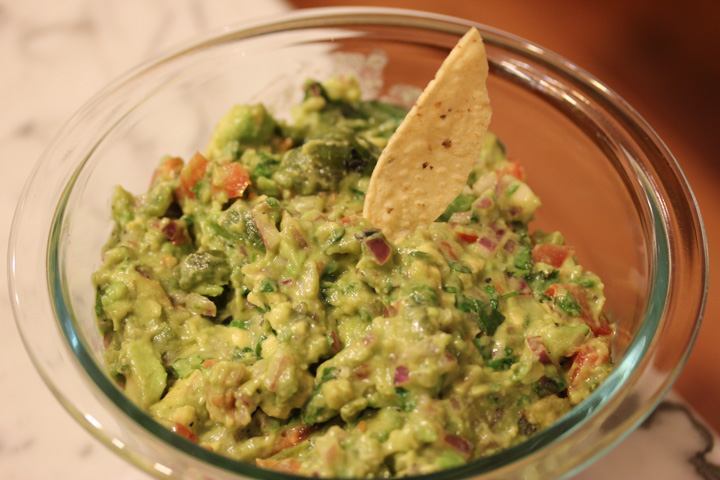 What makes a great guacamole? Brian and I don't have a single favorite, but we do like a spicy version that uses hot pickles and the pickle juice instead of jalapenos. The pickles are southwestern and as incendiary as any jalapeno, just sweeter.
In time for Super Bowl parties, Brian and I are happy to present you with a different guacamole, one designed to let you enjoy the full avocado flavor. This guacamole is really simple to prepare, ideal for a party day. More importantly, it has a very, very pure flavor. By not using an overwhelming amount of pepper or cilantro, this guacamole lets the very pure flavor of the avocado dominate. The result is a guacamole that is smooth, subtle, and delightful to just munch away on.
For chips, for nachos, for any Mexican food you concoct, this guacamole is refreshingly different.
This recipe calls for roasting your peppers. Here's the quick way to accomplish that, assuming you have a gas burner or grill. Wash the peppers, place them on the grill and put the heat on high. Turn the peppers every minute or so, and keep roasting until they are blackened on the outside. Place the peppers in a bowl and seal the bowl for about 10 minutes to steam.
Remove the peppers from the bowl, and wipe away the blackened outer skin — whether you should or can rinse under water to help this process is the subject of conversation or outright argument. We don't rinse. The peppers are ready to be diced. The more inner seeds you retain at this point, the hotter your guacamole will be.
Really Simple Guacamole
Yield: 3 cups
Ingredients:
1 red onion, finely diced
2 cloves garlic, finely diced
Juice of 2 lemons
2 Poblano peppers, roasted, and then diced
1 jalapeno pepper, roasted, and then diced
3 avocados, skins and pits removed, then diced
2 Roma tomatoes, finely chopped
¾ cup cilantro, finely chopped
Salt to taste
Preparation:
Place the onion and garlic in a bowl. Add the lemon juice and stir to coat.
Add the peppers, then the avocadoes. Using a pastry cutter, mash the mixture until he avocados are the size you want.
Add the tomatoes and cilantro.
Add salt to taste, at least 1 teaspoon and very likely up to 1 tablespoon.
Notes:
The Roma tomatoes are a terrific idea, primarily for color. Unlike regular tomatoes, the Romas are very meaty and will not "weep" over time.
You can add chili powder or pepper if you wish for more heat, but remember the goal of this recipe is to let you enjoy the pure avocado flavor.
Source: Suzen O'Rourke
I cling to summer. It seems the shortest of seasons. Winter must be six months longer. And while I do love my snowshoeing, I can wait. I treasure the idea of enjoying grand summer meals for just another month or two.
I can't win this war of the seasons. But we can all still win a weekend battle or two. You can still get watermelon, the peppers are perfection, and your butcher just may have a grand cut stashed away.
This is a hot meal, with chili flavor adorning both the steak and salad. You are in control, though, because the suggested amounts of chile, ginger, peppers and honey can all be adjusted by you. The flavors added to the steak — hot and sour — combine with the caramelization of the grill to give you satisfaction. The salad, with the heat of peppers and coolness of the watermelon, is self-contrasting and serves to balance the heat of that steak.
This is a great Saturday night recipe. Easy to prepare, yet satisfying complex in flavor.
If you are grilling this weekend, and you notice leaves falling around you, just ignore them. They are all going away.
Grilled Flank Steak with Spicy Pepper and Watermelon Salad
Yield: 4 servings:
Ingredients:
For the Flank Steak:
1½ tablespoons lime juice
1 tablespoons olive or grape seed oil
2 garlic cloves, minced
1 teaspoon hot chili paste (such as sambal oelek)
1 teaspoon grated fresh ginger
1 teaspoon honey
1 teaspoon rich mushroom soy sauce
1½  pounds flank steak
For the Pepper and Watermelon Salad:
¼ cup chili sauce (such as sriracha)
¼ cup olive oil or grape seed oil
3 tablespoons seasoned rice vinegar
1¼ teaspoons honey
2 large bell peppers, preferably assorted colors, diced
2 tablespoons minced red chili peppers
2 cups seedless watermelon, diced
Fresh mint, chopped
Preparation:
For the Steak:
Whisk all ingredients except flank steak in a baking dish or bowl large enough to accommodate the steak. Add steak; turn to coat. Cover and let marinate at room temperature up to 2 hours; turning occasionally.
For Pepper and Watermelon Salad:
Whisk hot chili sauce, oil, vinegar, and honey in small bowl; season dressing with salt and pepper. Place peppers and chiles in large bowl. Toss with 6 tablespoons dressing. Set aside.
Preparation and Assembly:
Prepare barbecue or stove-top grill pan over high heat. Grill steak with some marinade still clinging until cooked to desired doneness, about 4 minutes per side for rare. Transfer to work surface; let rest 10 minutes. Thinly slice steak against grain; transfer to platter. Drizzle with some of remaining dressing from salad.
Toss watermelon into pepper salad. Serve flank steak and salad with remaining dressing alongside.
Source: Dorie Greenspan in Bon Appetite