Is it possible to figure out how many potatoes you have eaten in your life? At my age, and with my growing-up-in-the-50s background, my PPC — Personal Potato Count — is very, very high. Baked potatoes, French fries, hash browns, potato salad, … That veggie has been a major part of intake.
And my favorite? Well, for ease of use, I love them baked. However, I could use a baked boost. Just baked with butter is good — although I have been accused of adding too much salt and pepper. But that standard pairing day-in-day-out can get a tad boring. Sour cream and chives? I've been there. Worchester and other steak sauces? Spicy and interesting, but not every day. And there is salt there, too.
Yes, it was suggested that I lower my salt intake. And, yes, my lovely wife is monitoring my intake grain by grain.
Back to that butter. That unsalted butter by the way. This summer Suzen is offering her Cooking by the Book clients steak with an herbed butter. I expanded that idea this weekend to create this flavored butter that was just outstanding on my baked potato. The butter flavor is there, of course, but now augmented with the tasty boost of peppers, basil and cilantro. The best part of this? There is enough flavor here that you do NOT want to grab for the salt shaker.
Pepper and Herbed Butter
Yield: 12 tablespoons
Ingredients:
1 stick of butter [4 ounces or 8 tablespoons]
⅓ cup of canned red pepper, finely diced
5 basil leaves, finely chopped
1 tablespoon cilantro, finely chopped
Preparation:
Take the stick of butter from the refrigerator and finely slice it on a cutting board. Place the slices in a bowl and using a wooded spoon work the butter until it begins to soften. You'll need at least 2 minutes here.
Add the remaining ingredients and continuing working the butter. At some point you may want to use your hands, not a spoon, to gently fold the peppers and herbs into the butter. I had a lot of pepper to incorporate; dicing the peppers finely makes the incorporation stage easier.
Form the butter into a roll, seal in plastic wrap, and refrigerate for at least one hour before use.
Source: Brian O'Rourke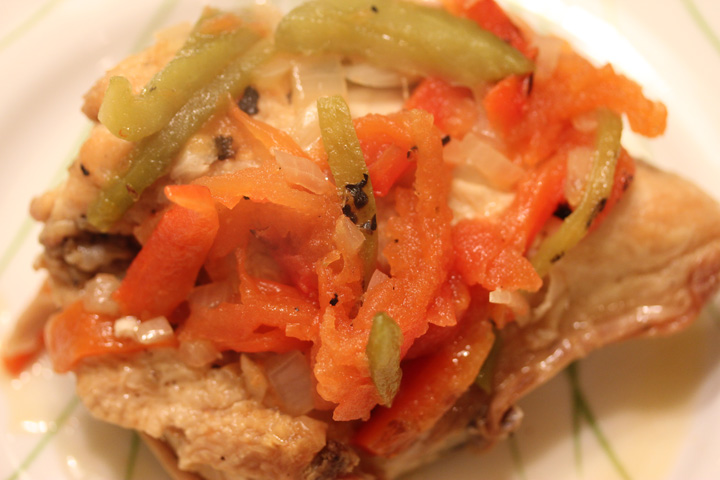 The phrase "tastes like chicken" is not inherently good or bad. Ever had roasted chicken in Paris on a winter's night? Or blackened barbeque chicken from a wood fire on a summer afternoon in New Mexico? Or the spicy red wonder of Tandoori chicken in an Indian restaurant? Chicken truly can be wonderful.
But like so many things, usually our home cooking often does not rise to the heights of Parisian cuisine or the sizzle of real barbeque or the intensity of an Indian oven. We cook our chicken conventionally, and it comes out conventionally and it tastes okay but it just tastes like chicken.
It's as if, to overcome the conventional taste, you have to go to exceptional effort. And that is not true at all. How to do chicken so it is easy and spectacular? Look to France.
I still remember my first trip to Paris, my first walk around a street market. There was a rotisserie seemingly five feet wide and ten feet high — well, I felt dwarfed by the whole experience. Every shelf had a different kind of bird turning over dazzling blue flames. My French was worse than the vendor's English. I did make out that out you could not just ask for "chicken." You had to tell him what kind of chicken. I was too intimidated to make a selection. As I shrunk away, I think the vendor called me "something American." He was right.
Joel Robuchon has the solution for all of us. This chicken is from Southwestern France on the border with Spain heavy with Basque influence. It's not a 15 minute recipe. It takes closer to 90 minutes all in. But it is simply worth every second. The technique here is very interesting. The chicken is cooked with the lid off and then on. The same for the veggies. The combination of searing and steaming creates a moist yet richly cooked bird.
The chicken flavor is there but it's definitely affected by the volumes of onion, peppers and tomatoes that go into the dish. Carefully skinned and seeded, the peppers and tomatoes are thoroughly cooked. They retain their integrity but they deliciously surrender to each bite. A key aspect of this recipe is the ability to achieve such a new flavor combination with really just a handful of common ingredients. This dish is powered by the veggies and a few common herbs. The veggie flavors are powerful, so pick out your best produce from your best supermarket to get the full wonder of this dish.
The chicken and veggies present beautifully on your table, and you will swoon at the flavors. It's not just chicken. More SuperChicken!
For a quick to skin tomatoes, by pretending they are peppers, please look at yesterday's blog.
Basque Style Chicken with Bell Peppers and Tomatoes
Yield: 4 servings
Ingredients:
2 tablespoons olive oil
One 3-pound chicken, cut into 8 pieces
Salt
Pepper
2 medium onion, peeled and minced
2 green bell peppers, peel, seeded, and sliced into thin strips
2 red bell peppers, peel, seeded, and sliced into thin strips
3 cloves garlic, peeled, and minced
1 ½ pounds tomatoes, peeled, seeded, and sliced into thin strips
1 bouquet garni (2 sprigs fresh thyme, 1 bay leaf, and 4 stems flat leaf parsley wrapped and tied in a green leek leaf)
1 cup dry white wine
Preparation:
Heat the olive oil in a Dutch oven over medium heat. Season each piece of chicken with 2 pinches of salt and a dash of pep­per. When the oil is hot, brown the chicken pieces over medium heat about 10 minutes, turning them from time to time. Cover the pot, reduce the heat to low, and cook for 20 minutes, turning the chicken pieces every 5 minutes. After 20 minutes, remove the wings and breasts and set them aside. (Keep them in a 250°F oven with the door ajar or simply tent loosely with aluminum foil.) Cook the dark meat about 5 minutes more, still covered, and then remove it to stay warm with the wings and breasts.
Turn the heat under the pot to low and add the onions and a pinch of salt. Stir constantly for 3 minutes; the onions should not color. Add the peppers and garlic, and stir for 3 minutes. Add the tomatoes and stir. Add the bouquet garni, cover, and cook for 10 minutes over low heat, stirring every 3 minutes.
Add the white wine, cover, and simmer for 10 minutes. Put the chicken back in the pot, cover again, and cook 5 minutes more. Taste for salt and pepper. Remove the bouquet garni.
Serve the chicken coated with sauce.
Source: The Complete Robuchon by Joel Robuchon