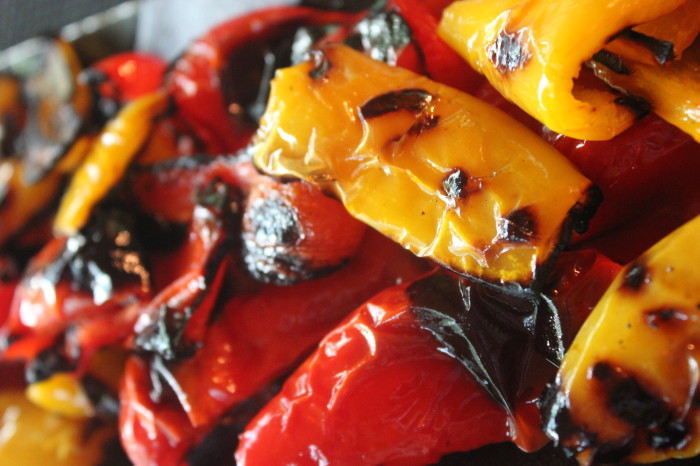 You can't be accused of being anti-some-group if none of those people are there. In your city, I mean. So in my mother's defense, she was not anti-Italian. She was just allergic to garlic. And there were almost no Italians in Portland when I was growing up. Or Italian restaurants. The only Italian food she ever prepared came from green cardboard boxes labeled Kraft. She did like mac and cheese.
When I was fifteen or so, the first pizza restaurant opened up in Portland, on the East side, of course. Not on the ritzy west. There was so much interest, that a dozen police cars were needed to control the traffic as this place called Shakey's Pizza Parlor began on 82nd Avenue.
Portlanders did their part by swarming to the place. Shakey's responded by giving us authentic pizza. Northwest style of course. Pineapple and salmon.
I shudder at this deprived, if not depraved, childhood. I was thirty before I ate garlic. And I was way past that benchmark before I learned of the wonder of peppers. Suzen is a pepper fanatic and uses them year round. But now, when they are fresh and local and out of the ground instead of the hothouse, now is the time to enjoy them.
It seems ridiculously easy, actually, almost unfair. You get all that flavor for so little work.
Here's how to enjoy:
Roasted Italian Peppers
Serves: 1 pepper per person
Ingredients:


Peppers to your limit
Extra virgin olive oil
Salt and pepper
More extra virgin olive oil or balsamic vinegar [optional]

Preparation:
Wash and dry the peppers. Cut off the ends, then quarter the peppers. Remove the interior membranes and seeds.
Lightly rub with olive oil and place on a heated grill. Cook until the skin begins to blister.
Remove from the grill and bring to the table. If someone wishes, sprinkle with more olive oil or a dash of balsamic vinegar.
Source: Suzen O'Rourke
Photo Information: Canon T2i, EFS 18-55mm Macro Lens, F/4.0 for 1/10th second at ISO 3200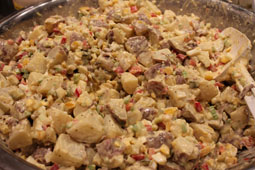 Is potato salad healthy? It's potatoes and mayo and … Ah, the solution is to be inclusive. Add some veggies like celery and peppers. Add some eggs [ok, marginally healthy]. Pickles, definitely healthy.
In short, the quality of your potato salad is up to you. But it can be a delicious combination of ingredients rich in nutrients. After all, when do you eat celery? Here in potato salad and in the dressing for that Thanksgiving turkey, right?
I put this recipe to very good use in my culinary team building classes at Cooking by the Book. This salad is part of a favorite entrée: Steak with Charred Tomato Butter with Grilled Succotash and Summer Potato Salad.
In my kitchen, groups come to improve their team strengths by cooking together. For this entrée, separate teams work on the steak, the succotash, and this salad. They have to coordinate their efforts so, just like in a 4-star restaurant, every element of the dish comes together just in time. It's fun to see professionals, standing with spoons in hand, looking over their shoulders, blasting questions, and scurrying to make sure their team succeeds.
This salad has the classic flavors you may remember from the potato salad of summer picnics generation ago: the celery, the hard boiled eggs, that dash of apple cider vinegar.
Before summer ends, add this splash of sunshine.
Sunshine Potato Salad
Yield: serves 6 to 8
Ingredients:
6 waxy potatoes (about 3 pounds)
½ cup extra-virgin olive oil
¼ cup apple cider vinegar
1 tablespoon water
2 teaspoons salt
½ teaspoon coarsely ground black pepper
⅓ cup diced red peppers
⅓ cup diced green or yellow peppers
1 cup finely chopped celery
1½ cups finely chopped onions
3 large eggs, hard-boiled and coarsely chopped
⅓ cup coarsely chopped dill pickles
½ cup mayonnaise
1 tablespoon prepared yellow mustard
Preparation:
Cook potatoes in a large pot of salted water over medium-high heat; cook only until tender, when pierced with a small paring knife, about 15 to 20 minutes. Remove to a large bowl. Peel when cool enough to handle. Cut into 1-inch cubes. Place other cut-up vegetables in a separate bowl.
In another bowl, whisk together oil, vinegar, water, salt, and black pepper. Pour dressing over warm potatoes and stir gently to coat. Cover and place in refrigerator, it necessary. Stir occasionally for even marinating.
Before serving pour off any excess marinade. Add peppers, celery, onion, eggs, and dill pickles and toss very gently to combine. In a small bowl. Stir together mayonnaise and mustard. Add to salad and toss to coat vegetables. Cover and refrigerate until ready to serve.
Source: Heirloom Cooking