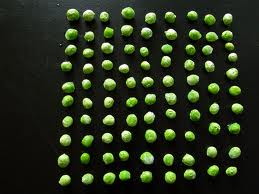 "They want a green vegetable," Suzen said to me.
"God, not green beans. Please, I can't do it."
We were discussing our hosts' requests for what to bring on Thanksgiving. This year we've opted to share the holiday with lovely friends. There will be wine, noise, shared cooking, and wine. Good wine.
"I'm researching," I said.
"Go right ahead," Suzen gave me my freedom.
Look, I like green beans. But if I see one more roasted green bean with slivered almonds, I am going to pick it up and stab someone in the eye.
Green? What do I really like that is green — aside from tomatillos? Well, mint but you can't eat mint all by itself. Ah, but mint and peas? No, that would be springtime. Still, peas.
One of my all-time favorite cookbooks is The New Thanksgiving Table from Diane Morgan. I've actually scanned several of her recipes into my "database" to have with me anywhere my laptop and I travel. And here, here is where I found Cracked Pepper and Butter Peas with Parmesan.
We are taking this to our friends on Thursday, and you, too, may be very interested in this recipe. Why? That's easy. This recipe is easy.
Have you ever made a Thanksgiving dinner where, by the time you sat down, you were too exhausted to eat it? Oh, last year? Me, too.
For holidays, you can go so far out on so many recipes at once, that by mealtime you are toasted. Look, some things need attention. The turkey, the stuffing, and god knows that gravy. But you don't have to kill yourself over each and every dish. You need some simple yet wonderful things. This recipe is one of them. Now, to be sure, this calls for preparation just before you eat, but it is so simple that won't be a chore.
Oh, this recipe with its Parmesan on top is sort of a halfway journey to Italy. So, you can extend the recipe if you want. No, not pearl onions. Please, think out of the box. How about some really good roasted mushrooms, some diced up marinated artichoke hearts or even some white anchovy? This basic recipe is wonderful and you're free to do whatever else you want. Just be sure to take care of yourself, too, and take the time to enjoy the meal.
And lastly, yes, this recipe calls for frozen peas. Normally, I squawk about using frozen food but peas are special. Unlike most vegetables, you can freeze them without losing that wonderful distinctive flavor.
Cracked Pepper and Butter Peas with Parmesan
Yield: serves 8 to 10
Ingredients:
1 cup chicken stock, preferably homemade
3 cups frozen peas
2 tablespoons unsalted butter, melted
Kosher or sea salt
Coarsely ground black peppercorns
1/3 cup freshly grated Parmesan cheese, preferably Parmigiano-Reggiano.
Preparation:
In a medium saucepan, bring the chicken stock and 2 cups of water to a boil over high heat. Add the peas and cook for 1 to 2 minutes just until the peas turn bright green. Remove from the heat, drain all the liquid, and transfer to a warm serving bowl. Toss the peas with the butter, season with salt and a generous amount of freshly cracked pepper. Scatter the Parmesan over the top and serve immediately.
Source: The New Thanksgiving Table by Diane Morgan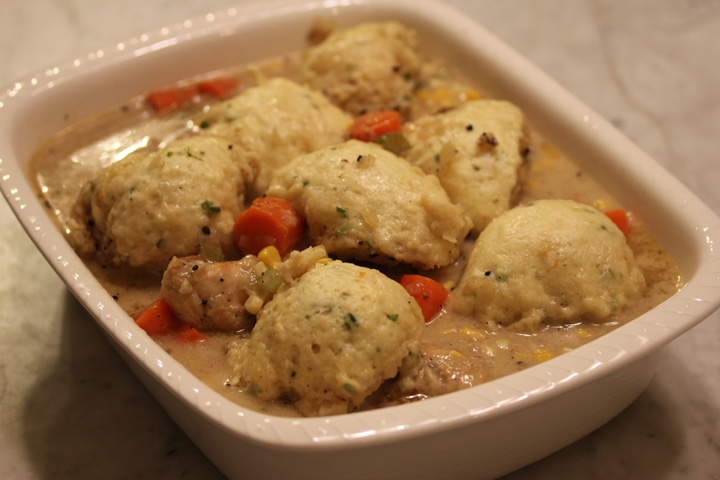 I have the flu. Not pleasant. But being an optimist, I always seek to make the best out of a bad situation.
"How are you?" Suzen asked.
"Awful," I said. Then I coughed. She grimaced. She can't take me being sick. I coughed again. Softening her up.
"Do you want anything?" she said.
"Well," I began, "I really am hungry. Maybe," I stopped to cough again, "maybe some chicken."
"Yes," she sounded relieved. "I can do that." She turned to walk away.
"With dumplings," I added very softly.
She turned back. Examined me. Appraised me. "Okay," she said. "But," her finger was waggling, "if I find flu pills in the bathroom, if I find you've been milking this situation, …"
Silly woman. I don't have any flu-creating pills in the bathroom. That would be stupid. If I had any at all, they'd be in the plastic box in the basement where I keep the nails.
This excellent recipe is from the new edition of the Good Housekeeping Cookbook. The dumplings are much better than those "out of the box" ones. Much better. You are supposed to get an even dozen of them but Suzen made them extra large, as you can see in the picture, and we only got seven. They are better than prescription drugs. The dumplings are now all gone. I feel a relapse coming on.
Chicken with Rosemary Dumplings
Yield: serves 4-6
Ingredients:
2 tablespoons vegetable oil
6 large bone-in chicken breast halves (3 ¼ pounds), skin removed
4 large carrots, peeled and cut into 1-inch pieces
2 large stalks celery, cut into ¼-inch thick slices
1 medium onion, finely chopped
1 cup plus 2 tablespoons all-purpose flour
2 teaspoons baking powder
1 ½ teaspoons chopped fresh rosemary or ½ teaspoon dried rosemary, crumbled
1 teaspoon salt
1 large 3gg
1 ½ cups milk
2 cups water
1 can (14 ½ ounces) low-sodium
¼ teaspoon ground black pepper
1 package (10 ounces) frozen peas
Preparation:
In an 8-quart Dutch oven, heat 1 tablespoon oil over medium-high heat until very hot. Add 3 chicken breast halves; cook until golden brown, about 5 minutes per side. With tongs, transfer chicken pieces to a bowl as they are browned. Repeat with the remaining chicken.
Add the remaining 1 tablespoon oil to dripping s in the Dutch oven. Add carrots, celery, and onion and cook, stirring frequently, until vegetables are golden brown and tender, about 10 minutes.
Prepare the dumplings. In a small bowl, combine 1 cup flour, baking powder, rosemary, and ½ teaspoon salt. In a cup, with a fork, beat the egg with ½ cup of the milk. Stir the egg mixture into the flour mixture until just blended.
Return the chicken to the Dutch oven. Add the water, broth, pepper, and remaining ½ teaspoon of salt. Heat to boiling over high heat. Drop the dumpling mixture by rounded tablespoons on top of the chicken and vegetables to make 12 dumplings. Reduce the heat; cover and simmer for 15 minutes.
With a slotted spoon, transfer the dumplings, chicken, and vegetables to serving a serving bowl; keep warm. Reserve the broth in the Dutch oven.
In a cup, blend the remaining 2 tablespoons flour with the remaining 1 cup of milk until smooth; stir into the broth mixture. Heat to boiling over high heat; boil 1minute to thicken slightly. Add the peas and heat through. Pour the sauce over the chicken and dumplings.
Notes:
We made these with scallions, not chives. And we did not have frozen peas but we had a can of corn. They both proved to be excellent substitutes.
Source: The Good Housekeeping Cookbook: 125th Anniversary Edition