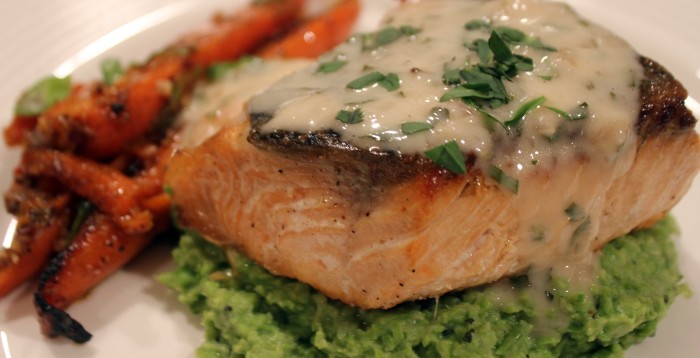 The supply of salmon seems endless and almost all of us indulge on a regular basis. After all, if you go to a catered event, your choices generally are steak, chicken or salmon. And salmon is often the safe choice.
With safety can come boredom. It's tragic that over time this wonderful fish can lose its magic. There are so many ways to serve salmon that it should always be inspiring. How to do that? It's the sauce and the side. Here the salmon is stacked atop mashed peas and then adorned with herbed butter. You keep the salmon flavor, but anoint it with these accompaniments that make this dish lively to look at and then consumed with surprising pleasure. Yes, this dish is different.
Peas are one of the few food that you can freeze, defrost, and find yourself still with the original taste. Here the texture is transformed by mashing and the flavor is accelerated with onion and cream. The peas provides a lively nip on your palate and well complements the salmon proteins.
As the picture shows, you might as well go all-orange here. Pair this salmon with a side of sautéed carrots, either babies or slices. When you cook them, you can experiment with herbs and spices to match that tarragon butter.
Suzen often serves this dish now for her cooking classes at Cooking by the Book. It's a great recipe for team cooking or for your culinary club. The peas, the butter, and the salmon itself can all be divided out among your group so everyone is happily "employed." And, when the parts come together into that final dish, everyone can take pride. In the kitchen, you can both satisfy your stomach and brighten your soul.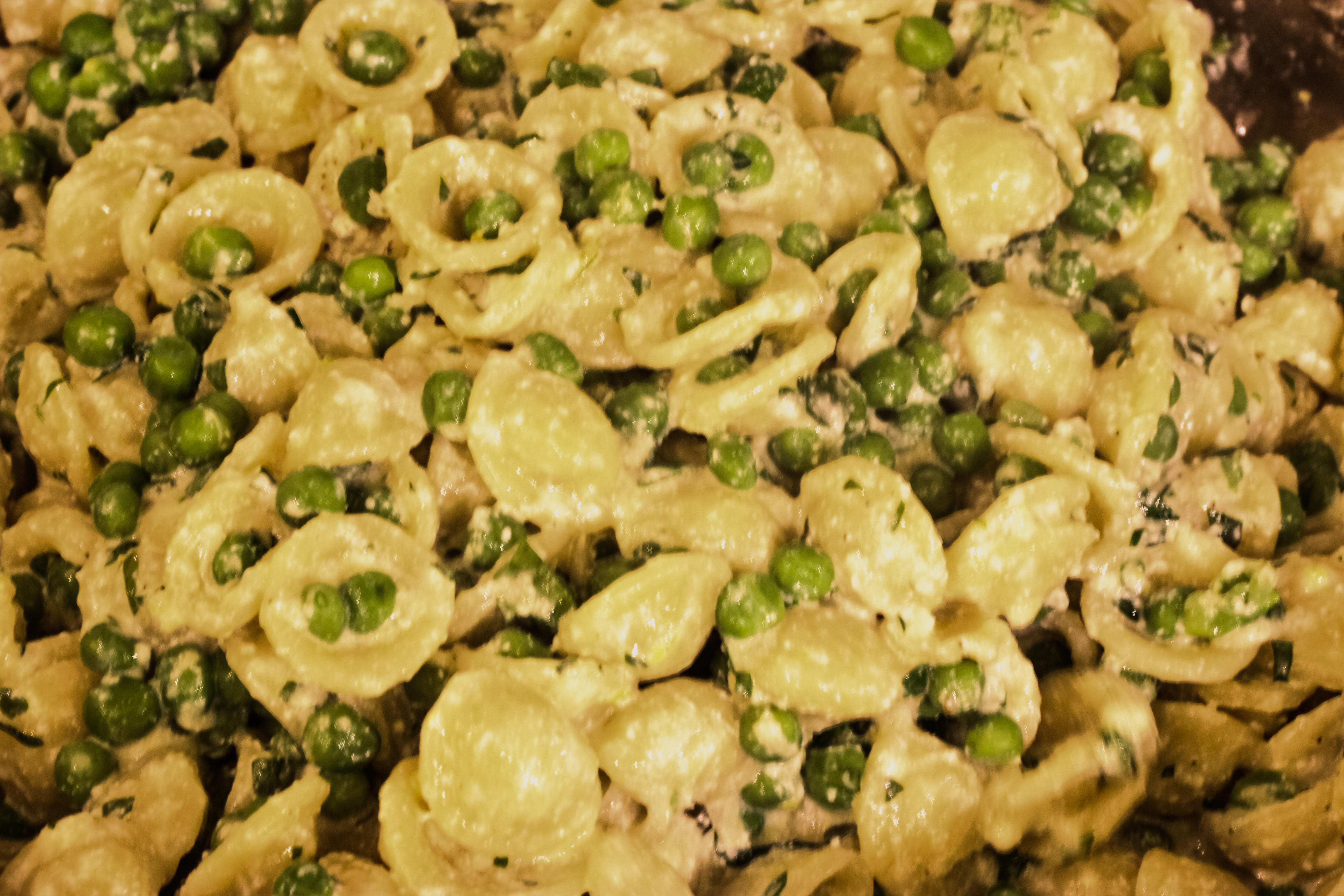 Spring brings new and wonderful opportunities for pasta. From Pasta: Classic and Contemporary Pasta, Risotto, Crespelle and Polenta Recipes by The Culinary Institute of America, here's a beautiful and marvelously satisfying elegant pasta dish. It's filled with lots of spring peas. [Yes, you can use frozen but that spring flavor cannot be surpassed.]
This recipe is simple to create and uses a small array of Italian ingredients. For the best possible results here, look for a local Italian market. Search for fresh cheese, perhaps home-made orecchiette. And the next time you have chicken for dinner, save those bones and make your own stock for use in recipes like this. You'll taste the difference. You might even marvel!
The cookbook Pasta is filled recipes to elevate your home cooking. The beautiful photographs are both educational and inspiring.
Orecchiette with Ricotta, Peas, and Lemon Zest
Yield: serves 4 to 6
Ingredients:
½ cup extra-virgin olive oil, plus more as needed for serving
2 spring onions, white and green portions thinly sliced [about ½ cup]
½ cup chopped flat- leaf parsley
2 pounds fresh garden peas, shelled
¾ cup chicken or vegetable broth, or more as needed
Kosher salt, as needed
1 pound dried orecchiette
1 ½ cups fresh ricotta
½ cup grated Parmigiano-Reggiano
Zest of ½ lemon, cut into very fine strips
Freshly ground black pepper as needed
Preparation:
Heat the oil in a large sauté pan over medium heat. Add the green onions and cook, stirring frequently until tender=, about 2 minutes. Add half the parsley and cook for 2 minutes more.  Add the shelled peas and the broth and bring to a simmer, stirring well. Reduce the heat to medium-low or low and continue to cook, covered, until the peas are tender but not mushy, 4 to 5 minutes [the time may vary depending upon the size of your peas]. Take the pan off the heat and set aside.
Bring a large pot of salted water to a boil over high heat. Add the orecchiette and stir to submerge and separate the pieces. Cook, uncovered, until just tender [al dente], 8 to 10 minutes [check the cooking time for your pasta].
Drain the orecchiette in a colander. Shake well to remove any water clinging to the pasta. Pour the drained pasta into the pas and return the pan to low heat. Gently stir the orecchiette into the peas until well combined. If there is a lot liquid, continued cooking for a few minutes to cook it off.
Removed the pan from the heat, add half of the ricotta to the orecchiette and fold together. Fold in the remaining parsley, the Parmigiano-Reggiano, and lemon zest. Season with salt and pepper as needed.
Serve the orecchiette at once in a warmed serving bowl or in past a plates topped with spoonfuls of the remaining ricotta and drizzle with some extra-virgin olive oil.
Source:  Pasta: Classic and Contemporary Pasta, Risotto, Crespelle and Polenta Recipes by The Culinary Institute of America