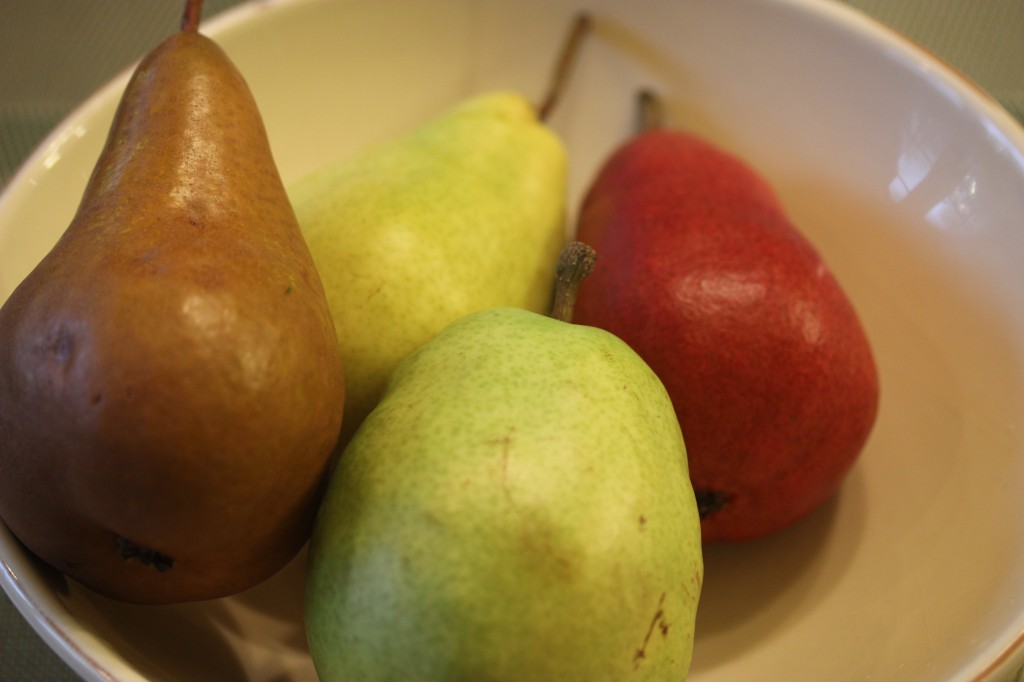 When it comes to salads, you can become stuck in a tragic rut. Different ingredients may go into the bowl, but do you just put the same dressing on them, night after night after night? Even the best salad dressing or vinaigrette can become a bit tired. You need variety in your life. Of course, you don't need disruption either. You want need a vinaigrette with a difference that is quickly made and long enjoyed.
Now, it does happen to be fall and we do have apple cider readily available. Here's an apple cider vinaigrette that you are sure to love. And what do you put it on? Boston lettuce with a bevy of pear slices, perhaps with some finely diced scallions and herbs, does it for Suzen and me. Nothing can top the sweet, delicate flavor of a fall pear. Literally, pearing the wonder of fresh apple cider and pears is a seasonal experience that makes you forget that all those leaves are gone. Or waiting to be raked. Or waiting for the next storm to toss them far, far away.
Apple Cider Vinaigrette
Yield: 1 ½ cups
Ingredients:
1 cup of apple cider
3 tablespoons fresh shallots, diced
2 tablespoons cider vinegar
2 teaspoons grainy mustard
½ cup olive oil
Preparation:
Place the cider, shallots, vinegar and mustard in a bowl. Whisk to mix. Gradually pour in the oil while continuing to whisk. Create an emulsified mixture and use pour immediately over your salad ingredients.
Source: A great website I can't find again. Sorry, Brian.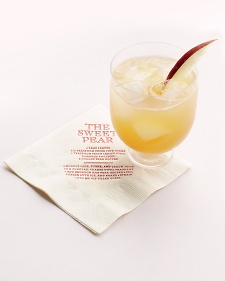 It's true fall and your farmers market is abundant with fruit, particularly apples and pears. I have this love/hate relationship with pears that cannot be solved. When good, a pear is the best fruit possible. Of course, a pear is at its peak for all of 90 minutes it seems.
Still, Suzen and I have been looking and we have some wonderful fall pear recipes to share with you. This is the first one, a pear cocktail from Martha Stewart. Now the recipe below is exactly what Martha says, and it uses pear nectar. The recipe is good, but there are alternative paths to explore.
For example, I prefer fresh pears, over nectar
And, this recipe uses bourbon. Martha is a bourbon woman. My Suzi is not. Sometimes, the power of bourbon can overcome the delicacy of pear. So, here is what I suggest. First, make this recipe as you see it below to get that base feeling for flavor. Then, try these changes:
·         Use a fresh pear, not nectar. Peel and slice the pear, then muddle it. To get a fluid [like nectar], and not just muddle mush, add some liquid like some simple syrup and the lemon juice. Then keep muddling away.   When you shake your cocktail, really, really shake it.
·         Alternatively, after muddling, put the whole thing, including a few ice cubes and the booze, into a blender — or, much better, a Vitamix. You'll get a "Pina Colada" style beverage that is cold, thick, and yummy.
·         Change the liquor from bourbon to something less intense. I've used gin, Suzen's favorite. A low alcohol silver tequila would work. Dark, aged tequila may just have too much flavor power for those pears. Pear vodka? Don't use the commercial versions. I'll blog a much better homemade version this week.
·         Change the sage for other herbs, certainly mint, perhaps rosemary
Pear Nectar Cocktail with Bourbon and Sage
Yield: 1 cocktail
Ingredients:
4 sage leaves
1/2 teaspoon superfine sugar
1 1/2 teaspoons fresh lemon juice
3 ounces bourbon
2 ounces pear nectar
1 red pear slice, for garnish
Preparation:
Muddle sage, sugar, and lemon juice in a cocktail shaker until fragrant. Add bourbon and pear nectar. Shake and strain into an ice-filled glass. Garnish with a pear slice.
Source: Base recipe from Martha Stewart Living