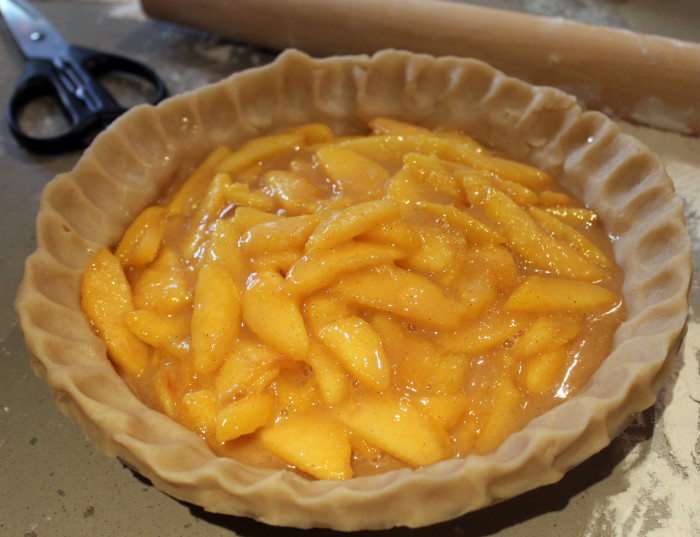 For years I have struggled making peach pie. Suzen was totally scared off. We could not get the right flavor balance: too sweet or too spicy. And there was the issue of sogginess.
Big, sloppy, the-first-piece-out-of-the-pie-is-a-disaster problems haunted us. I would look at peaches, pause, and sigh. I had no solution.
Until I got The Perfect Peach. Here is their perfect pie filling. Just a hint of cinnamon. Not too much sugar and enough flour to produce a filling that sets and that can be cut without a need for a sponge.
And the taste. The taste is peach, lovely, fresh, wonderful fresh peach. You can use this filling in a pie that has crust on the top and bottom or just the bottom with streusel on top. The little dollops of butter add a trace of richness that is subtle but certain to be appreciate.
---
Perfect Peach Pie Filling

Yield: 1 pie

Ingredients:

6 cups peeled and sliced fresh peaches
2 tablespoons freshly squeezed lemon juice
¾ cup granulate sugar
3-4 tablespoons all-purpose flour, instant tapioca or tapioca flour
¼ teaspoon ground cinnamon
Pinch of salt
2 tablespoons cold salted butter, cut into ¼ inch cubes
Preparation:

Place the peaches in a large bowl. Drizzle them with the lemon juice and stir gently to coat evenly.
If your peaches are especially juicy, drain off the excess juice and reserve for drinking later, or even while are making this pie. Use the extra tablespoon of flour for extra juicy peaches. In a small bowl, stir together the granulated sugar, flour, cinnamon, and salt. Sprinkle the sugar mixture over the fruit and toss gently to coat the peaches evenly. Set the peaches aside.
When ready, pour the peaches into a prepared pie pan. Distribute the cubes of butter evenly over the filling.
Top your pie with crust or streusel and bake away.
Source: The Perfect Peach by Marcy, Nikiko, and David Mas Masumoto

Photo Information: Canon T2i, EFS 60 mm Macro Lens, F/4.5 for 1/40th second at ISO‑250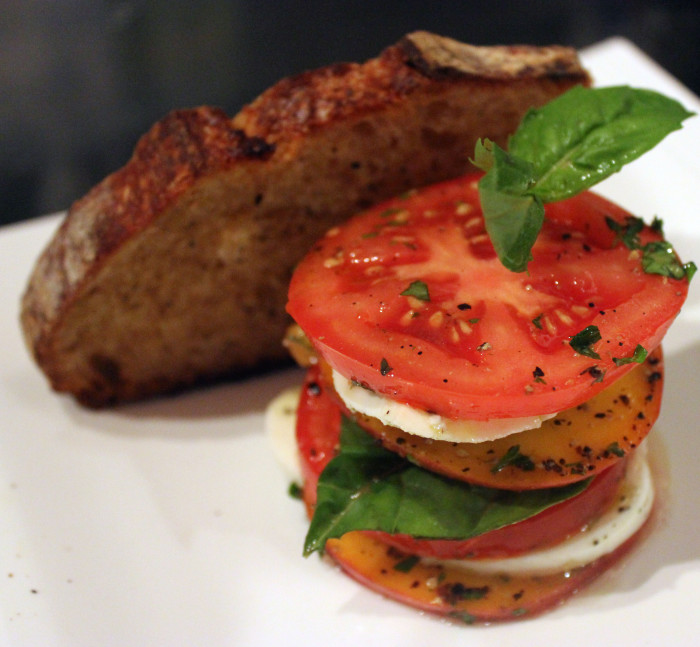 Eating a peach with salt, basil and olive oil is not something I would automatically do. Just too strange. But when Michele Scicolone suggests it, Suzen and I were intrigued. This salad is a favorite for Suzen's culinary team building events. It is the ideal recipe for a small team to tackle. Plenty of slicing of peaches and tomatoes. There is basil to tear and the matching crostini to adorn with herbs and olive oil.
And then there is the fun of assembling the dish. As you can see from the photo, the tower can be quite striking. When the salad is placed before someone, there is that slight pause: "If I eat this, it won't be pretty anymore."
Go ahead. Cut in with that fork. You can always, and easily, make more.
And do yourself a big favor. The next time you have a sliced peach, try the salt, basil and olive oil. Darned if there is not a delicious alternative to sugar on fruit!
---
Peach, Tomato and Burrata Salad

Yield: serves 4

Ingredients:

For the salad:

3 firm but ripe peaches, pitted and cut into thin slices
2 ripe medium tomatoes, cut into thin slices
Coarse salt
8 ounces Burrata or fresh Mozzarella Cheese
12 fresh basil leaves, torn into bits
¼ cup extra virgin olive oil
For the olive oil herbed crostini:

12 (½-inch thick) slices rustic bread
1 teaspoon dried oregano
1 teaspoon dried thyme
Salt and pepper
Preparation:

For the salad, alternate the peach and tomato slices on a platter. Sprinkle with coarse salt.
Cut the Burrata into chunks and place them in the center of the peaches and tomatoes. Scatter the basil on top, drizzle with oil and serve.
If you prefer, substitute sliced ripe avocado or ripe figs for the peaches.
For the crostini, place a rack in the center of the oven and preheat the oven to 375 degrees.
Arrange the bread in a single layer on a large baking sheet. Bake for 5 to 10 minutes, or until lightly browned and crisp. Remove from the oven.
Prepare the olive oil mixture: add a pinch of dried oregano or thyme and a sprinkle of salt and pepper to the olive oil before brushing the toasts.
Brush the bread on one side with the herbed olive oil mixture. Serve hot or at room temperature.
Source: The Italian Vegetable Cookbook by Michele Scicolone

Photo Information Canon T2i, EFS 60 mm Macro Lens, F/5 for 1/60th second at ISO‑1000