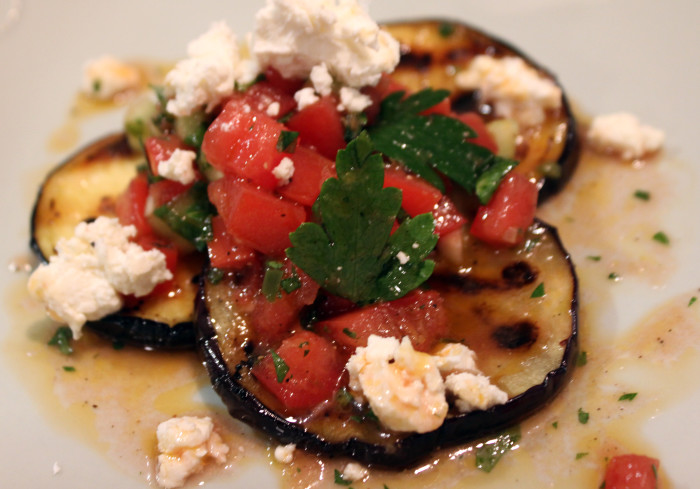 No, it's not pate like you'll find in Paris. But it surely has the vibrant quality of a signature dish. This Eggplant Pate, from Olives, Lemons, and Za'atar by Rawia Bishara, seeks to inundate you with layers of texture and flavor. This can be an appetizer with wine before your meal, the salad, a side dish. Or you load up the plate and enjoy this as the main course.
Raiwa suggests this dish, served in falafel, as wonderful vegetarian sandwich. You can introduce variety in texture, flavor, color and size by simply changing the type of eggplant you employ.
While the recipe suggests hot or jalapeno peppers, you are free to substitute what you prefer, perhaps fiery hot or perhaps just a comfortable bell pepper.
Eggplant Pate
Yield: 8 servings
Ingredients:
3 medium eggplants [2 ½ to 3 pounds total], cut into ½-inch rounds
Sea salt for sprinkling
Corn oil for frying
⅓ to ½ cup extra-virgin olive oil for tomato topping plus more for roasting
4 long hot or jalapeno peppers
8 plum tomatoes or 3 beefsteak tomatoes, peeled and dice
6 garlic cloves, mince
Juice of 2 lemons
Freshly ground black pepper
Feta cheese for garnish, optional but pictured
Preparation:
Arrange the eggplant slices on a sheet pan, sprinkle with salt and set aside for 30 minutes or until the eggplants begin to sweat. Pat dry.
Add ¼ inch corn oil to large skillet and heat over high until hot. Working in batches, use a spatula to slide the eggplant slices into the skillet and fry, turning once, until they are medium brown on both sides, about 4 minutes total. Repeat with the remaining eggplant, adding more corn oil to the skillet if necessary.
Alternatively, brush the eggplant slices with olive oil on both sides and roast in a 500°F oven until golden, turning once, about 15 minutes.
Set aside to cool.
Meanwhile, finely dice 2 chile peppers, removing the seeds if desired. Finely slice the other 2 chile peppers. In a medium bowl, combine the tomatoes, chopped chiles, garlic, ⅓ cup of the olive oil, lemon juice, salt and pepper, stirring to incorporate. Gradually add as much of the remaining olive oil to achieve you desired consistency. Spoon enough of the tomato mixture onto each eggplant slice to leave a narrow border around the rim. Garnish with the sliced chiles and serve.
.
Source: Olives, Lemons, & Za'atar by Rawia Bishara
Photo Information [top picture]: Canon T2i, EFS 60 mm Macro Lens, F/4.5 for 1/50th second at ISO-1250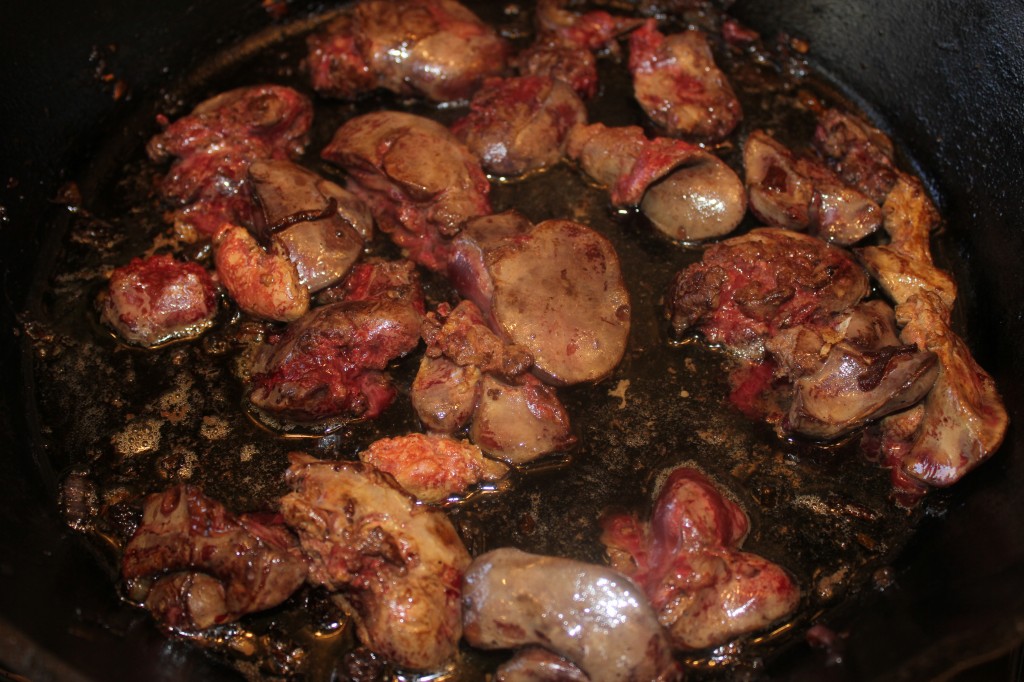 If you are going to do something, then do it well. With intensity and passion.
For example, take chicken. "Tastes just like chicken" may be the most used culinary insult available. Because chicken can really, really be exceptionally good. Yet we are all quite stuck in our cooking-chicken ways: baked, roasted, barbequed. How can you have that chicken flavor but make it excitingly different, especially for a hot summer day's brunch or dinner. There's a double drought on: no rain and not enough good chicken ideas.
With lots and lots of cookbooks on our shelves, Suzen and I sometimes look at old friends for inspiration. This recipe, from The Classic Food of Northern Italy published in 1996, is overflowing with intense chicken flavor. It's a terrine, made from those thighs pictured above, but also with chicken livers and some butter and some brandy. Everything is cooked, then put into a food processor, then cooked again in a bain-marie [a water bath]. The terrine, or pâte if you will, is chilled and served cold.
For a warm summer day, have this terrine on a bed of salad with a sharp vinaigrette. A chilled bottle of white ready to pour is the only addition you will need for a complete meal. That unending heat will not abate because you make this dish. But for this one meal, you'll taste relief. Oh, and you'll taste chicken as God intended.
Chicken Terrine
Yield: serves 8
Ingredients:
1 ¾ pounds fresh chicken thighs
3 tablespoons olive oil
2garlic cloves, bruised
Salt and freshly ground pepper
1 fresh rosemary sprig
7 ounces of chicken livers
7 ounces [14 tablespoons] unsalted butter
3 ½ ounces [½cup] very finely chopped onion
1 bay leaf
6 tablespoons brandy
Preparation:
Heat the oven to 400°F.
Skin the chicken thighs, remove and discard the fat attached to them, and place in a roasting pan.
In a bowl mix together the oil, garlic, 2 teaspoons of salt and a good grinding of pepper. Brush the thighs all over with the seasoned oil using the rosemary sprig. Throw the rosemary, the garlic and any left-over oil into the pan and place the tin in the oven. After 5 minutes remove and discard the garlic. Cook, basting once or twice, for about 20 minutes. The chicken should no longer be bloody though still undercooked. Leave to cool while you cook the chicken liver. Leave the oven on.
Trim the fat and gristle off the chicken livers and cut the livers into pieces. Heat 4 tablespoons of the butter, the onion, bay leaf and 1 teaspoon of salt in a frying pan and cook to soften the onion. As soon as the onion is soft add the chicken livers. Fry for 5 minutes; then splash with the brandy. Finally, cook rapidly for 2 or 3 minutes.
Go back to the chicken thighs. Remove the bone and cut the meat into pieces. Put the meat, the chicken livers with all the cooking juices, and the remaining butter cut into pieces in a food processor and give it a whizz for 2 or 3 seconds. Add salt and pepper. (I add 1 teaspoon of salt and ½ teaspoon of ground pepper, because any pâte or terrine that is served chilled needs a lot of seasoning.)
Whizz again to a very coarse texture – not a smooth pâte-like consistency. Taste and check seasoning.
Line a 1 quart loaf tin with foil and spoon the mixture into it, pushing it down and banging the tin hard on the work surface to eliminate any air pockets. Cover with cling film.
Now you must cook the terrine in a bain-marie in the oven. To do that, place the terrine in a roasting pan and pour some boiling water into the pan to come half to three-quarters of the way up the side of the pan. Bake for 20 minutes.
When the terrine is cold, refrigerate for at least 3 hours.
You can serve the whole terrine in a dish, surrounding it with a little salad, drizzled with a few drops of extra virgin olive oil, or you can slice the terrine and put it on individual plates on a bed of lightly dressed salad.
Source: Classic Food of Northern Italy by Anna del Conte